Markus Howard
(#45 Scout, NR ESPN, #40 Rivals, #31 24/7) does not have incredibly impressive physical attributes, standing just 5-9 without shoes, with a 5-11 wingspan, and average quickness and explosiveness. But he nevertheless made the USA roster, as he was one of the smartest, toughest and most competitive players in attendance.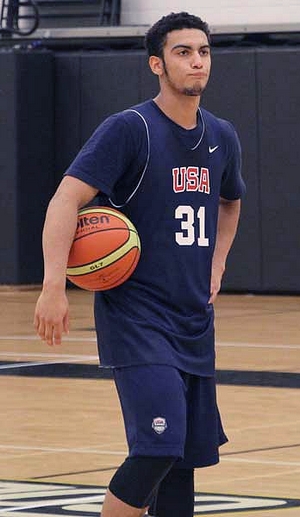 Howard is the rare 16-year old that plays like a seasoned veteran, never looking rushed. He runs a team with a steady hand, finding the open man patiently and unselfishly, but is also a very capable scorer. Howard made countless shots from beyond the arc all week along, and threw in some off the dribble pull-ups in the mid-range area to punish defenders for going underneath screens for good measure. He can also get to the rim and finish with very nice touch, compensating for his average tools by using his strong frame and terrific skill-level to his advantage.
Howard is, simply put, a college coach's dream, a player that will be getting looks from the highest levels of the NCAA. He is a little too small to be considered a great pro prospect, and thus may need to stay in college for a while, but will undoubtedly have an outstanding career. If he continues to improve and maybe grows a little, he could eventually get some pro looks, ala
Quinn Cook
.