Marshon Brooks
Recent Tweets
All Tweets
DraftExpress: Great. He's the Chinese Marshon Brooks RT @RobDauster How has Shang Gao looked? Put on a show at Nike Global Challenge lit up some US teams
2013-07-04 09:19:11
DraftExpress: Seems like guys like Markieff Morris, Marshon Brooks, Norris Cole & a bunch of others came down to earth in a huge way after hot starts, no?
2012-04-02 10:36:51
DraftExpress: RT @GoodmanCBS: Boston Celtics - per source - will take Marshon Brooks.
2011-06-23 09:56:16
DraftExpress: Jonathan Givony Interview w/RaptorsHQ - http://bit.ly/mEzi7J -Thoughts on Kemba Walker, Marshon Brooks, Overrated/Underrated prospects, more
2011-06-21 01:35:32
DraftExpress: DraftExpress: Finding a Niche For: Marshon Brooks: http://t.co/kfmUPji
2011-06-17 10:04:21
Team: Jiangsu
Physicals
Positions
Salary
Misc
H: 6' 5"
W: 195 lbs
Bday: 01/26/1989
(26 Years Old)

Current: SG
NBA: SG
Possible: SG

Agent: Wallace Prather

High School: Tucker HS
Hometown: Stone Mountain, GA
Drafted: Pick 25 in 2011 by Celtics
Best Case: Nick Young
Worst Case: Henry Domercant

Predraft Measurements
| Year | Source | Height w/o Shoes | Height w/shoes | Weight | Wingspan | Standing Reach | Body Fat | No Step Vert | Max Vert |
| --- | --- | --- | --- | --- | --- | --- | --- | --- | --- |
| 2011 | NBA Draft Combine | 6' 4.25" | 6' 5.25" | 195 | 7' 1" | 8' 5" | 5.2 | 34.0 | 38.5 |
| 2009 | Paul Pierce Camp | NA | 6' 4" | 197 | 6' 11.5" | NA | NA | NA | NA |



Basic Per Game Statistics

- Comprehensive Stats - Statistical Top 25s

Player Page&nbsp&nbsp| Player Stats | Mock Draft History | Related Articles&nbsp&nbsp| Add to My Draft Express&nbsp
&nbsp
Situational Statistics: the 2011 Wing Crop
June 22, 2011
Marshon Brooks unsurprisingly leads the pack with 22.9 possessions per game, but actually also posts the third best efficiency overall at 1.01 PPP. This is padded some by having a third-highest 20% of his possessions in transition, as his 0.956 PPP in the half-court ranks just seventh.

Brooks' 29.5% of possessions coming on isolations ranks second highest in the class (and tops among NCAA players), yet he scores a below average 0.847 PPP in these instances.

Brooks' 0.949 PPS on jumpers ranks just 12th overall, but it's brought down by his low number of catch-and-shoot opportunities, as just 13.1% of his field-goal attempts are of that variety, third lowest in the class. Brooks ranks in the top seven in PPS on pull-up jumpers and catch-and-shoot jumpers individually, but his distribution between them is incredibly far from ideal, a strong illustration of the role adjustment he'll likely need to make at the next level.

[Read Full Article]

---
Jonathan Givony Interview with RaptorsHQ
June 20, 2011
On the same note, I'm also surprised by the way that Marshon Brooks has risen up the boards. He was a mid second-round pick six weeks ago, but then he started going through the process, he had good measurements, he had a good showing at the combine, and his stock has really, really risen to the point that he's probably going to be a mid-first-round pick. He might have gone at 45 six weeks ago. I think history tells you that that's always a bit of a red flag.

I watched him play extensively this season in person and on tape and I wonder if he's going to be able to get away with some of the things that he did at Providence, the way he monopolizes the ball, his shot selection, the tunnel-vision he shows, the bad body language, the lack of enthusiasm for playing defense. But I felt the same way about Nick Young, I felt the same way about Jordan Crawford, these guys end up having NBA careers. Whether they're the most efficient players, whether they end up helping their team win games, that's up for debate.

[Read Full Article]

---
Finding a Niche For: Marshon Brooks
June 16, 2011
Marshon Brooks was the second leading scorer in the entire NCAA as a senior and measured out extremely well at the NBA Draft Combine, yet there are questions about whether his style of basketball is conducive to winning and what type of adjustments he'll need to make as a pro. What would be the most likely way for him to find success in the NBA?


Icon SMI



Playing a small role for Providence in his first two seasons, Brooks gradually improved his game his first three years in school and then exploded onto the scene as a senior. Not on the draft radar at all until his senior season, Brooks' huge numbers made NBA scouts give him a second look, and his impressive showing at the combine has only added to his buzz.

While Brooks has improved his skills in a variety of areas, passes the eye test, and frequently flashes an abundance of NBA abilities, there are still many questions about how his game will translate to the NBA, especially due to the extremely ball-dominant role he played as a senior.

An extremely potent scorer who used a ton of possessions as a senior, Marshon Brooks created a staggering amount of his own offense, with an incredible 29.5% of his possessions coming in isolation. Despite playing the shooting guard position in his team's offense, Brooks plays with the ball in his hands as often as many point guards, and has no conscience about creating his own shot at any point during the shot clock from anywhere within 30 feet of the basket.

Brooks' scoring skill set is very advanced, as he's capable of scoring inside and out in a variety of ways, having extreme confidence in virtually every aspect of his scoring game. Brooks relies on contested pull-up jumpers for the majority of his offense, and he's capable of knocking down very high difficulty shots of this variety. Unfortunately, he's also highly prone to taking ill-advised shots early in the shot clock, showing very questionable decision-making in that regard.

An interesting thing to note about Brooks' scoring offense is that in spite of his absurd amount of isolations and propensity for difficult shots, he still posted very strong efficiency numbers as a senior, a hard feat to pull off given the style he plays. Brooks' 1.01 points per possession ranks in the 88th percentile of NCAA players according to Synergy and his 58% True Shooting Percentage ranks 6th of the 24 shooting guards in our top-100 rankings. His team, Providence, was one of the fastest tempo teams in college basketball, which may have helped in that regard.

While stylistically he may play like most inefficient volume shooters, he actually was able to post very strong efficiency numbers overall at the college level. Looking to the NBA, the story will likely be quite different, as there are very few All-Stars who play the kind of dominant offensive role Brooks played in college, so a role adjustment is inevitable under any circumstances.

Doing the majority of his damage offensively with this perimeter jump shot, Brooks is highly capable both off the dribble and spotting up, though he's far more consistent with the latter. When spotting up, Brooks has outstanding form, boasting a high and quick release along with excellent balance, though these opportunities are rare given the role he plays in his team's offense. Of the 234 jump shots Brooks took in the half court setting according to Synergy this season, just 27 were of the unguarded, catch-and-shoot variety, but he scored a lethal 1.7 points per shot on those attempts.

With his off-the-dribble jumpers, Brooks is far more inconsistent, as his mechanics frequently break down, making him prone to some very errant misses. He has a strong tendency to unnecessarily fade away and exhibits poor balance in these situations, not squaring his shoulders to the basket and often forcing up difficult shots with a hand in his face. That said, his length and shot-creating ability allow him to get separation for his shot with ease, and if he can develop more consistency and become more selective with his opportunities, he has more potential in this area of his game.

Brooks will undoubtedly have a smaller offensive role in the NBA, making his team less reliant on him to create his own shot off the dribble, which could be a great boon to his scoring efficiency. On the other hand, it's tough to say whether the tendencies and questionable decision-making he's developed in this area of his game will be undone so easily. His abilities in this area of his game are quite clearly a valuable asset, but finding a proper balance and exhibiting better restraint in shot selection will be critical to his long-term success.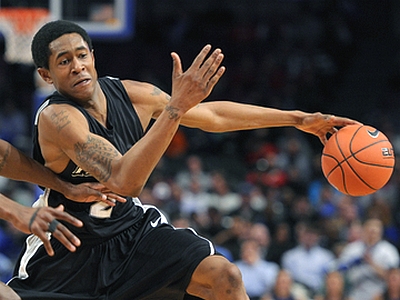 Icon SMI



Brooks also has a strong ability to attack the basket out of isolation situations, though it clearly takes a backseat to his perimeter jumper in his approach to the game. Having a very sure-handed dribble with very long strides, Brooks is dangerous taking his man to the basket in spite of his lack of a great first step.

He isn't the greatest finisher at the basket, as he could improve both his strength and his aggressiveness going strong to the rim, but he got to the line at a strong rate as a senior, posting a 0.38 FTA/FGA ratio, something he vastly improved from his junior season. He also has a nice floater in his arsenal, taking full advantage of his terrific 7'1 wingspan to easily get it off at any time in the lane. With continued work, his floaters and runners have the potential to be a very solid weapon in the NBA.

While Brooks is more than capable of scoring both on jumpers and in the lane, the biggest question from an NBA perspective is how he'll get in position to do so, something that will be interesting to watch as he gets his opportunities in the league.

Playing with the ball in his hands so often and having free reign to take shots whenever and wherever he wanted, Brooks didn't do a ton of off-ball movement at Providence, with just 6.7% of his possessions coming off cuts and 1.2% of his possessions coming around screens according to Synergy. No team is likely to run their offense through Brooks in the pros (and if they do, definitely not nearly to the extent Providence did), so adapting to get more shots in that manner will be important.

Brooks' passing game also leaves much to be desired, as while he occasionally will show flashes of solid court vision and passing ability, he frequently displays tunnel vision looking for his own scoring, having no problem settling for a high difficulty shot with 30 seconds remaining on the clock before even looking at other options. He ranks as the second worst passer of all shooting guards projected to be drafted, which illustrates his struggles in this area.

On the defensive end, Brooks has a very intriguing set of tools, possessing a smothering 7'1 wingspan and a solid frame that appears it can put on a bit more strength. His fundamentals aren't bad and he has good but not great lateral quickness, being capable of staying in front of most opponents in college.

At the college level, Brooks was a solid defender overall, frequently showing a good energy level and not giving up on plays, but never really exhibiting the lockdown potential you'd expect from someone with his tools. He's prone to overplaying the ball by going for quick steals, and also can get juked quite easily on spin moves and other quick changes of direction, though he does an excellent job of contesting shots with his length when he's in front of his man.

To be fair, the amount of energy Brooks expended on offense as a senior could have prevented him from doing the same on defense, and it will be interesting to see how he adjusts on this end as a result of his inevitable offensive role change. He's capable of being a much more disruptive force both on and off the ball.

Looking forward, it's a bit tough to say how Brooks would best fit in the NBA initially, as there are a large number of unknown variables in projecting his game, which will likely require a major role adjustment. If he's taken earlier in the draft by a dismal team in need of someone to create offense, he'll likely be more comfortable transitioning to the league, and may even be able to produce big numbers, but it's unlikely it would contribute to winning basketball, similarly to was the case at Providence.

Being drafted later by a more established team would mean less initial minutes and much more of an adjustment, but could be the best for Brooks in the long-term if he embraces coaching and structure, as he has a number of skills that could be highly useful in a team-oriented setting.

Surely one of the more enigmatic prospects in this year's draft, Marshon Brooks likely has the most varied projections by NBA scouts of any player in the class. He clearly has a ton of natural scoring ability, strong physical tools, and a ton of skills, but how he can adapt that package into playing winning basketball is yet to be seen.

[Read Full Article]

---
NBA Combine Interviews: Marshon Brooks, Andrew Goudelock,Isaiah Thomas
May 24, 2011
[Read Full Article]

---
Analyzing the 2011 NBA Combine Measurements
May 21, 2011
Marshon Brooks measured in extremely well at 6-4 1/4 without shoes with a gigantic 7-1 wingspan, further adding to the strong buzz he has going for himself heading into the month of June. His wingspan is just an inch shorter than the likes of Josh Howard, Trevor Ariza and Tracy McGrady, players who saw more time at small forward than shooting guard in the NBA. For comparison's sake, the average power forward drafted in the first round has a 7-1.8 wingspan, while Brooks is clearly a shooting guard skill-wise.

[Read Full Article]

---
Trending Prospects (1/14/2011)
January 14, 2011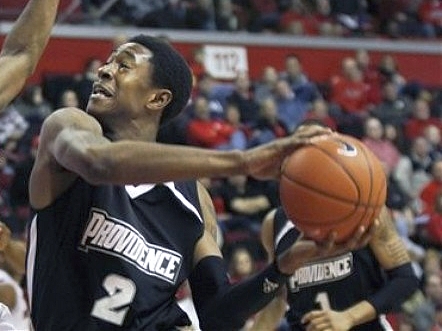 AP



Walker Beeken

Marshon Brooks is a name that pops up in nearly every conversation when discussing the most improved players in the country this season. The Providence senior has put together an extremely productive first half of the season, proving to be one of the best scorers in the Big East.

Standing at 6'5" with a wiry frame, Brooks has a smooth, attacking game on the offensive end with the ability to score points in bunches. And while he often finds himself playing different positions for an undersized Providence team, his body and skill set suggest that he's best suited as shooting guard prospect for the NBA.

Brooks's overall improvement and efficiency can be seen in virtually all areas of his game, as evidenced by his excellent 31.2 PER, which currently ranks him among the top 20 players in the country. His biggest strength though, is his ability to create his own shot and score, as he's averaging 23.8 points per game so far this season, which puts in him in the top five in the nation.

Brooks has plenty of freedom in Providence's wide open, up tempo style (currently ranked 13th in NCAA in pace on kenpom.com), and so far, he's been extremely efficient as a scorer, showing that he's capable of getting his own shot almost whenever he wants at the college level, lighting up top five teams Syracuse and Pittsburgh for 28 and 27 points respectively.

Not quite an elite level athlete, Brooks possesses a very smooth first step, rangy strides, and an improving handle to go along nice change of speed and direction dribbles to keep defenders off balance and get into the paint off the bounce, and slice his way to the basket.

His shot selection can be terrible at times—taking far too many contested pull-up 3-pointers early in the shot-clock--but he's been better this season about focusing on getting to the rim and finishing, as evidenced by the fact that he's shooting 59% on 2-pointers and getting to the free throw line at nearly twice the rate of his junior season. He does struggle at times to finish around the rim due to his average frame and explosiveness, though.

As a shooter, Brooks has gradually improved his percentages from the field, 3-point arc, and free throw line over the course of his career, and he's turned himself into a pretty decent shooter. He has extreme confidence is his shot and at times can be a bit of a gunner, but to this point in the season he's managed to shoot a high percentage even with some of his difficult shot attempts. He's shooting a poor 27% on jumpers off the dribble though, so if he can start to be more selective in that area, he could see his efficiency numbers jump even more.

Brooks often has tunnel vision when in the process of trying to create and hasn't shown much in terms of being able to set up his teammates. His turnover rate is up this season due to his poor shot-selection and the large load he's carrying on the offensive end, and his negative assist-to-turnover ratio illustrates some of his questionable decision making skills.

A key for Brooks and his professional career will be learning to fit into a role and a system and finding ways to contribute without dominating the ball. He should also focus on becoming more proficient on catch-and-shoot opportunities as well, as he likely won't have the ball in his hands and the freedom to create like he does at Providence.

On the defensive end, Providence plays quite a bit of zone in the halfcourt and likes to get out in pressure in the fullcourt as well, so Brooks will have a big adjustment when he's faced with playing almost solely man-to-man defense. He does appear to have adequate length and lateral quickness to defend shooting guards though, and his activity level is generally pretty good too. His 8 rebounds per game for a player his size is an encouraging sign, as are his block and steal numbers (1.8 steals and 1.3 blocks per game). Giving maximum effort on every possession and becoming an asset on the defensive end will be a key for him down the road.

Although Brooks's name wasn't found on many draft boards prior to this season, he's been far too productive to ignore in 2010-2011. And while his upside may be perceived as somewhat limited since he's a senior who will turn 22 this month, his physical tools and continued improvement suggest that there is still room for growth.

He will definitely be a player to keep an eye on as Providence goes through Big East play, as big-time wing scorers who can create their own shot and shoot 50% from the field don't grow on trees. There will still be questions about how his game will translate, and if he'll be able fit in and play a role at the pro level, but if he can sustain his early season success, he will surely earn plenty of looks from NBA scouts.

[Read Full Article]

---