Trending Prospects (4/8/2011)
April 8, 2011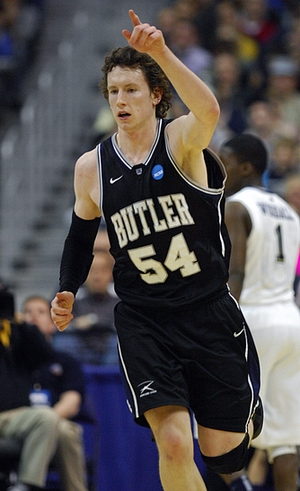 Icon SMI
Kyle Nelson
There is no denying
Matt Howard
's illustrious career at Butler, which yielded consecutive appearances in the national championship game. In four years, Howard improved and evolved as much as any NCAA player, combining energy and fundamentals to be productive against mid-major and NBA-caliber talent.
His prospects at the next level, however, are not so defined as Butler's post-season run highlighted his strengths and his weaknesses well.
Standing somewhere between 6-7 and 6-8, with a narrow frame, Howard has maximized his physical tools since arriving at Butler and is a very well conditioned player. That said, he is still undersized for the NBA-post, which was evident in his struggles in the national championship game against Connecticut's elite post athletes. Though he works extremely hard all over the floor, his below average strength, explosiveness and quickness limited him in college and will continue to hinder him at the next level.
From an offensive perspective, Howard improved as a senior, showcasing the same fundamentally sound post game while integrating perimeter shooting into his repertoire. He averaged 21.7 points per 40 minutes pace adjusted while shooting 50.8 inside of the arc and 39.8% from beyond—a tremendously productive season.
While he was post-bound throughout his career, Howard found 20.4% of his offensive possessions in spot-up opportunities as a senior, and connected on 44% of his attempts. He showcased range out to the NBA three-point line as a senior, where he made just under 40% of his 4.7 attempts per 40 minutes pace adjusted. This is impressive given that he attempted just 20 three-point field goals in his career prior to his senior season, where he made 53 of his 133 attempts. He does not get much lift and his needs to tighten up his mechanics, but his shooting ability adds an intriguing, NBA-friendly element to his game. That said, his production dropped off considerably when matched up against NBA-caliber big men in the NCAA tournament.
In the post, it's largely the same story for Howard. He is still limited by his over reliance on his left hand and his subpar athleticism, but his footwork has improved. He now looks comfortable executing complex spin-moves towards the basket in addition to his reliable jump hook and drop step. The NCAA Tournament was a particularly good showcase, as Howard struggled to finish against better athletes, but still found a way to get to the basket consistently. Furthermore, though he is a poor finisher due to his lack of explosiveness,
he has always gotten to the line at an excellent rate
, where he converts 79.2% of his 8.1 attempts per 40 minutes pace adjusted.
While Butler played outstanding defense throughout their magical NCAA tournament run, its tough to project Howard as more than an average defender at best at the NBA-level considering his physical tools. He struggles to guard the pick-and-roll effectively and his lateral quickness does him few favors on the perimeter. Despite his effort, he has similar trouble in the post as he lacks the strength and size to hold his own against bigger and more athletic big men. It seems as though his struggles will intensify at the next level with consistently better competition.
Howard improved on one of his major weaknesses this season, grabbing 10.2 rebounds per 40 minutes pace adjusted, up from a paltry 8.6 last year. His instincts and fundamentals are above average in this area, which allows him to somewhat compensate for his athletic shortcomings. Whether his productiveness translates to the NBA remains to be seen.
While it is unwise to scout solely based on the NCAA Tournament, Howard's successes and struggles likely translate well to the next level. His lack of size, strength and athleticism is significant to his NBA prospects, as it will likely limit him significantly against the more physically gifted big men he'll see at the next level. With that said, his shooting ability, consistently high energy level, and outstanding intangibles will remain attractive to NBA teams looking to fill out their bench. Howard's college career has positioned him well for professional basketball and if he struggles to make the NBA, there is no doubt that he is an attractive prospect for high-level European basketball.
[
Read Full Article
]
Top NBA Draft Prospects in the Non-BCS Conferences, Part Two
November 4, 2009
Joey Whelan

Matt Howard doesn't look like a great basketball player – not one who would likely garner attention from pro scouts anyway. Despite the oversized t-shirt and the occasional lack athletic fluidity, the forward has managed to establish himself as one of the more sound players outside of the major conferences at the college level. After a sophomore season in which he averaged nearly 15 points and seven rebounds for one of the best teams in the country, the Indiana native is primed for a big year that will go a long way to determining his professional future.

Physically there are definitely some issues of concern for Howard when projecting him as an NBA power forward. At 6-8, 230-pounds he has a sizeable enough frame to play a physical brand of basketball in the paint, but he is severely lacking in athleticism. Despite his size, the junior plays below the rim at both ends of the floor and doesn't have the quickness necessary to be a true threat off the dribble in most situations. What he lacks in physical gifts though, Howard more than makes up for with hustle and fundamentals, particularly on the offensive end.

It's not surprising that a player with Howard's physical makeup gets the overwhelming majority of his touches in the immediate vicinity of the basket – in fact 76 percent of his shots come in the post, from offensive rebounds or cuts around the rim, according to Synergy Sports Technology. He connected on 55 percent of his shot attempts last season largely due to his back-to-the-basket game, which is about as fundamental as you will find at the college level. Howard has a good strong frame and does a nice job of establishing position low on the block and shows good hands as well. His go-to move at this point is a baby hook which he can execute with either hand, though he seems more comfortable when going towards the baseline. When he is able to establish inside position on his defender with a drop step, Howard is an excellent finisher, however when he is forced to shoot over taller players he struggles due to his lack of leaping ability.

Another tendency that Howard shows at this point in his game is pump faking with the basketball around the basket. This has proven to be both a positive and a negative for the junior during different points in his career. He ranked number one overall in our database in free throw attempts per-40 minutes pace adjusted last season at 11 per game, made even more appealing by the fact that he hit 77 percent of these attempts. This is due in large part to the effective manner in which Howard uses ball fakes and his fantastic hustle in the paint. Problems arise when he starts to over use the pump fake, often eliminating scoring opportunities for himself by hesitating rather than going straight up with the basketball.

The rest of Howard's offensive arsenal is very limited at this point, restricted almost exclusively to the paint. In a few situations last year he was able to attack the basket off the dribble when he caught the ball at the elbow. He can only drive in a straight line and when given a good deal of space by defenders, but he is strong enough to bully his way to the rim if given a head start. We haven't seen too much of a mid-range jump shot displayed by Howard yet, but his soft touch in the post and solid free throw shooting numbers are some indication that he could develop this part of his game.

Defensively, as one would expect, Howard has his struggles. While he does a nice job of holding his position and staying on his feet, more athletic frontcourt players are often able to elevate over him or utilize their quickness to create easy scoring opportunities. While these shortcomings aren't always exploited in the Horizon League, they have been apparent in some of Butler's more high profile match ups. At this point in his development Howard is a defensive liability when forced to defend outside of the lane due to his subpar lateral quickness. Improving his footwork and getting quicker to defend the pick and roll and more versatile forwards will be paramount to his chances of playing at the NBA level.

Howard is likely a four-year player at the college level who still has time to develop his game to appeal to scouts. His work ethic, toughness, hustle and fundamentally sound game will certainly endear him to NBA teams, but his lack of versatility and athleticism will be major strikes against him in the long run. As long as Butler stays in the national spotlight his chances certainly remain higher than they would otherwise, but there will always be question marks regarding his ability to translate his production to the NBA.
[
Read Full Article
]