Matthew Bryan-Amaning
Recent Tweets
All Tweets
DraftExpress: DX All-PIT 1st Team: Jimmy Butler, Malcolm Thomas, Matthew Bryan-Amaning, Andrew Goudelock, Vernon Macklin. Article: http://bit.ly/e9s4he
2011-04-12 04:00:34
DraftExpress: DX Trending Prospects: http://bit.ly/g8h7zx Updated scouting reports on Darius Morris, Marshon Brooks, Delvon Johnson, Matthew Bryan-Amaning
2011-01-14 05:25:31
Team: NON-NBA College Team: Mexicali Suns
Physicals
Positions
Rankings
Salary
Misc
H: 6' 9"
W: 232 lbs
Bday: 05/09/1988
(27 Years Old)

Current: PF
NBA: PF
Possible: PF

RSCI: 50

Agent: Herb Rudoy

High School: South Kent
Hometown: London, England

Predraft Measurements
| Year | Source | Height w/o Shoes | Height w/shoes | Weight | Wingspan | Standing Reach | Body Fat | No Step Vert | Max Vert |
| --- | --- | --- | --- | --- | --- | --- | --- | --- | --- |
| 2011 | Portsmouth | 6' 8.5" | NA | 232 | 7' 4" | 8' 11.5" | NA | 30.0 | NA |



Basic Per Game Statistics

- Comprehensive Stats - Statistical Top 25s

Player Page&nbsp&nbsp| Player Stats | Related Articles&nbsp&nbsp| Add to My Draft Express&nbsp
&nbsp
All-Portsmouth Invitational Tournament, First-Team
April 12, 2011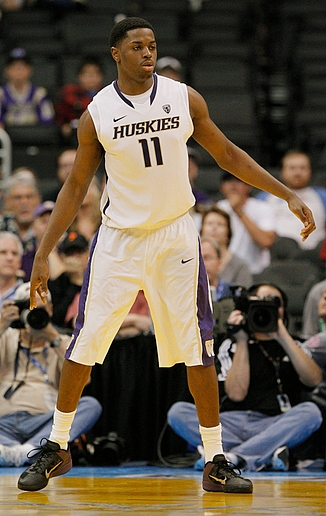 Icon SMI



Joseph Treutlein

One of the most productive players at the Portsmouth Invitational Tournament this weekend and likewise one of the most intriguing prospects from an NBA perspective, Matthew Bryan-Amaning had an excellent week for himself on multiple levels. Aside from having arguably the most impressive measurements of anyone in attendance, Bryan-Amaning played with a nonstop motor on both ends of the court and made it very clear he was trying to take advantage of an opportunity to stand out.

Looking at Bryan-Amaning's game, there is a stark contrast in the style of offensive play he employed in college compared to what he'd have a chance at doing in the NBA initially. Bryan-Amaning relies heavily on a somewhat unrefined back-to-the-basket game at the moment, one he's not terribly efficient with but shows some nice flashes. He is extremely quick for a player his size and is capable of beating many players laterally in the low and mid post, while his length and creativity allow him to finish from multiple angles around the rim. Still, ultimately this area of his game is still unpolished and not yet consistent.

While Bryan-Amaning's post game is somewhat interesting in the long term and is a nice luxury to have, he scored just 0.79 points per shot on back-to-the-basket shots this season according to Synergy, and that is the primary reason his field goal percentage wasn't much higher. In contrast, Bryan-Amaning scored an outstanding 1.34 points per shot on non-post-up shots around the basket in the half court, largely due to his excellent combination of length, athleticism, functional strength, and soft hands.

Looking to the NBA, what Bryan-Amaning is best equipped to contribute offensively is finishing on cuts, pick-and-rolls, offensive rebounds, and getting out in transition, where he can use his athletic tools and coordination to create high percentage shots at the basket. Combined with his high motor on this end of the floor, this creates a good groundwork for a useful skill set.

The biggest area offensively that Bryan-Amaning could help himself is developing a more reliable perimeter jump shot. He was intent on showing he could hit 15-20 footers here at Portsmouth, but his shot selection wasn't the greatest and the results were inconsistent. A very aggressive player, Bryan-Amaning has no problem throwing up running shots on the move, where he should be more focused on developing his set shot first, as evidenced by his poor free-throw percentage. This should be the biggest emphasis for Bryan-Amaning in the pre-draft process, and going into workouts drilling mid-range jumpers could definitely help his stock.

Apart from developing his jumper, the next biggest thing Bryan-Amaning could do for his stock is improving his defense, an area where he has a ton of potential with his physical tools. Already a dangerous threat making plays off the ball, Bryan-Amaning lacks much in terms of fundamentals, specifically defending the post. The effort level is usually there, and he has great lateral speed and change of direction ability to recover from mistakes, but he shows very poor concept of leverage and how to use his hands and forearm in defending, while he's also heavily prone to biting for pump fakes.

Bryan-Amaning's effort level on defense and the boards was superb at Portsmouth, and continuing to show that kind of tenacity throughout the pre-draft process is a good idea.

Looking forward, Bryan-Amaning clearly has some long-term upside from an NBA perspective, but is still likely a ways away from making on-court contributions. He certainly helped himself this weekend at Portsmouth in a variety of ways, namely by measuring out extremely well, playing with an incredibly high motor, showing off some of his skills, and just showing up to the event in general and competing. He's not a lock to get drafted, but he's a player who can impress in private workouts and convince a team to take a flyer on him in the 2nd round, especially if he puts in work on his jumper between now and then.

If Bryan-Amaning isn't drafted, he'll certainly have abundant opportunities in summer league and as a potential D-League call-up next season should he choose to go that route, but because he has an English passport, he will likely be able to make good money in Europe as a rookie, something he will surely consider.

[Read Full Article]

---
Portsmouth Invitational Measurements and Athletic Testing Results
April 12, 2011
Matthew Bryan-Amaning capped off an outstanding week with some downright freakish measurements, which very likely caught the eyes of NBA decision makers in attendance. At 6-8 ˝ without shoes, 232 pounds, and with a 7-4 wingspan -- Bryan-Amaning has outstanding physical attributes for a NBA power forward, especially when considering that he's a phenomenal athlete. His measurements compare favorably with the likes of Rudy Gay, Al-Farouq Aminu and Tyrus Thomas, and he even has an inch more of height to help him make the transition to the NBA.

[Read Full Article]

---
2011 Portsmouth Invitational Tournament, Day One
April 7, 2011
-Matthew Bryan-Amaning had a solid game to start off his week here at Portsmouth, scoring 16 points to go along with 8 points, 2 rebounds, and 2 steals while impacting the game in a variety of ways. Making full use of his excellent athletic tools, Bryan-Amaning was hustling consistently on both sides of the court, being very aggressive in all aspects of the game, which is a change of pace from his reputation as an inconsistent defender.

Coming into this week, Bryan-Amaning's potential NBA stock mostly hinges on his inconsistency as a rebounder/defender, so continuing to perform in this fashion will be beneficial. He also did a good job scoring with his back-to-the-basket game, out-quicking most opponents and never hesitating to attack with the ball in good position, perhaps even forcing the issue a bit too much at times.

One of the best athletes in attendance with a few very intriguing qualities, Bryan-Amaning is definitely someone to keep an eye on even if he doesn't have a clear-cut NBA niche.

[Read Full Article]

---
Trending Prospects (1/14/2011)
January 14, 2011
Icon SMI



Kyle Nelson

Senior forward Matthew Bryan-Amaning came in with high expectations for the Washington Huskies out of prep school, as a super athletic but highly unpolished top-50 recruit. Four years later, and Bryan-Amaning has emerged as a consistent piece in Lorenzo Romar's offense, after making incremental improvements each and every season.

At 6'9 with a solid 240-pound frame and a reputed 7'4 wingspan, Bryan-Amaning looks the part of an NBA power forward. He is a fluid athlete as well, quick and explosive around the basket. He runs the floor awkwardly, though, and his playing style rarely utilizes his size and athletic advantages.

Bryan-Amaning plays an efficient, if not unorthodox, game on the offensive end, getting most of his points thanks to his touch around the basket and his quick feet in the post. He shows potential as a finisher in pick-and-roll sets, with his long arms and excellent explosiveness. While he is not a great screener, his touch, quickness, and leaping ability work to his advantage. He has developed a small arsenal of post offense, as well, from a running jump hook to an array of up-and-under and spin moves, but lacks anything in the way of countermoves. He is still not great at carving out space by posting up his man, but he is developing in this area and his energy level and willingness to move off of the ball have both improved.

Bryan-Amaning is not much of a shot-creator, oftentimes prefers to take off-balanced shots while falling away from the basket in lieu of going straight up into his man. His ball handling abilities limit him in this area, but his reputation for avoiding contact likely is a factor as well.

In addition, he is also a subpar shooter, far too inconsistent both in terms of mechanics and production to warrant consideration as a face-up player at this time. Furthermore, while clearly he has made strides in this area, his basketball IQ still looks average and he lacks the court vision to find his teammates from the post or avoid costly turnovers.

Ultimately, Bryan-Amaning will need to play in an up-tempo offense with a point guard who can get him the ball in a position to score.

Defensively, Bryan-Amaning brings excellent tools to the table with his size, length and athleticism. His lateral quickness is solid and he is effective when he can use his length and bulk to his advantage. Unfortunately, his focus and energy lag and he is rarely consistent enough to achieve his defensive potential. Similarly, he is a decent rebounder, but he lacks the fundamentals and drive to be more productive and to use his size and athleticism to his advantage. As elsewhere in his game, he has the potential to be a defensive factor, but his mediocre skill level and inconsistent motor do him few favors.

Despite his statistical improvement and increased role in Washington's successful offensive scheme, Bryan-Amaning remains intriguing mostly from a physical perspective. He does not play defense or score at an NBA level and, given his slow learning curve, the NBA may be a stretch for him at this point. With improved fundamentals, understanding of the game, and focus, however, he could reach the point where he could use his British passport to make money at a good level in Europe.

[Read Full Article]

---
National Prep Showcase--Day Three
November 20, 2006
Today we got a more impressive performance statically from Bryan-Amaning, but in terms of actual performance, his second go-around at the National Prep Showcase had us wondering a bit about where his skill level is actually at. He ran the floor extremely well and rebounded with purpose when his head was actually in the game—to the tune of 23 points and 7 rebounds—but the style of play here and the way he got his points had you thinking that he still has quite a bit of work ahead of him to translate his upside into production at the Division I level.

Bryan-Amaning used his athleticism on countless opportunities to get in front of the defense in transition and throw down some impressive finishes, but when asked to produce when the half-court, his weaknesses were really exposed. His ball-handling skills for one still need plenty of work, and his outside shot is both ugly and inconsistent. His body, length and athleticism leads you to believe that he's got a huge upside to develop, but his feel for the game—or rather lack thereof—makes him more of a down the road prospect than an elite one at this point, from what we saw at least. South Kent cruised to an easy win over a extremely weak opponent and Bryan-Amaning seemed to be enjoying himself out there.

[Read Full Article]

---
National Prep Showcase-- Day Two
November 19, 2006
The best player on the floor for what was otherwise a very underwhelming game between South Kent and Maine Central Institute was British forward Matthew Bryan-Amaning. The first thing you notice about him are his fantastic physical tools, including a terrific frame for a combo forward, an excellent wingspan, and outstanding athletic ability. Bryan-Amaning made a living running the floor and pulling off some great dunks in transition, but he also showed some promising skill using his quickness and explosiveness facing the basket from mid-range and inside the paint, sometimes with a jump-hook. When an immediate opportunity to go to work wasn't there, he didn't have a problem giving the ball up to the open man and actually showed nice court vision doing so. Contrary to what we saw over the summer in Las Vegas, he was allowed to show off his ball-handling skills, with mixed results for the most part. Off of one or two short dribbles he is usually fine thanks to his terrific first step, but when asked to handle the ball in the open floor, his lack of polish really shows. Defensively, he showed a good attitude, using his length to bother opponents, coming up with a block and a few steals in the process. He needs to do a better job with the fundamental part of his game, something that can be said about his all-around skill set and general feel for the game, but he seems to be developing nicely. Watching him play, its hard not thinking that he's a perfect fit for Lorenzo Romar's system at Washington, as he'll be allowed to run the floor all day and put his fantastic athleticism to use. He's definitely a guy to keep on.

[Read Full Article]

---