Matthew Dellavedova
Recent Tweets
All Tweets
DraftExpress: More Undrafted Matthew Dellavedova Phil Pressey B.J. Young Dewayne Dedmon Richard Howell Brandon Davies Michael Snaer Brandon Paul.
2013-06-28 00:17:54
DraftExpress: Matthew Dellavedova doing a very nice job so far. Picking apart the defense on the pick and roll. Making shots when they go under. So smart.
2013-05-22 12:34:44
DraftExpress: Some unbelievable passes from Matthew Dellavedova today. Teammates haven't really been able to take advantage unfortunately for St.Mary's.
2013-03-21 16:08:12
DraftExpress: Top Non-BCS NBA Prospects #21-#25 Matthew Dellavedova James Ennis Ronald Roberts Eric Ferguson Zeke Marshall http://t.co/t4q994x4
2012-11-27 13:04:21
DraftExpress: Top Non-BCS NBA Prospects #21-#25 Matthew Dellavedova James Ennis Ronald Roberts Eric Ferguson Zeke Marshall - http://t.co/t4q994x4
2012-11-26 19:44:10
Top 25s - Full List
Team: Cavaliers
Physicals
Positions
Salary
Misc
H: 6' 4"
W: 185 lbs
Bday: 09/08/1990
(25 Years Old)

Current: PG/SG
NBA: PG
Possible: PG

Agent: Bill Duffy
Current Salary:$816,482

High School: Australian Institute of Sport
Hometown: Maryborough, Australia

Predraft Measurements
| Year | Source | Height w/o Shoes | Height w/shoes | Weight | Wingspan | Standing Reach | Body Fat | No Step Vert | Max Vert |
| --- | --- | --- | --- | --- | --- | --- | --- | --- | --- |
| 2013 | Nets Workout | 6' 3" | 6' 4" | 205 | 6' 4" | 8' 1" | 6.4 | 28.5 | 31.0 |



Basic Per Game Statistics

- Comprehensive Stats - Statistical Top 25s
| Year | League | Name | GP | Min | Pts | FG | FGA | FG% | 2Pt | 2PtA | 2P% | 3Pt | 3PtA | 3P% | FTM | FTA | FT% | Off | Def | TOT | Asts | Stls | Blks | TOs | PFs |
| --- | --- | --- | --- | --- | --- | --- | --- | --- | --- | --- | --- | --- | --- | --- | --- | --- | --- | --- | --- | --- | --- | --- | --- | --- | --- |
| 2015/16 | NBA | Matthew Dellavedova | 16 | 27.1 | 7.5 | 2.8 | 6.7 | 42.1 | 1.8 | 3.9 | 45.2 | 1.1 | 2.8 | 37.8 | 0.8 | 0.9 | 86.7 | 0.4 | 1.9 | 2.3 | 5.9 | 0.7 | 0.1 | 1.4 | 2.2 |

Player Page&nbsp&nbsp| Player Stats | Related Articles&nbsp&nbsp| Add to My Draft Express&nbsp
&nbsp
2013 Nets Combine Recap
May 24, 2013
Dellavedova did a good job making up for lost time after electing to skip the Portsmouth Invitational Tournament and seeing that decision backfire after not being invited to the NBA Combine in Chicago last week. He ran his team very effectively in New Jersey, showing strong ball-handling skills, timing and court vision on the pick and roll, and the ability to make jump-shots off the dribble when defenses went underneath screens. Dellavedova measured a solid 6-3 without shoes, but sports just a 6-4 wingspan, which hampers him primarily on the defensive end, an area he struggled in both in college and in this setting. His unselfishness and high basketball IQ could nevertheless convince a team to use a NBA roster spot on him as he appears to be more than talented enough to hold his own on the offensive end of the floor at either guard spot. He also looks willing to, at the very least, put the effort in defensively to not embarrass himself.

[Read Full Article]

---
Top NBA Prospects in the Non-BCS Conferences, Part Seven
November 26, 2012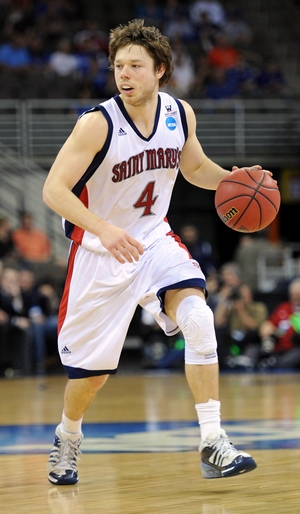 US Presswire



Jonathan Givony

It's been three years since our last writeup of Matthew Dellavedova, and he's made some pretty substantial progress since. His scoring rate, 2-point percentage, free throw rate, assist rate and pure point rating have all improved in every college season he's played thus far, and he played a substantial role for the Australian national team in the Olympics in London this past summer.

Dellavedova returns for his final collegiate season trying to make one last impression on NBA scouts who have evaluated him extensively.

Listed at 6-4, Dellavedova has good size for a point guard, even if he does not possess great strength or a long wingspan. What he does possess is an extremely versatile skill-level and high basketball IQ, showing terrific creativity with the ball in his hands.

Dellavedova ranked as one of the most efficient players in college basketball last season when taking his passing and scoring into account, and has continued along the same lines in the early going this season thus far. He has been Saint Mary's primary ball-handler for a few years now even if he can also see some minutes off the ball, and is at his best in the pick and roll, where his tremendous timing and creativity really shine through.

Dellavedova is an extremely gifted and unselfish passer, being capable of getting the ball to teammates in virtually every way possible, be it with the bounce pass, lob, chest passes, post-entries and everything in between. Playing at his own unique pace, he does a terrific job of using his picks patiently and waiting to see how the defense reacts, before making the read and getting the ball to where it needs to be. He ranked in the top-10 amongst point guard prospects in assists per-40 and pure point rating last season, and is likely to do the game again this season.

Not just a distributor, Dellavedova is also capable of putting points up on the board as well, something his team needs him to do at times. He scored 15.5 points per game last season, shooting an efficient 53% from 2-point range and 35.5% from beyond the arc. He boasts a very quick and compact release on his jumper, being capable of making 3-pointers with deep range both off the dribble and with his feet set.

While Dellavedova has the quickness and ball-handling skills needed to create his own shot effectively from the perimeter at the college level, his athletic limitations show up a bit more when he's forced to drive into the paint and finish over the top of physically gifted defenders in traffic. He has a difficult time finishing over length in both half-court and transition situations, not possessing the strength or explosiveness needed to get all the way to the basket and still get off a high percentage shot. He's adapted somewhat by developing a very potent floater that he sometimes likes to shoot off one leg from 5-15 feet away, but there are question marks about how this will translate to the NBA level. In the Olympics for example, he struggled inside the arc.

Another question mark Dellavedova faces at the pro level revolves around his potential defensively. His lack of strength, length and lateral quickness makes it difficult for him to stay in front of opposing point guards, as he doesn't cover ground very well, and has a difficult time getting through screens. He counters this by putting a good effort in, and shows nice anticipation skills on this end of the floor, but his potential at this end of the floor is a bit murky against elite athletes.

While Dellavedova has his flaws, it's difficult these days to find creative point guards with size who can both distribute and score effectively. Dellavedova pick and roll prowess combined with his ability to make shots with his feet set and off the dribble are attractive traits. His quick and decisive style of play looks very well-suited to professional basketball, so he is bound to get some serious looks from NBA teams. If he's unable to latch on here, he will certainly have no shortage of offers to play at the highest levels of European basketball.

[Read Full Article]

---
NCAA Weekly Performers, 12/30/09
December 30, 2009
Joseph Treutlein

Matthew Dellavedova took no time adjusting to the college game, averaging over 18 points in his first four games this season, and doing a good job keeping the pace, as heís the Gaelsí second leading scorer while also leading the team in minutes at 34.6 per game.

At 6í4, the Australian-born Dellavedova has solid size for a combo guard, though heís a below average athlete by NBA standards, lacking in quickness and severely lacking in vertical explosiveness. Currently playing the vast majority of the time as the secondary ball-handler and shot creator for the Gaels, Dellavedova is relied on more for his scoring punch, though he also shows flashes of point guard game.

Dellavedovaís best offensive weapon is his jump shot, unsurprising when you check the stats and see that of his 124 field goal attempts this season, a ridiculous 79, or 64%, have come from behind the three-point arc. An excellent pure shooter with outstanding touch (as evidenced by his 91% FT%), Dellavedova boasts a high and relatively quick release on his shot, and is capable of scoring in a variety of ways.

The interesting thing about Dellavedovaís shot is that he has a pretty severe flaw in his mechanics in that he always brings the ball down to his knees before shooting, something that slows down his release speed, limits the ways he can get off his shot, and causes mechanical issues when he has to rush the ball, yet in spite of all these things, heís still an excellent shooter, making you wonder how good he could be if he removed that problem.

In space, Dellavedova is close to automatic, and he also shows the ability to make shots pulling up or coming off screens, doing a great job of keeping his balance when moving side to side. Heís not as good when rushed with a hand in his face, however, and much of that stems from his mechanical issue. This problem will be magnified even further if Dellavedova makes it to the NBA, where the defenders are much longer and much more athletic, so itís definitely something he should work on fixing.

Dellavedova does have a bit of offensive game outside of his outside shooting, as he also gets to the line at a decent rate when you consider the volume of threes he shoots. Off the dribble, Dellavedova is crafty with the ball, making good use of changes of speeds and doing an excellent job of reading the defense. He doesnít have a quick first step and lacks much in the line of advanced ball-handling, but he makes due with his court savvy instead. In the lane, he has a nice floater that boasts great touch, but he struggles to finish going all the way to the rim, having trouble finishing over taller defenders.

While Dellavedova spends most of the time playing off the ball, he does show flashes of point guard skills, namely with his ability to run the pick-and-roll, something he does exceptionally well. Showing outstanding patience and court vision, Dellavedova does a great job of reading the defense and passing on the move operating off picks, being able to make the full repertoire of passes.

He doesnít show any tunnel vision in this area of his game either, as he sends just as many passes to off-ball teammates all over the floor as he does to the big screening for him. Beyond the pick-and-roll game and your standard ball movement in half-court sets, itís tough to judge Dellavedovaís floor general abilities, because he spends the rest of the time off the ball alongside 6-0 junior Mickey McConnell.

There are definitely some problems in projecting Dellavedova as a full-time NBA point guard, however, as he seems somewhat limited in his shot-creating ability, having trouble with traps at times and not possessing great quickness with the ball.

Defensively, Dellavedova has an excellent stance, getting his body low and keeping his arms outstretched, but he is severely lacking in lateral quickness and strength, and itís questionable whether he could be an adequate defender at any position at the next level. He likewise struggles to get around screens off the ball, just not being fast enough to keep up with small guards on most occasions.

Looking forward, Dellavedova looks like a terrific college player already as a freshman, but probably has a ways to go before he can be considered much of an NBA prospect. He has he has quite a few things working against him, namely his poor physical tools and limited defensive potential. That said, he still has four years to work on his game, and itís not unforeseeable to see him become a Matt Bouldin-type player by the time heís a senior. The best ways he could help himself now are to clean up his shooting mechanics so he can maximize his scoring ability and really work hard on getting stronger and maximizing his athletic tools.

[Read Full Article]

---