Melvin Ejim
Recent Tweets
All Tweets
DraftExpress: Notable undrafted Patric Young Jabari Brown Khem Birch LaQuinton Ross Jahii Carson James McAdoo C.J. Fair DeAndre Kane Melvin Ejim
2014-06-27 00:10:11
DraftExpress: Top NBA Prospects in the Big 12 (#11-15) http://t.co/x5RlpmOK - Cameron Clark, Jeff Withey, Kourtney Roberson, Melvin Ejim, David Loubeau
2011-10-04 11:52:45
Team: Erie
Physicals
Positions
Salary
Misc
H: 6' 7"
W: 219 lbs
Bday: 03/04/1991
(24 Years Old)

Current: SF
NBA: SF
Possible: SF

Agent: Michael Lindeman

High School: Brewster Academy
Hometown: Toronto, ON

Predraft Measurements
| Year | Source | Height w/o Shoes | Height w/shoes | Weight | Wingspan | Standing Reach | Body Fat | No Step Vert | Max Vert |
| --- | --- | --- | --- | --- | --- | --- | --- | --- | --- |
| 2014 | NBA Draft Combine | 6' 5.25" | 6' 7" | 219 | 6' 11.25" | 8' 7.5" | 6.5 | 29.5 | 35.0 |



Basic Per Game Statistics

- Comprehensive Stats - Statistical Top 25s
| Year | League | Name | GP | Min | Pts | FG | FGA | FG% | 2Pt | 2PtA | 2P% | 3Pt | 3PtA | 3P% | FTM | FTA | FT% | Off | Def | TOT | Asts | Stls | Blks | TOs | PFs |
| --- | --- | --- | --- | --- | --- | --- | --- | --- | --- | --- | --- | --- | --- | --- | --- | --- | --- | --- | --- | --- | --- | --- | --- | --- | --- |
| 2015/16 | DLEAGUE | Melvin Ejim | 4 | 36.0 | 16.0 | 5.0 | 12.3 | 40.8 | 4.5 | 10.0 | 45.0 | 0.5 | 2.3 | 22.2 | 5.5 | 6.8 | 81.5 | 4.0 | 6.5 | 10.5 | 2.0 | 2.3 | 0.3 | 5.3 | 5.0 |

Player Page&nbsp&nbsp| Player Stats | Related Articles&nbsp&nbsp| Add to My Draft Express&nbsp
&nbsp
Situational Statistics: the 2014 Small Forward Crop
June 20, 2014
Melvin Ejim warrants mention here as he ranks above average in both usage and efficiency scoring a 4th ranked 1.04 points per possession overall 17 possessions per-game. Ejim shot a group leading 71% in transition while scoring 1.08 points per jump shot. His 1.23 points per shot around the rim is just average, but Ejim showed massive improvement as a shooter over his career at Iowa State and coupled that with his high motor and strength to put together a tremendous senior year that perhaps ended prematurely after Georges Niang got hurt.

[Read Full Article]

---
2014 NBA Combine Interviews: Marble, Burton, Ejim
May 22, 2014
[Read Full Article]

---
Melvin Ejim Updated Scouting Report
May 7, 2014
Josh Riddell

Melvin Ejim had a tremendous senior season, becoming a key member of an Iowa State team that won the Big 12 tournament, before falling to eventual national champion Connecticut in the Sweet Sixteen. The senior now hopes to turn his productive season where he was named Big 12 Player of the Year into a roster spot with a NBA team.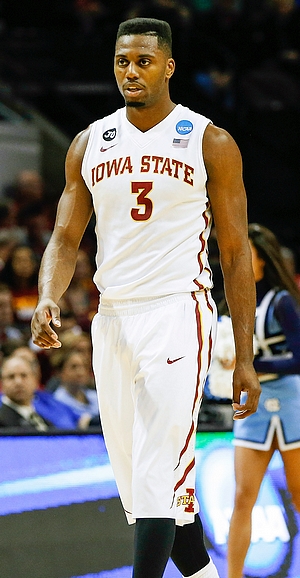 US Presswire



Ejim is somewhat of a tweener at 6'6", not quite tall enough to play the power forward position he often manned in college, but not quite skilled enough to seamlessly transition into a full time role on the perimeter right away. Ejim does possess a strong frame, a long wingspan and solid athleticism, but is already 23 years old, which makes him one of the oldest members of our top-100 prospect rankings. None of his physical tools are astonishing, but he does play extremely hard and has a good basketball IQ, which helps put him in contribute to his team when he is on the court.

Ejim became a more willing outside shooter his senior season, attempting 127 3-pointers, almost doubling his junior year total. He made 35% of his attempts this year and will probably need to continue to do so at the NBA level to stay on the floor. Ejim knew his limitations and didn't attempt many off the dribble jumpers this season, but did look comfortable in a limited sample taking one dribble and pulling up when being run off the three point line.

Ejim is not a prolific ball-handler, being almost strictly a straight line-driver who doesn't possess an elite first step, making it difficult to beat the defense and create an advantage. He's a capable finisher around the rim, though, shooting 59.5% at attempts around the rim, according to Synergy Sports Tech, but was forced to heave up some very difficult floaters at times since he doesn't always have the ball-handling ability to get all the way to the basket. His average skill-level shows in these situations, as he made just 21% of his attempts here, and also doesn't do a great job of drawing free throws.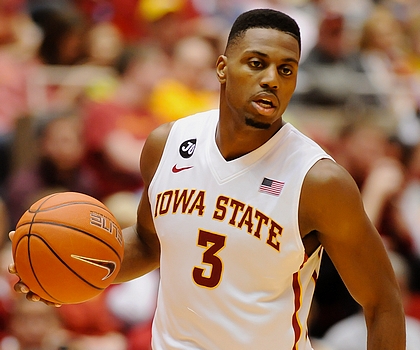 US Presswire



A very good offensive rebounder at 2.9 per 40 minutes pace adjusted, Ejim showed a good nose for the ball when he crashed the glass. He was called upon to be a key rebounder at Iowa State as a power forward and at times center, and the undersized Ejim showed nice instincts to fight for the rebound despite his lack of size.

Defensively, Ejim has some physical tools that could help him on the defensive end, but clearly will have a transition to playing on the perimeter full time make after mostly guarding big men the last few years. His lateral quickness is just average and he often appears too upright in his stance, losing his focus and showing just average awareness. With that said, Ejim is a relentless worker who puts in terrific effort to compensate for his shortcomings, so it's possible he could adapt in time if given the opportunity.

Ejim will have to fight his advanced age and tweener perception to make his way onto an NBA team. He will need to find a way to differentiate himself from other players, especially given the fact that with his profile, there isn't one area of his game that he can really hang his hat on. An ability to stretch the floor by consistently hitting NBA 3-pointers would be a great place to start, but teams will also want to see him defend his position consistently as well.

Ejim will need to impress during the pre-draft process to show that he belongs in the NBA, and will also have opportunities to prove himself in summer league, training camp, the D-League or some combination of the above to find his way onto an NBA roster.

[Read Full Article]

---
Top NBA Draft Prospects in the Big 12, Part Three (#11-15)
October 4, 2011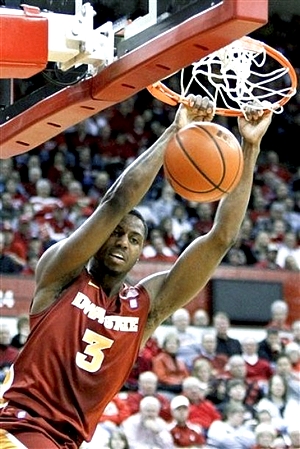 Reuters



Matt Kamalsky

Though Toronto native Melvin Ejim was not a very highly touted recruit coming out of high school, he made an immediate impact for a rebuilding Iowa State program as a freshman last season. The young forward started nearly every game, finishing 5th on the team in scoring and 2nd in rebounding while shooting a respectable 49% from the field despite some extended bouts of inconsistency as he adjusted to the level of competition in the Big 12. With an infusion of transfers becoming eligible for Head Coach Fred Hoiberg this and next season, Ejim will need to carve out a niche in what will be a very interesting ISU frontcourt, while continuing to develop as a prospect.

Though it is far too early to label him a tweener, Ejim was clearly stuck between positions from a NBA perspective as a 20-year old freshman. Standing just 6'6, Ejim has less than ideal size for a four at the next level, and did not show a refined skill set in the post or out the perimeter while playing the power forward position extensively last season. The young forward could conceivably blossom into an inside-outside threat and see time at the three down the road as he played the small forward position in high school and spent a considerable amount of time roaming the perimeter in his first season in Ames.

Apart from his lack of size, Ejim has a fairly impressive physical profile. He has long arms, broad shoulders, and a strong frame that appears to have excellent potential for improvement. The Brewster Academy product shows great explosiveness off of two feet around the rim and excellent straight line speed in the open floor, but lacks a degree of fluidity when changing directions that limited his ability to use those tools to get to the rim as a slasher.

Ejim's lack of a clearly defined position is more a symptom of his raw offensive game than it is of his height. Lacking the ball-handling ability to create his own shot, refined footwork in the post, or a consistent jump shot, Ejim has a lot of physical tools to work with, but just as much room to improve his skill set. He was still able to muster some strong scoring efforts last season getting most of his looks in catch and finish situations, which he converted at an exceptional 59% rate according to Synergy Sports Technology.

Throughout his rookie campaign, Ejim struggled with his decision-making when forced to make plays for himself. Like most freshman, he appeared a bit green and tried to force the issue when challenged. He was at his best when he was aggressively crashing the offensive glass, getting up the floor in transition, and flashing aggressively to the rim when his defender rotated to help on one of his teammates. His jump shot seems to have some potential and he used his strength well when putting the ball on the floor, but it is clear that Ejim is still learning how to make things work on the offensive end.

Defensively, Ejim has just as much room for improvement. Lacking a degree of lateral quickness, he shows solid intensity and uses his physical strength well on occasion, but is prone to using his hands when beat and is still developing his fundamentals both out on the perimeter and closer to the rim. He doesn't help himself by overcommitting to whichever direction his man makes a move, and should improve dramatically on this end of the floor as the game slows down for him and he learns to go straight up in the post.

At this point, there is little we can definitely say about Ejim's NBA potential. He has a lot of things to work on, but was one of the more productive freshmen in the Big 12 despite his underdeveloped skill level. His athleticism is his best asset at this point, and he made some truly incredible plays above the rim last season, but he'll need to learn how to use it to his advantage in one-on-one situations to help define himself as a player and prospect.

[Read Full Article]

---