Meyers Leonard
Recent Tweets
All Tweets
DraftExpress: 2012 NBA Draft Media Day Interviews Part Two http://t.co/RJberv6X - Beal, Kidd-Gilchrist, Drummond, Henson, Meyers Leonard, and Tyler Zeller
2012-06-28 09:55:46
DraftExpress: With the #11 pick, Portland takes Meyers Leonard.
2012-06-28 07:35:02
DraftExpress: DX: Meyers Leonard video scouting report http://t.co/8RGY9ZEb
2012-06-12 10:17:11
DraftExpress: Sounds like I need to give Meyers Leonard and Fab Melo a bump in my mock draft. NBA guys really excited about them after the Combine today.
2012-06-07 04:31:25
DraftExpress: RT @PKlee_IlliniHQ: Illinois sophomore Meyers Leonard will enter (and remain in) the NBA draft, sources told the News-Gazette.
2012-04-02 08:19:25
Team: Trailblazers
Physicals
Positions
Rankings
Salary
Misc
H: 7' 1"
W: 250 lbs
Bday: 02/27/1992
(23 Years Old)

Current: C
NBA: C
Possible: PF/C

RSCI: 29

Agent: Aaron Mintz
Current Salary:$2,317,920

High School: Robinson
Hometown: Robinson, IL
Drafted: Pick 11 in 2012 by Trailblazers
Best Case: Tiago Splitter
Worst Case: Byron Mullens

Predraft Measurements
| Year | Source | Height w/o Shoes | Height w/shoes | Weight | Wingspan | Standing Reach | Body Fat | No Step Vert | Max Vert |
| --- | --- | --- | --- | --- | --- | --- | --- | --- | --- |
| 2012 | NBA Draft Combine | 6' 11.75" | 7' 1.25" | 250 | 7' 3" | 9' 0" | 5.7 | 30.0 | 32.5 |
| 2009 | LeBron James Camp | NA | 7' 0" | 215 | 7' 3" | NA | NA | NA | NA |
| 2009 | Amare Stoudemire Camp | NA | 7' 0" | 215 | 7' 3" | NA | NA | NA | NA |



Basic Per Game Statistics

- Comprehensive Stats - Statistical Top 25s
| Year | League | Name | GP | Min | Pts | FG | FGA | FG% | 2Pt | 2PtA | 2P% | 3Pt | 3PtA | 3P% | FTM | FTA | FT% | Off | Def | TOT | Asts | Stls | Blks | TOs | PFs |
| --- | --- | --- | --- | --- | --- | --- | --- | --- | --- | --- | --- | --- | --- | --- | --- | --- | --- | --- | --- | --- | --- | --- | --- | --- | --- |
| 2015/16 | NBA | Meyers Leonard | 10 | 25.9 | 8.3 | 3.3 | 7.5 | 44.0 | 2.4 | 3.9 | 61.5 | 0.9 | 3.6 | 25.0 | 0.8 | 0.9 | 88.9 | 0.6 | 4.0 | 4.6 | 1.7 | 0.2 | 0.6 | 0.8 | 2.9 |

Player Page&nbsp&nbsp| Player Stats | Mock Draft History | Related Articles&nbsp&nbsp| Add to My Draft Express&nbsp
&nbsp
2012 NBA Draft Media Day Interviews Part Two
June 28, 2012
[Read Full Article]

---
NBA Combine Interviews: Robinson, Leonard, Gordon
June 20, 2012
[Read Full Article]

---
Meyers Leonard Video Scouting Report
June 12, 2012
Mike Schmitz takes a look at the strengths and weaknesses of Meyers Leonard with the help of Illinois game film and commentary from Leonard himself.






---




More DraftExpress Video Breakdowns:


-Perry Jones Video Scouting Report
-Thomas Robinson Video Scouting Report
-Andre Drummond Video Scouting Report
-Quincy Miller Video Scouting Report
-Tony Wroten Video Scouting Report
-Terrence Ross Video Scouting Report
-Tyshawn Taylor Video Scouting Report
-Damian Lillard Video Scouting Report
-Jeremy Lamb Video Scouting Report
-Bradley Beal Video Scouting Report
-Dion Waiters Video Scouting Report
-Kendall Marshall Video Scouting Report
- >Moe Harkless Video Scouting Report


---


Mike Schmitz is a writer for ValleyoftheSuns, a member of the TrueHoop Network. Follow him on twitter and subscribe to his YouTube page.


[Read Full Article]

---
Trending Prospects (3/15/2012)
March 15, 2012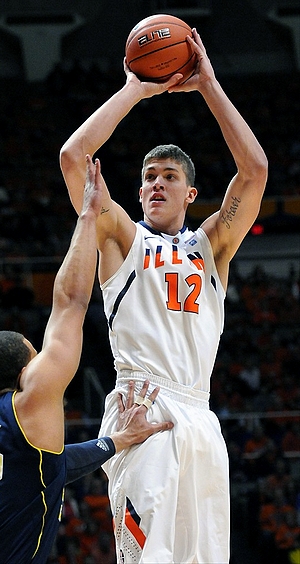 Icon SMI



Walker Beeken

Despite an unimpressive freshman season playing very limited minutes, Meyers Leonard still entered his sophomore year at Illinois as a potential breakout candidate, thanks to his excellent physical tools and a strong showing over the summer in Latvia at the U-19 World Championships.
While the Illini struggled mightily down the stretch, losing twelve of their final fourteen games and failing to reach the NCAA tournament, Leonard made some very positive strides as a sophomore and established himself as a hot name in NBA draft circles.

As we've mentioned before, Leonard's intrigue starts with his excellent physical profile, as he possesses the ideal traits for a prototypical NBA center. Standing 7-feet tall with a long wingspan and a developing frame that should continue to fill out nicely in time, Leonard moves very fluidly for a player his size, running the floor well and showing solid explosiveness, vertically and laterally.

On the offensive end, over 40% of Leonard's possessions came with his back to the basket, where he showed flashes of potential but also displayed that that he's still a work-in-progress. Not the most naturally self-confident player around, he lacks assertiveness establishing deep position and calling for the ball at times, but adding strength as a sophomore seemed to help, and he looked to be fighting harder and embracing more contact during points in the season, which are positive signs for his development.

Once he catches the ball on the block, Leonard can be a bit mechanical with his moves, and he lacks great footwork, but his size and length enable him to just go over the top of most defenders at the college level. His go-to move at this stage is a jump hook turning to his left shoulder, which he executes well, but he'll need to continue adding polish to his post game to establish himself as more of a scoring threat, specifically developing more comfort with weak hand and adding counter moves.

In today's ball-screen heavy NBA, Leonard should see more time as screener in these sets, where he has the potential to be effective, as his excellent mobility, size, and length make him an ideal target rolling to the basket, where he also has to ability to get up well above the rim to catch and finish lob passes. Illinois' lack of playmaking at the guard positions and generally unimaginative offense hampered his ability to show more in this area this season, but his potential as a finisher in the paint is very evident.

He should also be a threat to pick-and pop as well, thanks to his ability to knock down open mid-range jump shots with his feet set. He only attempted about one jumper per game this season, and he doesn't have the smoothest release, but he should continue to improve with repetition, and the 73% he shot from the free throw line bodes well for him going forward.

As we've mentioned before, Leonard's physical tools make him a rare and very intriguing prospect defensively, especially as his frame continues to fill out. He did a better job denying deep post position this season and generally displayed a good effort level, which combined with his size and length, makes him an effective one-on-one defender on the interior, as players have trouble scoring over the top of him.

His excellent agility for a player his size should also help him defending pick-and-roll sets, giving him the ability to hedge and recover quickly. A big key for him defensively will likely the mental side of things and how well he can focus and bring consistent energy on each possession and pick up on team defensive concepts.

Leonard blocked a solid 2.4 shots per-40 minutes this season, displaying his upside as a rim-protector and help defender at the NBA level. He also improved his rebounding numbers substantially from his freshman season, up to 10.3 per-40, but this is an area where he should be making even more of an impact, as his size and athleticism suggest that he could be much more of a force on the glass.

With the buzz surrounding him as a prospect, the uncertainty regarding the Illini's head coaching position following the recent firing of Bruce Weber, and the health problems his mother has dealt with for the last few years, Leonard may decide that this may be a good time for him to enter this summer's NBA draft. While he's still nowhere near a finished product and may have some question marks regarding his consistency, mental toughness and overall approach to the game, 7-footers with his mobility and agility are extremely hard to find and always highly coveted.

While it's still unknown if he'll declare for this summer's draft, at this stage, he's a player that teams may have a wide range of opinions on, especially with the depth of big men likely to be in this draft. Should he enter, his final draft position could very well be determined by how he fares throughout the pre-draft process in workouts, interviews, and background checks, where decision-makers will get to see how he stacks up with some of the draft's other top big man prospects and evaluate his likelihood of reaching his full potential long term.

[Read Full Article]

---
Top NBA Draft Prospects in the Big Ten, Part One (#1-5)
September 4, 2011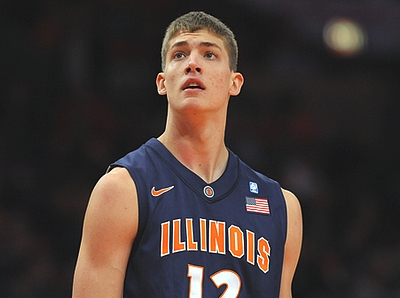 Icon SMI



Jonathan Givony

Meyers Leonard didn't look the part of one of the NBA prospects in the Big 10 in his freshman campaign, producing a meager 2 points and 1 rebound in 8 minutes per game. However, there are signs which lead us to believe he could be on the verge of a breakout season.

Rated a top-20 recruit coming out of high school, no one has ever doubted the talent Leonard possesses. Inexperience and immaturity plagued Leonard his freshman year, but he's vowed to come back this season with a much different attitude, some of which we saw this summer at the U-19 World Championship in Latvia, where he had some impressive moments, ranking 4th overall in per-minute efficiency.

A physically gifted 7-footer with an excellent frame, a long wingspan and very nice mobility, Leonard is a rare commodity in college basketball. He shows most of the attributes you look for in a big man prospect, albeit in small doses at this stage, still struggling to put everything together for extended periods. With senior big men Mike Davis and Mike Tisdale moving onto the professional ranks, though, Leonard looks primed to step into a much bigger role for Illinois, something he looks more than capable of handling.

The first thing that stands out about Leonard is how agile and coordinated he is for a player his size. He runs the floor extremely well, can play well above the rim and has good quickness. Inside the paint, Leonard has average footwork and a somewhat rudimentary post game at this stage, but is capable of finishing with either hand around the basket and should be able to expand his back to the basket arsenal in due time with added lower body strength and polish.

From the perimeter, Leonard shows promising touch and form on his mid-range jumper, often elevating off the floor more like a guard than a 7-footer. He converted over 70% of his free throw attempts both as a freshman and in Latvia. He's a surprisingly adept passer, showing a better feel for the game than his lack of experience and production would suggest.

Defensively, Leonard has excellent tools, and appeared to do a solid job in limited minutes, besides being somewhat foul prone. He's pretty active on this end of the floor, competing willingly inside the paint, where his size and length makes it difficult for opponents to shoot over him if they don't get deep position on him. Unfortunately stronger and more physical big men can, at times, get the best of him as he has yet to fill our his frame. Leonard would benefit from increased lower body strength in particular.

Thanks to his quick feet he's also able to step out and hedge a screen effectively, even looking capable of switching onto smaller players and using his agility and dexterity to stay in front of them on the perimeter. Leonard was mediocre on the glass last season, grabbing just 6.1 rebounds per-40 minutes, something that wasn't the case this summer in Latvia, where he averaged more than double that rate.

Where Leonard may need to improve the most, as he's admitted himself, is on the mental part of the game. He seemed to lose his confidence quickly last season, looking tentative, getting easily frustrated and not showing the type of toughness you hope to see from a top-shelf prospect. For him to take the next step in his career, he's going to have overcome that.

Leonard might still be another year away from becoming the dominant force at the collegiate level his physical tools and upside indicate he can, but if he improves as expected this season, he might not last that long in Champaign.

[Read Full Article]

---
Nike Hoop Summit Scouting Reports
April 24, 2010
A late addition to the Junior National Select Team, Meyers Leonard didn't have a major impact during the game, but showcased his tools throughout the practice sessions. Standing 7'0 with long arms and a frame that could add a lot of weight; he's an excellent athlete for his size, but lacks the coordination and polish of many of the other post players he matched up with this week. He's prone to dropping some of the bullet passes thrown his way, but his huge frame provides a big target for his teammates when they attack the rim. Still growing into his body, Leonard doesn't have too many bad habits, but has a ton of room to grow as a player.

Headed to Illinois this fall, Leonard flashes some tools on the offensive end, including soft touch and nice range on his jumper as well as the ability to play well above the rim. He struggles with contact at this point, and still needs to develop his toughness, aggressiveness and back to the basket game, but runs the floor well, and looks to dunk as often as possible at the rim –two things that will help him immensely at the next level if he's coupled with a good point guard. His defensive presence leaves a bit to be desired as it stands, but he has all the physical tools to become an impact player if he improves his motor and decides to be more physical on both ends of the floor. Not a threat to do too much scoring one-on-one and looking a bit lost at times during the scrimmages this week, Leonard is an intriguing long term prospect whose size and defensive potential make him a player to keep an eye on from an NBA perspective.

[Read Full Article]

---