Michael Carter-Williams
Recent Tweets
All Tweets
DraftExpress: With the #11 pick in the NBA Draft the Philadelphia 76ers select Michael Carter-Williams
2013-06-27 20:43:43
DraftExpress: Michael Carter-Williams breathes a huge sigh of relief as do Larkin and Schroeder. Coulda been a long night if Burke\/McCollum kept sliding.
2013-06-27 20:38:29
DraftExpress: Video interviews with Otto Porter Trey Burke Michael Carter-Williams and Steven Adams at NBA Draft Media Day in NYC http://t.co/YBf96EhyxN
2013-06-27 10:23:37
DraftExpress: NBA Green Room Invites Steven Adams Anthony Bennett Trey Burke Kentavious Caldwell-Pope Michael Carter-Williams Sergey Karasev (cnt'd)
2013-06-25 12:37:04
DraftExpress: Michael Carter-Williams Workout Video http://t.co/AIbVr3k84X Interview+Footage of MCW working with Jay Hernandez in NY (via @farhaaaad)
2013-06-06 09:51:44
Team: Bucks
Physicals
Positions
Rankings
Salary
Misc
H: 6' 6"
W: 184 lbs
Bday: 10/12/1991
(24 Years Old)

Current: PG
NBA: PG
Possible: PG

RSCI: 27

Agent: Jeff Schwartz
Current Salary:$2,300,040

High School: St. Andrew
Hometown: Hamilton, RI
Drafted: Pick 11 in 2013 by 76ers

Predraft Measurements
| Year | Source | Height w/o Shoes | Height w/shoes | Weight | Wingspan | Standing Reach | Body Fat | No Step Vert | Max Vert |
| --- | --- | --- | --- | --- | --- | --- | --- | --- | --- |
| 2013 | NBA Draft Combine | 6' 4.75" | 6' 5.75" | 184 | 6' 7.25" | 8' 5" | 4.4 | 31.5 | 41.0 |
| 2010 | LeBron James Camp | NA | 6' 5" | 175 | 6' 5" | NA | NA | NA | NA |
| 2010 | NBA Top 100 Camp | 6' 4.5" | NA | 167 | 6' 7" | 8' 4" | NA | NA | NA |



Basic Per Game Statistics

- Comprehensive Stats - Statistical Top 25s
| Year | League | Name | GP | Min | Pts | FG | FGA | FG% | 2Pt | 2PtA | 2P% | 3Pt | 3PtA | 3P% | FTM | FTA | FT% | Off | Def | TOT | Asts | Stls | Blks | TOs | PFs |
| --- | --- | --- | --- | --- | --- | --- | --- | --- | --- | --- | --- | --- | --- | --- | --- | --- | --- | --- | --- | --- | --- | --- | --- | --- | --- |
| 2015/16 | NBA | Michael Carter-Williams | 11 | 28.8 | 10.5 | 3.8 | 9.1 | 42.0 | 3.4 | 7.7 | 43.5 | 0.5 | 1.4 | 33.3 | 2.4 | 3.3 | 72.2 | 0.7 | 2.5 | 3.2 | 4.8 | 1.2 | 0.7 | 3.6 | 2.7 |

Player Page&nbsp&nbsp| Player Stats | Mock Draft History | Related Articles&nbsp&nbsp| Add to My Draft Express&nbsp
&nbsp
2013 NBA Draft Media Day Interviews, Part Two
June 27, 2013
[Read Full Article]

---
Situational Statistics: the 2013 Point Guard Crop
June 18, 2013
-This study is not kind to Michael Carter-Williams who ranks as the least efficient scorer in this group at 0.746 points per-possession. His 22.1% overall turnover rate is the second worst among his peers, as is his 0.683 PPP in the half court. Those two stats are representative of the two key areas his scouting report notes he need to make strides in to reach his potential as a pro: his decision-making and perimeter shooting.

Turning the ball over on 28% of his pick and roll possessions, the highest among his peers, ball security was an area of concern for Carter-Williams in the half court last season. Sporting a 3.6 assist to turnover ratio in transition, he's more efficient as a playmaker in the open floor at this point in his career.

Carter-Williams' well documented issues as a shooter cost him here as well, as his 26.2% shooting on pull-up jumpers and 28% shooting off the catch are a major limiting factor on his scoring ability in the half court, resulting in his ranks as the second worst spot-up and 5th worst pick and roll shooter in this group.

Often lauded for his ability to score at the rim, a bit of fishing shows that Carter-Williams shoots a slightly below average 48.8% as a finisher in the half court, though he compensates by shooting nearly 60% at the basket as the ball-handler in transition.

While Carter-Williams doesn't look great here, this doesn't reveal anything teams don't already know about him. Whoever drafts him will be excited about his size, solid one-on-one ability, athleticism in the open floor, and the player he has the opportunity to become as he begins to work on his two very much improvable weaknesses.

[Read Full Article]

---
Michael Carter-Williams Pre-Draft Workout and Interview
June 6, 2013
Video film and production courtesy of Farhod Family

[Read Full Article]

---
NBA Combine Interviews: McCollum, Carter-Williams, Wolters, McCallum
May 18, 2013
[Read Full Article]

---
NBA Draft Prospect of the Week: Michael Carter-Williams
May 3, 2013
Scouting Report by Jonathan Givony. Video Analysis by Mike Schmitz

Playing just 10 minutes per game as a freshman behind top-five NBA draft pick Dion Waiters and All-Big East point guard Scoop Jardine, Michael Carter-Williams was handed the reins to Syracuse's offense as a sophomore and led the Orange to the NCAA Tournament Final Four. He finished in the top five in the NCAA and #1 amongst draft prospects in assists and steals, establishing himself as one of the more unique players in college basketball and also one of the most controversial amongst NBA scouts.



Video Analysis



More Video Scouting Reports

Carter-Williams stands out first and foremost with the tremendous size he brings to the point guard position, standing a legit 6-5 in shoes. He does not have a great wingspan (measured also at 6-5 at the LeBron James Academy in 2011), but is an extremely fluid and agile guard who handles the ball elegantly, is dynamic in transition, and can create his own shot effectively in the half-court.

Not a prolific scorer, Carter-Williams averages just 13.5 points per-40 minutes, which rates 62nd among the 75 college players in our top-100 prospect rankings. Shooting just 44% from 2-point range and 29% for 3, he's also not particularly efficient, as his 49% True Shooting Percentage ranks 73rd out of the 75 college prospects who likely have a realistic chance of being drafted this June.

What Carter-Williams lacks in his ability to put points put on the board, he makes up for with his passing skills and creativity with the ball in his hands. An extremely smooth guard with strong ball-handling skills, a solid first step, the ability to change speeds, and an array of hesitation moves, Carter-Williams can create his own shot driving left or right and gets into the lane with incredibly long strides that most college defenders simply couldn't stay in front of.

He's a very unselfish player, highly creative and blessed with terrific court vision, able to make both simple and flashy passes, and seeing the floor extremely well thanks to his terrific size and the unique angles he has at his disposal because of it. With his ability to see over the top of the defense, he makes beautiful skip passes to both sides of the floor and is extremely effective at finding open shooters spotting up on the wing, or big men flashing into the paint for lobs. Generally speaking, he does an excellent job of putting his teammates in position to score, which is exactly what a classic pass-first point guard is supposed to do.

Where Carter-Williams can get into trouble at times is when defenses force him to score on his own. He struggles to finish the shots he creates for himself inside the lane, making just 49% of his half-court attempts directly at the basket according to Synergy Sports Technology, and not drawing a great deal of fouls either. He doesn't appear to have great touch around the basket and has a tendency to shoot too many difficult floaters inside the lane instead of getting all the way to the rim and finishing with a layup, which hurts his percentages quite a bit. He also doesn't possess great strength in either his upper or lower body, making it difficult for him to finish in traffic considering he's not incredibly explosive vertically.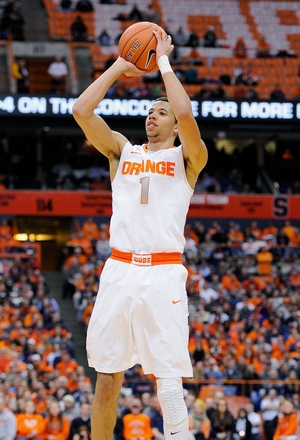 US Presswire



That perhaps wouldn't be as much of an issue if Carter-Williams was an effective perimeter shooter, something he struggled with all season long. His shooting mechanics aren't bad, but his jumper simply doesn't go in very often, partially due to poor shot-selection. Nearly a third of his field goal attempts came from beyond the arc, but he was able to convert just 29% of them, being almost equally as bad with his feet set (28%) as he was shooting off the dribble (26%) this season. Despite his struggles as a shooter, Carter-Williams wasn't deterred, as he continued to fire away all year long, often with mixed results, leading Syracuse Head Coach Jim Boeheim to say half-jokingly: "I can't cook, but if I believed in my cooking like Michael Carter-Williams believes in his shooting, I would win the show 'Iron Chef'. I would win and I can't boil water."

Carter-Williams' questionable decision making skills showed up in other areas as well this season, both on and off the court. He's very turnover prone for one, coughing the ball up on 26% of his possessions this season, third worst of any of the players in our top-100 prospect rankings. He can be very careless, struggles handling under pressure at times, and has a tendency to get too fancy and force tough passes unnecessarily, sometimes at the most inopportune moments.

Off the court, Carter-Williams made at least one baffling decision as well, as he was reportedly involved in a shoplifting incident at a department store where he was caught stealing a bathrobe and gloves and was forced to pay a fine.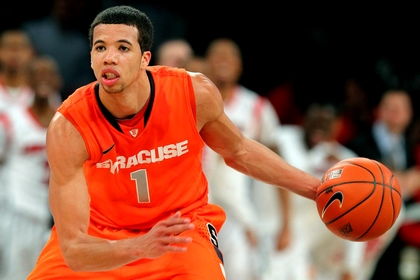 US Presswire



One area where Carter-Williams may not have had the opportunity to show everything he can do at the college level is on the defensive end. Jim Boeheim's teams play zone exclusively, which they were extremely successful at this season, ranking as the 5th best defense in college basketball according to KenPom, but leaving some question marks about how he might fare in man to man situations. With that said, there's enough film accumulated of Carter-Williams being isolated one on one against an opposing ball-handler (with the shot clock running down or otherwise) to give us a pretty good idea of how he might fare here down the road.

While Carter-Williams does not possess a huge wingspan, his combination of terrific size, quick feet and excellent instincts make him extremely difficult for opposing guards to deal with, and give him the versatility to defend multiple positions at the NBA level. Pesky, alert, and extremely intense, Carter-Williams puts great pride on this end of the floor, getting low in a stance and putting excellent pressure on the ball when called upon. He has phenomenal instincts jumping into the passing lanes and a real knack for simply stepping into the right place at the right time to take the ball away, always lurking in the background hunting for opportunities to stick his hands in. It's no surprise that Carter-Williams ranks #1 among top-100 prospects in steals per-40 minutes, and by a fairly large margin (20%) at that.

It will be interesting to see how Carter-Williams is evaluated in this draft class, which is not particularly strong at his position. Although he has some glaring flaws in terms of his perimeter shooting and all-around scoring ability, his size, passing skills and defensive prowess could make him a very interesting prospect for a team drafting in the lottery, even if the extent of his upside is still up for debate. While Carter-Williams is a sophomore in terms of college class, he will turn 22 before his NBA rookie season begins, and is basically the same age as fellow point guard prospects C.J. McCollum, Pierre Jackson and Isaiah Canaan, all seniors.

The biggest question NBA teams will have to ask themselves is whether he can develop into a good enough scorer to keep defenses honest, as he's clearly extremely talented in virtually every other area. If he's able to improve his perimeter shooting, he could emerge as a solid piece for a team to build around down the road.

[Read Full Article]

---
Top NBA Draft Prospects in the Big East, Part Two
October 13, 2012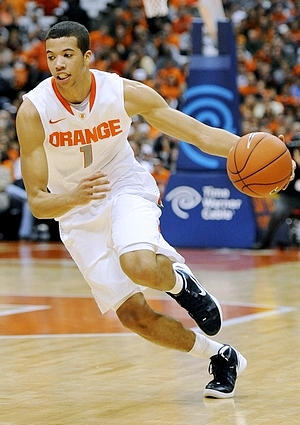 US Presswire



Derek Bodner

A highly rated recruit coming out of high school, Michael Carter-Williams struggled to find playing time in Jim Boeheim's deep backcourt rotation during his freshman season at Syracuse. Despite the limited playing time, Carter-Williams showed enough during the time he was on the court to maintain a good amount of intrigue as a prospect.

A big time scorer in high school, Carter-Williams played more of a facilitator's role during his freshman year, and with pretty good success. His 8.1 assists per 40 minutes pace adjusted would have rated in the top-5 of our top-100 rankings if he had enough minutes to qualify, as would his ratio of assists per possessions.

Beyond the numbers, Carter-Williams did a very good job of playing in control, especially for a young player who had previously been required to create so much of his team's offense. Carter-Williams rarely looked out of sorts, not dominating the ball for extended stretches, limiting his turnovers, and taking quality shots.

While he wasn't asked to get overly creative in the confines of the Syracuse offense and his relatively limited role, he showed good instincts and overall court vision, getting the majority of his assists off pick and roll kickouts to open shooters and off attention he received on dribble drives.

Carter-Williams' dribble can sometimes appear high, but he appears to have good control over it, and wasn't turnover prone in the least, posting a 3/1 assist to turnover ratio. He has a quick first step and does a good job of changing speeds and direction with the ball in his hands, showing a good ability to get into the lane at the collegiate level.

Once he's in the paint, he has an impressive array of floaters and runners in the lane, and has good enough body control and touch around the hoop to be a good finisher despite his very slender frame.

As a shooter, Carter-Williams has good form on his jump shot and has range out to the collegiate three point line and beyond. Very comfortable in catch and shoot situations, Carter-Williams gets good elevation and has a high release point, allowing him to hit at a good clip even when the shot is well contested.

His effectiveness as a shooter off the dribble wasn't quite as good, but the sample size is low enough that this isn't necessarily representative of his skill set, and he could see big improvement going forward as he gets more opportunity, as the form is there. Showing the ability to hit pull-up and mid-range jump shots will be one of the keys to watch going forward, and will make him even more difficult to defend if he establishes himself as a threat to do so.

On the defensive side of the court is the area where it may be hardest to project Carter-Williams and, outside of the overall depth in the Syracuse backcourt likely the single biggest reason for his limited minutes as the season progressed.

Despite his average wingspan, Carter-Williams has the size and foot speed to be a disruptive force on the perimeter, and he did do a good job of forcing turnovers during his freshman season. His overall dedication on this end can be in question, as he at times appears to lose focus. He's also not particularly good at working through screens, something he'll have to work to improve going forward, especially with his size.

His weight, listed at 176 pounds according on Syracuse website, is a big detriment for him on the defensive side of the ball as well, particularly if he's asked to defend shooting guards at the next level. Whether or not he has the frame to add substantially more weight to his skinny frame is one of the things to watch going forward.

While it wouldn't be prudent to draw too many conclusions from a player who played such limited minutes during his freshman year, what Carter-Williams was able to show as a facilitator was very encouraging. With Syracuse having lost Dion Waiters, Kris Joseph and Scoop Jardine from last year's rotation, Carter-Williams will have an opportunity to assume a much larger offensive role. With his versatility as a scorer and play maker, he could definitely be in line for a breakout year.

[Read Full Article]

---
HoopHall Classic Scouting Reports: Elite Prospects (Part Two)
January 22, 2011
Joseph Treutlein

A highly-ranked guard with tremendous scoring abilities and instincts, Michael Carter-Williams (#30 Scout, #16 Rivals, #32 ESPN) is in a unique situation on his high school team, which requires him to shoulder a massive burden of shot creation responsibilities.

In his game here against powerhouse Findlay Prep, Carter-Williams looked outstanding creating his shot off the dribble, scoring equally effectively at the basket and from behind the three-point arc.

Possessing a somewhat awkward but very controlled handle, Carter-Williams has no problem getting wherever he wants on the floor while being capable of scoring from anywhere also. He is extremely smooth pulling up into his shot with range to well behind the three-point arc. From behind the arc, he can maintain balance and hit shots with a hand in his face frequently, showing a ton of prowess even with the ridiculous defensive attention teams pay him.

Attacking the basket, he relies mostly on craftiness and subtle changes of speed and direction as opposed to ankle-breaking crossovers or complex advanced moves. His ability to finish well on finesse floaters and runners or take the ball hard into contact make him very dangerous attacking the rim, not showing the limitations you'd expect with his skinny frame, though that could change in college.

Interestingly, Carter-Williams is trying to develop his point guard skills in hopes of spending some time at the position once he gets to Syracuse. He shows pretty good instincts and vision in this regard, recognizing double teams well and relying mostly on simple drive-and-kicks or pick-and-roll passes to find open teammates. It's still obviously early, but this willingness to expand his game is encouraging.

Defensively, Carter-Williams shows a lot of ability on and off the ball when he puts in the effort, but that effort is intermittent at the moment, possibly due to the ridiculous burden he maintains offensively.

Looking forward, Carter-Williams is an interesting prospect that will have to make a major role adjustment when he gets to college next year, something he appears willing to do. How he adjusts to the more physical level of competition given his skinny frame will be key.

[Read Full Article]

---
2010 National Prep Showcase: Elite 2011 Prospects
November 23, 2010
Jonathan Givony

One of the most highly touted guards in the 2011 high school class, the opinions surrounding Michael Carter-Williams (#31 Scout, #16 Rivals, #32 ESPN) vary greatly depending on whom you're talking to.

A skinny combo guard with long arms and an underdeveloped frame, Williams is a quick and highly aggressive player who serves as his team's primary ball-handler and shot-creator. He never misses out on an opportunity to push the ball up the floor, but is somewhat of a wild player with the ball in his hands when it comes to his decision making and playmaking ability.

Carter's first step and strong ball-handling skills allow him to get to wherever he wants on the court at this level, and in a hurry at that. He's the type of player who wants and needs the ball in his hands all the time, looking extremely impatient to get it back any time he gives it up to a teammate. It's not rare to see him barking and clapping at them incessantly, showing bad body language and somewhat of a star mentality on a team that doesn't really have many options outside of him. He can make shots (inconsistently) with his feet set, gets to the free throw line at a great rate and is capable of making some impressive passes off the dribble, but has a tendency to drive into brick walls and will heave up some very questionable shots from time to time, particularly pulling up from behind the arc early in possessions.

Defensively, Carter-Williams has quick feet, excellent length, and can get plenty of steals with the sheer frenetic energy he plays with. He puts great pressure on the ball, but must improve his fundamentals and focus to reach his potential in this area, as well as add some strength to his skinny frame.

Carter-Williams has a lot of natural tools to work with, but unless he's just willing to give him the keys to his team and let him go wild, it might take some time for Jim Boeheim to integrate him into his system at Syracuse.

[Read Full Article]

---