Michal Michalak
Recent Tweets
All Tweets
DraftExpress: Nike Hoop Summit Scouting Reports: Wing Players: http://t.co/jdtHeGGp - Andrew Wiggins, Archie Goodwin, Michal Michalak and Tauras Jogela.
2012-04-10 02:25:08
DraftExpress: Michal Michalak taking matters into his own hands. Really impressive performance. 6-5 w/a narrow frame, but very versatile scorer #FIBAu19
2011-07-08 09:04:41
DraftExpress: Excellent game from Poland's Michal Michalak. Scoring off the dribble & from the perimeter. Pretty talented player. Upside limited? #FIBAu19
2011-07-08 08:50:25
Team: Torun
Physicals
Positions
Misc
H: 6' 6"
W: 195 lbs
Bday: 11/02/1993
(22 Years Old)

Current: SG
NBA: SG
Possible: SG

High School:
Hometown: Pabianice, Poland

Predraft Measurements
| Year | Source | Height w/o Shoes | Height w/shoes | Weight | Wingspan | Standing Reach | Body Fat | No Step Vert | Max Vert |
| --- | --- | --- | --- | --- | --- | --- | --- | --- | --- |
| 2012 | Eurocamp | 6' 5.5" | 6' 6.5" | 195 | 6' 7" | 8' 4" | NA | 25.5 | 30.5 |
| 2012 | Hoop Summit | NA | 6' 6" | 194 | 6' 6" | NA | NA | NA | NA |



Basic Per Game Statistics

- Comprehensive Stats - Statistical Top 25s

Player Page&nbsp&nbsp| Player Stats | Related Articles&nbsp&nbsp| Add to My Draft Express&nbsp
&nbsp
Nike Hoop Summit Scouting Reports: Wing Players
April 10, 2012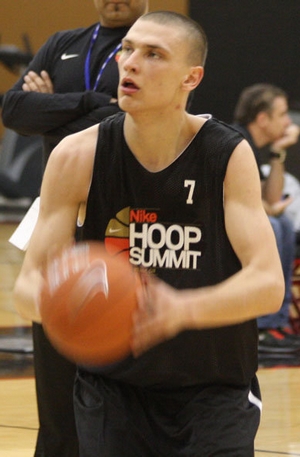 Pete Christopher, OregonLive.com



Matt Kamalsky

The third Polish prospect to participate in the Hoop Summit in the last two years, Michal Michalak only scored 5 points in the Hoop Summit, but was clearly the World Select Team's best shooter throughout the week in practice. Averaging 17.4 points per-game in the Polish League since joining LKS Lodz midseason, it wasn't hard to see what Michalak brings to the table in the European game.

Standing 6-6 with a 6-6 wingspan and a skinny frame, Michalak is not an imposing physical specimen. He does use hesitation moves with some effectiveness when putting the ball on the floor, but lacks the speed and explosiveness to do much damage off the dribble and around the rim.

Where Michalak was able to make an impact was beyond the arc. His smooth mechanics and consistent release point make him a terrific spot-up threat who can knock down shots with his feet set or when running off of screens. When forced to attack of the dribble and given space, Michalak has a nice pull-up jump shot, a decent floater, and isn't afraid to draw contact. However, he lacks the quickness to consistently create his own shot in one-on-one situations. The young guard fared pretty well when looking to pass the ball when he did drive, creatively finding his teammates, but getting swallowed up by the defense and turning the ball over on a few occasions as well.

Defensively, Michalak plays with good intensity, but is limited by his lack of lateral quickness. Knowing this, he often gives his man a cushion, allowing him to deny dribble penetration at this level. It will be worth keeping an eye on how Michalak is able to manage on the defensive end as he progresses considering his limited physical tools.

A prolific spot-up threat for a player his age, Michalak is a key component to Poland's promising 1993 generation. His athleticism limits his upside as a NBA prospect, but he has a clear asset in his jump shot and is not incapable of making plays off the dribble, making him a prolific offensive option in Poland and a prospect worth keeping tabs on should he improve his frame and continue developing.

[Read Full Article]

---
2012 Nike Hoop Summit: International Measurements
April 2, 2012
Michal Michalak
Weight: 194 lbs.
Height (w/shoes): 6'6"
Wingspan: 6'6"

[Read Full Article]

---
U-19 World Championship Player Evaluations, Part Two
August 25, 2011
Jonathan Givony

On a team built around the star power of 2011 Nike Hoop Summit participants Mateusz Ponitka and Przemyslaw Karnowski, it was the relatively unknown 17 year old Michal Michalak who ended up leading Poland in scoring.

Michalak doesn't look like much on first glance – he has an underdeveloped frame and average athleticism -- but he's a very skilled offensive player who's capable of scoring in a variety of different ways. His jump shot is particularly good, which proved to be absolutely deadly in this tournament — he made 43.4% of his 3-pointers on nearly six attempts per game.

He also showed the ability to create his own shot from time to time, even changing directions with the ball en route to the hoop. However, he clearly has work to do on his scoring efficiency inside the arc, as evidenced by his 42.6% conversion rate on 2-point attempts.

Michalak is a confident player who isn't afraid to take on responsibility on the offensive end. Like many young prospects, though, he still needs to work on understanding his limitations and improving his all-around polish.

Defensively, Michalak shows toughness but lacks the length and lateral quickness to hold his own at an elite level — something he has plenty of time to work on.

Michalak's performance at the U-18 European Championship was solid but not quite as impressive as at the U-19s in Latvia, which may temper enthusiasm about his potential somewhat. He did, however, show this summer that he's a player to keep an eye on. He took a big step in his career recently by moving up to the Polish 1st division. It will be interesting to see what kind of playing time he'll get against players who are much older than he is.

[Read Full Article]

---