Mike Muscala
Recent Tweets
All Tweets
DraftExpress: Mike Muscala drafted by Dallas at #44. Could end up being a solid pick I think. Needs to add weight but has skill and rebounds.
2013-06-27 23:33:59
DraftExpress: Mike Muscala Pre-Draft Workout and Interview http://t.co/iGtp1xfF96
2013-06-05 17:47:30
DraftExpress: Tons of content on DX recently including a EuroCamp preview workout footage w\/C.J. McCollum Mike Muscala and more http://t.co/IBNYEFxMWK
2013-06-05 13:45:20
DraftExpress: Mike Muscala Workout Video http://t.co/iGtp1xfF96 - Interview+Footage from his pre-draft workouts with Jay Hernandez in NY (via @farhaaaad)
2013-06-05 10:10:51
DraftExpress: Watching Michael Carter-Williams and Mike Muscala working out with Jay Hernandez in Long Island. http://t.co/AmYPyQYbsK
2013-05-28 11:08:06
Team: Hawks
Physicals
Positions
Salary
Misc
H: 6' 11"
W: 230 lbs
Bday: 07/01/1991
(24 Years Old)

Current: C
NBA: C
Possible: C

Agent: Sean Kennedy
Current Salary:$816,482

High School: Roseville
Hometown: Roseville, MN
Drafted: Pick 44 in 2013 by Hawks

Predraft Measurements
| Year | Source | Height w/o Shoes | Height w/shoes | Weight | Wingspan | Standing Reach | Body Fat | No Step Vert | Max Vert |
| --- | --- | --- | --- | --- | --- | --- | --- | --- | --- |
| 2013 | NBA Draft Combine | 6' 10.25" | 6' 11.5" | 230 | 7' 1" | 9' 0" | 6.8 | 28.0 | 33.5 |



Basic Per Game Statistics

- Comprehensive Stats - Statistical Top 25s
| Year | League | Name | GP | Min | Pts | FG | FGA | FG% | 2Pt | 2PtA | 2P% | 3Pt | 3PtA | 3P% | FTM | FTA | FT% | Off | Def | TOT | Asts | Stls | Blks | TOs | PFs |
| --- | --- | --- | --- | --- | --- | --- | --- | --- | --- | --- | --- | --- | --- | --- | --- | --- | --- | --- | --- | --- | --- | --- | --- | --- | --- |
| 2015/16 | NBA | Mike Muscala | 11 | 11.6 | 3.8 | 1.1 | 2.4 | 46.2 | 0.5 | 1.3 | 42.9 | 0.5 | 1.1 | 50.0 | 1.1 | 1.4 | 80.0 | 0.1 | 1.4 | 1.5 | 0.5 | 0.3 | 0.6 | 0.7 | 1.0 |

Player Page&nbsp&nbsp| Player Stats | Mock Draft History | Related Articles&nbsp&nbsp| Add to My Draft Express&nbsp
&nbsp
Mike Muscala Pre-Draft Workout and Interview
June 5, 2013
Video film and production courtesy of Farhod Family
[Read Full Article]

---
NBA Combine Interviews: Plumlee, Withey, Muscala, Dedmon
May 23, 2013
[Read Full Article]

---
NBA Draft Prospect of the Week: Mike Muscala
March 28, 2013
Scouting report by Joseph Treutlein. Video analysis by Mike Schmitz

After making steady and noteworthy across-the-board improvements in both his sophomore and junior seasons, Mike Muscala came back an even better player as a senior, continuing to take advantage of his steep learning curve en route to becoming one of the best scoring big men in the country.

Muscala increased his pace adjusted points (+1.2), offensive rebounds (+0.1), defensive rebounds (+2.1), assists (+0.6), and blocks (+0.8) per-40 minutes this season, while also cutting down on his turnovers (-0.5). His overall rebounding improvement was so pronounced that he became the second best rebounder (14.8 boards per 40 minutes pace adjusted) in college basketball this season, and tied with Kevin Love and Andrew Bogut in our historical rebounding database.

While Muscala's production and skill set improvements were probably most impressive for him as a senior, he's also continued to make subtle strides in filling out his frame, looking like a noticeably different person than the one we first profiled two years ago. His excellent size and length are clear positives for him from an NBA perspective, but he's done a great job of developing his frame to become less of a liability in the strength department, even if there's still plenty more work to be done. His frame still appears like it can handle quite a bit more weight, and he should benefit greatly transitioning to a NBA strength training regimen.

Video Analysis:


On the offensive end, Muscala has developed into an incredibly dangerous post threat over the past three seasons, being equally dangerous with both his left and right-handed hook shots while sporting some deceptive range and quickness with his moves. He shows a very good feel when he gets the ball in his hands and is remarkably efficient with his movements, getting off shot attempts very quickly and rarely wasting time, something that surely contributed to his decrease in turnovers this season.

There are some concerns about how Muscala's post game will translate to the pros, as he sports a noticeable size advantage against most of the competition he faced in college, but the style of back-to-the-basket game he plays appears well suited to his physical profile and the type of role he likely projects to in the NBA. Combine this with the high effort level he shows for getting open and the excellent learning curve he's shown, and his post game is probably not something one should rule out so quickly.

Muscala's perimeter game is less featured than his post offense in the NCAA, but given the pick-and-pop tendencies of the NBA combined, with his 4 straight seasons of 79% or better free-throw shooting, it's not hard to see it becoming a larger staple of his game. Muscala shows good touch and range on his jump-shot, operating comfortably out to just inside the NCAA three-point line, though he's never really developed three-point range. If he works on adding that to his game either in the pre-draft process or once he's in the NBA, it certainly wouldn't hurt his stock.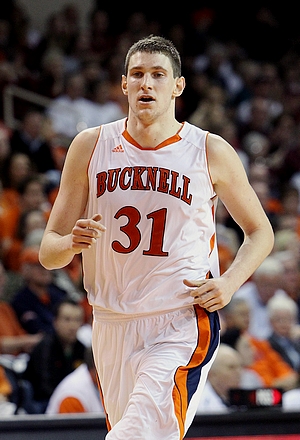 US Presswire



Muscala's offensive game doesn't stop there, though, as he's a very well-rounded player, finishing well on cuts, crashing the offensive glass consistently, contributing nicely in the passing game with 2.4 assists per game, and even showing flashes of face-up ability from the perimeter, being able to put the ball on the floor for one or two straight-line dribbles.

His ability on cuts and offensive rebounds is probably the biggest selling point of Muscala's off-the-ball game, however, as he's very frequently involved and doesn't shy from contact, as evidenced by his impressive 6.9 free-throw attempts per game, which are extra valuable given his superb free-throw shooting percentage. How this will translate to the NBA against bigger and stronger competition, especially if he doesn't make further improvements in the weight room, is yet to be seen however.

Muscala also made some nice strides on the defensive end this season, as he's developed a strong fundamental base and excellent awareness in his time in college. He plays defense with good focus and a strong motor, rotating well in help-side defense and doing a good job staying in front of his man and contesting shots in the post. How he will deal with the increased physicality of the NBA and if he can translate his defensive prowess to the NBA may be the biggest question mark in Muscala's game, but being a very young senior at still just 21 years old and likely not yet benefitting from a top-tier strength training program, he probably still has plenty of room for growth here as well.

Looking forward, Muscala has developed into a very intriguing prospect in his four years in college, showing a remarkably steep learning curve along the way. 6'11 players with his level of length and mobility don't grow on trees, and when you add in his perimeter prowess, well-developed post game, defensive abilities, and intangible profile, it makes for an intriguing overall package. The level of competition he faced and his still below average strength are definitely things to be concerned about in terms of how his game will translate, but those are things he should have a decent chance to overcome.

Muscala's draft stock may have suffered somewhat due to his poor showing in the NCAA tournament against Butler, where he struggled to make many of the makeable looks he was able to create for himself against a very aggressive post-defender in Andrew Smith, going just 4-17 from field.

Because of the fact that he hasn't faced a great deal of high-level competition (with the exception of one very strong performance against Alex Oriakhi and Missouri) NBA scouts may have some question marks about how his productivity might translate against NBA level size and athleticism.

That's where Muscala's performance during the pre-draft process will likely be very important, as it will give NBA teams an opportunity to match him up with a plethora of other highly touted center prospects, such as Gorgui Dieng, Jeff Withey, and others. Given the value NBA teams place on skilled big men, it wouldn't be surprising to see Muscala rise up draft boards (perhaps similar to the way Nikola Vucevic did a few years back) if he's able to hold his own in these settings.

[Read Full Article]

---
Top NBA Prospects in the Non-BCS Conferences, Part Five
November 16, 2012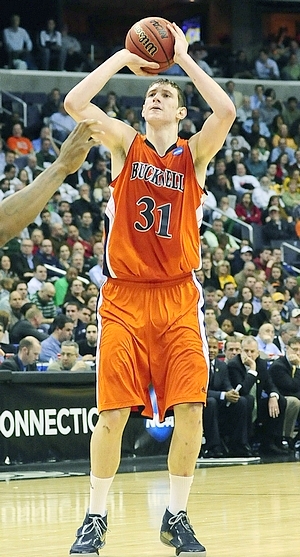 US Presswire



Derek Bodner

Bucknell big man Mike Muscala continues his development as the focal point of the Bison offense, evolving as one of the best inside-outside scoring threats in college basketball.

The 6'11" Muscala increased his per-40 minute pace adjusted scoring average from 21.5 to 23.6 points last year, while increasing his productivity on the glass from 10.5 rebounds per game to 12.2 rebounds, all the while increasing his true shooting percentage from 58% to 60%.

The last time we profiled Muscala we noted his developing post-up game, and he has continued to make significant strides in that department. According to Synergy Sports Technology, Muscala averaged 0.947 points per possession on post-up opportunities, which places him in the 77th percentile and is a significant increase from the 0.843 he averaged his sophomore season.

Having put in considerable work improving his frame, Muscala is equally comfortable going over either his left or right shoulder, something which makes him less predictable in the post and allows him to adapt to where the defensive help is coming from. He has a considerable size and length advantage at this level and does a good job working to establish deep post position aggressively, which once he successfully establishes, smaller defenders have a hard time contesting his shot.

While Muscala isn't overly advanced in the post, with most of his work consisting of a hook shot over either shoulder, he does show solid footwork in the post and is hardly mechanical, with a developing drop step and up and under move at his disposal. He also shows a good feel for where help is coming from and has enough moves in his repertoire to be able to counteract that help.

Helping Muscala's efficiency has been his stellar ability to get to the free throw line. Muscala averaged 9.4 free throw attempts per 40 minutes pace adjusted in 2011-12, which ranked fourth among centers in our database. With Muscala's size advantage and the aggressiveness in which he works to establish post-position, his defender often times doesn't have much choice other than to foul, and Muscala does a good job of not avoiding contact.

That being said, there are some problems when projecting Muscala's post game to the next level. First, he hasn't faced a great deal of quality NBA-caliber size, and he has struggled at times when he has gone up against players who could physically compete with him, for example against Minnesota and Syracuse last season. His strength, both upper and lower body, to this point are underdeveloped, and it's unlikely he will be able to establish the post position he has been able to at Bucknell at the pro level. He also tends to have a relatively low release point for somebody of his length, something that could be problematic for him when he gets matched up with players who are his physical equal.

The good news is that his other major development last year was that he improved his consistency on his jump shot fairly substantially, and showed solid improvement extending his range. Overall, Muscala increased his effectiveness on jump shots from 0.841 points per possession to 0.954 according to Synergy Sports Technology, while increasing his free throw percentage to 85%, which is phenomenal for a big man who gets to the line as frequently as he does.

Muscala is much more comfortable from mid-range than he was previously in his career, which is a great sign if he wants to transition away from being a post-up focal point to more of a floor spacer like he may have to at the next level. While Muscala has a fairly long release with a high arc on his shot, his release point is consistent and he shows good touch on the shot. Continuing to extend that range would likely be beneficial for him moving forward.

The other area where Muscala showed considerable improvement was on the offensive glass, While still not a prolific offensive rebounder, Muscala upped his offensive rebounds per 40 minutes pace adjusted from 2.4 to 3.8, and he does a very good job of converting once he gathers the ball, doing a good job of not bringing the ball down and using his size and length to his advantage.

On the defensive side of the court, Muscala shows a good effort level and uses his length well as a weakside help defender, but has some physical limitations which are quite likely to become a major issue should he get a chance at the next level. While he shows fairly good technique defending the pick and roll, and he is quicker and more coordinated than one might expect on first glance, Muscala is still fairly slow laterally. Perhaps a bigger worry is his lower body strength, and when matched up against the legitimate post scorers he would see at the next level it is hard to envision Muscala holding his position without a considerable increase in lower body strength.

On the plus side, Muscala is one of the youngest seniors in college basketball, not turning 22 until next July, so there's a decent chance that he's still not doing maturing physically and filling his frame out. If he's able to continue to add bulk to his frame over the next few years, without losing significant mobility, he would likely improve his pro prospects significantly.

Muscala has refined his inside-outside offensive game to the point where he is one of the most effective scoring big men in the nation, although whether that inside game can translate itself to the next level is hardly a sure thing at this point. If Muscala can convince NBA decision makers that his frame will not be a hindrance long term, and continue to become more comfortable as a face-up threat, he will enhance his chances of hearing his name called on draft night. In the meantime, a strong season on the team level and a productive showing at the Portsmouth Invitational Tournament, where he'll be able to face up against some of the best senior big men in college basketball, would surely help his cause.

[Read Full Article]

---
Top NBA Draft Prospects in the Non-BCS Conferences, Part 7 (#31-35)
November 14, 2011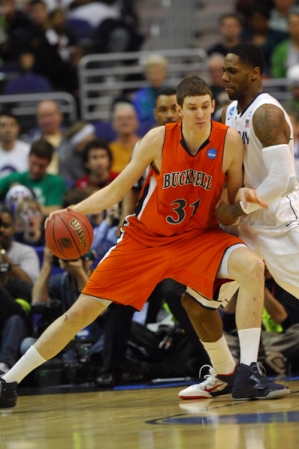 Icon SMI



Joseph Treutlein

Coming off a solid sophomore season where he averaged 14.9 points and 7.3 rebounds per game, Mike Muscala has a solid foundation to build upon heading into his junior year. Possessing good height, decent athleticism, and a groundwork of skills, Muscala should start seeing more due diligence looks from talent evaluators, and still has plenty of time to continue growing as a player.

Standing 6'11 with good length but not the greatest frame, Mike Muscala is a solid athlete, excelling more with his coordination and mobility than explosiveness or power. His upper body doesn't possess the broadest of shoulders and he's lacking noticeable bulk in both the upper and lower body, and while his long term upside physically may be limited, he does appear that he could still add a good amount more strength without negative effects.

On the offensive end, Muscala shows intrigue in a variety of areas, though he does most of his damage operating with his back to the basket at this level. Facing below average competition and not much in terms of legit opposing big men on a nightly basis, he often has a size and skill advantage in the post that he has no qualms taking advantage of consistently.

As a post player, Muscala has a solid finesse game that utilizes his budding ambidexterity, as he actually favors a left-handed hook shot as his go-to move despite being right-handed. He flashes hook shots with both hands, turnaround jumpers, and up-and-under moves in his repertoire, while showing solid touch and instincts overall as well.

While Muscala fares well in this area of his game in his conference, it's tough to see it projecting very well to higher levels in its current stage, as he shows significant problems when dealing with bigger, stronger, and more athletic opponents, not possessing the strength to finish with power and showing real issues when getting bodied up by legitimate competition. Nevertheless, he's still young and filling out his frame, so he could improve with his power game over time, while his finesse game is still relatively unpolished as well, so it's not something to write off completely.

Muscala also does a good deal of damage operating off the ball, both with cuts to the basket and spot-up jump shots, and these are areas where he shows more potential with in the long term.

His jump shooting numbers are not especially strong, as he scored just 0.84 points per shot overall last season according to Synergy Sports Technology, but there's good reason for optimism due to multiple factors. For one, Muscala shot an excellent 81.6% from the free-throw line for a big man as a sophomore, and did it on a solid sample size of 4.6 attempts per game (while also shooting 80.6% as a freshman, more reason to believe it's not a fluke). If Muscala can translate this to live action, he could be a very potent weapon from mid-range, while he also shows flashes of three-point range, hitting 4-for-11 long balls overall as a sophomore.

Muscala utilized his jump shooting both in spot-up situations and operating on pick-and-pops, something he looked comfortable with and would likely be his best chance to develop a niche at the next level, so it's definitely something he should continue focusing on. Muscala also did some decent damage in pick-and-rolls, exhibiting nice coordination and mobility on his forays to the basket, where he finishes well against the level of competition he faces. He shows good touch, instincts, and shot selection finishing on cuts, but it's tough to see it translating to higher levels of competition without noticeable improvements in his strength.

On the defensive end, Muscala's average frame poses similar issues to his success, as despite showing solid enough levels of fundamentals and effort, his lack of strength really hinders his abilities even against the relatively weak level of competition he faces. In the post, he usually does a good job staying in front of his man and getting his hands up to contest shots, but his opponent too often will back him down and go through him, something he isn't able to stop in most instances. He actually does look adequate on the rare instances he's pulled out to the perimeter, however, having decent enough lateral quickness and fundamentals to not be a liability there.

Looking forward, Muscala is still raw in terms of his physical abilities and could use some more polish with his skills as well, but his flashes of developing tools in a variety of areas combined with his size and decent athleticism make him someone to keep an eye on. The things he's asked to do at this level are likely very different than the things he'd be asked to do if he ever did make it to the NBA, but he still could make notable strides as a prospect by developing his body, defense, and perimeter shooting abilities, while another strong season for his team and an NCAA Tournament berth obviously wouldn't hurt either.

[Read Full Article]

---