Trending Prospects (3/1/2012)
March 1, 2012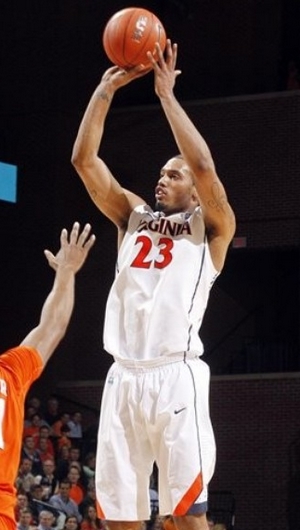 AP
Derek Bodner
After redshirting his senior year due to an injury, power forward
Mike Scott
faced major questions on how his surgically repaired ankle would hold up. Scott suffered flare ups on the ankle that caused him to miss preseason scrimmages against Vanderbilt and Baylor, but hasn't missed a game this season and is a leading candidate for ACC player of the year honors.
Scott, who will be nearly 24 by the time of the draft, is having the best season of his career, both from an individual and team perspective. While his per-game stats are somewhat misleading due to the extremely slow pace (339th of 345 teams in the NCAA) Virginia plays at, the 6'8" big man has posted averages of 24.6 points and 11.8 rebounds per 40 minute pace adjusted, while scoring at an extremely efficient clip with a true shooting percentage of 63%.
Scott has turned himself into an extremely polished and versatile offensive option, capable of scoring both in the post and when facing up. Scott's post-up game, while not overly advanced due to his average size and girth, is very effective.
His preferred moves in the post are either a right handed hook or a turn-around jump shot. While not an explosive leaper off of two feet, something that can at times lead to his shot being blocked or being forced into lower percentage fade-aways, he does a good job of establishing position early and isn't afraid to initiate contact to create separation, and is very intelligent using his off hand to create space as well.
Generally speaking, Scott is a wily veteran who plays like you would expect someone who is 2-5 years older than most of his opponents to. He never looks rushed and has plenty of tricks up his sleeves, looking very decisive with his moves and knowing how to use his body to draw fouls.
While Scott is the focal point of the Cavaliers offense, he does a good job moving without the ball and has good touch around the hoop. He also does a good job converting off the offensive glass. While his 3.2 offensive rebounds per 40 represents an average number for a big man, his role in the Virginia offense has to be taken into account when looking at this number.
He shows good effort and an ability to bang down low, and as less of the offense is run through him this could be a skill he uses at the next level. When he does get an offensive rebound, he converts very well, gathering himself quickly and showing good touch around the hoop.
His development as a face-up threat is what has taken him to the next level as a collegiate scorer. Scott has done a very good job of adding this element to his game over the past two years, as it was something he didn't have in his arsenal during his last full season at Virginia.
According to Synergy Sports Technology, Scott shot just 37.1% on jump shots during his junior season. That number has shot up to 52.4% this year, with jump shots now comprising 37.8% of his offense, a huge jump for from his earlier days at Virginia.
Showing both a high release point and a quick release, Scott is capable of making tough shots with a hand in face, even off the dribble, being very reliable in pick and pop situations.
The majority of Scott's jump shots come from mid-range, as he has yet to reliably extend that out to the collegiate three point range (6-18 on the season), something that will be key for him going forward.
When Scott gets his feet set and is able to square his shoulders, his jump shot has become an extremely reliable weapon for him. With Scott not likely to be the post scorer at the next level that he was in college, this increasing ability to face-up and hit the jump shot is going to be key for his ability to stick to an NBA roster.
Defensively, Scott does a good job defending the post, using his lower body strength to deny position early, and while not a shot blocking threat, he does a good job contesting shots in the post.
Scott may
have some troubles moving laterally and defending the pick and roll, but overall he's a smart and willing defender, and one of the reasons Virginia is
one of the best defensive teams
in the country this year.
On the defensive glass, Scott's 8.6 defensive rebounds per 40 minutes pace adjusted is a good number that looks even better when looking at team success, as Virginia is third in the nation in defensive rebounding percentage. Scott does a good job of boxing out and has good instincts as a rebounder.
Facing many questions coming into the season, both about his ability to expand his offensive game and about how his twice surgically repaired ankle would hold up,
Mike Scott
has responded with a phenomenal season.
His scoring instincts appear to be his most dependable skill to translate to the next level, which combined with the improvements he's made defensively and as a rebounder and his high work ethic and basketball IQ should be enough to get him some strong looks in the second round, despite his average physical tools and advanced age.
[
Read Full Article
]
Top NBA Draft Prospects in the ACC, Part Five (#21-25)
September 26, 2011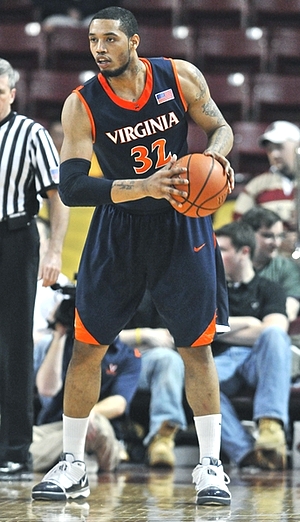 Icon SMI
Walker Beeken
After having his senior season cut short after 10 games due to an ankle injury, Virginia's
Mike Scott
was granted a medical hardship waiver, making him eligible for fifth year in 2011-2012. Scott will look to build upon the success he had last season, where he averaged 15.9 points and 10.2 rebounds per game prior to being injured.
As an NBA prospect, Scott is just an average athlete and is a bit undersized at the power forward position at 6'8", but he has a very solid, mature build and plays with an aggressive, physical mentality.
He should be the focal point of the Virginia offense this season, and he does most of his damage on the block offensively, as about 43% of his offensive possessions last season were post-ups. When catching the ball on the block, Scott seems most comfortable facing up, where he can then use a power move to the bucket or rise up for a short jumper. He attacks the basket hard and has a nice touch, but his lack of length and elevation hinders him on occasion, and leads to some fade-away jumpers and lower percentage shots, as evidenced by the unimpressive 48% he shot on 2-pointers last season (he shot slightly better at 51% in a full season as a junior).
What makes Scott such a tough cover at the college level, in addition to his work in the post, is his ability to also step out and knock down jump shots. He has a quick release and a nice stroke with range that looks to be just shy of the college 3-point line. He's also able to utilize his quickness against opposing big men by putting the ball on the floor for a few dribble to get to the rim. He did a much better job attacking and getting the line in his 10 games last season as well, where he connected on an excellent 88% of his attempts.
Defensively, Scott moves fairly well laterally and can step out and guard on the perimeter a bit, which would serve him well against many of the versatile power forwards in today's in NBA. In the paint, he shows that he'll compete and fight for position, but his lack of size and length will be an obstacle for him, and he's not really much of a threat as a shot-blocker in help situations either.
Scott does, however, utilize his strength and toughness to do a very nice job on the glass, as he averaged a very solid 13.1 rebounds per forty minutes pace adjusted last season. This is a skill he can hang his hat on that should give NBA scouts enough reason to give him a closer look.
As an undersized power forward who will be nearly 24 years old when the 2012 NBA draft comes along, Scott will face an uphill battle to get drafted. In order to establish himself as a legitimate draft prospect, he'll need to prove that he's fully recovered from his ankle injury and build on his early success from last season, continuing to rebound at high rate and improving his scoring efficiency. If he can do that for a full season against some of the top talent in the ACC, he'll surely get his chance to showcase himself in the pre-draft process.
[
Read Full Article
]