Moe Harkless
Recent Tweets
All Tweets
DraftExpress: Warriors could likely snag Tyler Zeller & Moe Harkless at 12 & 16, two guys they like, while the Rockets would likely go for Drummond at 7.
2012-06-27 04:28:11
DraftExpress: DX: Moe Harkless video scouting report http://t.co/K9S5tvCC
2012-06-11 10:33:03
DraftExpress: Best Combine interviews in my opinion: Damian Lillard, Kendall Marshall, Austin Rivers, Royce White, Bradley Beal, Tyler Zeller Moe Harkless
2012-06-08 01:32:00
DraftExpress: ICYMI: In-depth Moe Harkless interview http://t.co/tsSsKBWV Fab Melo http://t.co/OchKTL3Z Terrence Jones http://t.co/Wg1ZRFGD workout videos
2012-05-29 09:51:38
DraftExpress: DX Interview: Moe Harkless: "I'm Going to Surprise a Lot of People" http://t.co/tsSsKBWV
2012-05-28 02:06:55
Team: Trailblazers
Physicals
Positions
Rankings
Salary
Misc
H: 6' 9"
W: 207 lbs
Bday: 05/11/1993
(22 Years Old)

Current: SF
NBA: SF
Possible: SF

RSCI: 43

Agent: Happy Walters
Current Salary:$1,887,840

High School: South Kent
Hometown: Queens, NY
Drafted: Pick 15 in 2012 by 76ers
Best Case: Trevor Ariza
Worst Case: Devin Ebanks

Predraft Measurements
| Year | Source | Height w/o Shoes | Height w/shoes | Weight | Wingspan | Standing Reach | Body Fat | No Step Vert | Max Vert |
| --- | --- | --- | --- | --- | --- | --- | --- | --- | --- |
| 2012 | NBA Draft Combine | 6' 7.25" | 6' 8.75" | 207 | 7' 0" | 8' 6.5" | 5.3 | 32.5 | 37.0 |



Basic Per Game Statistics

- Comprehensive Stats - Statistical Top 25s
| Year | League | Name | GP | Min | Pts | FG | FGA | FG% | 2Pt | 2PtA | 2P% | 3Pt | 3PtA | 3P% | FTM | FTA | FT% | Off | Def | TOT | Asts | Stls | Blks | TOs | PFs |
| --- | --- | --- | --- | --- | --- | --- | --- | --- | --- | --- | --- | --- | --- | --- | --- | --- | --- | --- | --- | --- | --- | --- | --- | --- | --- |
| 2015/16 | NBA | Moe Harkless | 17 | 20.0 | 6.1 | 2.3 | 5.1 | 45.3 | 1.7 | 3.2 | 52.7 | 0.6 | 1.8 | 32.3 | 0.9 | 1.4 | 66.7 | 1.5 | 2.4 | 3.9 | 1.1 | 0.4 | 0.4 | 1.1 | 1.3 |

Player Page&nbsp&nbsp| Player Stats | Mock Draft History | Related Articles&nbsp&nbsp| Add to My Draft Express&nbsp
&nbsp
NBA Combine Interviews: Harkless, Taylor, Crowder
June 17, 2012
[Read Full Article]

---
Moe Harkless Video Scouting Report
June 11, 2012
Mike Schmitz takes a look at the strengths and weaknesses of Moe Harkless with the help of St. John's game film and commentary from Harkless himself.






---




More DraftExpress Video Breakdowns:


-Perry Jones Video Scouting Report
-Thomas Robinson Video Scouting Report
-Andre Drummond Video Scouting Report
-Quincy Miller Video Scouting Report
-Tony Wroten Video Scouting Report
-Terrence Ross Video Scouting Report
-Tyshawn Taylor Video Scouting Report
-Damian Lillard Video Scouting Report
-Jeremy Lamb Video Scouting Report
-Bradley Beal Video Scouting Report
-Dion Waiters Video Scouting Report
-Kendall Marshall Video Scouting Report


---


Mike Schmitz is a writer for ValleyoftheSuns, a member of the TrueHoop Network. Follow him on twitter and subscribe to his YouTube page.

[Read Full Article]

---
Moe Harkless: "I'm Going to Surprise a Lot of People"
May 28, 2012
An interview with St. John's freshman Moe Harkless, discussing his training regimen in Florida, his rapid ascent this season, his perimeter shooting ability, the transition from high school to college and now the NBA, and more.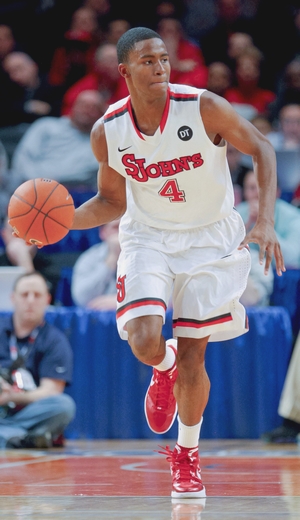 US Presswire



Kyle Nelson: Thank you for your time, Moe. How is everything going?

Moe Harkless: Everything's going well so far. I've just been out here working hard.

KN: Where are you currently working out for the draft?

Moe Harkless: I'm working out down at IMG in Florida.

KN: Who are you training with down there?

Moe Harkless: On the court, I'm training with Dan Barto, as well as strength coaches and speed coaches. There are a lot of different trainers down here.

KN: Can you tell me more about your pre-draft workout routine? Tell me about an average Moe Harkless training day.

Moe Harkless: I wake up in the morning around 7:45 and go to eat breakfast. Then, the first thing to do is check with a trainer every morning and get weighed-in and if you have any injuries or anything then you get treatment. Our first workout is on the field. It's movement and speed training from nine until 11. Then, we go on the court from 11:30 until 12:45 or one o'clock and work on ball handling and stuff on the court, basically. Then, we eat lunch and normally we'll be back around four o'clock for mental training and vision training. Then, at five o'clock we have weights and at 6:30 we are on the court again until 7:45 or eight o'clock. After that, the day is pretty much over. I just relax until the next day.

KN: That's 12 hours every day?

Moe Harkless: Yeah, except for on Wednesday, when we do movement in the morning and basketball at night.

KN: Does that include a 5-on-5 scrimmage?

Moe Harkless: No, we do that once a week. At night, we usually just get a lot of shots up.

KN: Have you received any advice from NBA players or coaches or your trainer that you're carrying with you as you prepare for the draft?

Moe Harkless: You know, they tell me just to go hard all of the time and just show real intensity at whatever workouts that I go to. Always play as hard as you can play.

KN: So, where have you worked out so far?

Moe Harkless: I've just been down here. I haven't gone anywhere yet. I have a workout next week with the Orlando Magic.

KN: You were invited to the NBA Draft Combine. What will decision makers learn about you in that setting that they didn't already know?

Moe Harkless: I think I'm going to surprise a lot of people there because I don't think a lot of people know that I can shoot the ball as well as I can. I think I'll probably be able to show my athleticism and, you know, the things that they do the testing on. I think I'll surprise a lot of people.

KN: It's been quite a year for you, Moe. What are your thoughts on your rise from an unheralded top-50 high school recruit to a potential top-20 pick?

Moe Harkless: I think it's just about getting that exposure and showing people what I can do. As the college season went on, I got a better chance and I got to play in front of a lot of people and I think that helped.

KN: Do you think playing the most minutes of any freshman prospect in the NCAA help?

Moe Harkless: I think being put in the right position helped. Life is really just about situations and if you're in the right situation than you can show what you can do. Pretty much anything can happen.

KN: Looking back on your first year at St. John's: what are the things that you did well and what are the areas of your game that you need to improve on?

Moe Harkless: I think I need to improve my shooting. I didn't really shoot the ball well. Ballhandling, as well. Those are the things that I've been working on mostly: getting my shot to drop more and working on my ball handling, getting stronger, faster.

KN: You shot 21% from beyond the arc last year and you're likely going to play on the perimeter full-time at the next level. So, how important is the jump shot to your success and what are you going to do to get it to where it needs to be?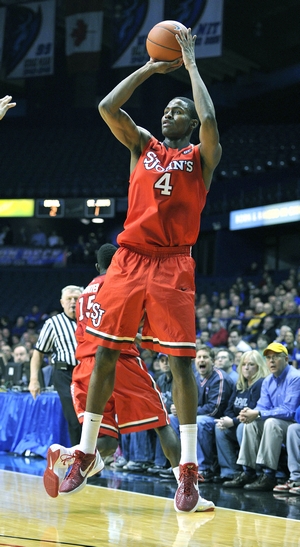 US Presswire



Moe Harkless: I think it's important for any player to shoot the ball, especially in this process: to hit shots in workouts and stuff like that. I think that doing that consistently will take my game to the next level and I think that's a big step.

KN: What kinds of drills have you been working on to improve your ball-handling and shooting?

Moe Harkless: With shooting, it's all about reps and I've been getting a lot of reps up, coming off screens, trailing, coming off picks and everything, all different kinds of shooting drills and dribbling drills with two basketballs, one basketball, just a lot of different things.

KN: So, how many shots do you think you're taking a day?

Moe Harkless: Honestly, I don't even know. It's a lot. [laughs] It's a lot.

KN: What was it like playing for most of the year out of position? You came into college expecting to play on the wing, but you played a lot of the season at power forward and even at center.

Moe Harkless: It was a tough situation. It wasn't what I expected, but I just tried to make the best of it and it gave me a chance to show my versatility, so I think in the long run it helped. I just pretty much had to do whatever it took, whatever my coaches wanted me to do, to win games. So, that's what I did. Unfortunately, we didn't win a lot of games, but I just basically had to do whatever was needed from me.

KN: What were the kinds of things that you learned from Coach Lavin and Coach Dunlop?

Moe Harkless: I learned a lot from them. You know, they're two great coaches. Unfortunately, I didn't get to play under Lav for the whole season, but playing under Dunlop was also a good experience. These guys told me a lot of different things, what it takes to be able to play at the next level. Also, Coach Dunlop and Coach Rico worked with me everyday after practice and stuff like that and they helped me a lot.

KN: Was it hard for you and your teammates to deal with Coach Lavin's illness?

Moe Harkless: Yeah, definitely. We came into St. John's hoping to play for Coach Lavin and he wasn't there for the season, you know, for his personal reasons. It was tough on us mentally but we had to stay strong.

KN: What were some of the other challenges that you've faced over this last year?

Moe Harkless: It was tough just adjusting to playing a different role. Transitioning from high school to college is really tough. You know, it's a completely different level and I'm pretty sure that transitioning from college to the NBA is going to be an even tougher challenge. You can already tell from the intensity of the workouts and everything, so that's pretty much the hardest part: transitioning.

KN: What was it like playing in college in front of your hometown fans?

Moe Harkless: It was great, definitely, seeing my family and a lot of my friends at every game. It was a great experience to be able to stay at home and play.

KN: How difficult of a decision was it to declare for the NBA Draft? What were the reasons for you declaring when you did?

Moe Harkless: I just felt like it was the right time and that it was a good situation. I talked it over with my coaches and my family and we all felt like it would be a good opportunity to take.

KN: What advice did you get from your coaches, your advisers, and your family?

Moe Harkless: After declaring?

KN: Yes. What were the different types of things that you had to take into consideration?

Moe Harkless: It's a big risk that you're taking and that's really the main thing that you have to think about, whether or not you're ready to be able to compete at a higher level every single day and do this for the rest of your life. Being able to take care of your family and make my mother happy, that's the biggest thing for me in the world.

KN: Looking towards the draft, who are the types of players that you're modeling your game after? What kind of role do you think you can play in the NBA right now?

Moe Harkless: A lot of people compare me to guys like Paul George, Rudy Gay, and Joe Johnson. Those are all pretty good players. I'm just going to go in for whatever team drafts me and try to just do whatever I can do to help the team and whatever the coaches need me to do.

KN: A specific situation aside, what kind of role or style of play do you think suits your game?

Moe Harkless: I think what fits me most is an up-tempo style of play. I like to run. But, for any situation or any team that picks me, it will be a great honor to be able to play for any team in the NBA.

KN: People have questioned your NBA readiness and decision makers may see you as more of a down-the-road type of prospect rather than a guy who can contribute immediately. Do you think that scouts are underestimating your ability to produce right out of the gate?

Moe Harkless: Like I said before, I'm going to go in and do what I can to help the team out and, given the right opportunity, you never know what could happen.

KN: Have you thought at all about playing for a hometown team like the Knicks or the Nets?

Moe Harkless: People talk about it, but I haven't really thought about it that much. I'm not really thinking about one team or anything like that. Right now, I'm just trying to get better and prepare myself.

[Read Full Article]

---
NBA Draft Prospect of the Week: Moe Harkless
January 27, 2012
Kyle Nelson

St. John's came into this season with the third best recruiting class in the country, anchored by three top-shelf wing prospects in Dominic Pointer, Amir Garrett, and Moe Harkless.

While that recruiting class eventually fell apart, Harkless has emerged as the gem of that haul, and has eagerly risen to the challenge of being a first option after St. John's lost Nurideen Lindsay to transfer.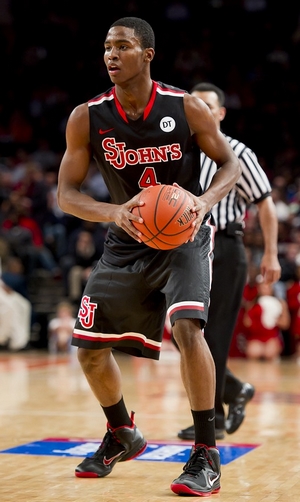 Icon SMI



Harkless definitely looks the part of a NBA player from a physical standpoint. Standing somewhere around 6'8 with an excellent wingspan and a wiry frame, he has ideal size for the NBA small forward position. He must continue to get stronger, but should have no problem doing so in time as he matures and his body fills out. He is a very good athlete as well, looking fluid and explosive around the basket, and showing a solid first step and excellent quickness in transition. Furthermore, Harkless is a scrappy player, with solid energy and aggressiveness, which allows him to capitalize on his athletic potential.

Though he is a very raw player in terms of his skill-set, Harkless has managed to have a very productive freshman season, playing nearly 36 minutes per game, tops amongst all freshmen prospects. St. John's has little depth in their frontcourt, so Harkless has had games where he hasn't seen even a second of rest on the bench.

On this undersized St. John's team, Harkless spends most of his time at the power forward or even center position. While he lacks the strength to establish great post-position or back opponents down with his back to the basket, he shows some solid footwork, which combined with his elite quickness and explosiveness, allow him to do some damage inside the paint.

Not a prolific shot-creator, Harkless gets a good amount of production moving off the ball intelligently in St. John's half-court offense. His teammates do a good job of passing him the ball in open spaces, where he can use his terrific length and leaping ability to finish above the rim, often in impressive fashion.

Harkless' perimeter shooting is very raw at this stage and may be the main thing hampering him from making a full transition to the small forward position at this time. He is making just 24% of his nearly three 3-point attempts per game on the season, and 66% of his foul shots. On film, inconsistent shooting mechanics and release points are definitely a concern, as Harkless rarely shoots the ball the same way twice. He is a solid shooter in rhythm, but it takes him too long to plant his feet and get his shot off, which sometimes results in in a rigid, truncated release when he's not completely wide open.

Harkless is also a limited ball-handler at this stage, mostly being relegated to straight-line drives. He shows intriguing potential in this area from time to time, but will have to add more advanced moves to his arsenal to become a more prolific shot-creator on the perimeter.

His terrific first step and rangy strides allow him to handle the ball in transition and beat opposing big men off the dribble in the half-court at this level of competition, but that might not be quite as easy early on in the NBA being guarded by small forwards.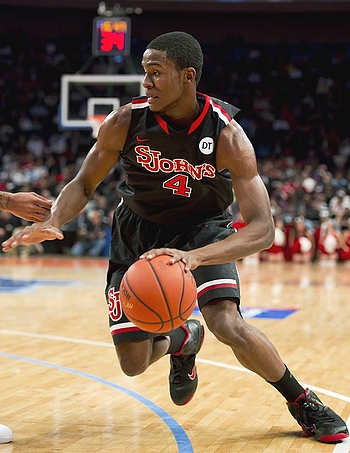 Icon SMI



Harkless finds ways to make up for his limitations as a ball-handler and shooter in other ways, namely with the high energy level he brings to the offensive glass and the way he runs the floor. He's also a solid passer and shows a good overall feel for the game, hinting at excellent things that could be in store for him once his skill-level increases.

With his terrific size, length and athleticism, Harkless has considerable upside as a perimeter defender. It's tough to get a great read on this part of his game, though, as he's primarily asked to defend big men due to his team's lack of height, as well as the fact that they play mostly zone.

His lack of strength does him few favors here, as he struggles to deny his man, can't easily hold position on the block, and seems to lose his focus easily. Harkless fills up the stat sheet with steals, blocks and rebounds and clearly has the physical tools to develop into a very good option down the road, but he'll need plenty of experience and good coaching before he's able to get there.

Scoring a record 32 points on 14-17 shooting in his Big East debut, followed by 21-point and 10-rebound performance against Georgetown and a 23-point and 13-rebound performance against West Virginia, Harkless showed that he's ready to be discussed as a legitimate prospect.

Although he's clearly nowhere near ready to contribute in the NBA at this stage, Harkless is reportedly heavily considering entering the draft this spring to gauge his professional options. Given St. John's tumultuous season and the uncertainty surrounding Coach Steve Lavin's future with the team, that might not come as a surprise, as it doesn't appear that much will change next year in regards to the way he is utilized on the interior.

Harkless' per-game numbers (16 points, 9 rebounds, 2 blocks, 2 steals) will impress some teams on first glance if ignoring the gaudy 36 minutes he sees per contest. So will the fact that he's still only 18 years old, one of the younger players in his class.

If he does elect to turn pro, he'll need to get very lucky to fall to the right organization and hope they are in turn patient enough to develop him for a few years until he's ready to contribute, but there's plenty to work with.

While by no means a finished product, Harkless obviously has a great deal of upside, and could be viewed by some as a Trevor Ariza-type prospect in the late first or early second round.

[Read Full Article]

---
2010 National Prep Showcase: Elite 2011 Prospects
November 23, 2010
Joseph Treutlein

A long and athletic small forward with a raw skill set, Maurice Harkless (#43 Scout, #45 Rivals, #42 ESPN) is a player who does most of his damage off hustle and grit at this stage, though has good long-term potential if he can further develop his skills. Harkless doesn't have much bulk on his frame now, though it looks like he could pack on another 10 pounds or so comfortably down the road.

Offensively, Harkless doesn't consistently show much besides finishing on cuts, alley oops, and getting out in transition, where he shows the ability to finish capably with both power and finesse, possibly relying on the latter more often than he should. He shows good body control and coordination on his finishes, being able to put in floaters and reverse lay-ups when the situation calls for it, while also showing a pretty good activity level in seizing opportunities.

In terms of shot creation with the ball, Harkless shows a somewhat comfortable handle, though he seems to lack confidence and doesn't really show the ability to take advantage of his athleticism with the ball just yet. He occasionally will pull off an aggressive move going to the hole when in isolation, but struggles when not in space.

Harkless didn't have much success with his perimeter jumper here, hitting on just 1-of-6 from three-point range, though his spot-up shot has solid form and he likewise looks good at the free-throw line. His pull-up jumper, on the other hand, is prone to errant misses, and he doesn't appear to have the control to be a consistent threat there at this stage.

Defensively, like most of the rest of the Red Storm recruiting class, Harkless brings a good activity level to the table and has excellent tools, being a major threat in the passing lanes and showing flashes of great things defending on the ball. He has a pretty good stance defending the perimeter, while also usually putting in very high effort levels, though he can lose focus at times. He also doesn't contribute on the boards nearly as much as someone with his size and athleticism could, as he pulled in just eight boards between his two games here.

Looking forward, Harkless should be able to contribute right off the bat at the college level defending and finishing plays by utilizing his athleticism and length, though further polishing his skills will be critical for his long-term success at the college level and beyond. He shows decent flashes with both his ball-handling and shooting on the offensive end, but will need to develop much more consistency in both areas.

[Read Full Article]

---