Montrezl Harrell
Recent Tweets
All Tweets
DraftExpress: At #32 Houston takes Montrezl Harrell. Somewhat surprising he fell this far. Houston is loaded up front but this is a great value pick.
2015-06-25 23:08:02
DraftExpress: Best available at 23 according to DX Top-100\n1. Rondae Hollis-Jefferson\n2. Tyus Jones\n3. Kevon Looney\n4. Montrezl Harrell\n5. Jonathan Holmes
2015-06-25 22:05:05
DraftExpress: RT @stevekylerNBA Montrezl Harrell looked like a bad injury word is he had an MRI and no damage to his knee... Will rest for the rest of \u2026
2013-08-04 22:45:34
DraftExpress: Montrezl Harrell looked like a bad injury word is he had an MRI and no damage to his knee... Will rest for the rest of #adidasnations
2013-08-04 22:26:44
DraftExpress: RT @GieseL1C4 Russ Smith Montrezl Harrell and Chris Jones are in L.A. for #AdidasNations this weekend. #L1C4
2013-08-02 11:18:09
Team: Rockets
Physicals
Positions
Rankings
Salary
Misc
H: 6' 8"
W: 253 lbs
Bday: 01/26/1994
(21 Years Old)

Current: PF
NBA: PF
Possible: PF

RSCI: 81

Agent: Rich Paul

High School: Hargrave Military Academy
Hometown: Tarboro, NC
Drafted: Pick 32 in 2015 by Rockets

Predraft Measurements
| Year | Source | Height w/o Shoes | Height w/shoes | Weight | Wingspan | Standing Reach | Body Fat | No Step Vert | Max Vert |
| --- | --- | --- | --- | --- | --- | --- | --- | --- | --- |
| 2015 | NBA Draft Combine | 6' 7" | 6' 7.5" | 253 | 7' 4.25" | 9' 1" | 11.9 | NA | NA |
| 2013 | USA Basketball | 6' 5.75" | 6' 6.5" | 242 | 7' 3" | 8' 11" | NA | NA | NA |



Basic Per Game Statistics

- Comprehensive Stats - Statistical Top 25s
| Year | League | Name | GP | Min | Pts | FG | FGA | FG% | 2Pt | 2PtA | 2P% | 3Pt | 3PtA | 3P% | FTM | FTA | FT% | Off | Def | TOT | Asts | Stls | Blks | TOs | PFs |
| --- | --- | --- | --- | --- | --- | --- | --- | --- | --- | --- | --- | --- | --- | --- | --- | --- | --- | --- | --- | --- | --- | --- | --- | --- | --- |
| 2015/16 | NBA | Montrezl Harrell | 14 | 10.1 | 4.0 | 1.6 | 2.3 | 71.9 | 1.6 | 2.3 | 71.9 | 0.0 | 0.0 | &nbsp | 0.7 | 1.4 | 52.6 | 0.7 | 1.1 | 1.9 | 0.1 | 0.2 | 0.4 | 0.6 | 1.5 |

Player Page&nbsp&nbsp| Player Stats | Mock Draft History | Related Articles&nbsp&nbsp| Add to My Draft Express&nbsp
&nbsp
Montrezl Harrell Interview
May 25, 2015
A video interview with Louisville power forward Montrezl Harrell at the 2015 NBA Combine in Chicago, Illinois.

(Video may not load with Internet Explorer. Use Chrome or Firefox)
---
More Pre-Draft Interviews/Workout Videos
-Rashad Vaughn Workout Video and Interview
-Andrew Harrison Workout Video
-J.P. Tokoto Workout Video
-Jarell Martin Workout Video
-D'Angelo Russell Interview
-Quinn Cook Interview
-Frank Kaminsky Workout Video
-Robert Upshaw Workout Video
-Rakeem Christmasn Workout Video
-Myles Turner Workout Video
-Stanley Johnson Interview
-Kelly Oubre Interview
-Frank Kaminsky Interview
-Satnam Singh Interview
-Satnam Singh Workout Video
-Alan Williams Interview
-Aaron White Interview
-T.J. McConnell Interview
-Chasson Randle Workout Video
-Chris Walker Interview
-Chris Walker Workout Video
-Cameron Payne Workout Video
-Cameron Payne Interview
[Read Full Article]

---
2015 NBA Draft Combine Measurements Analysis
May 13, 2015
-Montrezl Harrell: Harrell measured only 6'7 without shoes, but compensated with a huge 7'4.25 wingspan. Harrell's wingspan to height differential is a ridiculous 9.25 inches. His 253 pound frame for his length and explosiveness puts him in a somewhat unique group body-type wise. He's essentially a bigger version of Ike Diogu who measured 6'6.5 without shoes with a 7'3.5 wingspan and a 255 pound frame.

[Read Full Article]

---
Montrezl Harrell NBA Draft Scouting Report and Video Breakdown
April 14, 2015
Scouting Report by Jonathan Givony. Video Analysis by Mike Schmitz

Montrezel Harrell surprised many by electing to return for his junior season at Louisville after elevating his draft stock into firm first round territory in 2014, being ranked 20th on our Top-100 prospect rankings prior to his announcement. Twelve months later, Harrell's outlook doesn't look all that different, after coming off a very similar season, but now being a year older.

Harrell does not possess great height for an NBA big man, as he was measured at just a hair under 6-6 without shoes at the 2013 USA Basketball U19 tryouts. Louisville lists him at 6-8 in shoes, which is regardless undersized, even if his 7-3 wingspan certainly helps make up for that. He also possesses a strong, 240 pound, and excellent athletic ability, being extremely quick getting up and down the floor and highly explosive as a leaper.

(Video may not load with Internet Explorer. Use Chrome or Firefox)

Harrell is a relentless floor-runner, getting out regularly in transition beating opposing big men down the court. He's a constant target for lobs and alley-oop plays in both the half and full court, and is a terrific finisher around the basket in general, converting a terrific 65% of his attempts around the rim on the season. He seems to relish taking contact around the basket, drawing free throws at a solid rate in return.

Harrell expanded his offensive game somewhat as a junior, going from being able to score strictly off catch and finish plays as a freshman to someone who can do a little bit more than that as his college career progressed. His jump-shot is far from consistent, but has shown some improvement, as he hit nine 3-pointers on the season and saw his free throw percentage go from a dismal 46% as a sophomore to a more respectable 60% as a junior. He also shows nice quickness taking opposing big men off the dribble in a straight line, with a strong first step and the aggressiveness needed to draw some fouls off the bounce in small doses.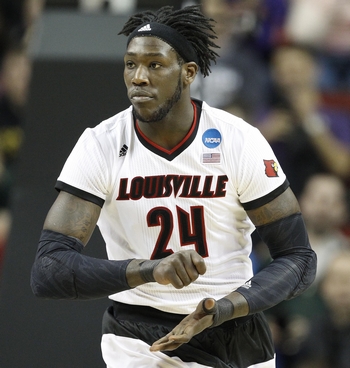 US Presswire



Harrell's relentless nature, combined with his quick second jump makes him a very solid presence on the offensive glass. He averaged 3.9 per-40 offensive rebounds for his career, despite his lack of height, as he often seems to simply want the ball more than his opponents, and will go well out of his area to pursue it.

Defensively is where Harrell figures to make his mark at the NBA level, as he has a relentless motor to go along with strong physical tools (length, strength, athleticism), and will often be seen sacrificing his body and diving on the floor for loose balls, not being afraid of anyone or trying anything to get the job done.

Harrell can hold his own against taller big men and rarely gets backed down inside the paint due to his tough and physical style of play. He's also versatile enough to do some things on the perimeter, hedging screens, trapping, and recovering effectively, while being quick enough to switch onto guards and not get beat off the bounce.

Harrell isn't the most disciplined defender, as he gets by more on effort and aggressiveness than great fundamentals, but is very much a playmaker out on the court, averaging 1.2 steals and 1.6 blocks per-40 minutes in his college career.

(Video may not load with Internet Explorer. Use Chrome or Firefox)

Despite drawing comparisons to the likes of Kenneth Faried, Harrell is not a particularly gifted defensive rebounder, averaging just 6.4 per-40 minutes over the course of his Louisville career, a figure that remained relatively consistent for all three years. His lack of size and reach affects him here more than in other parts of the game seemingly, as does his propensity for flying around and attempting to challenge every shot he can at the rim, which often leaves him out of position on the glass. Part of this is certainly systematic, a product of Louisville's game-plan, but some of it is due to Harrell's average awareness on the floor. Louisville plays a very aggressive 2-3 zone defense with Harrell on the wing, which certainly is not ideal for being a high volume defensive rebounder.

Harrell's average awareness translates to the offensive end as well, where he is not a great decision maker and does not appear to be the type of player a team can run much offense through from the high post. His 7.5% assist percentage for his career is a very poor rate, as he posted just over 100 assists in nearly 3000 minutes of action, or one for every 29 minutes he's on the floor. He struggles with double-teams, and is prone to making bad decisions with the ball at times, relying on his instincts and aggressiveness more than you'd like, showing just an average feel for the game.

It remains to be seen how Harrell will score consistently in an NBA half-court setting, as he doesn't have one overly polished skill you can point to, besides his tremendous motor. His touch around the basket is average, and his footwork is underdeveloped, while his shooting range is very much a work in progress and may never be something a coach can consistently rely on. Harrell will make a living off hustle plays, but with the way the league is evolving, teams often are hoping for a higher skill-level from the power forward position.

Nevertheless, there is a place for players like Harrell still in a NBA rotation, as a physical and ultra-aggressive role-player who comes in and does the dirty work. That might not get him drafted in the lottery, but it can certainly help him carve out a long career.

[Read Full Article]

---
Montrezl Harrell vs Kentucky's NBA Frontcourt Video Analysis
December 29, 2014
More Situational Videos from Mike Schmitz
-Jahlil Okafor vs Frank Kaminsky Head to Head Matchup Video Analysis
-Myles Turner vs Kentucky's NBA Frontcourt Video Analysis
-Kristaps Porzingis vs Barcelona Video Analysis
-Ben Simmons vs Ivan Rabb Video Analysis
-Jakob Poeltl vs Cliff Alexander Head to Head Matchup Video Analysis
---
Take a look at our video section for a compilation of all the videos we've produced this year.
[Read Full Article]

---
Top NBA Prospects in the ACC, Part 3: Montrezl Harrell Scouting Video
October 17, 2014

Mike Schmitz is the video analyst for DraftExpress. Follow him on twitter and check out the DraftExpress video section. He will be breaking down the NBA draft in digital format all year long for us.

[Read Full Article]

---
2014 adidas Nations Interview: Montrezl Harrell
August 5, 2014
[Read Full Article]

---
Top NBA Prospects in the AAC, Part 1: Montrezl Harrell Scouting Video
October 21, 2013


Mike Schmitz is the video analyst for DraftExpress. Follow him on twitter and subscribe to the DraftExpress YouTube page. He will be breaking down the NBA draft in digital format all year long for us.

[Read Full Article]

---
USA Basketball U19 World Championship Training Camp Report, Part Two
June 19, 2013
A complete unknown at these same tryouts last year, Montrezl Harrell rode a strong showing here in Colorado Springs into a very solid freshman season, getting better and better as the year went on and creating significant expectations leading into his sophomore year.



Interview




Harrell showed that he's ready to live up to those expectations with another very good week in Colorado Springs, having improved his frame and diversified his game a bit from when we last saw him.

Harrell's primary intrigue continues to revolve heavily around his superb physical attributes. Standing 6-10 in shoes with a body that continues to fill out, he arms seemingly run down to his knees. He's one of the most athletic big men you'll find too, running the floor exceptionally well, competing non-stop for offensive rebounds, and just attacking the rim relentlessly every moment he was on the court. A terrific target for lobs, Harrell is a fantastic finisher around the basket, having very reliable hands and the ability to make plays in traffic.

Not very advanced with his back to the basket, Harrell would rather face up and attack his man off the dribble rather than trying to back opponents down in the post, as he doesn't possess great footwork or any real go-to move. His first step is a very dangerous weapon, though, particularly as he improves his ball-handling skills, and he's complimenting that more and more lately with the threat of his jump-shot. Harrell made a number of very nice looking jumpers in the mid-range, and even knocked down a corner 3-pointer at one point, something that may hint at good things to come in the future from him.

Defensively, Harrell's energy-level was outstanding, which combined with his length, quickness and explosiveness makes him quite a force on this end of the floor when dialed in. He made a couple of nice deflections and blocks, and showed good potential hedging screens versus the pick and roll, even if he's not as good of a defensive rebounder as you might hope, partially due to his just-average awareness and fundamentals.

Harrell looks ready to step into the big shoes left by outgoing Louisville center Gorgui Dieng next season, and should be a major part of anything this USA squad is able to accomplish at the U19 World Championship in Prague. He's someone NBA teams will be tracking closely both this summer and over the course of his sophomore year.

[Read Full Article]

---
USA Basketball U18 Tryouts Report
June 6, 2012
Recent Louisville commit Montrezl Harrell has shined consistently through the first two days of practices, showing a terrific combination of length, athleticism and intensity which has allowed him to be a consistent force attacking the rim with ferocity, often finsihing in highlight reel fashion. Seemingly wanting the ball just a little more than some of the other big men prospects here, he's made his presence felt on the offensive glass every time he's stepped on the floor, and has also done a good job contesting shots inside the paint on the defensive end as well.

Nowhere near a finished product on either end of the floor, Harrell clearly lacks much in the ways of experience and polish, but has shown intriguing flashes in a number of key areas. His mid-range jumper has potential, while he's also been able to beat opposing big men off the bounce in small doses, sometimes utilizing nifty shot-fakes. With that said, he'll need to improve his fundamentals on defense before he's able to earn the full trust of Louisville head coach Rick Pitino, and also would be well served to improve his off-hand and overall ability to score with his back to the basket.

Still, it's difficult not to feel like Harrell is a significantly better prospect than he was billed as coming into this event, and it will be very interesting to follow his progress this upcoming season.

We spoke with Harrell after the first day of tryouts and got his thoughts on his future and what it means for him to wear a USA jersey:





[Read Full Article]

---
2011 National Prep Showcase: Best of the Rest
November 27, 2011
Joe Treutlein

One of the most physically mature players we saw this weekend, Montrezl Harrell (#99 ESPN, #68 Scout, #86 Rivals) had a very strong showing in his two games here, and appears as if he could have an instant impact in Blacksburg next year.

Standing 6'8 with excellent length, an outstanding frame, and a very high level of strength, Montrezl Harrell is a very good athlete who plays a game well suited to his physical traits, being a bruiser around the basket and constantly looking to power up for strong finishes at the rim.

Harrell is still coming along from a skills perspective, but where he excels most at this stage is using his high motor and great frame to consistently carve out space around the basket, getting open for finishes in a variety of ways. He's an especially potent threat on cuts and alley-oops in the halfcourt, elevating well off the floor and showing no problems finishing through contact. Harrell made a number of enthusiastic dunks over the course of the weekend made some timely plays for his team as well, being a key cog in what they did on offense.

In terms of his more refined skills, Harrell is limited both in the post and on the perimeter, but has some tools to work with. He has the makings of a nice power game in the post with a strong drop-step and nice ability to explode off it for dunks, but the rest of his game is pretty lacking after that. He tried some hook shots with little success, and really lacks much in terms of a finesse game at this point, being raw overall.

Harrell doesn't show much more in terms of perimeter skills, not showing much evidence of a mid-range game, while adding a spot-up jumper to his repertoire to become a floor spacing and pick-and-pop threat should definitely be among his long-term priorities.

Harrell's biggest question mark at this stage, however, is how committed he'll be on the other end of the court, as he was largely a mixed bag on the defensive end here. While Harrell does a good job using his tools on the glass, boxing out and pursuing well, he is fairly inattentive with both his man-to-man and team defense, often not putting in the effort to move laterally in isolation or step up in the lane for help-side blocks. For the type of player he is with the tools he has, showing improvements here will likely be critical to his long-term success in college and beyond.

[Read Full Article]

---