Mouphtaou Yarou
Recent Tweets
All Tweets
DraftExpress: Ricardo Ratliffe is in the top-5 in the NCAA in PER. Is he legit? Good matchup between him & Mouphtaou Yarou, also putting up good numbers.
2011-12-06 07:09:17
DraftExpress: Top NBA Prospects in the Big East (#1-5) http://t.co/lblQOTRH Jeremy Lamb, Mouphtaou Yarou, Darius Johnson-Odom, Alex Oriakhi, Kris Joseph
2011-10-14 09:07:03
DraftExpress: Mouphtaou Yarou has been an absolute beast for V'Nova so far. Getting his hands on everything. Already has 9 rebounds and a bunch of steals.
2010-11-24 09:38:07
DraftExpress: Top NBA Draft Prospects in the Big East, Part 1: http://bit.ly/d5ThLl Kemba Walker, Mouphtaou Yarou, Kris Joseph, Maalik Wayns, Alex Oriakhi
2010-10-06 10:54:55
DraftExpress: Two more parts to the SEC to go still, but already looking ahead to Big East. Eventually, Mouphtaou Yarou will develop into a top prospect.
2010-09-29 06:22:52
Team: Le Mans
Physicals
Positions
Rankings
Salary
Misc
H: 6' 9"
W: 260 lbs
Bday: 06/26/1990
(25 Years Old)

Current: C
NBA: C
Possible: C

RSCI: 23

Agent: David Bauman

High School: Montrose Christian
Hometown: Natitingou, Benin

Predraft Measurements
| Year | Source | Height w/o Shoes | Height w/shoes | Weight | Wingspan | Standing Reach | Body Fat | No Step Vert | Max Vert |
| --- | --- | --- | --- | --- | --- | --- | --- | --- | --- |
| 2013 | Nets Workout | 6' 8.75" | 6' 10.5" | 267 | 7' 0.5" | 8' 11" | 8.4 | 26.0 | 32.0 |
| 2013 | Portsmouth | 6' 8.25" | NA | 260 | 7' 0.5" | 8' 11" | NA | NA | NA |
| 2011 | Amare Stoudemire Camp | NA | 6' 9" | 253 | 6' 11" | NA | NA | NA | NA |



Basic Per Game Statistics

- Comprehensive Stats - Statistical Top 25s
| Year | League | Name | GP | Min | Pts | FG | FGA | FG% | 2Pt | 2PtA | 2P% | 3Pt | 3PtA | 3P% | FTM | FTA | FT% | Off | Def | TOT | Asts | Stls | Blks | TOs | PFs |
| --- | --- | --- | --- | --- | --- | --- | --- | --- | --- | --- | --- | --- | --- | --- | --- | --- | --- | --- | --- | --- | --- | --- | --- | --- | --- |
| 2015/16 | French | Mouphtaou Yarou | 9 | 27.3 | 8.1 | 3.3 | 6.8 | 49.2 | 3.3 | 6.8 | 49.2 | 0.0 | 0.0 | &nbsp | 1.4 | 2.2 | 65.0 | 3.7 | 5.6 | 9.2 | 1.2 | 0.2 | 0.0 | 1.8 | 2.2 |
| 2015/16 | Eurocup | Mouphtaou Yarou | 6 | 28.8 | 11.3 | 4.5 | 8.2 | 55.1 | 4.5 | 8.2 | 55.1 | 0.0 | 0.0 | &nbsp | 2.3 | 3.7 | 63.6 | 4.7 | 4.5 | 9.2 | 0.2 | 0.5 | 0.3 | 1.5 | 2.0 |

Player Page&nbsp&nbsp| Player Stats | Mock Draft History | Related Articles&nbsp&nbsp| Add to My Draft Express&nbsp
&nbsp
Top NBA Prospects in the Big East, Part Three
October 16, 2012
US Presswire



Matt Kamalsky

A prospect we've covered in detail on five separate occasions over the past few years, Mouphtaou Yarou is one of the only returning seniors on Jay Wright's roster. The Benin native's junior season was not a major departure from what we saw from him as a sophomore –he was a rock solid rebounder, provided a physical presence around the basket defensively, and showed nominal progress in a marginally bigger offensive role. With Maalik Wayns and Dominic Cheek moving on to the professional level, Villanova will look to a number of newcomers to help fill the void in its backcourt. Yarou's ability to become a more polished offensive player and mesh with his new teammates will be a key to the Wildcat's success and his draft stock.

A 6'9 center with a 6'11 wingspan, Yarou's biggest strength is his ability to use his 250-pound frame to be a presence on the glass and on the defensive end. An average athlete, Yarou lacks great agility and operates mostly below the rim, but compensates with a solid mobility, a terrific motor, and a willingness to be physical in the paint.

On the offensive end, Yarou remains capable, but raw, and has yet to answer many of the questions we outlined in our last report. He scores in the post with a basic repertoire of moves, finishes at a good rate around the basket, and is a stand out rebounder at the college level, but he still lacks polish, appears mechanical at times, and is limited in his ability to make major contributions on this end of the floor with any consistency.

Yarou did take significantly more jump shots last season than he did as a sophomore, seemingly trying to become a more versatile offense threat. Finding mixed results, he connected on 15 of the 44 jumpers he attempted, but still has plenty of work to do to become a competent midrange scorer and a more viable offensive weapon on the whole.

Defensively, Yarou's motor allows him to be a factor in the paint and on the boards as he tries to get his hands on every loose ball. His inability to change directions quickly limits him away from the basket to some degree and he finds himself out of position at times, particularly guarding the pick and roll, but he seldom gives up on plays. Making some terrific plays rotating over from the weakside, Yarou has all the tools to capably defend at the NBA level. He didn't block shots at quite the same rate he did as a sophomore, but didn't foul at as high a rate either, doing a better job going straight up and simply absorbing contact right into his chest.

One of the top senior prospects at the center position, Mouphtaou Yarou has yet to live up to the lofty expectations set for him earlier in his career. He's made small, consistent improvements in each of his seasons at Villanova, but a breakout year, especially on the offensive end, could help him regain some of the momentum he's lost among NBA decision-makers in recent seasons.

[Read Full Article]

---
Top NBA Draft Prospects in the Big East, Part One (#1-5)
October 12, 2011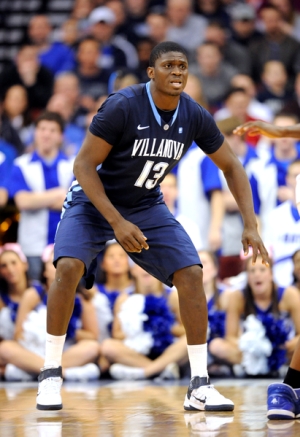 Icon SMI



Matt Kamalsky

Last time we checked in on Mouphtaou Yarou, he was coming off a solid, yet entirely unspectacular freshman season that saw him miss significant action after being diagnosed with Hepatitis B. Yarou's second year with the Wildcats was an improvement on his first, as the young post showed some progress across the board while seeing his minutes and offensive role expand. With three of their top-5 scorers moving into the pro ranks, Villanova will be looking for answers to start the season, giving Yarou a chance to step up to showcase his talents and legitimize his NBA draft stock.

As we've noted in the past, Yarou has a nice physical profile for a NBA center, which is certainly still one of his biggest strengths as a prospect. He lacks great straight line speed, and appears a little stiff moving in the open floor, but looks like a different player at times swiftly rotating over from the weakside to block shots and making fluid moves around the basket. He does not play above the rim on the offensive end unless he has time and space, but uses his strength well and makes the most of his long wingspan. It will be interesting to see how Yarou's fares around the rim at the next level and what a NBA strength and conditioning program does for his already solid physique as he still seems to have some untapped physical potential.

As far as the Benin native's skill set is concerned, the majority of the observations we've made in our previous reports remain true. Though was more productive a year ago than he was as a freshman, his skill-level didn't undergo any groundbreaking changes. His best asset continues to be his high energy level and ability to make his presence felt on the offensive glass. He still flashes a budding back to the basket game, embraces contact, shows intriguing touch from the midrange in a very limited sample, and finishes the easy shots his teammates create for him at a terrific rate. Though Yarou didn't take any steps back, he is still trying to reach the next stage in his development. His skill set may have changed only subtly, but the center's role in Villanova's offense did shift radically from his freshman to his sophomore year.

After functioning as more of a hustle player as a freshman, Yarou became Villanova's primary post threat in his second year on campus. While he was certainly not the Wildcat's first, second, or even third option overall, the young big man saw almost half of his touches operating in the post according to Synergy Sports Technology. While his post arsenal is far from refined, Yarou does a great job establishing position and can make simple moves over both shoulders to create his own shot at this level. Converting 42.7% of his shots in the post, he gets the job done on the offense end, but will need to develop a more refined post repertoire to improve his consistency, decisiveness, and confidence as a one-on-one interior scorer. He should see ample opportunities to do just that since he'll likely see his role expand once again this coming season.

On the defensive end, the former top-25 recruit showed marked improvement in a number of areas last year. While he didn't block shots at quite the rate he did as a freshman, Yarou made some outstanding plays rotating over from the weakside, continued to show a promising work ethic, and most importantly, cut down on the number of fouls he was committing. Though Yarou is still clearly learning how to defend the midrange and makes the same occasional mistakes he's always been prone to make, he does a better job boxing out and is no longer limiting his own minutes on this end of the floor.

With two seasons of collegiate experience under his belt, Yarou has a golden opportunity to have a breakout season. Slow and steady have been the themes of his development in the Big East to this point, but he should see extensive playing time and more touches on the offensive end in 2012, giving him the chance to take a significant step forward as a player and prospect.

[Read Full Article]

---
Top NBA Draft Prospects in the Big East, Part One (#1-5)
October 6, 2010
Jonathan Givony

Playing just 315 minutes after being forced to sit out much of the early part of the season once diagnosed with Hepatitis B, Mouphtaou Yarou's freshman campaign was not very conclusive, but did feature some extremely intriguing moments.

Standing 6-10, with a terrific wingspan and an outstanding frame, Yarou looks the part of an NBA center, and moves like one too. He has good hands, is very fluid relative to his size, and is just now beginning to tap into his immense potential after only starting to play basketball at age 14. With a fascinating background story under his belt, Yarou is reportedly an extremely intelligent, hard-worker who speaks five languages, and shows many of the characteristics you look for in a top-shelf big man prospect.

Yarou's offensive role as a freshman was extremely limited, as he ranked 9th on Villanova's squad in field goal attempts per minute at just 7.6 per-40. Nevertheless, he was able to drop some extremely interesting flashes of potential both with his back to the basket and even facing it, leaving plenty of room for optimism regarding how he might develop down the road.

Most of Yarou's shot-opportunities came by simply crashing the offensive glass or cutting to the basket last season, but it's clear that he has both the tools and budding skills to do more. He has the strength and girth to establish position in the paint, and can carve out even more space by backing his man down and then spinning off either shoulder impressively. He needs to be more aggressive looking for his own shot, though, as he was often too indecisive with the ball in his hands last year, which rendered him fairly turnover prone. At his size, he must take advantage of opportunities he has to assert himself against smaller players, and not be as deferential to his older teammates as he was last season.

Not just strictly an inside presence, Yarou even has a bit of a mid-range jumper in his arsenal, showing good mechanics, a high release point, and interestingly knocking down 71% of his free throw attempts last season. Yarou's feel for the game is pretty advanced relative to the stage of development he theoretically should be at, as he shows solid passing ability, has nice fundamentals, and can finish with either hand around the basket, which is certainly a plus.

Defensively, Yarou is a massive presence inside the paint with his chiseled frame and outstanding wingspan, and already was able to establish himself as a solid shot-blocking presence in his limited playing time, averaging 2.5 blocks per-40 minutes pace adjusted. Yarou has good instincts and moves his feet well, being able to contest shots impressively at times with his length and effort-level. His lack of experience definitely shows up here on occasion, though, especially on the perimeter, where he tends to struggle. He's very foul prone for that reason, one of the reasons he wasn't able to see extended minutes in certain games last year.

Yarou still has room to improve as a defensive rebounder, where he's not quite as productive as you might hope. He tends to go after loose balls with one hand at times and doesn't always do a great job of boxing out his opponents.

More than anything, Yarou is in need of plenty of playing time in order to continue to garner experience and increase his comfort level on the basketball court. With a good part of Villanova's frontcourt returning and a McDonald's All-American power forward coming in, Yarou's time to breakout might be a little longer in the waiting, but it should come sooner rather than later. There's a case to be made for him as the best long-term prospect in the Big East, but it will be up to him to prove that first.

[Read Full Article]

---
ESPN RISE National High School Invitational
April 12, 2009
Villanova should be excited for the arrival of Yarou (#14 Rivals, #28 Scout, #18 ESPN) this fall, as he will provide the first true interior presence for the team in several years. The Montrose Christian big man has climbed the national rankings tremendously in the last year, and with good reason, proving to be an absolute beast at the prep level.

At the high school level there aren't many players that are capable of handling Yarou on the block in one on one situations, due to his tremendous strength and solid athleticism. He showed a developing post game, sticking mainly to a powerful drop step, but also able to mix in the occasional jump hook. When he faced a steady stream of double-teams versus Findlay Prep, he was able to still be effective by recognizing open teammates and hitting the offensive glass hard. We've reported in the past Yarou's ability to hit the mid-range jumper when given space, and though he didn't attempt any during the course of the tournament, his smooth stroke at the foul line was plenty indication that he can hit the 15-footer.

Yarou's constant hustle, strong frame and knack for rebounding will make him an immediate impact player for Villanova next year. His post game still needs some more polishing and perhaps another go to move before he will be a consistent scoring threat in the Big East, but his hustle on the glass will almost certainly lead to some garbage points for the freshman.

[Read Full Article]

---
Flyin To The Hoop: Elite Prospects
January 21, 2009
Mouphtaou Yarou (#14 Rivals, #28 Scout, #27 ESPN) had a bit of a rough weekend at Flyin To The Hoop, battling foul trouble and seemingly unable to find any sort of rhythm on the hardwood over the two games we observed him. While his play may have not been stellar, the potential that he has could certainly be seen within his play.

For starters, we're looking at a player who is a legit 6'10 and 250 pounds. Built like an NBA post player, he has a body that is already made to absorb the contact at the highest level. He uses his strength especially on the glass, where he proves to be a ferocious rebounder at times. This strength combined with his solid motor helps compensate for his relatively average athleticism, as he simply outworks the majority of opposing big men.

On the offensive end, we're looking at a skilled big man with the ability to shoot the ball out to 17 feet when facing and also able to score on the blocks. Yarou showed off some pretty decent footwork in the pivot and appeared perfectly comfortable scoring the ball with his back to the basket. Tending to turn towards his right shoulder every time, his lack of a left hand often got him in bad situations in which he was rejected by smaller, less athletic players. This will be something he will have to improve upon drastically before he hits the Big East, where he will not be able to rely on his lack of size to score in the low post.

Yarou played hard when defending the low post, fighting for position against Dayton recruit Matt Kavanaugh. That was about where his success on the defensive end stopped though, as he was unable to keep up with this less heralded big man both from the perimeter and in the post. The Benin native appeared to be very heavy footed and struggled mightily when Kavanaugh would face the basket. He also appeared to be a bit out of shape, not making any sort of presence at all with his shot blocking. After seeing Kavanaugh dominate Yarou the way that he did, it was clear that there must be some substantial improvement on this end before he reaches Villanova.

All in all, it's hard to deny the player that Yarou could potentially become when it's all said and done. You don't see many African players with his size and skill set too often, and there should be immediate playing time for him as a freshman at Nova. For his sake, hopefully he reverts back to the player that he was over the spring/summer rather than the player we saw this past weekend by the time he gets to Philly.

[Read Full Article]

---
Initial Scouting Reports, High School Class of 2009 (#11-150 Recruits)
July 30, 2008
On the advice of one of the college coaches, we went to take a look at Mouphtaou Yarou (#88 Scout, #31 Rivals, Unranked ESPN) at an out of the way gym on our last day in Vegas. That was definitely a smart move on our part. Yarou is a native of Benin (he supposedly has royalty in his blood) and has been in the States for just a few months now. He hasn't been playing basketball for all that long from what he told us, but you would never guess based off the way he plays.

Yarou is a 6-9 post player with a solid build and an excellent frame. He has good size for the power forward position and a very nice wingspan. He runs the floor fairly well and is a solid all-around athlete. He's not a freak like some of his African counterparts, but he can certainly jump and has nice body control as well.

Yarou's feel offensively is actually very good. He has good hands and some moves in the post. He can put the ball on the floor and has a nice stroke from mid-range and from the free throw line. We watched him execute some complicated spins and pivot moves that most big men this age can't pull off—let alone someone who hasn't been playing for all that long. Defensively he can rotate and block shots, but still needs to learn the nuances of how to use his tools here—he doesn't box out for rebounds particularly well and doesn't really rotate over to try and intimidate that often. His activity level leaves something to be desired, and he was very frustrated by the box and one defense that the opposing team decided to play against him.

After watching him play only briefly, it seems pretty clear that Yarou is an intriguing prospect who deserves a more thorough look. Not all that many people are aware of him at this point, which makes him all the more interesting.

[Read Full Article]

---