Perhaps the top performer today was fast rising consensus top-50 combo forward prospect
Nassir Little
. Scoring 16 points on 7-11 shooting while coming up with 5 steals, Little helped the US Select Team blow out the Slovenian U20 National Team with a strong outing on both ends.
Listed at 6'6 by a number of sources but looking a shade taller than that, Little stands out on first glance with his strong frame and long arms.  Averaging 17.3 points and 7 rebounds per game for 1 Family on the adidas Gauntlet circuit this spring, Little is a capable scorer who plays with impressive energy on both ends.  A capable set and pull-up shooter who does much of his scoring attacking closeouts and using head fakes and jabs to get his defender off balance in one-on-one situations, Little contributed in a variety of ways today, including one notable dunk that came over a defender on an off-the-backboard assist from David Duke.   
The Orlando Christian Prep standout also made his mark on the defensive end, really getting after it. Flying around all over the place trying to make plays, Little seized the golden opportunity this event presents for him to introduce himself to NBA scouts.
Garnering a significant amount, but not universal, high major interest, Little is a player worth keeping an eye on in the coming years as the talented small forward certainly made an impression today. Off the court, the interview he conducted with us was thoughtful and extremely detailed, showing a level of understanding of his game you don't normally find from prospects his age.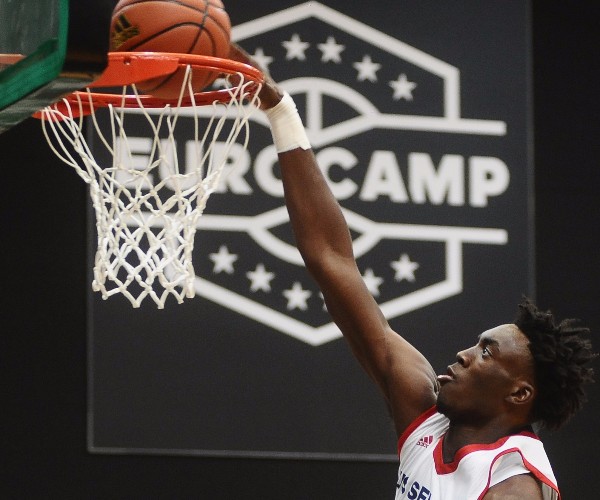 Nassir Little Interview
We'll cover many of the other players on the US teams here in detail in the coming days as both teams appear to be absolutely loaded heading into their highly anticipated matchup on day three.