adidas EUROCAMP Day Two
June 11, 2012
Scouts were treated to another individual workout today, this one featuring Malian center Negueba Samake. A relative unknown to many scouts, Samake declared for the draft last season, but withdrew in favor of waiting to become automatically eligible this year.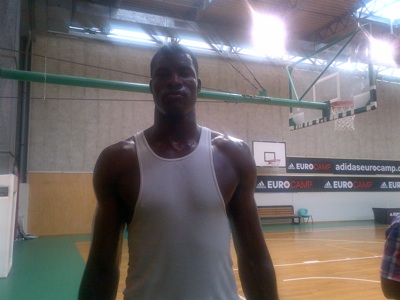 Jonathan Givony/DraftExpress.com
Samake is a bit of an interesting case, as he was unable to acquire a license to play as a French player until just last year, meaning if a team wanted to sign him they would be forced to use one of the spots reserved for American players. A raw, athletic 7-footer with a simply outstanding body, Samake was simply not ready to fill such a role, meaning he would be relegated to lower levels of play.
Competing mostly at the junior level for Le Mans Sarthe basket early in his career, Samake saw limited minutes for Rouen in ProB last season before landing with Boulazac, where he played a total of 10 minutes this year. The young big man is only starting to learn the game now and though he was able to successfully petition his way into JFL status at the end of last season, he has never been a part of any significantly organized setting.
Competing in the second Division of France for the last two years, French agent Miloud Dahine and his American partner Kenny Grant shrewdly organized this opportunity to gain some exposure for the big man, and Samake responded with an intriguing performance. It is difficult not to be impressed with the young center on first glance, as he possesses an incredible frame, gets off the floor very well, and finishes emphatically above the rim. With countless scouts looking on, Samake showed decent touch, and is still a ways behind his peers in terms of instruction and development, but showed enough promise to pique the interest of those watching.
To give you a picture of what Negeuba looks like, here is a recent workout he conducted:
Néguéba Samaké from BOULAZAC BASKET on Vimeo.
NBA teams are pushing for Samake to have the opportunity to participate in official games tomorrow and the big man has earned himself more than a few NBA workouts in the coming weeks.
Workouts like this can be hit or miss, but they are one of the great aspects of the EUROCAMP, as players of all types get the chance to showcase themselves and make an impression on the army of key basketball people filling the gym. There are very few places in the world a player can just show up and potentially work himself onto the NBA radar screen in a matter of a few minutes, and the Eurocamp is one of them.
[
Read Full Article
]