Nenad Miljenovic
Recent Tweets
All Tweets
DraftExpress: Very different look for FMP w/out the leadership of PG Nenad Miljenovic, who left for Partizan two weeks ago. Good chance to evaluate others
2011-05-05 08:09:06
DraftExpress: RT @TheHoopsMarket: Partizan and Serbian prospect Nenad Miljenovic reach an agreement http://bit.ly/hM0aal
2011-04-23 07:16:32
DraftExpress: Serbian paper "Novosti" writes that USC & Hawaii are strongly in mix for Nenad Miljenovic. Nikola Vucevic connection? http://bit.ly/gNC258
2011-04-19 10:52:17
DraftExpress: FMP played Nenad Miljenovic 16 minutes in this season's Serbian 1st divison. Not enough to help him, but just enough to screw him. Nice.
2011-04-19 10:27:06
DraftExpress: College coaches: Nenad Miljenovic is a McDonald's All-American caliber point guard. The problem is he needs to get NCAA eligible...and quick
2011-04-19 10:22:11
Team: Sevilla
Physicals
Positions
Salary
Misc
H: 6' 4"
W: 200 lbs
Bday: 04/08/1993
(22 Years Old)

Current: PG
NBA: PG
Possible: PG

Agent: Misko Raznatovic

High School:
Hometown: Belgrade, Serbia




Basic Per Game Statistics

- Comprehensive Stats - Statistical Top 25s
| Year | League | Name | GP | Min | Pts | FG | FGA | FG% | 2Pt | 2PtA | 2P% | 3Pt | 3PtA | 3P% | FTM | FTA | FT% | Off | Def | TOT | Asts | Stls | Blks | TOs | PFs |
| --- | --- | --- | --- | --- | --- | --- | --- | --- | --- | --- | --- | --- | --- | --- | --- | --- | --- | --- | --- | --- | --- | --- | --- | --- | --- |
| 2015/16 | ACB | Nenad Miljenovic | 8 | 17.5 | 5.8 | 2.4 | 5.0 | 47.5 | 2.0 | 3.8 | 53.3 | 0.4 | 1.3 | 30.0 | 0.6 | 1.1 | 55.6 | 0.6 | 1.8 | 2.4 | 1.9 | 0.8 | 0.0 | 1.6 | 1.9 |

Player Page&nbsp&nbsp| Player Stats | Mock Draft History | Related Articles&nbsp&nbsp| Add to My Draft Express&nbsp
&nbsp
adidas EUROCAMP Day Three
June 13, 2012
-1993-born Serbian point guardNenad Miljenovic struggled to beat his man off the dribble and maintain possession of the ball all week. Unable to keep his man out of the lane defensively, Miljenovic's lack of strength and athleticism limited his impact on both ends, and he'll need to continue improving to take the next step in his career.

[Read Full Article]

---
NIJT Belgrade Scouting Reports: Top Prospects
February 25, 2011
Another year and another NIJT for uber-talent Nenad Miljenovic. This is the third and final year he'll be participating in this event, and despite the scouts' grumbling about looking essentially the same from a physical standpoint, there's no doubting that the Serbian remains one of the top European prospects in his age group.

6-4, with a skinny (but somewhat more toned) frame and very good athleticism for a European guard prospect, Miljenovic is a fluid, shifty and very versatile playmaker with an exceptional feel for the game.

Equally effective in transition or the half-court, Miljenovic is a tremendous ball-handler. He sports good quickness, terrific body control and the ability to change speeds, making him a very effective shot-creator, particularly on the pick and roll. He gets into the paint very well at this level, even if he struggles to finish at times due to his lack of strength. If a defender goes underneath the screen, he does a nice job pulling up off the dribble in the mid-range area. From beyond the arc, he's a bit streaky, but has the ability to make shots with his feet set or off the dribble, something he proved a few times over the course of the weekend.

As he begins to face see better competition, it's imperative that he continue to improve his shooting range and consistency, as he likely won't be able to create shots quite as effectively against more physically developed defenders.

As a passer, Miljenovic remains prodigious. He finds teammates unselfishly in every way possible, particularly on the pick and roll, where he does a terrific job surveying all his options. His ability to deliver laser-precision passes with picture-perfect timing is a huge asset, and makes his teammates that much better with the way he simplifies the game for them.

Defensively is where Miljenovic must improve the most if he's to reach the highest levels of basketball, be it the NBA or the top-tier of Europe. His lateral quickness is not up to par, and his effort level is often lacking. With his poor frame and average length, Miljenovic does not have great tools on this end of the floor, despite showing excellent anticipation skills in the passing lanes. In the finals, he had an extremely difficult time staying in front of the outstanding Aleksandar Cvetkovic, and spent much of the last three quarters guarding lesser players because of this.

How far Miljenovic is able to go in his basketball career might ultimately be decided by how his body continues to fill out. His skinny frame does not show great potential, which may hold him back somewhat down the road, particularly on the defensive end.

Having accomplished virtually everything there is to accomplish at the junior stage, it's now time for Miljenovic to make the move to senior competition and show that he can translate his talent to a higher level.

[Read Full Article]

---
Nike International Junior Tournament in Paris: Top Prospects
May 17, 2010
No report about FMP's youth team would be complete without a look at their unabashed star Nenad Miljenovic, who we've written about on a number of occasions already, even though he only recently turned 17.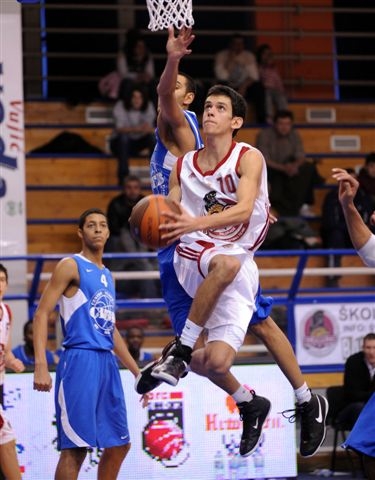 FMP Belgrade Junior Tournament



Miljenovic showed the ups and downs of his game here in Paris. On one hand, he displayed his trademark creativity with the ball in his hands. On the other, he tried to be too spectacular at times and averaged nearly as many turnovers as assists.

His ability to get to the basket (thanks to his terrific fluidity and change of speed) was as good as ever. He got to the free throw line 42 times in four games, even though his finishing was a mixed bag (due to his underdeveloped frame). Miljenovic appears inconsistent as a shooter, but there's reason to believe he will steady in time.

Miljenovic made a number of incredible passes over the course of the weekend, drawing the typical Ricky Rubio comparisons along the way. With that said, he overdid things on occasion and emerged as being somewhat turnover prone. His focus and consistency tend to waver at timesónot a surprise considering his ageóbut when he's on his game he displays the maturity of a player much older than 17.

Something that we liked seeing here in Paris was the increased toughness and competitiveness Miljenovic brought to the defensive end. His anticipation skills were off the charts, as usual, but he also seemed to put more pride into simply stopping his man, pressuring the ball nicely and encouraging his teammates to step up their play as well. Not particularly long or strong, Miljenovic will need to continue this attitude at the senior level if he doesn't want to develop into a Sergio Rodriguez-esqe liability on the perimeter.

[Read Full Article]

---
Belgrade Euroleague Junior Tournament: Top Prospects
February 20, 2010
The golden child of Serbian basketball, Nenad Miljenovic had a somewhat up and down tournament that clearly magnified his strengths and weaknesses as a prospect at the moment.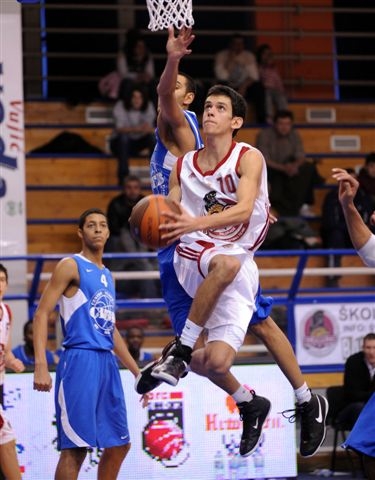 FMP Belgrade Junior Tournament



Still sporting a narrow frame that he's clearly been working on in the weight room, Miljenovic remains an above average athlete at the European level. He's not incredibly explosive, but has terrific ability to change speeds and directions on the fly, showing terrific hesitation moves and the ability to operate at his own unique pace.

Equally effective with either hand, Miljenovic is a wonderful ball-handler who can create shots with ease thanks to his fluidity and the outstanding creativity he displays. He has a natural flair for the game that simply can't be taught, showing a quick mind and a great feel that has many in this country extremely excited to see his progression. While he's particularly impressive in transition, he's also quite effective in the half-court, knowing how to keep his team organized, but also being able to go out and improvise on the fly if needed.

A pure point guard at 6-5, Miljenovic is a true facilitator who reads the floor well and whips quick passes all over the court. He's especially effective on pick and roll and drive and dish plays, leading the entire tournament in assists.

On the downside, Miljenovic is far from being considered an efficient scorer at this point in time, as he's an extremely streaky shooter both from beyond the arc and in the mid-range area, showing nice mechanics, but seeing very poor results at this stage. His percentages were poor throughout the tournament and he often suffered from turnover problems, showing decision making skills that haven't quite caught up with his talent just yet.

He was actually not having a great week at all until things got really important later on, increasing his focus and intensity considerably and stepping up in a major way while taking his team on his back. This ability to operate in the clutch is a great sign for the future, and something we've seen in the past, but Miljenovic is far too young to already be picking and choosing his spots the way he seemed to be doing.

Defensively, Miljenovic is just average at this stage, as he lacks length, strength and a degree of lateral quickness. He sports terrific anticipation skills in the passing lanes, though, and is a very good rebounder for a guard for this same reason. This might be the biggest point of contention in regards to this NBA future and how highly coveted a draft prospect he ends up becoming down the road.

Still extremely young at just 16 years old, but already sporting a thick resume and being quite well on the European scene, we'll likely be talking about Miljenovic ad-nauseam over the next few years.

[Read Full Article]

---
Nenad Miljenovic, the Serbian Smile
May 7, 2009
In a superb weekend, we could witness one of the best Euroleague Final Fours ever in a top-notch city like Berlin, but it was a Serbian kid stealing our hearts at the Nike International Junior Tournament. The 16-year old cadet Nenad Miljenovic came with a strong reputation, but his performance and the impression he left exceeded any expectation.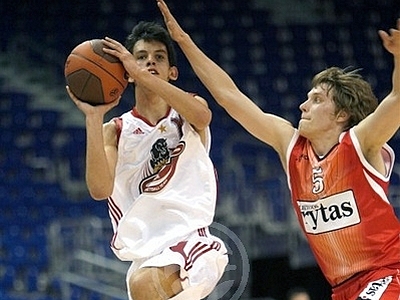 Euroleague.net



Letís say from the start that weíre dealing with an incredibly talented and creative playmaker, one of those extremely rare kids with an unbelievable feel for the game and outstanding skill set. Basketball is easy, natural and enjoyable for him. It was scary to think how comfortable, how effortlessly he delivered his stuff against much more physical kids who mostly were two years older than him (in a stage where two years means a whole lot: think about a high school sophomore facing seniors).

Miljenovic enjoys a fantastic offensive package, starting with terrific handles and footwork to break down defenses and get by opponents with great ease. He shows versatility taking the steps in penetration, emerging very creative in order to unbalance his rivals, attract defensive rotations or create separation from his opponents. Heís automatic finding his teammates anywhere on the court, exhibiting outstanding court vision and ability to identify passing angles. Whether feeding cutters, kicking-out to shooters, dishing after penetration, if thereís a pass, chances are he will find it and execute it with the proper tempo. Itís very instinctive stuff: he doesnít speculate, he barely needs to think. He acts. The ball is hardly ever frozen in his hands, and you could never label him as a ball hog (according to what we saw in Berlin); he just looks for something to happen for his team.

However, as good passer and selfless as he is, Miljenovic doesnít pass up on a scoring opportunity and shows remarkable ability to get the ball going through the net. His shot looked pretty good all tournament long, showing nice mechanics in the release, although he stuck for spot-up jumpers from mid-to-long ranges. Despite lacking strength and top explosiveness for the moment, while not being an off-the-charts athlete, Nenad was able to finish near the rim with a variety of layups and short shots, showing excellent ability reading defenses and finding windows for releasing the ball.

All in all, his decision making is extremely hard to question. He certainly takes more risks than other point guards, but itís nothing out of proportion. He looks in really good shape if we talk about basketball IQ and understanding of the game.

Defense emerges as his biggest weakness. He showed a nose for picking pockets and getting into passing lines, but weíre not going to sweeten the reality: at this point he wouldnít be able to guard his own shadow. He needs to properly learn the nuances of defense and put a few extra degrees of effort in order to stay in front of his match-ups, while his physical development will greatly help him. Keep in mind heís a very skinny kid. Itís not only a matter of being 16 years old, but he really looked like a boy among young men. His frame is promising, though. At 6-4 heís pretty big for a point-guard and thereís nothing wrong with his wingspan or athleticism. Actually, he grabbed a surprisingly good amount of rebounds. That speaks of his nice length, but also about activity and positioning. Again, instincts doing their work.

If his skill set and eventual flashy plays dazzled the audience, his real influence on the games, although perhaps going under the radar for some, was nothing short of impressive.

With his much more experienced teammate Nikola Vukasovic almost monopolizing the leading playmaking duties, Miljenovic looked doomed for a marginal role, indeed not stepping on the court until very late into the third quarter against a surprisingly combative Alba Berlin. However, his impact on the court was automatic. He didnít deliver any outstanding individual performance in that opener, but he changed the face of the team and the rhythm of the game.

With more playing time, a bigger role on the court and increasingly impressive play, that was the tune during the whole tournament. Vukasovic, as talented as he is, lacks offensive aggressiveness, which usually results in a slower game tempo and a mechanical and predictable style for the team. With Miljenovic on the floor it seems like the whole FMP arsenal is unleashed, even when he shared minutes with Vukasovic, he emerged pretty effective playing off the ball as well. As soon as he hits the court, the ball starts flowing, the pace gets faster, the players become more active and the team runs the floor. I had never seen Dejan Musli running as much as he did these days in Berlin. And itís hard to imagine any different scenario than FMPís starring center completely worshiping his point guard fellow, given how ridiculously easily he got production out of Nenadís hands.

Itís not a matter of taking anything out of Musliís great performance in Berlin, he was really dominant, completely owned Jonas Valanciunas in the final and showed nice improvements in his game. But unlike the NIJT jury, I could have only named Miljenovic as the tournament MVP (he was granted a place in the all-tournament team, though). His influence exceeded any other playerís, and on first glance, his plus/minus stats likely topped the tourneyís by a landslide. Letís put it this way: with Musli on the floor and Nenad on the bench, FMP was trailing against Alba Berlin; put Miljenovic on the floor and take Dejan out, and the show was still going on.

Going beyond his effectiveness, Miljenovic is a breath of fresh air on the basketball scene. His creativity, even his flashy moves, go along an apparently extremely likeable character. The kid just has fun out there, and regularly offers a smile on his face. I canít remember anything similar during the past years in the Serbian basketball, even the Balkan area as a whole.

On top of it, he looks like a superb teammate, and acted as you would have never expected from a cadet playing with juniors. He was often the first one receiving his teammates on the bench, he was regularly high-fiving and cheering for everybody, and he went as far as chest-bumping his own coach after he linked a few spectacular plays. Weíve seen FMP for a few years now with this very same coach, usually while they dominated, and never ever witness anything similar. Considering it comes from a cadet, itís almost inconceivable.

Truth to be told, the kid seems to have a special relationship with everybody on FMP. He was the only player we saw during a game talking with the team president Nebojsa Covic, who was always placed behind the bench and constantly communicating with the coaches (actually, FMP had a bit of a schizophrenic direction, with two guys acting like head coaches and constantly exchanging looks and words with their president).

In a hilarious sequence, Miljenovic delivered a behind-the-back pass on a fastbreak, and looked towards the bench, as if to excuse himself for his flashiness Ėof course, with a smile on his face-. The head coach turned looking for his president and couldnít avoid smiling himself. Itís the kind of stuff you rarely see in the Serbian basketball school. Actually, it makes you think how much the FMP staff might be holding back on Miljenovicís creativity on the court.

Our long-time friend and eventual collaborator Juan Antonio Hinojo brilliantly pointed out how much Nenad reminded him of Sergio Rodriguez. Not only in terms of skills, but also with his body language or easy-going character. It would be interesting to check how much further that resemblance would go if Miljenovic enjoyed the same freedom Sergio had back in his junior days in Spain. Regardless, we can already say that Sergio is the most dominant junior weíve seen playing on the perimeter, and Nenad is the most impressive cadet weíve ever witnessed sharing the floor with juniors--with the only possible competition coming from Ricky Rubio himself back in the 2006 LíHospitalet Tournament.

The future looks bright for him, although uncertainty is a big part of the equation when talking about kids who are so young. Still, nobody will take away the impression he left in Berlin. Every time Miljenovic smiles on a basketball court, basketball itself smiles with this kid running the show.

[Read Full Article]

---
Jordan Brand Classic / International Game
April 20, 2009
6-4 Serbian guard Nenad Miljenovic came in with plenty of hype from his home country, but took a little while to get going from what we were able to see. He is a big combo guard who can create shots for himself and for others with crafty footwork and nice ball-handling skills, but is an average athlete with very limited strength, which made it very difficult for him to finish around the rim. His jump-shot looked excellent in the practices, both with his feet set and off the dribble.

[Read Full Article]

---