Nick Fazekas
Recent Tweets
All Tweets
DraftExpress: Agreed. Runs the floor exactly the same way. RT @MGansey: Cant help but think of Nick Fazekas when watching Kentucky's Kyle Wiltjer...
2011-11-20 12:28:32
Top 25s - Full List
Team: Toshiba Brave Thunders
Physicals
Positions
Rankings
Salary
Misc
H: 6' 11"
W: 225 lbs
Bday: 06/18/1985
(30 Years Old)

Current: PF/C
NBA: PF
Possible: PF/C

RSCI: 137

Agent: Chris Emens

High School: Ralston Valley
Hometown: Arvada, CO
Drafted: Pick 34 in 2007 by Mavericks
Best Case: Christian Laettner
Worst Case: Brian Cook




Basic Per Game Statistics

- Comprehensive Stats - Statistical Top 25s

Player Page&nbsp&nbsp| Player Stats | Mock Draft History | Related Articles&nbsp&nbsp| Add to My Draft Express&nbsp
&nbsp
Las Vegas Summer League Day Seven
July 19, 2008
The plodding big man had his first good showing of the Summer League today, showing the ability to score from inside. Fazekas was viewed as something of a perimeter player coming out, but we havenít gotten a chance to see much outside shooting from him at all recently. While that may be due to his desire to get looks closer to the rim, it can probably be attributed to the teamís point guards trying to turn the corner on every pick and roll and not stretching out the defense to open up space for a pick and pop. Though LAís guardsí aggressiveness on the pick and roll havenít afforded Fazekas any perimeter touches, itís opened up things for him on the inside. Fazekas always does a good job working off the ball when his teammates draw his defender. He lacks the quickness to get many touches off of cuts, but is smart enough to know make himself a big target when heís open at the rim. His touch makes him a very capable finisher, and he shows a good running hook going right despite not being able to get a step on his defender. Defensively, Fazekas made a couple of plays today due to his length, but heís not athletic or strong enough to be a consistent factor. His inability to hedge the pick and roll is also a concern, especially in this setting. While this was a good offensive performance for the young power forward, it did nothing but reaffirm what we already knew about him.

[Read Full Article]

---
NBA D-League Showcase, Day Four
January 18, 2008
This was one of the better match-ups of the season to evaluate the play of Nick Fazekas, with Tulsa taking on Colorado, who features top level big man Elton Brown. Though he managed to score in a few spurts, the rookie had a minimal impact throughout the game. Defensively, Fazekas lacks the strength to bang with centers in the NBA and the foot speed to stay with power-forwards. This was evident when Fazekas tried to guard Elton Brown, who can play down low or facing the basket.

Offensively, Fazekas failed to establish post position against Justin Cage on the low block. Cage is a swing player who measures 5 inches shorter than the Dallas Maverick, but still managed to shut him down due to his length, size and aggressiveness.

The big man does show good skills facing the basket and good hands inside, but the lack of strength and speed severely limit his NBA upside. If Fazekas had showed up to the Orlando pre-draft camp with a performance like this, he might have fallen all the way off the draft board altogether. Almost every person in attendance here unanimously shook their heads when asked about Fazekasí performance at the Showcase. Things arenít looking great for him right now, but itís still very early in his career and he must take things very seriously if heís going to survive in the NBA long-term.

[Read Full Article]

---
NBA D-League Showcase, Day Three
January 17, 2008
. Nick Fazekas had a typical game for him today with 17 points and 12 rebounds. The game didnít start off well for Fazekas as he was just 2-for-8 in the first half, but he picked up the production in the second half going 6-for-10 from the field. The majority of his points were scored on mid-range jumpers with a couple of nice short jumpers off the dribble thrown in for good measure. He probably shouldíve looked for his shot more often as he was defended by Kevin Pittsnogle for a good portion of the game. His offensive game has changed little since his collegiate days as he is still too weak to go inside and has yet to develop three point range. Though he doesnít bang inside, he has good instincts and strong hands allowing him to grab quite a few rebounds.

Defensively, Fazekas is a definite liability due to his lack of foot-speed. Kevin Pittsnogle, who is even slower than Fazekas, went for 21 points against him on 8-for-12 shooting. Knowing that Pittsnogle doesnít put the ball on the ground, Fazekas should have been able to contain him better.

Fazekas will need to improve his 3-point shooting and strength if he wants to be able to contribute at the NBA level.


[Read Full Article]

---
West Coast Workout Swing: Day 2 (Joakim Noah, Corey Brewer, etc)
May 17, 2007
Itís tough to draw too many conclusions considering that we only saw one workout here and didnít get to take in any 5 on 5 action either (he didnít want to be the only big man out there weíre told), but there are some things to be quietly encouraged by from what Fazekas did show us in the workout we attended.

For one, his body obviously looks a lot better after spending the last 6 weeks here in Carson. He was criticized by some in the media for dropping out of classes and heading here to prepare himself as best as possible to maximize himself for his professional career, but after seeing the results, itís impossible to argue with that. Fazekas has added 11 pounds to his frame so far while dropping 1.5% of his body fat, looking a lot better in his upper body in particular. Beyond just pumping iron and putting on weight the way a bodybuilder would, they seem to have restructured it completely the way you would hope it would be proportioned. It wouldnít be a stretch to say that most Nevada fans would have a hard time believing what the people at Athletesí Performance have been able to do with his body in such a short time.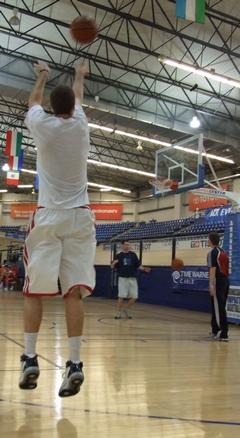 Nick Fazekas Scorching the Nets (Jonathan Givony)



Beyond his frame, Fazekas has clearly spent some time working on his shot. Itís not like he was a bad shooter before he came here, but heís an even better one now. We charted him at an extremely impressive 80% from the NBA 3-point line on over 100 shots over the course of the workout. For any player that would be considered a very solid showing in an NBA private workout, but for a player who measured out here at 6'9 3/4" barefoot, that is especially noteworthy.

Any way you look at it, his shooting mechanics with his feet set are nothing short of gorgeousóespecially the rotation he gets on his shot. In motion is where is percentages drop considerably, though, as his body tends to drift along with his feet and he lacks the same dead-eye accuracy he gets from a stand-still position. Considering what his role will be in the NBA, weíre not sure that is going to be all that much of an issue.

Fazekas in general is not the most productive player in the world once he gets in motion. He noticeably lacks quickness and explosiveness, which limits his ability to create his own shot either in the post or on the perimeter. For that reason exactly he will have to adjust to being the type of player in the NBA that keeps things nice and simpleócatch and shoot jumpers from 18 feet and out with his feet set, pick and pop plays, jump-hooks and turn-around jumpers in the post, etc etc.

Thatís not to say that there isnít a role for a player like that in the NBAómaybe even a substantial oneóbut a team and especially their head coach will need to realize exactly what they have on their hands before they decide to commit to him. From what we understand, Fazekas will not be participating in the NBA pre-draft camp later this month. That might be a little disappointing for those looking to evaluate his defense and rebounding in a competitive setting against more athletic players than he normally went up against at Nevada, but the counter argument to that is that big men like him donít usually touch the ball much in those settings. Regardless, itís our belief that anyway you slice it, there is a place in an NBA rotation for a player like Nick Fazekas.

[Read Full Article]

---
NCAA Tournament: Stock Watch (round of 32, Sunday)--Stock Down/Neutral
March 19, 2007
For the third straight year in a row, Nick Fazekas had himself an underwhelming NCAA tournament. And while some might question how a 20 point performance translates into a player landing into the ďstock downĒ category, you had to see the way he struggled against the athleticism of Memphisí defenders to really get a feel for the way he played. Simply put, Fazekas had a rare opportunity to show that his numbers against undersized low-major competition all season long were legit, and he did just the opposite.

Fazekas started off the game about as poorly as he could have, missing his first six shots and looking completely out of sync. Memphis head coach John Calipari rotated between throwing a big, strong and athletic bruiser in Joey Dorsey and a long, pesky and super athletic power forward in Robert Dozier at him, and Fazekas just did not know how to handle them at first.

He took a number of difficult shots on the afternoon, fading away from the basket rather than going up strong and heaving up soft one-handed attempts that just wouldnít fall for him. When he got tired of battling inside, he went out to the perimeter and tried his luck from behind the 3-point line, but to no avail, missing all three of his attempts. On the glass, he was man-handled on more than one occasion by the much more aggressive Dorsey, being pushed around and unable to hold his spot on the block against him. Defensively, he did not do much at all to stop Memphisí players from slashing into the paint and scoring at the rim at will.

Fazekas finally got going on the afternoon when a teammate mercifully handed him the ball alone underneath the rim for an easy layup and his first field goal. From that point on, he got much smarter in the way he attacked Memphisí defense, abandoning his back to the basket game and relying more on moving off the ball and making sharp cuts off screens and such for easy catches and finishes, as well as by leaking out on the break and scoring in transition. He scored every one of his 7 field goal attempts right underneath the basket on a layup, as you can see in the shot chart below.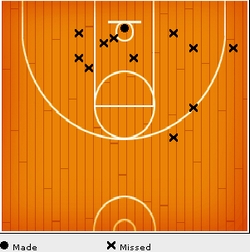 CBS Sportsline.com



Fazekas deserves credit for being smart with his off the ball movement and have the hands to catch on the move and finish under duress, but itís almost impossible to imagine any situation where heíll be able to do something similar in the NBA on a consistent basis.

Despite his outstanding senior year, this was a really bad way for Fazekas to end his career. Nevada barely played anyone of note all season long, so this is a game scouts will have to rely heavily on when trying to assess how his game will translate to playing against bigger, stronger and more athletic opposition. It would be foolish to judge his entire career off just a single performance, but there were already many question marks before this game, and Fazekas did nothing to answer those this afternoon.

[Read Full Article]

---
NCAA Tournament: Stock Watch (round of 64, Friday games)--Down/Neutral
March 16, 2007
Nick Fazekas had a very up and down game, and heís lucky his team advanced, especially given how Creighton kept him out of the offense for most of the game. Creighton fronted and doubled Fazekas for most of the game, and his teammates had trouble getting him the ball in the post, forcing him to drift out to the perimeter as the game went on. Fazekas did get a few opportunities in the post, missing a pair of hook shots and a five-foot contested jumper while scoring three easy lay-ups over the course of the game when he did manage to get the ball in position down low. Fazekas also had two offensive fouls on the game, which further shows how tough Creightonís defense made it on him.

Fazekas was more effective when he drifted out to the perimeter, but he was guarded closely there as well, really taking him out of his element for the game. He hit a quick spot-up three on one occasion and used a shot fake to draw a shooting foul behind the three-point line on another. He also made a nice face-up drive from about 15 feet out, though he missed his lay-up off the glass. Fazekasí most important offensive play of the game was probably his simplest, hitting a wide open 10-foot jumper with 2:30 to go in regulation, tying the game en route to an eventual overtime.

On the defensive end, Fazekas was very inconsistent as usual, at times not providing any interior presence, often when his team needed it the most. He doesnít always body up when playing defense in the post either, letting the opposition gain position and get easy shot opportunities around the rim. Fazekasí perimeter defense wasnít much better, as he wasnít respecting the mid-range jump shot, giving up two wide-open 15-footers early in the game. At times, Fazekas did really lock down on the post defense, and to his credit, he did an excellent job doing so on a crucial play down the stretch in overtime, where he bodied up his man twice to force tough shots in the post, after which he secured the rebound and was fouled, sending himself to the free throw line.

Despite the decent box score, this wasnít one of Fazekasí better game, though a lot of that had to do with Creightonís defense and his teammatesí inability to frequently get him the ball in good position. Fazekas will be matched up with Memphisí Joey Dorsey on Sunday, where he will have his hands full for sure. Fazekas shouldnít be able to get much done in the post in that game, but with his offensive versatility, he could still be very effective playing on the perimeter. Fazekas has a history of underperforming in the NCAA tournament, and he now has another chance to come up big for his team in the next round and beyond. Even if his team is eliminated, Fazekas will have a chance to improve his stock in front of NBA scouts and executives at the NBA pre-draft camp in May. He currently projects as a late first-round pick, though he could help or hurt his stock with his play in the upcoming months.

[Read Full Article]

---
NCAA Weekly Performers, 1/30/07-- Part One
January 31, 2007
After declaring for the NBA draft last April, only to eventually pull his name out at the deadline, Nick Fazekas has come back to school in his senior year to continue working on his game. Fazekas hasnít changed his style of play much, but a few small, but important strides could go a long way in improving his stock. Heís added a bit more weight to his wiry frame, his attentiveness on the defensive end seems a bit improved, heís rebounding and shooting the ball notably better, and heís continuing to show the versatile inside-out scoring game that is the primary reason heís highly regarded as an NCAA player and NBA prospect.

Fazekas and 13th ranked Nevada havenít faced too much steep competition on their schedule, but he has consistently scored almost at will in nearly all of their games this season, which has been an ongoing trend for the past three years. Fazekas hasnít dipped below double-digit scoring in any of his games, and has recorded a double-double in 13 of his 19 games this season.

In the past few years, Fazekas has evolved from a perimeter-oriented jump-shooting big man to one who now scores at least half of his points around the basket, using his skilled finesse post game to score in a variety of ways. Fazekas has two very reliable moves on the low block, one being a hook shot and the other a turnaround jumper, both of which he exhibits excellent touch on and both of which he usually can get off in the blink of an eye with ease. Despite his slight build, Fazekas doesnít have much of any problems at the collegiate level establishing position on the low block, and can hit his hook shot with decent regularity from out to five feet away from the basket, and his turnaround jumper out to 10 or 15 feet. He occasionally tries to draw contact with these moves, but predominantly will fade away on both, having the skill to consistently score without having to power his way to the basket, which he isnít consistently capable of doing anyhow. Fazekas will occasionally go around his man for a lay-up, or use a fake to make a step-through move, but the vast majority of the time he settles for the hook or jump shot.

Fazekas also has a bit of a face-up game from out to the three-point line, but as his game has progressed over the years, heís come to spend more time working with his back to the basket in the painted area. Fazekas doesnít have a very quick first step or great ball-handling abilities, but because defenders have to play him so close to respect him jump shot, he can usually get by them for a few dribbles to the basket when necessary. Heís been hitting his three-point shot with great regularity this season, shooting .475 on the year, but itís only on a sample of 40 attempts, or one make a game. Despite his good shooting form, Fazekas only shot .290 from behind the arc last season. Still, itís a very positive sign for NBA scouts to see him hitting 3-pointers at a near 50% clip, and something that should help ease the doubts about how his offensive game will translate to the league in a more complimentary role.

Fazekas has a consistent motor on the offensive end, always working to get open without the ball when he isnít trying to establish position in the post. Though he spends the most of his time trying to establish position down low, he does a good job moving to open space and utilizing screens off the ball, as well as a good job finishing on cuts to the basket or hitting spot-up shots from outside in this fashion. Fazekas also runs the floor well in transition, working to get ahead of the defense and finish on fast break opportunities. He also does a good job as a trailer, using his rebounding ability to capitalize on putback attempts.

In terms of rebounding the ball, Fazekas is doing yeomanís work for Nevada this year considering his lack of bulk, establishing good inside position around the basket and using his craftiness and length to get around defenders when he doesnít have the position. He shows good touch on his putback attempts, but his lack of leaping ability sometimes leaves him falling up short on his tip-in attempts, as he rarely plays above the rim. This lack of leaping ability is not a prevalent problem with the rest of his offensive game, but when consistently matched against bigger, more athletic opponents at the next level, it may become more of a problem. Improving his rebounding numbers by 1.3 per game despite playing 3 minutes less every contest has to be considered a good sign as far as scouts are concerned, though, especially since this was always viewed as one of the biggest concerns surrounding his NBA potential. He is currently ranked as the 2nd best rebounder in the entire country.

Defensively, Fazekas seems to be more aware and active this season than in previous seasons, but he still has a long way to go. He doesnít consistently step up on weak-side rotations, likely preferring to stay out of foul trouble, and he doesnít always make the rotations at all. His perimeter defense is also still a problem due to poor lateral quickness, though he seems to be putting in more effort defending in the post.

Fazekas has done a nice job addressing many of the weaknesses in his game we pointed out as potential concerns in the scouting report we wrote on him last year. Still, question marks about the level of competition he is putting up his phenomenal numbers against remain. Making a deep run in the NCAA tournament and inevitably matching up and faring well against an NBA prospect big man or two along the way could do wonders for his stock.

[Read Full Article]

---
Nick Fazekas NBA Draft Scouting Report
May 10, 2006


Strengths


(junior year scouting report, see player blog tab for more recent updates)

Fazekas has great height for a power forward at 6-11 combined with average athletic ability. He runs the court fairly well for a big man, and will score points in transition due to his high basketball IQ and how hard he usually plays.

His offensive game is what makes him a special prospect at the next level, having quite a complete package of polished offensive skills; being able to score from both inside and out.

At first some might consider him strictly a perimeter oriented big man due to his extremely thin build; however, he has improved his low post scoring and arsenal to the point that he can be quite dangerous down low as well. He knows how to get low and establish good post position to make up for his lack of bulk; and has a very quick release that makes it hard for slower big men to block his shot. Fazekas has a knack for finding open space around the hoop, and is always moving to get open in the post and rarely stands still if he isnít able to do so.

In terms of consistency, ever since Fazekas was a freshman at Nevada when they made that famous NCAA tournament run, he has always showed the ability to score the basketball. He has been very consistent on offense and has developed into a regular 20 point per game scorer over the past two seasons.

An aspect of his offensive game that is quite unique is his ability to tip in shots when jumping in the air. Unlike some players who go to dunk these type of rebounds in, Fazekas gets offensive rebounds to fall softly off his fingertips. He is remarkably skilled at using a variety of finger rolls or set shots when close to the basket. That ability effectively demonstrates his overall hand eye coordination and basketball IQ. Even though he is not a great ball handler, he can create shots off short dribbles and is comfortable with the ball in his hands even when pressured.

Fazekas also has the ability to step away from the basket and hit jump-shots. He has a very good looking jump-shot and is not above using the glass every now and then either. Considering how fundamentally sound his jump-shot looks, one would think his shooting percentage would be better. Nonetheless, he has great touch shooting the basketball. His jump shots are quick and very effective. He shoots the ball on his fingertips and it shows in the rotation he gets.

In terms of post scoring, what makes Fazekas an effective post player at the college level is the fact that he has a variety of different moves he uses. He has a very fine jump-hook shot with either hand out to about 12 feet, and uses his thin frame to slither his way around the post and gain position. The jump-hook shot is his go-to move offensively; he executes it quickly and fluidly and gets a very high release point on it which makes it difficult to block. Itís obvious he has worked long and hard to perfect this move to the point that itís become automatic.

Fazekas also has a very effective turnaround jump-shot that adds to his arsenal down low. When post defenders try to get physical with him, it does not always affect his game, as he is surprisingly effective finishing after contact. Fundamentally, he is well-schooled; keeping the ball above his shoulders in the post and always putting himself in a triple threat position on the perimeter. He knows how to get his shot off in difficult situations, and shows quick decision making when doing so. He gives his defender very little time to make up his mind how he wants to guard him.

On top of that, Fazekas can also pass the ball very effectively. He is wonderful at using the bounce pass, and can also find cutters effectively from either the post or the perimeter. He is also skilled at passing out of double teams. When pressured, he does not get flustered because he is quick when passing the basketball and accurate. He is generally a very intelligent player with an excellent feel for the game.

Fazekas is also a solid rebounder at the college level despite being so skinny; mostly thanks to his height, excellent hands and long arms. He is a sneaky rebounder, using his footwork to get around a box out, or just anticipating better than the opponent and getting to the basketball before they do. Fazekas is not above hitting the floor either; as he will dive for loose balls and sacrifice his body.



Weaknesses


The big question about Fazekas, and the reason that he might be kept out of the 1st round is his physical strength. Even though he puts up great numbers, they are usually against weaker competition. He is not the ideal physical specimen most teams look for in a power forward. Because of that he might have trouble against superior athletes at that position.

His lack of strength could cause him to get pushed around by bigger players, and there are major question marks about how he will be able to hold his position on the block. His upper body strength is especially poor. Whatís most concerning about this is the fact that his frame is extremely narrow, particularly in his shoulders, which leads you to believe that he will have a very difficult time putting on more weight.

His lack of athleticism is also an issue. Fazekas is just an average leaper at the college level, and noticeably lacks quickness. He runs the floor fairly awkwardly as well. Defensively, this lack of strength and footspeed is a major concern. Laterally, his feet are likely not quick enough to stay in front of perimeter oriented power forwards, while in the post itís hard to see him matching up very well with bruising back to the basket types. Fazekas is already an average defender at best, so one has to question what to expect out of him at the next level.

The ironic part about Fazekasís ability to shoot the basketball is the fact that while his jumper looks excellent, his shooting percentages from the 3-point line have gone down since his freshman year. As a freshman he was truly a perimeter big man that could really hit 3-point shots. However, as defenses have paid closer attention to him, his 3-point shooting has gone down.

Even though his arsenal of post moves is quite developed, he might have trouble against players that are almost always going to be strong than him. Will he still be able to get off the same type of shots he did in college at the next level, and will he be able to adapt his game to a different type of defender? He will also have to learn how to get post position against players that will physically not let him set up and get the ball freely.

Another issue with his lack of strength is the fact that potentially he could have trouble rebounding and boxing out strong players. Even against weak competition, at times he gets pushed around under the boards too easily.



Competition


Fazekas was an underrecruited high school player who ended up landing in Reno, Nevada to play for an emerging mid-major program that made the tournament in all three years he has played for them so far.

As a freshman he helped Nevada reach the Sweet 16 of the NCAA Tournament, playing 2nd fiddle for the most part to eventual #16 NBA draft pick Kirk Snyder. Fazekas averaged 12.6 points, 7.6 rebounds and shot 53% from the field and 36% from behind on the arc on over two attempts per game. His coming out party on the national level came in two shocking NCAA tournament upsets in the opening weekend over Gonzaga and Michigan State. He scored 12 and 16 points respectively with 7 rebounds in the first game and 10 in the second.

As a sophomore, Fazekas moved comfortably into the go-to role at Nevada after Snyder left early for the NBA draft. He averaged just under 21 points with 9.4 rebounds per game, shooting 50% from the field and 33% from behind the arc, this time on 3 attempts per game. His team had a terrific season and made the tournament as an 8 seed. They beat Texas in the opening round before losing to eventual NCAA tournament finalists Illinois. Fazekas played quite poorly in the tournament this year, shooting just 8/34 overall and averaging 10.5 points per game. He did pull down 10 rebounds in each game, though. He had some thoughts about entering the NBA draft that year, but his poor showing in March made him decide to come back.

Entering his junior year, Fazekas was already a well-known name amongst educated NCAA basketball fans. He upped his numbers to 22 points per game, 10.4 rebounds, and 2.1 assists. He shot 53% from the field, 85% from the free throw line and 29% from behind the arc, on over 3 attempts per game. His team had a phenomenal year and made the tournament as a 5 seed, but were upset in the first round by Montana, in emphatic fashion. Fazekas got his by scoring 24 points with 12 rebounds and 3 blocks, mostly in the 2nd half.





Outlook


If Fazekas can find a way to add some bulk to his skinny frame, his game could potentially translate to the NBA quite well, especially if he further improves on his 3-point shooting ability. There are some questions as to whether he can have the same success offensively against taller, stronger and quicker defenders at the next level however. Nonetheless, he is a fine talent, has wonderful ball control and is a fine passer. Combine that with his willingness to go in the post and score, he could end up being a very solid player to bring off the bench. If NBA teams think his body has more potential than itís currently showing, he has a chance to land somewhere at the end of the 1st round. If not, he will either be drafted in the early 2nd or return to school for his senior year, as he is yet to hire an agent.



[Read Full Article]

---
NCAA Tournament: Minneapolis Bracket NBA Draft Prospects
March 14, 2006
A player who can ill afford to serve up the type of stinkers he produced in last year's NCAA tournament, Fazekas will be under immense pressure to take Nevada out of the 1st weekend and show the scouts that his terrific offensive arsenal is enough to make up for his lack of bulk and athleticism. Hopefully fatigue is not an issue at this point in the season since Fazekas will be scrutinized heavily in the defensive and rebounding departments as well as with his jump-hook and perimeter shooting skills. A big time matchup in the 2nd round likely awaits with bruising undersized power forward Craig Smith as well as jumping jack shot-blocking extraordinaire Sean Williams.

Fazekas has left no doubt in anyone's mind that he intends on entering the draft and probably stay in if he is even remotely liking what he's hearing, so after filling up his stat-lines against mostly (but definitely not just) mid-major caliber talent, a good performance against a high caliber team or big man could go a long ways in solidifying his spot in the 1st round.

[Read Full Article]

---