Nigel Williams-Goss
Recent Tweets
All Tweets
DraftExpress: Great game and very solid all-around tournament for Nigel Williams-Goss. Loved him at tryouts and he's carried it over. Romar will love him.
2013-07-07 16:02:31
DraftExpress: Two fouls on Marcus Smart in the first five minutes...and in come both James Robinson and Nigel Williams-Goss. Big test for US now. #FIBAU19
2013-07-03 14:25:02
DraftExpress: Elfrid Payton James Robinson Marcus Smart Jarnell Stokes Rasheed Sulaimon Mike Tobey Nigel Williams-Goss Justise Winslow still here
2013-06-16 14:48:00
DraftExpress: Nigel Williams-Goss isn't a great shooter or athlete but he's a real floor general who plays w\/terrific maturity & smarts. Really like him.
2013-06-15 13:56:02
DraftExpress: Jarnell Stokes Nigel Williams-Goss Marcus Smart among the best performers today at the @usabasketball U19 tryouts. Very balanced group.
2013-06-15 13:33:19
Team: Gonzaga, Junior
Physicals
Positions
Rankings
Misc
H: 6' 4"
W: 182 lbs
Bday: 09/16/1994
(21 Years Old)

Current: PG
NBA: PG
Possible: PG

Rank 29 in NCAA Sophomores
RSCI: 37

High School: Findlay Prep
Hometown: Happy Valley, OR

Predraft Measurements
| Year | Source | Height w/o Shoes | Height w/shoes | Weight | Wingspan | Standing Reach | Body Fat | No Step Vert | Max Vert |
| --- | --- | --- | --- | --- | --- | --- | --- | --- | --- |
| 2013 | USA Basketball | 6' 2" | 6' 4" | 183 | 6' 6" | 8' 5" | NA | NA | NA |
| 2012 | LeBron James Camp | NA | 6' 3.5" | 182 | 6' 6.5" | NA | NA | NA | NA |
| 2012 | Deron Williams Camp | NA | 6' 3.5" | 182 | 6' 6.5" | NA | NA | NA | NA |
| 2011 | Deron Williams Camp | NA | 6' 4" | 182 | 6' 6" | NA | NA | NA | NA |



Basic Per Game Statistics

- Comprehensive Stats - Statistical Top 25s
| Year | League | Name | GP | Min | Pts | FG | FGA | FG% | 2Pt | 2PtA | 2P% | 3Pt | 3PtA | 3P% | FTM | FTA | FT% | Off | Def | TOT | Asts | Stls | Blks | TOs | PFs |
| --- | --- | --- | --- | --- | --- | --- | --- | --- | --- | --- | --- | --- | --- | --- | --- | --- | --- | --- | --- | --- | --- | --- | --- | --- | --- |
| 2014/15 | NCAA | Nigel Williams-Goss | 30 | 36.8 | 15.6 | 6.2 | 14.0 | 44.2 | 5.5 | 11.2 | 49.0 | 0.7 | 2.9 | 25.6 | 2.5 | 3.2 | 76.3 | 0.7 | 4.0 | 4.7 | 5.9 | 1.1 | 0.2 | 2.8 | 1.9 |

Player Page&nbsp&nbsp| Player Stats | Mock Draft History | Related Articles&nbsp&nbsp| Add to My Draft Express&nbsp
&nbsp
Top NBA Draft Prospects in the Pac-12, Part 5: Prospects #5-9
September 5, 2014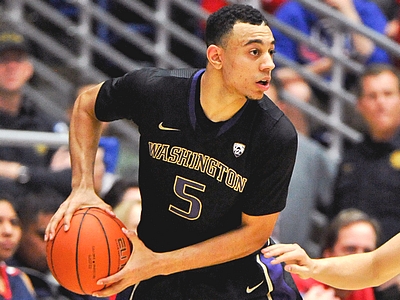 US Presswire



Matt Kamalsky

Washington freshman Nigel Williams-Goss quietly put together a solid freshman campaign on a Washington team that finished the season with only 16 wins and failed to reach the postseason for just the second time in the last decade. A consensus top-40 recruit in the high school class of 2013, Williams-Goss stepped into a starting role as Washington's point guard alongside 2014 first round pick C.J. Wilcox, relishing the opportunity Lorenzo Romar affords to him to finish as the Huskies' leader in assists and second most prolific scorer. Averaging 13.4 points, 4.4 rebounds, and 4.4 assists per-game, Williams-Goss led all Pac-12 freshmen in scoring, en route to being named to the All-Conference freshman team, and in the process planted himself firmly on the radar of NBA scouts.

Williams-Goss' appeal from a NBA perspective starts with his terrific size for a primary ball-handler. Measuring 6'4 in shoes with a 6'6' wingspan one summer ago while preparing for the U19 World Championships with USA Basketball in Colorado Springs, the Oregon native towers over some of the players he encounters at the collegiate level –a significant factor in his productive freshman season given his lack of outstanding explosiveness.

A skilled, crafty offensive player, Williams-Goss has been an adept mid-range scorer since he emerged as a prospect during his highly successful high school career at Findlay Prep thanks to his ability to use his size to find angles to score inside the arc. As a freshman, that ability to score around the paint with floaters quickly became the soon to be 20-year old's calling card, as the 68 points he scored on runners in the half-court ranked among the top-15 nationally according to Synergy Sports Technology, and his 47% conversion rate on such shots is quite impressive.

In contrast, Williams-Goss still has plenty of work to do as a scorer from the outside and as a finisher. Though the rising sophomore showed growth as a perimeter shooter late in his high school career and connected on a very respectable 40% of his jump shots overall, maintaining that momentum as a freshman, he appears a bit out of rhythm at times and his 36% shooting from deep on 2.8 attempts per-game and 72% from the line seemingly have room to improve. Shooting a middling 51% as a finisher at the rim, the more efficient and prolific Williams-Goss can be as a shooter, the more it will overshadow his lack of great blow-by quickness and ability to finish explosively inside.

Any improvements Williams-Goss can make in his scoring arsenal will only be magnified by the fact that he plays a disciplined offensive game, not forcing many shots and turning the ball over primarily when trying to make a smart pass, rather than when he's trying to do too much. Averaging 15.5 points per-40 minutes, which ranks right in the middle of the pack among rising sophomores in our current top-100, Williams-Goss should get plenty of opportunities to be more productive this season with C.J. Wilcox graduating to the professional ranks. It will be interesting to see how his high basketball IQ and ability to change speeds and make things happen in the pick and roll translate to a higher usage role.

Racking up 5.1 assists and rebounds per-40 minutes pace adjusted, Williams-Goss did a bit of everything for Washington a year ago. He has good court vision, a solid understanding of spacing, and actually appeared more comfortable attacking a set defense in the half court than pushing the ball in transition, a true rarity for freshman guard.

One of the more mature freshman in the college game, Williams-Goss' savvy carried over on the defensive end at times, where his ability to anticipate the action helped him come up with 1.1 steals-per game, as he proved adept at stripping opposing big men when digging down from the perimeter. Unfortunately, his lack of lateral quickness led to some difficulties guarding smaller, quicker guards in one-on-one and pick and roll settings, despite his willingness to compete consistently at this end of the floor.

Looking ahead, Williams-Goss is in an interesting situation heading into his sophomore season. His predecessors among Lorenzo Romar coached UW point guards, Nate Robinson and Isaiah Thomas, had similarly productive freshman years, but didn't see their roles expand significantly as sophomores. Whether Washington has the personnel to maintain their scoring balance as they did in those two cases this coming year remains to be seen, and if no one steps up, it will be worth monitoring how heavy of an offensive burden Williams-Goss will have to carry.

Though his lack of great athleticism will remain a concern as scouts project him to the next level, a strong sophomore year carrying the Huskies back to the NCAA Tournament could make the decision to enter the NBA Draft that he labored over last spring a bit easier come next April.

[Read Full Article]

---
USA Basketball U19 World Championship Training Camp Report, Part Two
June 19, 2013
Far more mature than you'd expect considering he's only 18 years old, Nigel Williams-Goss established himself right from the start as one of the leaders of this Team USA squad, showing terrific poise and unselfishness as a facilitator in the half-court.



Interview




Good in the pick and roll, and very aggressive pushing the ball up the floor, Williams-Goss is a willing passer and is constantly talking on both ends of the floor, which made him a natural to continue on to the next stage of tryouts after the first round of roster cuts were made. He shows very good potential as a point guard, even if his average athleticism and somewhat inconsistent outside shot may limit his long-term upside to a certain extent. He shows an average first step and isn't always able to blow by opponents in the half-court, which makes it difficult to create high-percentage shots for himself around the basket. His very strong mentality leaves plenty of optimism regarding how he'll address this in the future, though, and there's very little doubt that he was an absolutely huge get for Lorenzo Romar at Washington and someone we'll be following closely to see how his college career evolves.

[Read Full Article]

---
Mcdonald's All-American Week Player Evaluations
April 5, 2013
Matt Kamalsky



Taking home the top spot in the 2013 McDonald's All-American game 3-point contest and running the point for the West in practice, Nigel Williams-Goss (ESPN #20, Scout #48, Rivals #61) proved to be one of the more steady and mature guards in attendance over the course of the week.

Standing 6'3 with a 6'7 wingspan, Williams-Goss has great size for the point guard position, but lacks elite speed and explosiveness. Possessing a fairly mature skill set –the byproduct of playing a key role for national powerhouse Findlay Prep in recent years– Williams-Goss compensates for his lack of blow-by speed with the ability to play at different speeds to keep his defender off balance, solid ball-handling ability, and budding playmaking ability on the pick and roll.

The Happy Valley, Oregon native is not a dominant offensive player, lacking the speed and creativity to score inside at will, but is an improved shooter who proves to be a crafty and opportunistic scorer inside the arc. He shows the ability to control tempo and was one of the more willing passers over the course of the week in Chicago, showing the type of leadership, versatility, and intensity on both ends that should help him pay dividends for Lorenzo Romar's Washington Huskies as a freshman.

With Abdul Gaddy graduating, Williams-Goss should see ample opportunity to showcase his scoring and passing ability next season. The one-time UNLV commit has no shortage of big game experience at the high school level, and though he lacks great athleticism, his skill and competitive streak makes him a player to keep an eye on down the road.

[Read Full Article]

---
HoopHall Classic Scouting Reports (Part Five): 2012 Prospects & Beyond
January 30, 2011
Jonathan Givony

One of the youngest players at this event and one of the more unique stories you'll find in high school basketball, Nigel Williams-Goss is a high school sophomore who starts for arguably the most talented team in America.

Standing around 6-3, but possibly still growing considering his youth, Williams-Goss is an average athlete with a strong frame who probably still hasn't reached his full physical potential at this early stage of his development.

Sharing Findlay's backcourt with top point guard prospect Myck Kabongo, Williams-Goss acts as the full-time playmaker when Kabongo goes to the bench. He shows nice passing ability and an excellent basketball IQ, playing with confidence and maturity that we didn't see players 2-3 years older than him at this tournament, even being the one assigned to shoot his team's free throws after technical fouls.

Williams-Goss shows nice versatility, as he's capable of making shots, scoring inside, and even posting up his opponent when the situation calls for it. He's a committed defender who crashes the glass extremely well and puts great effort in both on and off the ball. The experience he's gaining playing at this level is invaluable, as he's matching up with some of the best high school players in America both in practice and in games before he even turns 16 years old.

On the downside, Williams-Goss appears to be just an average athlete at this stage, not looking overly quick or explosive, and showing a frame that is unlikely to develop much further. As other players begin to catch up to him physically, it will be important for him to continue to round out his game, which is why playing at this level is probably a very smart move long-term, rather than just dominating his age group with his sheer strength and smarts.

Its difficult to project the say with any certainty what type of upside Williams-Goss possesses at this stage, but it's a pretty safe bet to say we'll be evaluating his progress at some point in the future.

[Read Full Article]

---