Nikola Pekovic
STRENGTHS:
- Efficiency
- Likes to mix it up inside
- Setting screens
- Ability to establish position in post
- Back to basket scoring
- Excellent hands
- Excellent Touch
- Late bloomer
- Likelihood of reaching potential
- Physical Toughness
- Work ethic
- High-level productivity
- Ability to finish w/either hand
- Frail frame
- Strength
- Wingspan
- Defensive rebounding
- Offensive rebounding
- Mid-range Jumper
WEAKNESSES:
- Better suited for half-court offense
- Ball-handling skills
- Defensive potential
- Lateral quickness
- Average basketball IQ
- Fundamentals
- Can NBA rookie scale compete financially w/other options?
- Tweener?
- Passing skills
- Average athleticism
- 3-point range
Recent Tweets
All Tweets
DraftExpress: RT @MiskoRaznatovic After end of Nba season 17th April Nikola Pekovic may finish the season in some of Turkish teams where s dead lin ...
2013-04-01 09:43:21
DraftExpress: After end of Nba season 17th April Nikola Pekovic may finish the season in some of Turkish teams where s dead line until 19th of April.
2013-04-01 09:39:21
Josh Childress, Tiago Splitter, Linas Kleiza, Nikola Pekovic, Omer Asik, Timofey Mozgov, Semih Erden, Big Sofo (?) and others have all left.
2010-07-11 09:56:05
No Nikola Pekovic for Pana so Giorgi Shermandini getting some good minutes here with Mike Batiste in foul trouble. Body looks much better.
2010-03-04 15:58:09
Unbelievable how much contact the refs allow on every possession off ball in Europe. All out war. Nikola Pekovic is a horse
2010-02-11 15:04:00
Top 25s - Full List
Team: Timberwolves College Team: Timberwolves
Physicals
Positions
Salary
Misc
H: 6' 11"
W: 243 lbs
Bday: 03/01/1986
(29 Years Old)

Current: C
NBA: C
Possible: PF/C

Agent: Sean Kennedy
Current Salary:$12,100,000

High School:
Hometown: Bijelo Polje, Montenegro
Drafted: Pick 31 in 2008 by Timberwolves
Best Case: Al Jefferson
Worst Case: Rasho Nesterovic




Basic Per Game Statistics

- Comprehensive Stats - Statistical Top 25s

Player Page&nbsp&nbsp| Player Stats | Mock Draft History | Related Articles&nbsp&nbsp| Add to My Draft Express&nbsp
&nbsp
Roundup: Pekovic Reigns in the Adriatic League
April 30, 2008
In a controversial decision, the Euroleague chose Danilo Gallinari over Nikola Pekovic as the winner of the Rising Star award that honors the best young player in the competition. Still, the Serbian center wonít likely be sulking about it for too long after leading his team Partizan to win the Adriatic League, earning in the process MVP honors and our Player of the Week nomination.

Partizan validated its dominance of this year's Adriatic League by beating Union Olimpija and Hemofarm in this past week's Final Four. Pekovic had 31 points and 5 rebounds in the semis, while settling for 22 point and 7 rebounds in the final, combining for 19/25 from the field.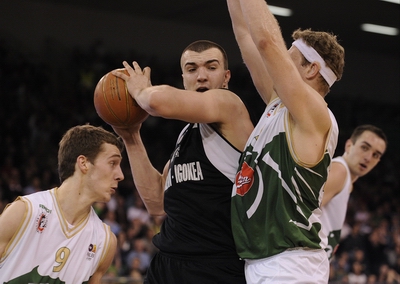 Photo: ABA League


As usual, he did all his damage around the basket, showcasing his ability to establish great position inside and emerging as almost unstoppable once he received the ball. Pekovic is not a go-to guy in the sense that heís a creative force that facilitates his teamís offensive flow, but he's such a big threat that his sole presence makes his team's offense run smoothly due his own ability to finish around the rim and the spaces he generates for his teammates with the defensive help he regular draws.
Partizan should find no opposition on its way to the Serbian championship as well; it will be way more difficult to retain all its young gems, starting with Pekovic. As we stated a few months ago, he has pretty much all but boarded the plane for Panathinaikos, as everything regarding his transfer there has already been agreed upon. Even though he would normally garner a considerable amount of interest in the first round with the incredible season heís had, the inevitably of him staying in Europe for a considerable amount of time, along with the verbal discouragement heís given teams from drafting him (saying that he just does not like the NBA) will almost certainly drop him to the 2nd round.

[Read Full Article]

---
Top Draft-Eligible Performers in the Euroleague Regular Season
February 4, 2008
The eruption of Pekovic in this yearís Euroleague can only be labeled as astounding. With Kosta Perovic and Predrag Drobnjak out of Partizan, Pekovic was supposed to take over the paint production in the Serbian team, but no one could foresee the degree of success he would enjoy.

Absolutely lethal within 10 feet of the basket, Pekovic has elevated the meaning of executor to a new degree, while posting some impressive stats for a youngster like him. Second in efficiency, third in scoring, first in offensive rebounds, fourth in total rebounds, first in fouls drawn, he has been a major force in this Euroleague that greatly helped Partizan to advance to the Top-16 round with a nice 6-8 record.

Although not a go-to guy in the sense of an on-the-court leader that not only scores but creates for his teammates (Pekovic doesnít stand with his passing ability, and his instincts make him chase the basket immediately after receiving the ball, like a shark goes after blood), he has ended up becoming the offensive reference of his team, the guy everybody looks for as the first option, the easiest and most reliable solution to succeed in any given possession.

Very strong, decently athletic, aggressive and nicely skilled around the rim to put the ball on the net, Pekovic had became a very serious candidate for the first round in the next draft. However, his flirtations with the top teams in Europe suggest a mid-term future in the Old Continent that will certainly affect his draft stock.

[Read Full Article]

---
Roundup: Tsintsadze at his Best
January 23, 2008
Nikola Pekovic has reached an agreement with Panathinaikos for, apparently, the following three seasons. He will only move to the Greek powerhouse after his current season with Partizan is finished.

Pekovic blossomed this season into one of the most productive inside men all over Europe, which combined with his youth, made him one of the most attractive players on the European market. Rumors say he was paid as much as 4.5 million Euros (6.55 million dollars net) for three years, which is similar to the type of money this yearís #1 overall pick will receive in gross terms. This move is a clear statement by the player towards a future in the European scene for the mid-term. He hasnít even waited for the NBA draft to evaluate his options at the American league. In the end, this is certainly a hit to his draft stock. Since any team drafting him in the end of the first round will likely never see him step foot on an NBA court (because of the extremely limiting rookie scale), itís much more likely that he goes in the 2nd round now.

[Read Full Article]

---
Adriatic League Report: The Top Five NBA Draft Prospects
November 27, 2007
Nikola Pekovic has been nothing short of amazing this season. Early on, heís been among the most dominant players in the Euroleague statistically, and has lifted his team to a very good start. Has his great streak of performances helped his draft stock? SureÖbut the real question is by just how much? Pekovic has not added all that many new wrinkles to his game in the offseason, he is still the same tough center who likes contact and physical play, but whoís fundamentals are not that good and whoís physical attributes would be fairly average on an NBA court.

Pekovicís success lies in his post game. He is incredibly strong, not just for a youngster, possessing great lower body strength and broad shoulders capable of putting on even more weight. He is certainly built well enough to hold his own in the NBA. Pekovic does a good job of using his strength in the low block, carving out space and positioning himself nicely. He asks for the ball and executes. Even if his moves are basic and simple, he is extremely efficient (shooting an incredible percentage from the field) and does not turn the ball over. Nikolaís passing game will not wow anybody, but he is good at kicking the ball back to perimeter once he is double teamed, helping the teamís ball-movement in the process.

Pekovic shows nimble feet in the paint, and will create his own shot by posting up once in a while, but most of damage he does prior to catching the ball by establishing good position and than just releasing his effective hook shot. Nikola has good hands, but sometimes struggles to make tougher layups due to his not so soft touch. He has range out to 15 feet, and has been moderately successful on a limited number of attempts this season, but his face the basket game is not a strong part of his repertoire at the moment. The touch on his jumper is somewhat average, and it takes time for him to release the ball.

The Serbian center is a good to very good rebounder who relies more on fundamentals than sheer athleticism. He does a proper job of positioning himself and boxing out his opponent, while his size also helps in the process. Pekovicís man-to-man defense has developed by leaps and bounds in the past two years. While he struggled in the past to defend on the perimeter, he now shows improved lateral movement and is able to stop dribble penetrations. At least when we are talking about big guys. He is not very aggressive around the three-point line and will not put a great pressure on pick and roll situations, but rather sometimes prefers to just go under the screen. Nikola is very good at defending post ups, making it really tough on offensive players with his toughness and strength. On the other hand, his help defense is not so good due to his relative lack of quickness and leaping ability.

Pekovic is a Center all the way, and despite being well built, he will not be considered anything more than an average athlete by NBA standards. He can get off the floor; but does not have great lift, and his fluidity could use some improvement. His quickness is also pretty average, not really being fast at running up and down the court or moving side to side. Add the fact that he does not have a prototypical European skill-set, and you begin to wonder if heíll be able to continue to dominate his opposition once he starts matching up with players who are just as big and strong as him (or more) in the NBA. He seems like the type of player who would have been quite a popular player amongst NBA scouts 10-15 years ago, but players his type (brute, back to the basket types) arenít quite as in demand these days it seems.

Even though he is tearing up Euroleague competition, Nikola is not a lock to get drafted in the first round in 2008 when he will be automatically eligible. Pekovic is a low risk type of prospect, who would probably pan out as a rock solid backup center, but who might not necessarily have the potential to develop into a quality starter. Still, itís very possible that someone decides to gamble on him somewhere in the first round (how high is hard to say this early), because even good backup centers arenít that easy to come by.

[Read Full Article]

---
Roundup: Unstoppable Pekovic
November 6, 2007
Two more monster games, and thus, another Player of the Week nomination for Nikola Pekovic. The Serbian big is blossoming this season after the departure of Kosta Perovic and Predrag Drobnjak. He had to step up in order to fill the void in the middle and, so far, nobody is missing those two in Partizan Igokea.

Itís only two games into the Euroleague season, but Pekovic already leads the efficiency ranking and field goal percentage stats, while coming up second in scoring. Thatís what happens when, after a MVP performance, the guy goes for 23 points, 7 rebounds and 3 assists against Chorale Roanne, actually helping his team to collect an extremely important road victory in order to achieve a surprising 2-0 record.

That good start is well reflected in the Balkan competition as well, where Partizan leads the Adriatic League with a 7-1 record, after beating Crvena Zvezda, likely their biggest rivalry game in the competition (considering weíre talking about the Balkans, that means a super hot game). Pekovic was again the scoring anchor for his team, with 23 points, 10 rebounds and 3 blocks.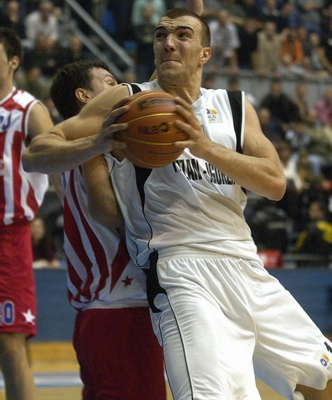 Photo: ABA



Nikola Pekovic is for real. Of course not every week will be like the last two, but heís most likely going to deliver a superb season. As long as his team keeps playing smart basketball, heís going to take advantage of every ball he receives in the paint. His effectiveness down low is proving to be ridiculous: after 10 games combining his Adriatic League and Euroleague outings, he is hitting a ridiculous 72% of his field goals. And as we expressed last week, itís not like heís dunking the ball every time.

[Read Full Article]

---
Roundup: Pekovic, Euroleague Week One MVP
October 31, 2007
Like a devastating tornado, Pekovic exposed the fragility of AXA F.C.Barcelonaís interior defense in the first game of the Euroleague with a superb performance. He was unstoppable, scoring at will from the paint. He collected 29 points, going an almost perfect 13/14 from the field. He was that unstoppable.

Although I donít think anybody could possibly have predicted this kind of scoring outburst, it was pretty clear that Pekovic would step up this season. He was already very productive for Partizan last year whenever Kosta Perovic was sidelined due to injuries, and now that the Serbian center is battling for a spot in Golden Stateís rotation, and Peja Drobnjak is back in the ACB, Pekovic has become the main reference in the paint for his team.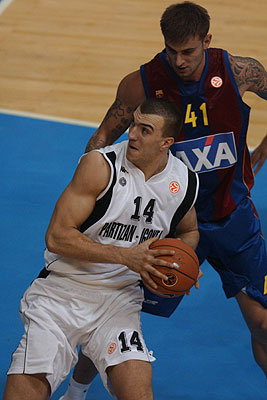 Photo: Euroleague



A fairly peculiar player, Pekovic is one of the purest finishers you will find in international basketball. Heís all about gaining position, receiving and scoring. Heís direct, automatic in the look for the basket. Heís not a dancer in the paint, not a ball-handler, heís not any special passer out of the post, or a long-range shooter-- he basically moves without the ball in order to receive it in the best possible position to attack the basket. Meanwhile, has a nice physical set to get the job done, as he perfectly combines an extremely strong body for his age (heís truly built like a house) with notable explosiveness. Heís a tough guy that easily takes contact, so itís not easy for his opponents to stop him.

Barcelona had a good taste, as Pekovic displayed his entire repertoire on them: jump-hooks with both hands, mid-range shots, turnaround jumpers, layups and dunks after gaining the position under the basket, dunks in transition, put-backs after offensive rebounds, Nikola is a high-percentage guy, but he had one of those days when everything just went in. He also did a nice job on defense, staying physical on his opponents. All in all, he was the building block of Partizanís victory.

[Read Full Article]

---
Roundup: Teodosic Takes the Relay
April 4, 2007
ÖNikola Pekovic,who apparently saves the best part of his game for the most important part of the season. Actually, it had been a bit of a disappointing year for him, playing a very secondary role behind Partizanís starting inside duo of Predrag Drobnjak and Kosta Perovic. Nobody expected great strides in his game, since itís obvious for some time now that heís a pretty mature guy, but at least to establish himself as an important frontcourt player in the Adriatic League.

Anyway, once the semifinals of the Balkan competition arrived, Pekovic significantly improved his production. With Partizan overcoming Cibonaís home-court advantage, he scored in double digits in all three games of the series, blossoming in the definitive third played on the road in Zagreb, where he had 20 points, 9 rebounds and 2 steals while replacing the injured Kosta Perovic in the starting five.

This is more in tune with what we expected out of him. Pekovic is an able player when it comes to taking advantage of his teammatesí creativity, and Partizan not only has showed this season to be capable of eventually playing fine team basketball, but features a bunch of players (Cummings, Tepic, or Drobnjak come to mind) that should be able to help Pekovic produce on a regular basis.





After all, Pekovic is a dependent scorer. He needs to receive the ball in good position within 10-12 feet from the basket in order to become a dangerous player. Once there, heís pretty effective, using his strong 6-10 frame and nice explosiveness very well. He will go up for the two-handed dunk if heís given space, or he can use a nice jump-hook with either hand over his defender. Donít ask him for anything more than a simple and direct move to release the ball in the low post against opposition. Stuff like banging while dribbling, fakes or any elaborate moves might result in a turnover. He can also shoot the ball from the mid-range area with decent accuracy, but itís not a very usual option for him. Itís particularly a rare luxury to see a good pass coming out of his hands, as heís a pure finisher and doesnít particularly stand out in terms of basketball IQ.

On defense, heís a very physical player in the low post, always looking for contact with the opponent using his very strong body. However, he might lack a bit of lateral quickness and anticipating instinct to contest his match-upís moves. When it comes to cleaning the boards, he doesnít seem to have a particular nose for the ball, and his hands are not the best around. Certainly his 2.6 average in rebounds in the Adriatic League is disappointing any way you look at it.

The good part about Pekovic NBA-wise is that his superb strength would definitely help him translate some of his game to the next level. However, he would still be a relatively undersized center at 6-10, with limited skills and poor rebounding ability. A second-round call, perhaps in the bottom half, seems the most realistic scenario for him right now.

[Read Full Article]

---
Euroleague Prospects: Stock Neutral
February 18, 2007
Nikola Pekovic didn't made too many strides in his game since last season, and with the way he looks on the court, it's questionable just how much he's still improving these days. Pekovic is not a typical European big man, relying mostly on his physical attributes rather than on the fundamental part of the game. Pekovic is a threat only within 12 feet of the basket, where he can use his very good size, brute strength and solid mobility to overpower opponents and gain good position on the block. That's basically his offense, gaining position near the basket where he can receive the ball and then going up for a strong finish. Pekovic doesn't have any problems establishing himself for a post entry pass considering that he possesses great strength, not only for a youngster. However, when it comes to catching the ball and finishing around the rim, his hands and lack of soft touch are exposed.

Defensively, Pekovic once again shows his toughness by forcing contact and being physical with his opponent, but once outside of the key, he suffers staying in front of his man because of poor lateral quickness. This might be a serious problem when talking about his NBA upside considering the up-tempo direction the league seems to be heading in. Pekovic doesn't show good awareness on either end of the floor, lacking some natural instincts and possessing a basketball IQ which seems below average. His poor understanding of the game is noticeable from the fact that he made just 2 assists in the entire competition, compared to 15 turnovers. Pekovic will occasionally pull up for a mid-range shot, but with poor results. His shooting motion should be more fluid, which hinders him from achieving a consistent release point on his shot. He looks very mechanical from the free throw line, but is adequately accurate - 20/30 on the season.

From a physical point of view, Nikola has what it takes to play in the NBA, but at the moment it's rather tough seeing what "extra" he can bring to an NBA team. His closest NBA comparison would be Mario Kasun, who didn't actually have a lot of success in his brief stint with the Orlando Magic. With that said, Pekovic is still only 20 years old and there is certainly hope for him to develop his skills down the road. The first round looks far away currently, but there is a more than good chance that someone will take a shot at him in the 2nd round and stash him in Europe.

[Read Full Article]

---
Euroleague Preview: NBA Draft Prospects (The Veterans)
October 25, 2006
Nikola Pekovic is the antithesis of your prototypical European big man, actually relying way more on his physical tools than his fundamentals. Pekovic was instrumental for Serbiaís golden run at this summerís U-20 European Championship, posting 18 points, 8 rebounds and 2 blocks in the final against Turkey.

Pekovic is very strong for his age, both in the upper and lower body. He knows how to use his physicality to establish good position on either the offensive or defensive block or to put a body on the opponent and force him into a tough shot. Nikola also has nice size at 6-11 and is a very solid athlete. He is mobile, can move his feet well enough laterally and can get off the ground, although he isnít an explosive leaper.

He is a typical bruiser, who does most of the damage within a few feet of the basket, and shows good positioning and understanding of how to box-out his opponent and secure rebounds. Pekovic is also a very good man to man defender in the low post, showing impressive balance and composure to stay in front of his man.

In terms of scoring, Pekovic relies more on his teammates, since his skill-set is modest in this department. Once he gets in a good situation Pekovic will finish with strong results, showing decent touch and reactivity around the basket. However, outside of the paint Pekovic is not a dangerous threat, since he doesnít possess the ability to put the ball on the floor and has not yet developed a reliable mid-range jumper. He is also a below average passer by all standards and at times shows a questionable basketball IQ.

Pekovic is the first big man off the bench for Partizan, replacing either former NBA player Peja Drobnjak or Warrriors pick Kosta Perovic. Crucial for Nikola in order to be a candidate for more than a 2nd round pick will be to show an expanded skill-set. He has really nice basic skills for a center - size, athleticism, strength and toughness - but lacks the technical ability which would enable him to become a more proficient player.

[Read Full Article]

---
A Look Back At The U-20 European Championships (Part Two)
September 22, 2006
A tremendous force down low in this championship, Pekovic looked like the most mature big at this stage. He looked awfully strong out there, particularly compared with his rivals, but also fairly athletic. Heís not a super-skilled guy, but he knows what to do on court to be effective. Pekovic played very well off the ball, setting picks, establishing position near the basket, looking for spaces in the paint or taking advantage of defensive rotations. Once he receives near the basket, heís hard to stop given his strength, toughness and athleticism. He easily dunks the ball showing nice explosiveness. He played some one-on-one in the low post, but trying to receive close to the basket, so he just needed some simple move to deliver a semi-hook while outmuscling his opponent. Showing a solid stroke from the mid-range area, he also ran well the court. On defense, he used his mobility and body quite well. His potential is not great, because heís more of a center with a power forward size at 6-10, but still an interesting player. He earned All-Tournament Team honors while being one of the main foundations of the Serbian victory.

[Read Full Article]

---
Adriatic League 2005/2006 Recap
April 26, 2006
Partizan added another intriguing prospect this summer to an already full roster of young talented players when they bought Nikola Pekovic from Atlas, after his solid performance at the European Junior Championships where he averaged 11.6 points and 9.1 rebounds per game. In his first season with Partizan, Nikola saw prominent minutes, and because of him Partizan let Macendonian 7-footer Predrag Samardziski move to FMP. Pekovic is a hard-working, tough Center with a very promising physique, featuring nice lower body strength and wide shoulders which appear to be capable of adding plenty of weight.

He has good size at 6-11, moves his feet well under the boards and is rather strong for a youngster. Unlike his teammate Perovic, Pekovic is very active, playing very hard under the rim and being a capable rebounder, despite not being much of a leaper, mostly thanks to his strength, tenacity and positioning. On the offensive end he mainly depends on his teammates to create offense for him, often by setting solid screens and rolling to the basket, which helps considering that he isnít a very polished player at the moment. However, he shows good footwork in the post and is able to score when he gets good position on the block.

It will be interesting what Pekovic can do next year, especially if Perovic or maybe even Milojevic leave the team, which would open up a whole lot of playing time for him. He has 2 more years of draft eligibility and it will be interesting to follow his development. One of our International NBA scout sources claim that heís considered by some to be the 2nd best prospect in the region after Ante Tomic. His excellent size and fundamentals, extremely long arms, terrific frame and very good motor likely have a lot to do with that.

[Read Full Article]

---