Trending Prospects (3/11/2011)
March 11, 2011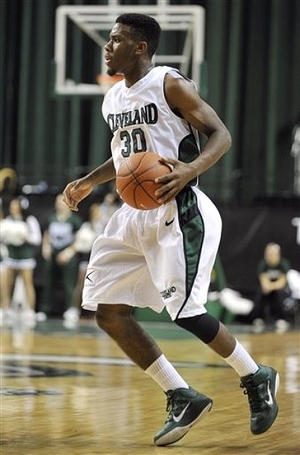 AP
Joseph Treutlein
Steadily improving his game in each of his four years in college,
Norris Cole
developed into his team's clear-cut best player as a senior, but it appears his college career has come to an end after a loss in the Horizon League conference semifinals to riv
al Butler
.
Looking at the way Cole has improved himself from his sophomore to senior season, what's remarkable is his dramatic increases in production across the board despite relatively static minutes. Increasing his points per game from 13.3 to 21.6 while more than doubling his assists without increased minutes is an impressive feat, and a testament to Cole's coachability and ability to excel in various roles.
The most improved aspect of Cole's game this season would have to be his point guard abilities and overall feel for the game, as he's developed into a complete point guard capable of making all the passes needed in the halfcourt and transition. Cole does most of his damage operating out of the pick-and-roll, where he sees the entire floor at all times, keeps his head up, and frequently makes tough passes out of double teams to open teammates.
Cole is equally dangerous pushing the ball in transition, where he likewise constantly has his head up and eyes scanning the court, while he shows extremely good control of the ball with both hands, even when operating at full speed. Cole relies mostly on subtle changes of speed and direction to get by his opponent, not having a flashy arsenal of advanced moves. He uses his craftiness to compensate for a just-solid first step, as he's not the most explosive player around, but he does have good top speed once he gets going.
In terms of his own scoring, Cole's increased his three-point shooting attempts and percentage all four seasons in college, to the point where he's shooting a respectable 36% on 4.0 attempts per game this year. While his numbers don't jump off the charts at this stage, there are multiple reasons to be optimistic about this area of his game looking forward, one of which is him interestingly being just as efficient off the dribble as he is spotting up. His form is consistent and he stays on balance very well when pulling up, something that helps him greatly in the pick-and-roll game when defenses sag.
Cole's continued learning curve and work ethic improving his shot are also encouraging looking forward, as is his impressive 85% free-throw percentage, something that could very well translate from longer distance as he gets stronger, puts in more practice, and sees less defensive attention on a more balanced team at the next level.
Attacking the basket, Cole is very potent off the dribble at the college level, using high screens especially well to gain separation and being quick to the basket once he gets a head of steam. His average size, narrow frame, lack of an elite first step and notable lack of explosiveness around the rim cause concern projecting to the next level, where he will likely need to develop more of a finesse game in the lane, as his floater and runner arsenal now is just solid at best. He also likely won't be able to rely on getting to the line 7.4 times per game, as the level of weakside defense he'll face will be on a totally different level athletically than what he sees in the Horizon conference.
Defensively, Cole has upped his efforts nicely this season, being the full package fundamentally in man-to-man defense, showing excellent focus level and positioning. He gets into a strong stance and is very aggressive getting into his man both on and off the ball, showing good hands and instincts. His lateral quickness is just good, not great, and he shows some problems fighting through more physical ball screens, but his effort level, team play, and coachability are attractive assets looking forward.
Looking forward, Cole's intangible profile is about as good as it gets, as he's shown an outstanding learning curve, great work ethic, and the flexibility to excel in multiple roles in his time in college, while he was also a high school quarterback and comes from a competitive family of coaches and athletes.
Despite his many strong-points, there are some concerns about him projecting to the next level, however, as he didn't play the toughest out-of-conference schedule, while Cleveland State has generally struggled against its tougher opponents. Not matching up against many NBA caliber guards or defenses may make it a bit more difficult for teams to evaluate him, as it's currently unknown how his skill-set will translate against better competition.
Cole's success at the next level should be most dependent on how his perimeter jumper continues to develop, but he already has a lot of traits teams look for in backup point guards, namely his prowess with the pick-and-roll, in transition, and his team-oriented, high energy style of play. A likely attendee of the Portsmouth Invitational Tournament, Cole could certainly help himself greatly there playing in front of every NBA team, as he could ease many of the doubts scouts have about the level of competition he played at in college.
[
Read Full Article
]
Top NBA Draft Prospects in Non-BCS Conferences, Part Four (#21-25)
November 8, 2010
Matthew Kamalsky

Flying under the radar playing for a Cleveland State program that finished near the middle of the pack in the Horizon League, Norris Cole garnered some praise this summer for his performance at the Deron Williams Skills Academy. While Cole won't blow you away when you watch him on film and hasn't been quite as productive as some of the other small conference guards we've analyzed, he is one of the most steady and consistent floor generals in the senior class and has the potential to have a great year.

A well-rounded player who has worked tirelessly off the floor to improve his perimeter scoring ability, Cole's NBA potential is limited to some degree by his lack of elite athleticism. By no means is Cole a slouch, as he possesses good size, speed, and quickness, but he doesn't have the dynamic explosiveness that allows elite guards to get to the rim at will and finish in traffic.

Though he isn't the flashiest player, Cole plays with pace, uses changes of speed well, and does a good job taking what the defense gives him. Adept at creating off the dribble, Cole has a good feel for when to attack and when to pull the ball out and reset the offense. A very solid ball-handler and capable passer, Cole doesn't force too many drives, and is extremely careful with the ball in half court situations.

Asked to function as Cleveland State's primary ball-handler and top offensive threat, the senior does a good job striking a balance between deferring and looking to score. He does his best passing on the pick and roll, where he understands angles and uses the threat of his pull-up jump shot to force defenders to respect his ability to stop and pop. Displaying very good form on his jump shot, the Dayton native is extremely consistent with his feet set, but does most of his damage from the midrange. Flashing a very good jump shot off the dribble, Cole doesn't allow defenders to shake his mechanics and relies on a quick step-back move as a go-to option late in the shot clock.

Cole prefers to get all the way to the rim when he operates in one-on-one situations. He uses his body to shield the ball effectively when he gets in the lane and can attack and finish with both, but struggles to finish in a crowd, where his lack of size and leaping ability limits him. Recognizing that he isn't going to make too many highlight reel plays around the rim, he relies heavily on his midrange game, though he also compensates by seeking out contact on the occasions that he does drive and getting to the line at a terrific rate for how infrequently he goes inside.

If Cole has one area that he could stand to improve on next season, it would be his decision-making in transition. Most of his assists come within the flow or Cleveland State's offense, and while he exploits opportunities to make smart passes in half court sets, he looks like a different player in transition. He makes some questionable decisions when attacking defenders at full speed, trying too hard to make things happen. According to Synergy Sports Technology, Cole turned the ball over on a quarter of his transition possessions last season, twice as often as he turns the ball over in half court scenarios.

Defensively, Cole shows good awareness, a fine effort level, and a knack for creating turnovers without taking risks, but struggles to get through screens in pick and roll situations and lacks the height to effectively contest spot up shooters out on the perimeter. His lateral quickness is solid, but not spectacular and it will be interesting to see how Cole responds defensively to more athletic matchups this season and throughout the draft process.

Moving into his final year of eligibility, Cole has come a long way since his high school days. His work ethic is represented in the improvement in his jump shot over time, and while he hasn't gotten a ton of exposure up to this point, he's caught the eye of scouts and is poised to carry CSU this season. A prime candidate for the Portsmouth Invitational Tournament, Cole is an easy player to like due to his proficiency in running a team. If he shows some improvement in his playmaking ability and defense, he'll be a very interesting sleeper.
[
Read Full Article
]