Olek Czyz
Recent Tweets
All Tweets
DraftExpress: NCAA seniors still waiting for PIT invites: Olek Czyz, Kenny Gabriel, Dario Hunt, Jon Kreft, Anthony Jones, Deividas Dulkys, LaMarcus Lowe
2012-04-10 03:41:30
DraftExpress: Top Non-BCS Conference NBA Prospects (#16-20): http://t.co/tWCqQyyE - Javon McCrea, Kent Bazemore, Bradford Burgess, Olek Czyz, Kyle O'Quinn
2011-11-07 05:31:32
Team: Pistoia
Physicals
Positions
Rankings
Salary
Misc
H: 6' 8"
W: 237 lbs
Bday: 03/03/1990
(25 Years Old)

Current: SF/PF
NBA: SF/PF
Possible: SF/PF

RSCI: 69

Agent: Brad Ames

High School: Reno
Hometown: Gdynia, Poland

Predraft Measurements
| Year | Source | Height w/o Shoes | Height w/shoes | Weight | Wingspan | Standing Reach | Body Fat | No Step Vert | Max Vert |
| --- | --- | --- | --- | --- | --- | --- | --- | --- | --- |
| 2012 | Eurocamp | 6' 6.5" | 6' 8" | 237 | 6' 9.5" | 8' 8" | NA | 31.5 | 35.0 |



Basic Per Game Statistics

- Comprehensive Stats - Statistical Top 25s
| Year | League | Name | GP | Min | Pts | FG | FGA | FG% | 2Pt | 2PtA | 2P% | 3Pt | 3PtA | 3P% | FTM | FTA | FT% | Off | Def | TOT | Asts | Stls | Blks | TOs | PFs |
| --- | --- | --- | --- | --- | --- | --- | --- | --- | --- | --- | --- | --- | --- | --- | --- | --- | --- | --- | --- | --- | --- | --- | --- | --- | --- |
| 2015/16 | Italian | Olek Czyz | 8 | 19.5 | 10.8 | 4.0 | 7.6 | 52.5 | 3.6 | 6.5 | 55.8 | 0.4 | 1.1 | 33.3 | 2.4 | 3.3 | 73.1 | 1.9 | 2.8 | 4.6 | 1.1 | 0.8 | 0.1 | 1.8 | 1.8 |

Player Page&nbsp&nbsp| Player Stats | Related Articles&nbsp&nbsp| Add to My Draft Express&nbsp
&nbsp
adidas EUROCAMP Day Three
June 13, 2012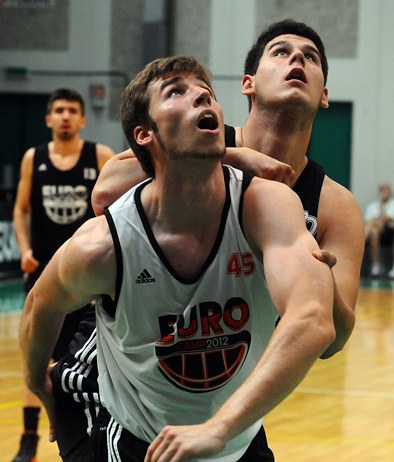 adidas EUROCAMP


-Nevada graduate Olek Czyz was solid throughout the entire EUROCAMP thanks to his athleticism, toughness, and hustle. His biggest weakness at this stage is his perimeter jump shot, as he shot a very respectable 45% from beyond the arc in limited attempts as a junior, but shot under 30% as a senior and did not make many deep jumpers here. The development of Czyz's jumper would certainly help open up the rest of his game. He's an intelligent player with strong pivot moves who can put the ball on the floor and beat slower defenders off the dribble. Based on his showing here, there's little question he would have been a fine addition to the Portsmouth Invitational Tournament roster back in April.

[Read Full Article]

---
Top NBA Draft Prospects in the Non-BCS Conferences, Part 4 (#16-20)
November 7, 2011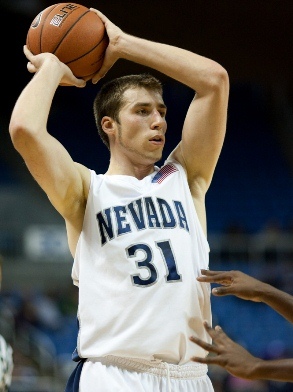 Silver and Blue Sports



Derek Bodner

Despite being a 21 year old entering his senior year, Olek Czyz hasn't logged very many minutes at the collegiate level. Entering Duke as a prized recruit out of Reno, Nevada, the native of Poland played sparse minutes during a little over a year at Durham before transferring back to Reno, this time as a member of the Nevada Wolf Pack.

The transfer away from Duke cost Czyz all but 6 games of his sophomore year and required him to sit out the first semester of his junior year at Nevada. This has left the incoming senior not having played a full season of college basketball yet and with much to prove, much like his underachieving Nevada team.

Czyz stands 6'7" and is a very good run and jump athlete, playing primarily as a face-up power forward at Nevada, which has allowed him to become an extremely efficient inside-outside threat at the collegiate level. Not being an especially prolific shooter in high school, Czyz's form and consistency has improved immensely, to the point where his 1.294 points per possession on jump shots was among the top 3 percent in college basketball last year according to Synergy Sports Technology. While not getting tremendous elevation in his release, Czyz shows a consistent, repeatable release with good balance and follow through. Czyz converted an astounding 48.9% of his catch and shoot opportunities last year, a skill set that would translate well to the next level as his role changes.


While not a high volume post player, Czyz does offer some ability down there when the matchup is advantageous. He primarily operates over his right shoulder, with a combination of left handed hooks and drives that may catch some defenders off, as Czyz is right handed. His footwork in the post also appears to be improving, as he's showing some spins, up and under, and counter moves that have expanded his post repertoire.

To effectively make the conversion to the small forward position, Czyz would benefit from improving his ball-handling ability. He's capable of getting to the hoop on straight line lives, and is a good leaper, but doesn't offer much in the way of advanced ball handling moves on the perimeter, and can be turnover prone when asked to do too much. He's once again left handed dominant, preferring to drive and finish with his left hand. His touch around the hoop isn't stellar, but he has good leaping ability and doesn't shy away from contact, getting to the line a respectable 5.5 times per 40 minutes pace adjusted.

Off the ball, Czyz moves well, and his previously mentioned catch and shoot ability is a skill that should translate fairly well. He moves well on cuts, and has solid hands and gets off the ground quickly, allowing him to be effective despite not having great touch around the hoop. He also has a strong second jump, so while not a prolific offensive rebounder he does a good job of converting these opportunities when he gets them.

Czyz can appear to be out of control at times offensively, forcing shots with a higher degree of difficulty than he needs to. While he displays a consistently high effort level, he will need to reign that in and play smart offensive basketball to successfully convert to a role player at the next level.

He's also a surprisingly poor free throw shooter considering his 3-point prowess, making just 60% of his attempts from the charity stripe last year.

How Czyz will translate on the defensive side of the ball is cause for concern. He doesn't have the size, lower body strength or length to play the power forward for extending periods of time at the next level, and his poor defensive rebounding (5.4 defensive rebounds per 40 minutes, pace adjusted) would be towards the bottom of our database for a power forward prospect. On the perimeter, his lateral foot speed is an issue, and he can at times get lost off the ball and seems to lack focus. What position he can defend, if any, may be the most important question he can answer when battling for a NBA roster spot.

After starting the season 2-7 while Czyz sat out, the Wolf Pack went a more respectable 11-12 down the stretch with him in the lineup. Returning 4 double digit scorers, Nevada should be in position to be better than they were last year, which could help Czyz gain some much-needed exposure. Czyz's spot-up shooting ability and run and jump athleticism potentially allows him to fit in the right offensive scheme as a role player, but he will have to show that he can play more under control and, more importantly, show that he can competently defend a position at the next level.

[Read Full Article]

---
RBK U - Day 3
July 12, 2007
Watch out for this guy. The kid from the Biggest Little City in the World is a head turner, no question about it. The question is though are people turning their heads to see him play or are they turning away because they can't bear to watch?

I say that only because Czyz is a very enigmatic player. One minute he will be dazzling you with his mix of speed and power, the next he'll air-ball a free throw. I tended to concentrate on the latter rather than the former in my three days watching him, and I truly believe this guy will be one of the most exciting freshman to watch it two years. The coach best suited to handle Olek is the one who can find a way to bottle up the energy that he brings to the court and direct it towards focusing while on it.

I'm still stirring about the reverse jam in traffic he tried to pull off in the first two minutes of his first game at RBK. In a perfect Olek run world everything would be a reverse jam in traffic. If only that were the case Olek, if only that were the case.

[Read Full Article]

---
RBK U - Sunday Night Session
July 9, 2007
One guy who didn't have great game for Team Williams, but who I'll be keeping an eye on the rest of the camp and this upcoming season is 6'7" Poland native Olek Czyz (Reno/Reno, NV). Czyz struggled from the field, but his blinding athleticism had heads turning all game. His nine misses were more impressive than his two makes, if that makes any sense. He caught an alley-oop not even two minutes into the game and tried to reverse jam it out of nowhere. This drew mixed reactions from scouts, coaches and fans alike. Everyone was left questioning why he did it, but everyone was also in awe that he tried to do it. From just that play, I understand why he has garnered offers from Arizona State, Kentucky and Washington State. He is a really different athlete.

[Read Full Article]

---