Olivier Hanlan
Recent Tweets
All Tweets
DraftExpress: With the #42 pick the Utah Jazz select Olivier Hanlan from Boston College. DX Profile and Scouting Report http://t.co/SwCi5e8TEt
2015-06-25 23:35:50
DraftExpress: Top NBA Draft Prospects in the ACC (Prospects #5-9) http://t.co/pn8tNCbZl0 Jerami Grant Olivier Hanlan Dez Wells Rodney Hood Joe Harris
2013-09-10 17:39:09
DraftExpress: Top NBA Draft Prospects in the ACC (#5-9) http://t.co/pn8tNCbZl0 - Jerami Grant Olivier Hanlan Dez Wells Rodney Hood and Joe Harris.
2013-09-10 12:22:36
DraftExpress: At the Nike Skills Academy in NJ. Watching Kyrie Irving go up against the likes of Aaron Craft Olivier Hanlan Semaj Christon and others.
2013-06-26 17:26:07
Team: Zalgiris
Physicals
Positions
Salary
Misc
H: 6' 4"
W: 186 lbs
Bday: 02/15/1993
(22 Years Old)

Current: PG/SG
NBA: PG/SG
Possible: PG/SG

Agent: Michael Tellem

High School: New Hampton School
Hometown: Aylmer, QC
Drafted: Pick 42 in 2015 by Jazz

Predraft Measurements
| Year | Source | Height w/o Shoes | Height w/shoes | Weight | Wingspan | Standing Reach | Body Fat | No Step Vert | Max Vert |
| --- | --- | --- | --- | --- | --- | --- | --- | --- | --- |
| 2015 | NBA Draft Combine | 6' 3.25" | 6' 4.25" | 186 | 6' 6.5" | 8' 4" | 4.3 | 28.0 | 34.0 |
| 2013 | LeBron James Camp | NA | 6' 3.5" | 182 | 6' 5" | NA | NA | NA | NA |
| 2013 | PG Skills Acad | NA | 6' 3.5" | 182 | 6' 5" | NA | NA | NA | NA |



Basic Per Game Statistics

- Comprehensive Stats - Statistical Top 25s
| Year | League | Name | GP | Min | Pts | FG | FGA | FG% | 2Pt | 2PtA | 2P% | 3Pt | 3PtA | 3P% | FTM | FTA | FT% | Off | Def | TOT | Asts | Stls | Blks | TOs | PFs |
| --- | --- | --- | --- | --- | --- | --- | --- | --- | --- | --- | --- | --- | --- | --- | --- | --- | --- | --- | --- | --- | --- | --- | --- | --- | --- |
| 2015/16 | EURO | Olivier Hanlan | 7 | 23.0 | 7.6 | 2.7 | 8.1 | 33.3 | 1.3 | 4.1 | 31.0 | 1.4 | 4.0 | 35.7 | 0.7 | 0.7 | 100.0 | 0.1 | 3.3 | 3.4 | 1.3 | 0.4 | 0.0 | 1.1 | 2.0 |

Player Page&nbsp&nbsp| Player Stats | Mock Draft History | Related Articles&nbsp&nbsp| Add to My Draft Express&nbsp
&nbsp
NBA Combine Competitive Action Recap: Day Two
May 16, 2015
8 points, 6 assists, 4 rebounds, 5 steals, 2-2 2P, 0-1 3P, 4-6 FT, 23 minutes

The Boston College combo guard showed his offensive talent on Friday both as a scorer and playmaker. Hanlan did a tremendous job playing at different speeds and stopping on a dime to change directions, allowing him to slice through the defense and get to the line or kick out to teammates. The Canadian guard, who left Boston College after his junior season, proved he's comfortable operating both on and off the ball. He beat the pick and roll big defender on a couple of different occasions with crossovers and combo moves, and also attacked closeouts from the wing spots, showing a strong first step and solid burst. Hanlan didn't shy away from contact in the paint and got to the line 10 times in two games. Although he did most of his damage attacking the rim, Hanlan is a very capable shooter with compact mechanics and a solid release point. Although he didn't break out with any monster performances, Hanlan showed glimpses of his offensive talent both as a scorer and capable playmaker. The 6' 4" guard has solid value as a second round pick who projects as a scoring point guard who's able to also run an offense and facilitate when necessary.

[Read Full Article]

---
Olivier Hanlan Updated NBA Draft Scouting Report
April 26, 2015
Josh Riddell

The Boston College Eagles struggled throughout Olivier Hanlan's three year collegiate career, going just 4-14 in ACC-play the past two seasons and 7-11 prior to that, but Hanlan found plenty of individual success, becoming one of the best scorers in college basketball. He ending his collegiate career averaging 20.8 points, 4.5 rebounds and 4.5 assists per 40 minutes pace adjusted while playing 37.6 minutes per game. This was enough to place him on the ACC All-Conference 1st team a year after garnering All-Conference 3rd team honors. The 22 year old Canadian turns his eyes toward the NBA draft now, hoping to show scouts his skills can translate to the NBA level.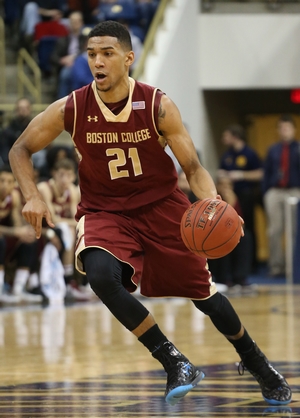 US Presswire



While Hanlan has decent size for a combo guard, measured at 6'3.5" with a 6'5" wingspan at the 2013 Lebron James camp, his athleticism is average compared to most NBA guards. He doesn't have blazing speed but is capable of pushing the ball in transition and changes speeds well to beat defenders. He is a skilled offensive player which helps him overcome his lack of superior athletic tools, and he will need to demonstrate his skill set can help him succeed at the next level.

For the Eagles, Hanlan either had the ball in his hands or was working off screens to get it. With the ball in his hands, he ran through ball screen after ball screen, as pick and roll offense made up 26.5% of his possessions according to Synergy Sports Technology. He was comfortable using ball screens to generate offensive opportunities for both him and his teammates. He reads the defense well, either attacking the rim when he has an opening or finding his teammates when he draws the defense and is forced to pass. He's a great finisher around the rim, averaging 68.1% according to Synergy Sports Technology, fourth highest among players in our top 100 among players with at least 90 such shots, behind Jahlil Okafor, Richaun Holmes and Sam Dekker.

While his 4.5 assists per 40 minutes pace adjusted and his 0.34 pure point rating both rank near the bottom of point guards in our top 100, this does not completely define Hanlan's ability to find open teammates. He has improved his passing ability over the years and has the ability to find his teammates around the perimeter for open shots, even if he looks most comfortable seeking out his own shots and passing as a backup plan, which makes sense considering the quality of teammates he was surrounded with in his time at BC, which have rarely been ACC-caliber.

He needs screens to break down the defense in the halfcourt, as he doesn't have great ball handling moves to beat defenders in isolation situations. He mixes up speeds well to get past his initial defender, but didn't regularly demonstrate the ability to break down the defense off the bounce.

When he is attacking off the dribble, either with a ball screen or in isolation, if he can't get to the rim, he settles for mid-range pull-up jump shots. He isn't efficient on these jump shots, averaging just 29.2% on his 106 attempts according to Synergy Sports Technology, as he is unable to control himself coming into his stop which puts him off balance. Also, since he is unable to create separation from his defenders off the dribble, these attempts are usually strongly contested. While he needs to improve his ability to get to the rim, he also needs to become more consistent in jump shots off the dribble to give him a second option to score.

Working off the ball, Hanlan moves well by cutting and rubbing his defenders off screens to get open. In catch and shoot situations, he shot 39.5% according to Synergy Sports Technology. He shot 35% from three as a junior and he will need to show he has the ability to space the floor when playing off the ball, as he won't be a focal point of a professional offense nearly as much as he was at BC.

On the defensive side, Hanlan showed a high level of focus and energy, despite his high offensive load. He doesn't have superior athletic tools, which limits his ability to contribute defensively, especially considering his lack of length will make it difficult for him to bother offensive players. He has a tendency to have tunnel vision on his man which can result in him being easily screened, as he doesn't see the screen until it's too late forcing him to run right into the screen or take a bad route around it. If he can put in consistent energy and move his feet well to stay in front of dribble penetration, he could make a better impact defensively, but his overall skill-set doesn't project him as a lock-down defender at the next level.

With defenses no longer solely focused on slowing down Hanlan, it will be interesting to see his development as a complementary offensive player. Hanlan has several ways to score, but often had to work extremely hard and beat multiple players just to get a shot off while in college. Hanlan took the eighth most field goal attempts of players in our top 100, so he will need to show he can find a balance between getting his own offense and creating for his teammates. He will also need to do so while accepting a smaller role, as he used the third highest percentage of his team's possessions in our top 100 but likely won't be given anywhere near that type of green light by a NBA team.

If he can convince scouts he can take a smaller offensive role and get his teammates involved, Hanlan could be drafted in June and strong summer and preseason performances could see him play his way onto a NBA roster. He has the offensive skill-set to be an impact player in the D-League or internationally if things don't work out initially, but if he works on some of his areas of improvement, he could certainly find a role at the NBA-level long term.

[Read Full Article]

---
Top NBA Prospects in the ACC, Part 9: Prospects #17-21
October 24, 2014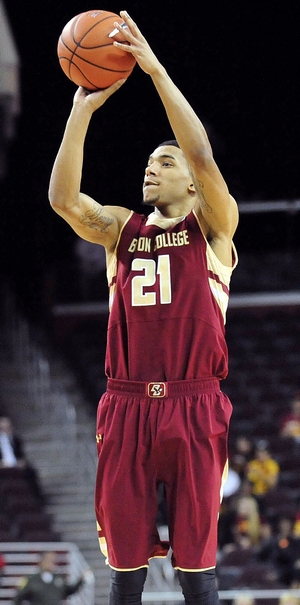 US Presswire



Matt Kamalsky

Among the most productive guards in the ACC a year ago, Olivier Hanlan put together a strong individual season on paper as a sophomore averaging 18.6 points and 2.9 assists per-game, though Boston College finishing just 8-24 certainly put a damper on things. Despite earning All-ACC 3rd team honors, Hanlan still has plenty to prove to scouts as he enters his junior season.

Standing 6'3.5 with a 6'5 wingspan, Hanlan has decent size and good athleticism for a combo guard. The challenge for Hanlan moving forward is the same as it was a year ago, proving he can capably balance scoring the ball and getting his teammates involved at a high level.

There's no question that Hanlan has the prior part of that equation down to a science, as evidenced by the 22 points per-40 minutes pace adjusted he scored as a sophomore. A solid ball-handler with a knack for changing speeds and turning the corner at the college level, Hanlan is a dangerous scorer in transition, on the pick and roll, and when operating one-on-one. Finishing at a 60.1% clip around the rim and averaging nearly nine free throw attempts per-40, Hanlan's quick first step, body control and aggressiveness helped him carry the scoring load for Boston College all season.

Away from the basket, Hanlan took a step back as a sophomore, due in some part to just how heavy a burden he had to carry offensively. With nearly a third of his shot attempts in the half court coming from the perimeter, Hanlan's ability to make jumpers both off the catch, and from the midrange off the dribble, were tested, as defenses dialed in on keeping him in check. Knocking down a respectable 34.1% of his jump shots, down from 40.4% a year ago, Hanlan has nice mechanics, but increased defensive pressure and an at times questionable shot selection took a toll on his efficiency.

Despite his regression as a jump shooter, there's little questioning his ability to put the ball in the basket, considering he finished as the ACC's third leading scorer. His playmaking, however, leaves something to be desired. Averaging just 3.3 assists-per 40 minutes pace adjusted, Hanlan showed marginal improvement as a passer a year ago, and still doesn't turn the ball over a high rate for a player handling the ball as much as he does, but his best position at the next level is still a concern, given his size is much less impressive for a shooting guard, which appears to be the position he's most comfortable playing.

There's no doubt that Boston College's lack of scorers outside of Hanlan and Ryan Anderson, who transferred out of the program, have limited Hanlan's ability to showcase his playmaking ability, and it will be interesting to see what kind of opportunity new Head Coach Jim Christian's system will afford Hanlan to show his wares as a playmaker.

Hanlan's ability to become a more balanced offensive player is significant, as he remains just average defensively, even if he showed improvement as a sophomore. Looking a bit apathetic at times and unable to keep the ball in front of him as consistently as one would hope, Hanlan's intensity overall appeared improved from a year ago, though he still struggles with some lapses. His lack of length limits his ability to contest shooters and create turnovers, both of which raise some concerns about his potential on this end of the floor at the next level.

Despite his shortcomings, and the fact that he's the same age as many seniors, Hanlan ranks among the more productive guards in the junior class. If he can rebound from a down year from the perimeter and improve as a passer and defender, he could improve his standing in the eyes of scouts as a junior, making him a player to watch as he enters his first season under a new coach.

[Read Full Article]

---
Top NBA Draft Prospects in the ACC, Part Five (#5-9)
September 10, 2013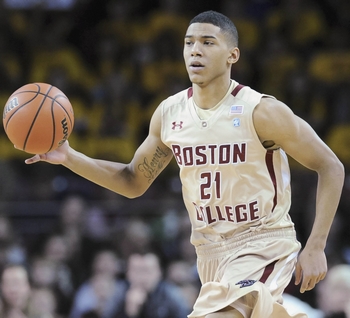 US Presswire



Jonathan Givony

A fixture on Canada's youth basketball teams as a teenager, Olivier Hanlan entered college a year later than most of his class, after spending two years at New Hampton Prep School in New Hampshire. He started his college career on a very strong note, winning ACC Freshman of the Year honors after emerging as one of the top scorers in the conference at 15.5 points per game, and continued that momentum at the Nike and LeBron James Skills Academies this summer.

Hanlan has good size for a guard at 6-3 ½ in shoes to go along with a solid frame and athleticism for his position. He's an aggressive offensive player capable of scoring in a variety of ways, be it spotting up from behind the 3-point line or off the dribble inside the arc.

Seeing time at both guard positions for Boston College, Hanlan serves as his team's primary shot-creator in the half-court, even if he isn't always tasked with bringing the ball up the floor. He sees a significant amount of his offense operating in the pick and roll, where his solid ball-handling skills, strong first step and ability to change speeds complement his excellent pull-up jumper.

Hanlan is a very dangerous outside shooter, converting 39% of his 3-point attempts as a freshman. His size allows him to be paired alongside another ball-handler in the backcourt, as he can space the court effectively with his ability to make shots with his feet set, knocking down 41% of his catch and shoot jumpers last season. He's equally dangerous off the dribble, converting 39% of his pull-ups, many of which come in the mid-range area, where he is capable of creating sharp separation from his defender in the blink of an eye and with picture perfect mechanics.

More than just an outside shooter, Hanlan also gets to the free throw line at a solid rate, 6.1 times per-40, and converted 75% of his attempts once there. He's not a bad finisher if left to his own devices, but could still stand to improve on his off-hand, as he noticeably prefers completing plays with his right.

NBA scouts may wonder what Hanlan's best position at the next level might be, as he posted by far the lowest assist rate of any of the returning collegiate players classified as point guards in our top-100 rankings. His assist to turnover ratio is just a hair over 1/1, and his -2 pure point rating ranks second to last among that group of elite guards, ahead of only Russ Smith.

Digging deeper into the data, we find that Hanlan doesn't really have too much of an issue with turnovers, as he actually only coughs the ball up on 15% of his used possessions, which is a very solid rate. His bigger issue is that he rarely creates offense for his teammates, as he generates an assist on just 16% of his possessions. Part of this is due to his role and the amount of scoring responsibility his team needs him to shoulder, but a lot of this has to do with Hanlan's mentality as well, as he doesn't really look to create much for others. He has a tendency to overdribble at times and can display questionable shot-selection, so it will be interesting to see if his court vision improves with added experience this season.

Another area NBA scouts will want to see growth in is on the defensive end. Boston College ranked as the second worst defense in the ACC last season according to KenPom, and from what we can see on film, Hanlan played no small role in that. Very upright in his stance, and quick to relax when the ball isn't directly in front of him, Hanlan's fundamentals are fairly poor on this end of the floor, and his relatively short wingspan (6-5) for his height doesn't do him any favors. He gets beat off the dribble frequently and is not physical fighting his way through screens, often looking out of position off the ball and not representing much of a threat in the passing lanes.

Hanlan, like the rest of Boston College's roster, will have to show much better intensity defensively this season to improve on their 7-11 record in ACC play, which will go a long way in helping them make the NCAA Tournament for the first time since 2009. Returning virtually their entire core from last season, there is quite a bit of excitement brewing among fans for what this team could accomplish with what looks to be a pretty talented roster.

Two games at Madison Square Garden in November (versus UConn and either Indiana or Washington as part of the 2k Sports Classic), and another interesting contest at the Barclays Center (versus VCU as part of the Brooklyn Hoops Winter Festival) should provide quite a bit of early exposure to NBA personnel and the national media.

Considering Hanlan is a year older than most of his class, turning 21 in February, a productive and winning season for Boston College could very well help put him on the radar screen of the 2014 NBA Draft.

[Read Full Article]

---