Omar Calhoun
Recent Tweets
All Tweets
DraftExpress: HoopHall 2012 Reports, part 2: Tony Parker (GA), Omar Calhoun, Ricardo Gathers, Jerami Grant, Jordan Adams, Rosco Allen http://t.co/lTVmQo2N
2012-01-19 09:15:32
Team: Connecticut, Senior
Physicals
Positions
Rankings
Misc
H: 6' 6"
W: 189 lbs
Bday: 11/26/1993
(22 Years Old)

Current: SG
NBA: SG
Possible: SG

RSCI: 41

High School: Christ The King
Hometown: Brooklyn, NY

Predraft Measurements
| Year | Source | Height w/o Shoes | Height w/shoes | Weight | Wingspan | Standing Reach | Body Fat | No Step Vert | Max Vert |
| --- | --- | --- | --- | --- | --- | --- | --- | --- | --- |
| 2011 | LeBron James Camp | NA | 6' 6" | 189 | 6' 6" | NA | NA | NA | NA |
| 2011 | Deron Williams Camp | NA | 6' 6" | 189 | 6' 6" | NA | NA | NA | NA |



Basic Per Game Statistics

- Comprehensive Stats - Statistical Top 25s
| Year | League | Name | GP | Min | Pts | FG | FGA | FG% | 2Pt | 2PtA | 2P% | 3Pt | 3PtA | 3P% | FTM | FTA | FT% | Off | Def | TOT | Asts | Stls | Blks | TOs | PFs |
| --- | --- | --- | --- | --- | --- | --- | --- | --- | --- | --- | --- | --- | --- | --- | --- | --- | --- | --- | --- | --- | --- | --- | --- | --- | --- |
| 2015/16 | NCAA | Omar Calhoun | 6 | 10.2 | 4.3 | 1.2 | 3.5 | 33.3 | 0.0 | 0.3 | 0.0 | 1.2 | 3.2 | 36.8 | 0.8 | 1.0 | 83.3 | 0.2 | 1.7 | 1.8 | 0.2 | 0.2 | 0.2 | 0.2 | 0.3 |

Player Page&nbsp&nbsp| Player Stats | Related Articles&nbsp&nbsp| Add to My Draft Express&nbsp
&nbsp
Top NBA Prospects in the AAC, Part Four: (#11-15)
October 25, 2013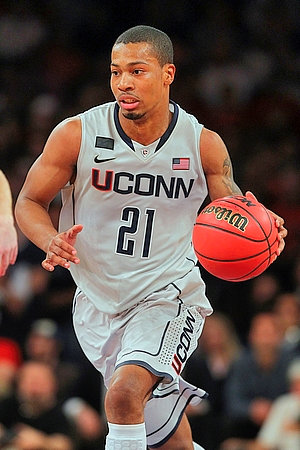 US Presswire



Kyle Nelson

Omar Calhoun was expected to make a big difference on the offensive end as a freshman and he did not disappoint. After all, the RSCI Top-50 recruit and the Gatorade Player of the Year in New York, first piqued our interest as a sophomore in high school due to his scoring acumen nearly four years ago. He started 29 games for Kevin Ollie and was named to the Big East All-Rookie Team.

Calhoun was inconsistent as a freshman, which is to be expected at his age, especially considering he was hampered by a series of injuries that limited him down the stretch. He first played through a sprained wrist, an injury largely responsible for his tentative play and 2/21 shooting to end his freshman season. Then, he underwent surgery to shave off parts of both of his hip bones in order to treat Femoral Acetabular Impingement, which was not only a source of constant discomfort, but also inhibited his movement and range of motion. After sitting out four months over the summer, Calhoun is reportedly ahead of his rehabilitation schedule and is looking to play by opening night. The question now is whether he is capable of taking another step forward in his development as a prospect.

Physically, Calhoun is a bit of a mixed bag. At 6'6, he has above average size for the shooting guard position, but has a mediocre 6'6 wingspan and a 200-pound frame that could definitely use some added muscle. As we wrote in the past, Calhoun is a solid athlete, smoother than he is explosive, and not possessing elite quickness in transition off of the dribble or in transition. It remains to be seen, however, just how much his surgery will affect his athleticism, either positively or negatively.

At 13.5 points per 40 minutes pace adjusted, Calhoun's numbers do not jump off of the page, but he actually fared well in terms of productivity relative to other freshmen in our database. Furthermore, he played a significant role on offense, seeing 32.1 minutes per game and shouldering 20% of Connecticut's possessions. He was very inconsistent, though, scoring 20 points against top-ranked Louisville on one night and failing to crack double-digits against Big East cellar-dwellers on another.

By the numbers, Calhoun had a fairly one-dimensional role as a freshman, finding 78.6% of his overall field goal attempts on jump shots according to Synergy Sports Technology and attempting more field goals beyond the arc than inside of it. Unfortunately, he made just 34.4% of his overall jump shots, including 32% of his 3-pointers. While Calhoun came into college with the reputation of a shooter, he still has a long ways to go in proving that, even if his late-season slump surely didn't help matters.

Calhoun displays unorthodox shooting mechanics, boasting a wide-base, splayed elbows, and a very quick, truncated release. This certainly seemed to work for him, at times, and for a stretch in January and February – before his wrist injury – he actually found a nice rhythm. That being said, and with an eye towards the future, improving his mechanics would go a long way in helping him develop into a more consistent shooter.

Outside of his jump shooting, Calhoun shows some flashes, but is unproven thus far. For one, his first step and ball-handling skills are just not good enough yet to emerge as a threat off of the dribble, outside of predominately straight line drives. While he shows flashes in this area, it remains to be seen just how much he can develop as a shot creator. Likewise, he will also have to become more aggressive attacking the basket, as evidenced in his subpar 4.5 free throw attempts per 40 minutes pace adjusted. He displays solid scoring instincts, though, which coupled with his above average court vision suggest that he has room to grow. Furthermore, he finished 50% of his overall field goal attempts inside of the arc and 58.6% of his shots around the basket, which is a solid rate for a skinny freshman in the Big East.

Though he can be a mixed bag on the offensive end of the floor, Calhoun proved himself to be a decent defender during his freshman season, showing solid lateral quickness and looking particularly effective in one-on-one situations. Yet, his focus seems to wane at times, and it would be nice to see him fight through screens more often while guarding the pick-and-roll. Likewise, whether he will be able to stay in front of NBA-caliber shooting guards remains to be seen. That being said, should he continue to develop physically, he should emerge as a good perimeter defender in the AAC.

In many ways, it is difficult to evaluate Calhoun too harshly based on his freshman season. For one, he is young and his injuries likely affected his play to a significant degree. It is entirely possible that scouts will see a different Omar Calhoun as a sophomore. He will be expected to contribute right away as a sophomore on a Connecticut team that is ready to return to the NCAA Tournament. In particular, scouts will be watching to see how he fares post-surgery against an aggressive out-of-conference slate that includes games against Florida, Maryland, Washington, Stanford and Harvard, not to mention against an AAC-conference slate that, while not the Big East, is still formidable with the likes of Louisville, Memphis, and Cincinnati. Thus, it is difficult to draw too many conclusions at this point, but it is safe to say that he is worth keeping an eye on in the next few years.

[Read Full Article]

---
HoopHall Classic Scouting Reports: 2012 Prospects (Part Two)
January 19, 2012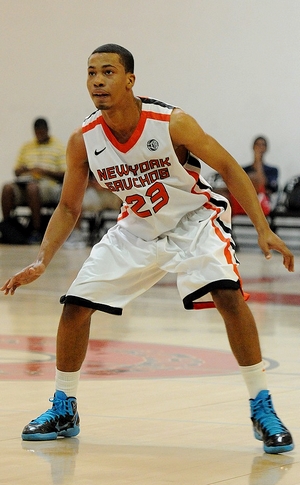 Icon SMI



Jonathan Givony

Omar Calhoun's (#44 Scout, #38 Rivals, #27 ESPN) Christ the King team had a tough outing in Springfield, being blown out 88-50 by California powerhouse Mater Dei. Calhoun made just 6 of his 22 shots at the Hoophall Classic, but nevertheless showed many of the same strengths and weaknesses we've seen over the past few years.

Measured 6-6 at the 2011 Deron Williams Skills Academy, Calhoun has very good size for the wing position, to go along with a frame that should fill out in time. He doesn't possess a long wingspan at just 6-6, but is a solid athlete; more smooth than he is explosive.

Calhoun's best attributes revolve around his scoring instincts. He finds ways to put the ball in the basket in a variety of ways, be it leaking out in transition, cutting off the ball, through the offensive glass or in his team's half-court sets.

Calhoun's jumper is unconventional. His release point is not consistent as at times he'll dip the ball dramatically depending on how closely he's being guarded. With that said, he gets it off quickly and is capable of making shots with his feet set when he's in rhythm, and occasionally off the dribble. In time, he should be able to become a more consistent shooter, as he has good touch.

As a ball-handler, Calhoun similarly has room to grow. He has good timing on his drives and the first step and body control needed to get into the lane, but doesn't show much in the ways of advanced shot-creating moves and is prone to forcing the issue at times. He's not an incredibly explosive finisher in the paint, so he'll need to continue to polish his skill-set to score efficiently inside the arc once the competition stiffens at the college level.

Defensively, Calhoun is just average at this point, which is not a surprise considering his age. He doesn't work very hard off the ball and his short arms don't do him any favors in terms of contesting shots and controlling dribble penetration. He'll be asked to step up his activity level once in college like all freshmen, but certainly has the ability to develop into an adequate defender as he gets stronger and gains experience.

Calhoun's size, scoring instincts and reportedly strong work ethic give him a chance to have a productive career at UConn. We'll have to wait and see how he adapts to the college level before drawing more conclusions about his NBA prospects.

[Read Full Article]

---
HoopHall Classic Scouting Reports (Part Five): 2012 Prospects & Beyond
January 30, 2011
Joseph Treutlein

A pure scorer with great offensive instincts, Omar Calhoun is a very talented player with an outstanding perimeter shot. Standing 6-3 with very good length and a solid frame, Calhoun already has a decent skill set as a high school junior, along with a good approach to the game.

On the offensive end, Calhoun's game heavily revolves around his jumper, which has effortless three-point range and outstanding mechanics. He can get his shot off in a variety of ways, capable of draining a smooth jumper coming around screens, pulling up, stepping back, and with a hand in his face. He gets a lot of his shots within the flow of the offense, not being one to over-dribble or create many shots off advanced moves, as his ball-handling is just adequate.

He doesn't show much in terms of attacking the basket in the halfcourt, relying strongly on his perimeter game, but he does show nice passing skills for an off-guard, dishing out a lot of simple assists in the flow of the offense and also doing a good job in pick-and-rolls.

Defensively, Calhoun is very attentive and plays solid, fundamental man-to-man defense, but he's somewhat non-descript on this end of the floor, going through the motions and doing his duties adequately, but not impacting the game nearly as much as he could if he exerted more energy helping off the ball with his physical tools.

Looking forward, Calhoun has a nice set of skills and solid physical tools, and he should be able to score effectively at any level of college ball. His long-term potential will likely depend on how hw diversifies his scoring game, or if he makes an unlikely transition to the point guard position.

[Read Full Article]

---