Omer Asik
Recent Tweets
All Tweets
DraftExpress: RT @WojYahooNBA Yahoo Sources In a first step toward creating max contract space Houston trades center Omer Asik to New Orleans. http://u2026
2014-06-25 22:33:53
DraftExpress: Yahoo Sources In a first step toward creating max contract space Houston trades center Omer Asik to New Orleans. http://t.co/Vwtgnr5FB3
2014-06-25 22:33:28
DraftExpress: Omer Asik is a monster inside the paint defensively. Contests, blocks or deflects everything. Fantastic on pick & roll. Long, agile, active.
2012-03-26 08:42:36
DraftExpress: Great pick for the Bulls here. They showed great patience with Omer Asik a few years back, and this will pay off for them similarly.
2011-06-23 08:50:31
DraftExpress: Part of me wants to gloat about calling Omer Asik the sleeper of the draft, but then I remember what I thought about Taj Gibson. Yikes.
2011-05-18 10:57:40
Top 25s - Full List
Team: Pelicans
Physicals
Positions
Salary
Misc
H: 6' 11"
W: 230 lbs
Bday: 07/04/1986
(29 Years Old)

Current: C
NBA: C
Possible: C

Agent: Arn Tellem
Current Salary:$8,374,646

High School:
Hometown: Bursa, Turkey
Drafted: Pick 36 in 2008 by Trailblazers




Basic Per Game Statistics

- Comprehensive Stats - Statistical Top 25s
| Year | League | Name | GP | Min | Pts | FG | FGA | FG% | 2Pt | 2PtA | 2P% | 3Pt | 3PtA | 3P% | FTM | FTA | FT% | Off | Def | TOT | Asts | Stls | Blks | TOs | PFs |
| --- | --- | --- | --- | --- | --- | --- | --- | --- | --- | --- | --- | --- | --- | --- | --- | --- | --- | --- | --- | --- | --- | --- | --- | --- | --- |
| 2015/16 | NBA | Omer Asik | 10 | 14.5 | 1.4 | 0.2 | 1.1 | 18.2 | 0.2 | 1.1 | 18.2 | 0.0 | 0.0 | &nbsp | 1.0 | 1.8 | 55.6 | 0.7 | 4.1 | 4.8 | 0.0 | 0.2 | 0.4 | 1.0 | 1.6 |

Player Page&nbsp&nbsp| Player Stats | Mock Draft History | Related Articles&nbsp&nbsp| Add to My Draft Express&nbsp
&nbsp
2008 Reebok Eurocamp in Treviso, Day Two
June 8, 2008
As soon as Blatt's lecture was over, we were granted a pretty special treat, two of the top international big men in this draft—Omer Asik and Semih Erden—rolled into the gym to participate in a private workout alongside Giorgi Shermadini, Henk Norel, Goran Dragic and Rudy Mbemba. The players were put through a number of drills—ball-handling, the Mikan drill, finishing through contact in the post and coming off a screen, pick and rolls, pick and pops, 5-spot shooting from mid-range, running the floor, and then competitive 2 on 2's and 3 on 3.

Omer Asik clearly stood out from the pack as being the most intriguing big men in attendance, almost from the very start. He had the best frame of the four (great size at a legit 7-feet, good shoulders, a solid lower body, a nice 7-2 wingspan and 9-4 standing reach) to go along with the best motor and the most athleticism of the four. He came out with a business-like mentality, dunking everything around the rim (even when it wasn't called for), not giving anyone an inch to breathe defensively, pushing guys out of the paint mercilessly, shooting the ball better than expected in the mid-range drills, and just leaving a very solid (and quite competitive) impression despite the fact that there was only so much you could take away from watching him in this setting.

Offensively, he's nothing to write home about this point, even though he does have nice hands, a good feel for the game and some all-around craftiness that allows him to be fairly effective at what he does well (mainly finishing in close proximity to the basket). The fact that he was here working out for all to see was clearly a feather in this camp's hat, as only a select number of NBA teams will be able to evaluate him in a private setting. It was hard not to come away from this workout with the impression that if he keeps progressing the way he has over the next few years, he's going to be a huge steal in the second round.

Asik's teammate and country-mate Semih Erden looked intriguing enough to warrant another glance as well. He has a good frame, legit size, solid mobility and very nice footwork in the low post. He did not shoot it all that well, but still showed enough ability and upside to warrant being picked somewhere in the second round to see how he develops over the next few years.

[Read Full Article]

---
Word on the Street: Love to Minnesota?
May 27, 2008
We had the chance to go over quite a bit of film, advanced statistics and previous scouting reports over the past few days in advance of a large quantity of NBA draft content we'll be providing Yahoo! Sports once again this year. While doing so, one player really stood out as someone we (the DX crew in America, not Europe) may have previously been overlooking—Turkish big man Omer Asik. You may have read some of his scouting reports on this site already, as Luis Fernandez has gone into quite a bit of depth on him recently.

Asik has very good size, a frame that looks capable of adding more weight over the next few years, and a phenomenal wingspan that helped him break the Euroleague Top 16 round shot-blocking record. Asik is an extremely late bloomer who barely could minutes on the basketball court two years ago, but has quickly developed into one of the top big man prospects in all of Europe this season. He started the season on loan with Alpella, and averaged 15 points, 11 rebounds and 2.2 blocks in 34 minutes per game over the first 10 games of the season. After exploding for a 25 point, 16 rebound, 6 assist outing against European powerhouse Efes Pilsen, Asik was brought back to the team that owns his rights, Fenerbahce, and was quickly added to their roster for the Euroleague.

On a per-40 minute basis, Asik's numbers are spectacular—averaging 16.8 points, 11.5 rebounds, and 4.5 blocks, while shooting just under 60% from the field. He ranks 5th in Win Score and 16th in PER, behind some of the most established players in European basketball.

This is coming remind you from a fairly skinny player who is extremely raw offensively and is only playing essentially his second season of professional basketball, meaning his learning curve is still very steep. He put up those numbers against a level of competition that is far stronger than anything any NCAA player faced this season, against the cream of the crop of Europe in the second round of the Euroleague. There is a very good chance that once his body develops, and his skill-level becomes more polished, we could have a very intriguing player on our hands, in the mold of an Andris Biedrins. He doesn't turn 22 until July.

We're talking about a pretty athletic big man, with good hands, solid touch, and great extension around the basket thanks to his length. He is a good defender, mobile enough to defend on the perimeter and physical enough to defend down low, thanks to the high amount of energy he brings on both ends of the floor. His rebounding numbers with Alpella or per-minute with Fenerbahce don't lie.

On the downside, Asik is still fairly raw on the offensive end, possessing very little in terms of perimeter shooting ability or scoring moves in the pivot, and no left hand to speak of. He struggles at the free throw line, shooting just 52% in the Euroleague. He is certainly not a player that can be relied upon to get points, and also struggles when pressured with the ball in his hands. While his frame is solid and should develop in time, he still needs to add plenty of strength to play in the NBA. He currently struggles at times finishing with contact due to his underdeveloped body.

With two more years left on his contract, and no NBA out clause, it will be a while before the team that drafts him sees dividend from the pick, which could be viewed as a positive by some. His team is currently playing in the finals of the Turkish league playoffs, and he won't be able to come over for private workouts until probably the middle of June, which eliminates the possibly of getting a physical at the Orlando pre-draft camp or playing at the Reebok Eurocamp in Treviso.

We've moved Asik all the way up to the top of the 2nd round, and will be curious to hear what teams think of him once he comes over for private workouts. While there are certainly no guarantees that he will develop, adjust culturally or even make it over to the NBA, there is very little downside to drafting a long, athletic and productive 7-footer with a big upside in the second round. We could easily see a team with multiple picks, such as Seattle, Minnesota or Portland targeting him, as all have very competent international scouting operations as well.

[Read Full Article]

---
Top Draft-Eligible Performers in the Euroleague Regular Season
February 4, 2008
Asik could only play half of the regular season for Fenerbahce, but it was enough to leave a very nice impression, to the point that he made strides in the rotation during that short tenure. The Turkish center emerged as a solid defensive and rebounding presence for his team on the lane, fuelling a frontcourt full of youth.

Having joined Fenerbahce midway the regular season, Asik doesn't qualify for the official Euroleague statistical rankings, but he projects as a top-20 player in field-goal accuracy, a top-10 player in offensive rebounds and a top-5 player in blocked shots, which is remarkable since he barely averaged 19 minutes per game.

Long, nicely athletic, showing a very promising frame and actually being physical enough to take advantage of it, he's one of the very best European big-man prospects in terms of physical-athletic profile. Skill-wise is another story. Asik relies on his off-the-ball moves and his strong finishes to add points. He doesn't have any jumper to speak of at this point, his footwork is rather poor, and he barely uses his left hand to finish around the rim, becoming pretty predictable in his low post moves, as he always works to try releasing a right-handed jumphook, but anyway enjoys limited touch. On the other hand, he easily gets up to deliver powerful dunks, which ends up pumping up his shooting percentages.

Things get better on the other end of the floor, as Asik emerges as a pretty solid low post defender, also with nice mobility for defensive rotations, and a serious intimidator who takes advantage of his length, nice athleticism and timing. Very active cleaning the boards on the offensive glass, he needs to improve his boxing-out efforts to secure the defensive rebound.

Every season there's at least one guy coming virtually out of nowhere draft-wise. Asik did have experience with Turkey in the youth categories, but he had never transcended a marginal role (he always had a lot of competition there, that's true, like his fellow teammates Semih Erden and Oguz Savas). Already virtually a lock to be drafted, his stock might climb as high as the late first round, although his lack of skills limits his potential to get really high in the draft.

[Read Full Article]

---
Roundup: European-Friendly Dragicevic
December 26, 2007
As a late bloomer and automatically draft eligible already in 2008, we're trying to gather as much footage on this intriguing Turkish center as possible, and spread our thoughts out in the process. His performance in the Euroleague against AXA F.C.Barcelona last week was really interesting, and showcased rather defined strengths and weaknesses in Asik's game.

Starting with the good news, Omer emerged as a terrific shot-blocker, a very intimidating presence down low that often worked wonders for Fenerbahce's defense and its comeback in the game. He was extremely active contesting shots in his area of influence, which is pretty wide. Asik is a very mobile player who displays very nice positioning and excellent timing, which paired with his terrific length, allows him get regular shot-blocking production. He was credited with 4 blocks, and was called for a questionable foul on a fifth. Besides, he's strong, can hold his position on the low post, but he's also relatively quick in the lateral move. All in all, his defensive potential looks extremely interesting.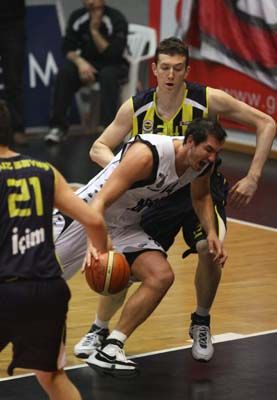 Asik guarding Kaya Peker


On the negative side, his limitations as a scorer got exposed. For starters, he's confirming our suspicions about his non-existent jumper. He never goes for the long-range shot, hardly even for the mid-range one, so ultimately he doesn't even keep the defense honest, while he doesn't look reliable at all from the charity stripe. He might eventually develop a decent shot, but by no means should we expect it to happen in the short term.

In the end, where Asik does his damage is near the basket. He's a good player without the ball, willing and smart to get good position in the lane. He can nicely evolve with his back to the basket, using his length, strength and decent footwork. However, he becomes pretty predictable because he usually works with his left shoulder trying to release a right-handed jumphook, even forcing the situation when it would be a lot easier to spin and use his left hand. Actually he doesn't seem to have much of a left hand to finish around the basket, while his touch with his right is a bit suspicious. Anyway, he delivered an impressive highlight as he was posting his opponent up close to the basket, seeming on his way to go for a short jumphook, and instead hammering the ball over his rival with his right hand. He's definitely a guy who can regularly play above the rim.

We'll have more opportunities to evaluate him, but he's increasingly looking like a rather safe name to expect to hear called on draft night.

[Read Full Article]

---
Roundup: Rollercoaster-Ride Batum On the Upside
December 19, 2007
Fenerbahce needed help inside after Semih Erden had fallen injured in the previous week's Euroleague game against Partizan (apparently, it's nothing too serious), and the choice was obvious. Loaned in Alpella, a sort of farm team for Fenerbahce, Omer Asik had not only been delivering an excellent season in the Turkish League, ranking second in rebounds (with 11.3 per game) and first in blocks (2.2), but he had led his team to victory over Fenerbahce itself several weeks ago, and comes fresh off a huge win over Efes Pilsen with a dominating performance.

With those credentials, Asik made his debut with Fenerbahce against Real Madrid in the Euroleague this past week. It was an introductory game for him, still not fully synchronized with his teammates. As expected, his team lost the game, and he ended up with 7 points, 5 rebounds and 2 assists in 16 minutes, which is not a bad start.

Asik certainly has the tools to make things happen. Looking pretty much like a seven-footer, he showcases an excellent physical profile, with long arms, very good frame and already notable strength. Not greatly athletic, he delivers good mobility, running the court very well and even daring to attack his opponents off the dribble. He twice tried to drive by the baseline with his right hand, and he finished the first attempt with an improbable one-handed reverse dunk. It was quite a shocking move, because when he decided to jump and extend his arm towards the basket, he was very close to the baseline and didn't enjoy the best angle to attack the rim. At best, he looked to be going for a complicated reverse layup. But he used his great length and a decent leap to unexpectedly throw it down. Rather impressive.

There weren't many more highlights. Asik showed good court awareness, moving nicely without the ball and throwing a couple of solid passes that ended up with assists. He's a guy who seems to understand the game. In line with his percentages playing for Alpella, he looked pretty inconsistent from the free-throw line. On defense, he had trouble battling Lazaros Papadopoulos in the low post, not being able to deal with his spins and moves. However, he shows nice shot-blocking potential thanks to his length and decent ability to get off the floor.

A late bloomer, just a year and a few months ago Asik was warming the bench for the Turkish U-20 National Team. He was just another big guy with apparently nothing much to offer then. Now he's a very productive player with the chance to showcase his game at the premier basketball stage in the Old Continent, the Euroleague. He's automatically eligible for the upcoming draft, and we have to take him into account.

[Read Full Article]

---