Orlando Johnson
Recent Tweets
All Tweets
DraftExpress: I have a feeling Indiana traded Dahntay Jones in no small part due to the way Orlando Johnson has looked here in Orlando. Ready to play now.
2012-07-12 04:29:30
DraftExpress: At #36 Sacramento takes Orlando Johnson. Pick traded to Orlando. Physically developed wing with long arms and a nice stroke. Ready to play.
2012-06-28 10:52:29
DraftExpress: DX: NBA Combine Video Interviews, Bradley Beal, Orlando Johnson, Scott Machado: http://t.co/vQJ5mIEI
2012-06-13 04:47:29
DraftExpress: Good workout for Orlando Johnson as well. Great frame/wingspan stands out on 1st glance, but also showed a versatile skill-set. #NetsCombine
2012-05-20 12:38:11
DraftExpress: 2nd session again much stronger than first. Kyle O'Quinn, Orlando Johnson, Justin Hamilton, J'Covan Brown all doing nice things #NetsCombine
2012-05-20 12:12:48
Team: Pacers College Team: Austin
Physicals
Positions
Salary
Misc
H: 6' 5"
W: 224 lbs
Bday: 03/11/1989
(26 Years Old)

Current: SG
NBA: SG
Possible: SG

Agent: Bill Duffy

High School: Palma
Hometown: Seaside, CA
Drafted: Pick 36 in 2012 by Kings
Best Case: Daequan Cook
Worst Case: Shan Foster

Predraft Measurements
| Year | Source | Height w/o Shoes | Height w/shoes | Weight | Wingspan | Standing Reach | Body Fat | No Step Vert | Max Vert |
| --- | --- | --- | --- | --- | --- | --- | --- | --- | --- |
| 2012 | NBA Draft Combine | 6' 3.75" | 6' 5.25" | 224 | 6' 11.25" | 8' 3" | 7.0 | 32.0 | 39.5 |
| 2012 | Nets Workout | 6' 3" | 6' 4.5" | 223 | 6' 11" | 8' 2.5" | 10.2 | 34.0 | 39.0 |
| 2011 | LeBron James Camp | NA | 6' 5" | 231 | 6' 11" | NA | NA | NA | NA |
| 2011 | Kevin Durant Camp | NA | 6' 5" | 231 | 6' 11" | NA | NA | NA | NA |
| 2011 | Nets Workout | 6' 4" | 6' 5" | 225 | 7' 0" | 8' 4.5" | 9.4 | 29.5 | 36.0 |



Basic Per Game Statistics

- Comprehensive Stats - Statistical Top 25s
| Year | League | Name | GP | Min | Pts | FG | FGA | FG% | 2Pt | 2PtA | 2P% | 3Pt | 3PtA | 3P% | FTM | FTA | FT% | Off | Def | TOT | Asts | Stls | Blks | TOs | PFs |
| --- | --- | --- | --- | --- | --- | --- | --- | --- | --- | --- | --- | --- | --- | --- | --- | --- | --- | --- | --- | --- | --- | --- | --- | --- | --- |
| 2015/16 | DLEAGUE | Orlando Johnson | 6 | 23.7 | 9.7 | 3.0 | 7.8 | 38.3 | 2.3 | 6.5 | 35.9 | 0.7 | 1.3 | 50.0 | 3.0 | 4.0 | 75.0 | 1.3 | 2.5 | 3.8 | 2.0 | 0.3 | 0.5 | 1.3 | 1.0 |

Player Page&nbsp&nbsp| Player Stats | Mock Draft History | Related Articles&nbsp&nbsp| Add to My Draft Express&nbsp
&nbsp
NBA Combine Interviews: Beal, Johnson, Machado
June 13, 2012
[Read Full Article]

---
Nets Combine Measurements/Athletic Testing and Recap
May 21, 2012
Owens was followed closely by Orlando Johnson at 34 inches. Johnson may have had the best all-around showing of any prospect in New Jersey, considering his strong measurements (6-11 wingspan) and the terrific scoring instincts he displayed in the five on five action.

[Read Full Article]

---
Trending Prospects (1/20/2012)
January 20, 2012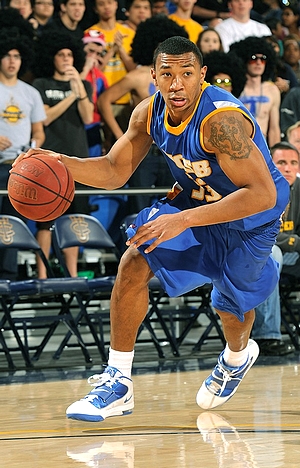 Icon SMI



Matt Kamalsky

When we last checked in on Orlando Johnson, we noted that the development of his ball-handling ability and the improvement of his shot selection would play a big part in his growth as a prospect after he jumped onto the radar last season. After spending the summer polishing his game against other potential draftees at the LeBron James Skills Academy and competing for Team USA at the World University Games after withdrawing from the 2011 NBA Draft, Johnson is having another strong season, though his role has changed more than his game.

The California native is scoring marginally less and shooting 4% worse from the field and 14% worse from the line than he did last season, but he has seamlessly taken on new responsibilities in Santa Barbara's offense. Arguably the deadliest scorer in low-major hoops, Johnson has become the focal point of nearly everything Santa Barbara does on that end of the floor. After spending most of his time getting up the floor on the wings and working in isolation sets last year, the senior has brought the ball up the floor at times and has seen his per-game usage on the pick and roll and in the post double this year according to Synergy Sports Technology.

Despite the shift in his role, Johnson has continued to produce at a high level, especially against better competition. Averaging 23.4 points and 8.0 rebounds in UCSB's games against San Diego State, Washington, BYU, Cal, and UNLV, Johnson has alleviated many of the concerns scouts usually have about small conference prospects with his play against the Gaucho's high-major non-conference opponents.

Still the same potent wing scorer who relies heavily on his ability to take and make difficult shots, Johnson has developed into a threat to score from almost anywhere on the floor thanks to his terrific range, unwavering confidence, and ability to create just enough room to get his shot off in the college game.

Johnson's half-court shots came from a near equal amount of catch and shoot and pull-up jumpers last season. This season, he's taken nearly five times more pull-up jumpers than with his feet set. Garnering attention for his prolific spot-up shooting in 2011, Johnson has had to create for himself far more regularly in the midrange ľa venture that yields mixed results at times.

Regardless of how much time he is spending on or off the ball, Johnson is still hitting his 3-pointers at a solid 41% clip this season, identical to last year. The difference has come inside the arc, where his percentages have dropped from a rock sold 51% last season to a far less impressive 44% this year.

Around the basket, Johnson's strong frame and touch make him a threat to take advantage of smaller wings in the post and finish in the paint when he finds an opening at the college level. With that said, his inability to create separation with his first step and lack of dynamic ball handling ability raises concerns about whether he'll be able to score efficiently inside the arc NBA, let alone make an impact around the basket.

Given that his weaknesses limit his upside at the next level, Johnson's experience handling the ball more regularly, dealing with the double teams he sees on the pick and roll, and passing out of them can be looked at as positives. Considering how little he turns the ball over for a player in his role, Johnson could fit into a spot-up oriented role if he can tone down his shot selection, ramp up his efficiency and fill a niche as a complimentary scorer.

On the defensive end, Johnson has been able to compensate for his average footspeed with his 7'0 wingspan as UCSB has moved away from its zone schemes for longer stretches. Using his length to effectively contest shots at the collegiate level, Johnson will need to show that he can deny penetration against NBA caliber athletes to remove questions about his defensive upside, something he's seen mixed results with this season.

UC Santa Barbara will face a tough path to return to the NCAA Tournament with the emergence of Long Beach State as a potential Big West contender, and their ability to make a postseason run will fall squarely on Johnson's shoulders. While his role is less reflective of where he seems to fit best at the NBA level than it was last year, Johnson's scoring instincts and productivity still have him firmly on the NBA radar. If he can showcase his spot-up shooting in workouts, and become a more consistent defensive player, Johnson could see his stock climb as we head towards the 2012 draft.

[Read Full Article]

---
Trending Prospects (12/23/2010)
December 23, 2010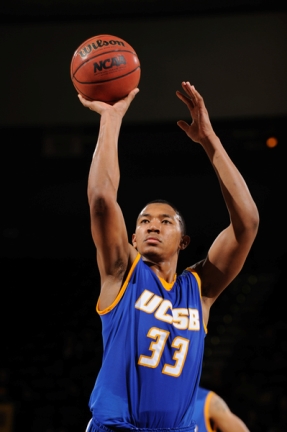 Icon SMI



Matt Kamalsky

The returning Big West Player of the Year Award winner, Orlando Johnson has continued to build on his strong play from last season. After spending his freshman year setting first-year records for scoring and rebounding at Loyola Marymount, the transfer made an immediate impact for the Gauchos as a redshirt sophomore. A great scorer at the mid-major level, Johnson has put up some tremendous individual performances this season including a 35-point outburst against Fresno State and a 15-rebound double-double in an upset win over UNLV. While Johnson will need to continue to play at a high-level to create some draft buzz, he's an incredibly diligent worker and one of the most interesting small-school players on the West Coast.

What makes Johnson intriguing as a player is his blend of shooting ability and nice physical tools. Standing 6'5 with the frame of a NFL receiver, Johnson is a deceptive athlete who proves capable of using his speed to make an impact in transition, imposing his strength to mix it up on the glass, and exploiting his adequate quickness to create separation for his jump shot against low-major defenders. He certainly wouldn't be a standout on the NBA level in terms of his leaping ability or quickness, but he wouldn't appear entirely out of place either.

Offensively, Johnson is a bit of a mixed bag, as he is highly efficient in some areas and not so consistent in others. According to Synergy Sports Technology, a little more than a quarter of Johnson's offensive possessions come in one-on-one situations out on the perimeter, where he aims to utilize his first step and strength to create looks for himself from the midrange and around the rim. Johnson is scoring just 31% of those touches because he's connecting on just 28.6% of his jump shots off the dribble, is prone to forcing shots from awkward angles, looks mechanical off the dribble, and doesn't create too many clean looks for himself from the midrange due to his lack of great ball-handling ability.

Despite those struggles, Johnson has been lights-out with his feet set this season, and his jump shot features a high release point and fine touch. Though he struggles to convert shots with a hand in his face off the dribble, he has knocked down 12 of his 21 catch and shoot jumpers this season according to Synergy Sports Technology, 15 of which were contested. An extremely confident and aggressive shooter who ranks in the top-5 in our database in field goal attempts per-40 minutes pace adjusted, some 60% of Johnson's shots have been jumpers, and while he's shooting over 40% from three point range, his shot selection leaves a lot to be desired.

Watching Johnson operate in transition gives you an excellent feel for the type of player he is. The junior runs the wings with purpose, and hunts the first available opportunity to shoot the ball, whether it be an off balance three pointer on the break or a less than ideal drive into traffic. He can play above the rim when he has space, but he struggles to finish at times in a crowd, even if he flashes excellent body-control and is able to convert some circus shots around the rim. Pressing at times to get the ball into the lane and turning it over as a result, Johnson is a good passer when he wants to be, and needs to continue developing his decision-making and pull-up jumper to maximize his scoring potential at the college level.

Defensively, it isn't easy to get a feel for what Johnson would bring to the table in the NBA, as Santa Barbara likes to throw a series of difference zone looks at opponents. Always lurking when he's on the weak-side of the play, Johnson is a terrific rebounder for a wing, and the reckless abandon that makes him inconsistent when driving to the rim allows him to pull down boards at a good rate. Johnson's ability to prove he can defend effectively one-on-one in workouts down the road will be a key component to his success.

A person who has dealt with great personal hardship off the floor in his youth, Johnson is a tireless worker who is easy to pull for considering what he's been through. He is getting the job done on the offensive end this season, but he needs to shore up his ball-handling ability and develop the instincts to use his tools on both ends of the floor to improve his NBA potential. A strong candidate for the Portsmouth Invitational Tournament next season, Johnson has well-defined weaknesses that won't prevent him from carving out a successful career overseas.

[Read Full Article]

---