Josh Riddell
Playing a reserve role in a crowded frontcourt for the Georgetown Hoyas, Paul White enters his sophomore season hoping to differentiate himself and build on the 18 minutes per game he played as a freshman.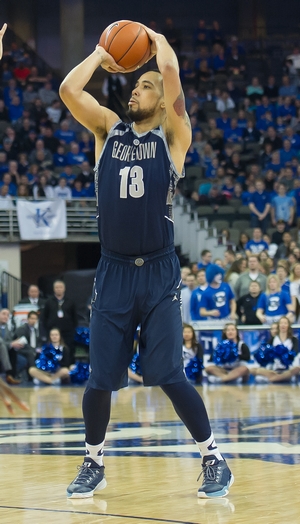 A 6'8" forward, White has flashed some athleticism and perimeter shooting that gives him a nice foundation as a draft prospect. He possesses a strong frame for a player of his age and a solid wingspan to provide a nice baseline for his physical tools. Although he's not an uber-athlete, he's a fluid player who looks comfortable moving around the court and should have little trouble competing athletically with professional players.
White has some potential as a long-range shooter, making 23 of his 61 (37.7%) of his three point attempts last season as a freshman. He was accurate in a small sample and will need to show whether this translates over a larger sample as defenders begin to recognize him as a shooter. This will be crucial for his draft stock, as his mechanics aren't perfect so he needs to show they work for him. The positives in his shot components are a high release point and adequate lift on his shot, making it difficult to contest. However, his release time is a little slow and his overall fundamentals are inconsistent, with a significant ball-dip that makes him much more effective from a stand-still than pulling up off the dribble. A larger sample size, with multiple seasons worth of data, should paint a clearer picture of how versatile and effective of a shooter he is from distance.
He has displayed good vision with the ball in his hands, which can help his team score when he is on the floor. While he looks comfortable putting the ball on the floor in a straight line, he doesn't have the ball-handling skills to get to the rim or draw the defense and create open looks consistently. What he does do is find cutters or shooters spotting up across the court to catch the defense off guard, delivering an accurate pass to put his teammate in position to score. His
2.7 assists per 40 minutes pace adjusted
was one of the highest ranks among small forwards in the nation. While he won't be creating off the dribble frequently, certainly not in Georgetown's offense, he has the willingness to pass and the vision necessary to see his open teammates.
White tries to attack closeouts and open penetration lanes, but doesn't have an elite first step or dribbling skills to get all the way to the rim, looking a bit passive at times as well. He can't always shake his defender en route to the basket, which leads to contested shots at the rim. This combined with a lack of explosiveness and toughness around the rim leads him to be just an average finisher at close range at 53.8%. If he can't improve his ability to beat his defender to the rim, he'll need to find a way to do a better job of finishing through contact at the basket despite being contested.
Defensively is where White can make his mark and show he deserves an increase in playing time. He has a unique combination of length, foot speed and strength to help him guard a variety of different positions at the college level. He had some very impressive moments defensively as a freshman, putting constant pressure on the ball and rotating quickly on help defense. With his physical tools and solid fundamentals, he has some very nice things to build on here moving forward, which will help his chances significantly of making it in the NBA.
With White competing with Isaac Copeland and L.J. Peak for minutes at the forward positions, he'll need to find ways to impact the team on both ends to keep him on the floor. He'll be on the radar of NBA scouts all season due to his athletic potential and his ability to fit into a NBA team as a role player. If he can have another good season as a perimeter shooter while keeping his defensive intensity high, he'll continue to get looks from NBA scouts.