Peyton Siva
Recent Tweets
All Tweets
DraftExpress: DX Trending Prospects Peyton Siva http://t.co/Oea7kZrf51
2013-06-11 18:16:53
DraftExpress: 2013 NBA Pre-Draft Workouts at Impact Basketball in Las Vegas http://t.co/umZJznDiEN 3 on 3 pickup with Peyton Siva Deshaun Thomas & more
2013-06-04 15:05:20
DraftExpress: 2013 NBA Pre-Draft Workouts at Impact Basketball in Las Vegas http://t.co/k4ycs2wqME - 3 on 3 pickup with Peyton Siva Deshaun Thomas & more
2013-06-04 09:03:03
DraftExpress: Just saw Erik Murphy Peyton Siva and Deshaun Thomas playing 3 on 3 vs Elijah Thomas Elston Turner and Devin Booker. Tons of teams here.
2013-05-31 14:46:55
DraftExpress: Fun team assembled w\/Peyton Siva and Khaliff Wyatt in the backcourt and Jared Berggren Laurence Bowers and Arsalan Kazemi in the frontcourt
2013-05-23 10:46:33
Team: Caserta
Physicals
Positions
Rankings
Salary
Misc
H: 6' 1"
W: 181 lbs
Bday: 10/24/1990
(25 Years Old)

Current: PG
NBA: PG
Possible: PG

RSCI: 31

Agent: Andy Miller

High School: Franklin
Hometown: Seattle, WA
Drafted: Pick 56 in 2013 by Pistons

Predraft Measurements
| Year | Source | Height w/o Shoes | Height w/shoes | Weight | Wingspan | Standing Reach | Body Fat | No Step Vert | Max Vert |
| --- | --- | --- | --- | --- | --- | --- | --- | --- | --- |
| 2013 | NBA Draft Combine | 5' 11.5" | 6' 1" | 181 | 6' 3" | 7' 9" | 6.1 | 33.5 | 41.5 |
| 2013 | Nets Workout | 5' 11.5" | 6' 1" | 181 | 6' 3" | 7' 9" | 6.1 | 33.5 | 41.5 |



Basic Per Game Statistics

- Comprehensive Stats - Statistical Top 25s
| Year | League | Name | GP | Min | Pts | FG | FGA | FG% | 2Pt | 2PtA | 2P% | 3Pt | 3PtA | 3P% | FTM | FTA | FT% | Off | Def | TOT | Asts | Stls | Blks | TOs | PFs |
| --- | --- | --- | --- | --- | --- | --- | --- | --- | --- | --- | --- | --- | --- | --- | --- | --- | --- | --- | --- | --- | --- | --- | --- | --- | --- |
| 2015/16 | Italian | Peyton Siva | 3 | 24.0 | 15.0 | 3.7 | 10.3 | 35.5 | 2.0 | 5.3 | 37.5 | 1.7 | 5.0 | 33.3 | 6.0 | 7.0 | 85.7 | 0.0 | 1.7 | 1.7 | 6.0 | 1.7 | 0.0 | 3.0 | 3.7 |

Player Page&nbsp&nbsp| Player Stats | Mock Draft History | Related Articles&nbsp&nbsp| Add to My Draft Express&nbsp
&nbsp
Trending Prospects: Peyton Siva
June 11, 2013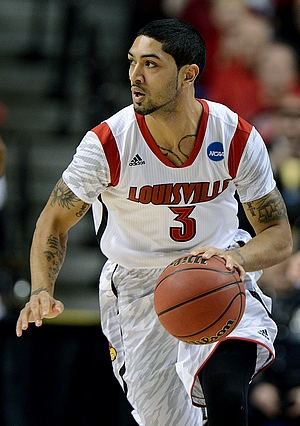 US Presswire



Matt Kamalsky

Overcoming a challenging early life and possessing as inspiring a backstory as any player in the 2013 Draft, Peyton Siva won a national championship and got to cut down the nets in Atlanta, putting the finishing touches on a terrific four-year career at Louisville. A player we've covered in detail at various points over the last five years, Siva still struggles with some of the same things he did as an underclassman. Nonetheless, he emerged as the undisputed leader of the Nation's best team in 2013, made some small strides as a senior, and brings some intriguing abilities to the table as a prospect.

Many of those talents are a byproduct of Siva's excellent athleticism. Though he lacks outstanding size for a point guard, he makes the most of his 6-1 frame and 6-3 wingspan with an explosive 41.5 inch vertical leap and tremendous quickness. On top of his physical tools, Siva plays with as good a motor as nearly any prospect in this draft.

The impact of those attributes were most apparent on the defensive end, where Siva's constant pressure keyed one of the nation's most effective and turnover-rich defenses. Pestering ball-handlers the length of the floor, Siva's 2.8 steals per-40 minutes pace adjusted ranks third among prospects in our top-100 and is representative of how his super-aggressive, risk-taking style sped up opposing guards. His lateral quickness and competitive streak also made him a formidable defender in the half court, as he gets in a low stance, plays extremely hard, and works tirelessly to recover to the ball when helping teammates or defending the pick and roll.

Programmed in the same mold as and possessing physical tools similar to Jacque Vaughn or Speedy Claxton, Siva's defense is his calling card as a prospect. His size doesn't afford him great versatility on this end of the floor, and he may be a target for bigger point guards in the post, but he can step on the floor and make the oppositions' primary ball-handler earn every trip down the court a for few minutes at a time.

Siva's development into a ball-hawk is significant, as his offensive skills haven't progressed at the same rate over the last few seasons. Though his jump shooting percentages increased from 26% as a junior to 29% as a senior according to Synergy Sports Technology, Siva remains an inconsistent threat both off the catch and off the dribble. His shot selection still leaves something to be desired at times, and his lack of size and sometimes reckless tendencies on his dribble drives result in his poor 52% shooting in finishing situations.

Siva's 12.6 points per-40 minutes pace adjusted and 51% true shooting percentage both place him among the bottom ten NCAA prospects in our top-100 rankings. Functioning as Louisville's primary ball-handler in conjunction with Russ Smith, the Seattle native's role was predicated on his ability to create for himself and others on the pick and roll and in transition, as has been the case for most of the last three seasons.

Though he still needs to develop the ability to play at different speeds, Siva found plenty of success generating offense on the pick and roll, even if he only made 38% of his own attempts dribbling off of picks. Capable of turning the corner and getting into the paint thanks to his foot speed, Siva is a very solid passer in the two-man game, doing a fine job finding the open spot-up shooter or cutter as the play progresses.

A very good distributor overall as evidenced by his 7.1 assists per-40 minutes pace adjusted, Siva's pure point ratio ranks seventh among NCAA players in our top-100. Perhaps the most notable improvement Siva made this season came in his command of the ball on the offensive end. Though he still tends to dribble into trouble and doesn't know when to take his foot off the gas pedal at times, he turned the ball over only 3.3 times per-40 minutes pace adjusted, down from 4.3 last season. That improvement moved Siva from the most turnover prone player in our top-100 to the fifteenth most, a significant improvement given his lack of scoring ability. Though Louisville's offense looked better with Russ Smith at the helm for stretches, Siva's body of work this season as a decision-maker was a small step in the right direction.

As Siva takes the next step in his career, his ability to force defenders to respect his jump shot will play a key role in just how effective he can be on the offensive end throughout his career. His size will always be a limiting factor inside, but he can put less pressure on himself to make something out of nothing in crowd if he can consistently make three-pointers and score off of one or two dribbles in the midrange.

Despite the limitations of Siva's current offensive skill set, his defensive ability and outstanding intangibles certainly give him a fighting chance at making a roster and sticking around as a second or third point guard. We've seen players in his mold have lengthy NBA careers in the past, and it certainly wouldn't be surprising if Siva's interviews, recommendation from his coaching staff and history of playing for winning teams ultimately endears him to a team who can plug him in next to some dynamic scoring wings and let him try to follow in their footsteps next season.

[Read Full Article]

---
NBA Combine Interviews: Pressey, Curry, Siva
May 22, 2013
[Read Full Article]

---
Top NBA Prospects in the Big East, Part Three
October 16, 2012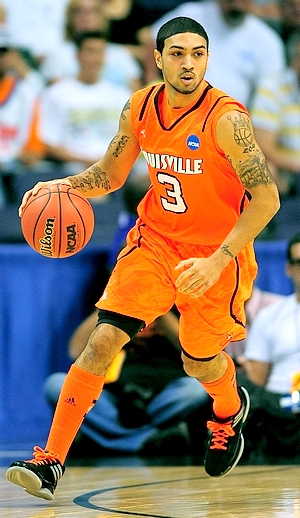 US Presswire



Joe Treutlein

Following a breakout sophomore season, Peyton Siva didn't take much of a next step forward as a junior, posting similar numbers in most areas while actually regressing slightly in some. Still, Siva played a key role on a Louisville team that advanced to the Final Four and returns most of its top talent this season, making him well positioned to take that next step this year.

On the offensive end, Siva remains mostly the same player we profiled a year ago, as he didn't improve noticeably in any of his weaker areas and actually declined further in a few, namely his all-around scoring ability. Siva's unimpressive outside shooting numbers and struggles with turnovers were his two biggest issues as a sophomore, and he actually managed to get worse in both areas as a junior.

While the turnovers are to be expected somewhat given his high octane style of play, his inability to develop into a more respectable spot-up shooter from three-point range is much more concerning, especially at his size. There are question marks about how his inside game will translate to the pros, so getting it together and developing his jumper will be good insurance for him at worst and could make him into a much more dynamic offensive player at best.

Siva's ability to finish inside the arc also took a big step back as a junior, as his two-point percentage plummeted from a strong 54.3% to an unimpressive 44.8%. Siva's probably not as good as he looked in this area as a sophomore or as bad as he looked as a junior, but he showed considerable struggles dealing with crowded lanes and weak side help on his forays to the basket, not having the size to consistently get off high percentage shot attempts inside. The NBA's more spread out and isolation-oriented offensive systems could help him some in the pros, but improving his shot-selection inside the arc and touch around the basket would help him considerably.

The most interesting aspect of Siva's scoring game is how heavily reliant he is on pick-and-rolls, something that isn't always beneficial against college defenses but could work much better to his favor in the right system in the pros. Siva sees an absurd 44.4% of his possessions out of pick-and-rolls according to Synergy Sports Technology, and his ability to get separation with his incredibly quick first step is outstanding. Developing a jump-shot to make him more of a multi-threat in these situations would help him, but he's already very difficult to contain just by virtue of how fast and explosive he is.

Siva's passing game is still a very strong spot for him, and his 6.8 assists per pace adjusted 40 minutes ranks 4th in our top 100 prospects. Turnovers remain a significant problem—as he coughed the ball up on an absurdly high 31% of his possessions--but Siva shows excellent vision operating out of pick-and-rolls and does a very good job finding the open man when his dribble-drives inevitably cause the defense to collapse on him.

While Siva took a step back on the offensive end as a junior, fortunately for him the opposite can be said on the other side of the ball, where he did some nice maturing this past year. Cutting down on the gambling and excessive swipes for the ball we outlined in our last profile of him, Siva saw his pace-adjusted steals drop noticeably this year, but more than made up for it with his improvement in overall man-to-man defense. Siva is now doing a much better job staying locked in on his man, moving his feet, and not giving up plays, doing a better job contesting in isolations and keeping his man in front of him. He's still prone to getting pushed around by more physical opponents, something that will always be an issue for him at his size, but he's making much better use of the tools he has and taking advantage of his excellent foot speed while getting his hands up to contest shots the best he can.

Looking forward, Siva has some work to do as a senior, trying to return his offensive performance to what he did as a sophomore, while also hopefully finally developing the jump shot that could really round out his game. Projecting to the NBA, Siva is an excellent stylistic fit for the direction many teams have been going with their guard play, having the combination of elite quickness, passing ability, and pick-and-roll prowess that coaches value. His offensive game is almost certainly more suited for the pros than the collegiate game, but his turnover proneness, lack of outside shooting, and questionable ability to finish inside are still significant marks, and he'll likely need to show considerable improvements in at least one of those areas to find himself a long-term niche in the league.

[Read Full Article]

---
Top NBA Draft Prospects in the Big East, Part Two (#6-10)
October 14, 2011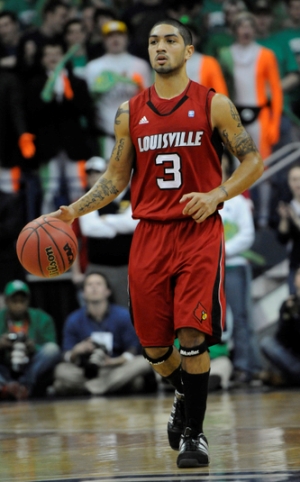 Icon SMI



Jonathan Givony

After an inconsequential freshman season playing just 11 minutes per game, Peyton Siva took a large step forward as a sophomore, leading his Louisville team to a 25-10 record and a surprising run to the Big East championship final.

A former McDonald's All-American, Siva is very small for a NBA point guard at 5-11, but is an exceptional athlete to compensate. He's one of the fastest end to end players in college basketball, and shows a tremendous ability to change gears and just explode past defenders. A real crowd pleaser, he regularly finishes plays above the rim, sometimes in traffic even with a thunderous dunk.

As Louisville's best (possibly only) ball-handler and most prolific shot-creator, Siva was given a good amount of freedom in Rick Pitino's offense. He garnered almost 70% of his possessions in transition, isolation and pick and roll situations, showing the ability to drive left or right with strong ball-handling skills and terrific quickness. He gets to free throw line at a decent rate and finishes well inside the arc, converting 54% of his 2-point attempts, tops among point guards in our top-100 rankings.

Small and elusive, Siva penetrates the seams of the defense and gets into the paint at a terrific rate, but has problems finishing over bigger, longer players in traffic—something that will become more of an issue in the NBA. He needs to compensate for his lack of size by getting stronger, improving his floater, doing a better job of drawing fouls, and not double clutching around the rim unnecessarily like he tends to do at times. In addition, he doesn't possess much of an in-between game at the moment, as he almost never pulls up in the mid-range area for an off the dribble jumper, with virtually all his attempts either coming directly at the rim or from beyond the arc.

Siva also has significant work to do on his long-range shooting, converting on just 27% of his 3-pointers last season. That didn't stop him from showing a very quick trigger from beyond the arc, taking almost three attempts per game. Siva shows nice form but really struggles to make shots with his feet set, hitting just 12 of the 50 open catch and shoot jumpers he took last year, or 24%. Considering his size, this is something he must improve on.

On a Louisville team that was loaded with shooters, Siva was the one responsible for breaking down the defense and getting his teammates open jumpers with their feet set. He's an unselfish player who does a very good job of keeping his head up and finding the open man, ranking him 2nd in assists per-minute amongst all players in our top-100 behind only Kendall Marshall.

Still a work in progress in terms of his decision making, Siva is very turnover prone at this stage, coughing the ball up on 27% of possessions, one of the worst rates amongst our top 100 prospects. He tends to get out of control from time to time, looking very loose with the ball, trying to force his way through double teams, making risky passes and driving into brick walls. It will be interesting to see how he looks with another year of experience, as he was not very consistent at all with his playmaking last season, at times looking terrific and in others really struggling.

Defensively, Siva is similarly inconsistent. On one hand, he ranks as one of the best ball-thieves in all of college basketball, averaging 2.7 assists per-40 minutes pace adjusted, top amongst our top-100 prospects by a wide margin.

On the other hand, his lack of size, length and strength make it very difficult for him to offer a consistent presence in half-court man to man settings, as his fundamentals are just average and he gets pushed around quite a bit by bigger and stronger players.

Siva's lateral quickness and intensity level are both very good, but the fact that he's under six feet could really be a sticking point for NBA decision makers. He'll have to show better toughness and awareness in man to man settings this season to convince them otherwise, as too often last year it appeared that Siva was caught swiping at the ball while his opponent simply blew by him.

Louisville's penchant for playing a matchup zone might have something to do with this, but Siva faces an uphill battle to not emerge as a potential liability in the NBA, and anything he can do to improve his projection will go a long way.

Looking forward, Siva's jet quickness and distributing skills will surely garner him plenty of looks from NBA scouts as early as next season, especially if he can find a way to build off last year's campaign with a deep NCAA tournament run.

[Read Full Article]

---
Player Evaluations, McDonald's All-American Game (East Team)
April 4, 2009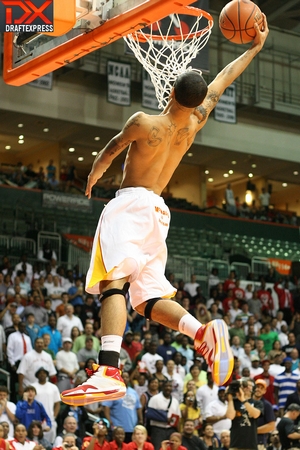 Jim Hlavac, DraftExpress



This was a pretty strong week for charismatic point guard Peyton Siva (#54 Scout, #49 Rivals, #23 ESPN¬), showing strong potential in both the practices and actual game, and surely giving future head coach Rick Pitino plenty to look forward to. Siva's athleticism was constantly on display, mostly in the form of outstanding drives to the basket. His point guard skills appear to be improving from the last time we saw him, as he did a nice job running the pick and roll and finding teammates with crafty bounce passes, although he still has a tendency to try and do too much at times, eventually leading to turnovers. Siva is a great teammate who always seemed to be in the middle of everything over the course of the week, as he has an infectious personality and a great deal of leadership potential. He has plenty of things to work on, but should be able to see playing time right away in the Big East next year.

[Read Full Article]

---
adidas Nations Experience: 2009 High School Prospects
August 19, 2008
We saw plenty of Peyton Siva (#39 Scout, #31 Rivals, #26 ESPN) over the course of the past month, starting in Las Vegas where he played alongside Tony Wroten and Joshua Smith on the Seattle Rotary Select team, and then here in Dallas at adidas Nations.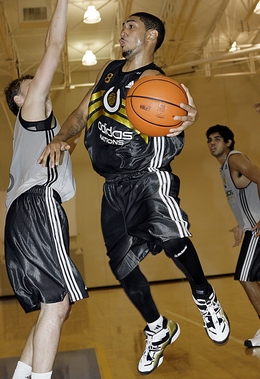 adidas



Siva is going to Louisville to play for Rick Pitino, and that seems like a good fit considering their style of play and what he needs to improve on. Siva is not very big by any stretch of the imagination at just 5-11, but he brings outstanding athleticism to the table to compensate for his lack of size. Siva is incredibly fast in the open court and is absolutely electric getting off his feet and finishing around the basket. To give you an idea, he may not be quite as explosive as fellow Seattle native Nate Robinson, but he's not that far off either.

Siva loves to split the pick and roll and then take the ball strong to the basket . He hangs in the air and finishes extremely well through contact, showing a tough, aggressive mentality and a fearlessness that is very entertaining to watch. He is great in transition as you might imagine, showing strong ball-handling skills and nice hesitation moves, playing the game with a lot of confidence and moxy. He seems to have really advanced scoring instincts in general, and doesn't seem to be the type to shy away from responsibilities.

More than just an athletic slasher, Siva can also shoot the ball fairly well from the perimeter as well. He has a very pretty stroke and range that extends beyond the 3-point line, also possessing the ability to pull-up off the dribble from mid-range, even if his shot-selection leaves a lot to be desired at times.

Siva has improved his point guard skills from what we've been told, and seems to have above-average court vision and the ability to find teammates in drive and dish situations. He has a tendency to over-dribble at times, though, trying to get too flashy with the ball and thus being too turnover prone to play the kind of pace Pitino is going to want his offense to operate at when he gets to Louisville. His decision making is not good enough at this point in time, and he will have to improve on that aspect of his game to be considered a full-time floor general and not the combo guard he appears to be right now.

Defensively, Siva offers very little and will probably always be limited by his lack of size and length. This may be the biggest thing holding him back from being considered a great prospect down the road, but he isn't doing himself any favors with the lack of intensity and fundamentals he displays on this end of the floor. That's not all that uncommon at this level obviously, but it's something he needs to work on, and he surely will if he wants to get minutes at Louisville.

[Read Full Article]

---