Phil Pressey
Recent Tweets
All Tweets
DraftExpress: More Undrafted Matthew Dellavedova Phil Pressey B.J. Young Dewayne Dedmon Richard Howell Brandon Davies Michael Snaer Brandon Paul.
2013-06-28 00:17:54
DraftExpress2: RT @GoodmanESPN Early entry guys still on board CJ Leslie Lorenzo Brown Vander Blue Phil Pressey Adonis Thomas Deshaun Thomas BJ Yo\u2026
2013-06-27 23:35:33
DraftExpress2: Early entry guys still on board CJ Leslie Lorenzo Brown Vander Blue Phil Pressey Adonis Thomas Deshaun Thomas BJ Young.
2013-06-27 23:34:28
DraftExpress: DX Trending Prospects Phil Pressey http://t.co/DgkDN8DGx8 - Scouting report on the #3 ranked assist-man in the country
2013-06-06 09:33:28
DraftExpress: Strange for Phil Pressey to come in here and not try to make a single good pass. Tunnel vision all day.
2013-05-22 11:06:33
Team: 76ers
Physicals
Positions
Rankings
Salary
Misc
H: 5' 11"
W: 177 lbs
Bday: 02/17/1991
(24 Years Old)

Current: PG
NBA: PG
Possible: PG

RSCI: 52

Agent: Aaron Mintz
Current Salary:$816,482

High School: Episcopal
Hometown: Dallas, TX

Predraft Measurements
| Year | Source | Height w/o Shoes | Height w/shoes | Weight | Wingspan | Standing Reach | Body Fat | No Step Vert | Max Vert |
| --- | --- | --- | --- | --- | --- | --- | --- | --- | --- |
| 2013 | NBA Draft Combine | 5' 9.5" | 5' 11.5" | 177 | 6' 2.25" | 7' 8" | 4.7 | 33.0 | 38.5 |
| 2013 | Nets Workout | 5' 9.5" | 5' 11.5" | 177 | 6' 2.25" | 7' 8" | 4.7 | 33.0 | 38.5 |
| 2012 | LeBron James Camp | NA | 6' 0" | 178 | 6' 3" | NA | NA | NA | NA |
| 2012 | Deron Williams Camp | NA | 6' 0" | 178 | 6' 3" | NA | NA | NA | NA |
| 2009 | LeBron James Camp | NA | 5' 11" | 162 | 6' 1" | NA | NA | NA | NA |
| 2009 | Deron Williams Camp | NA | 5' 11" | 162 | 6' 1" | NA | NA | NA | NA |



Basic Per Game Statistics

- Comprehensive Stats - Statistical Top 25s
| Year | League | Name | GP | Min | Pts | FG | FGA | FG% | 2Pt | 2PtA | 2P% | 3Pt | 3PtA | 3P% | FTM | FTA | FT% | Off | Def | TOT | Asts | Stls | Blks | TOs | PFs |
| --- | --- | --- | --- | --- | --- | --- | --- | --- | --- | --- | --- | --- | --- | --- | --- | --- | --- | --- | --- | --- | --- | --- | --- | --- | --- |
| 2015/16 | NBA | Phil Pressey | 12 | 12.8 | 4.3 | 1.7 | 4.3 | 39.2 | 1.3 | 3.2 | 42.1 | 0.3 | 1.1 | 30.8 | 0.7 | 1.2 | 57.1 | 0.0 | 1.5 | 1.5 | 3.6 | 0.8 | 0.1 | 1.4 | 0.8 |

Player Page&nbsp&nbsp| Player Stats | Mock Draft History | Related Articles&nbsp&nbsp| Add to My Draft Express&nbsp
&nbsp
Trending Prospects: Phil Pressey
June 6, 2013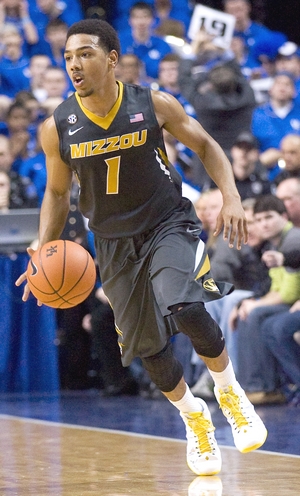 US Presswire



Matt Kamalsky

Last time we checked in on Phil Pressey, he was fresh off a tremendous sophomore campaign during which he quarterbacked one of the best offenses in the last decade of NCAA hoops. Returning to Columbia for his junior season, he faced growing expectations, being named preseason player of the year in the SEC.

The 2013 season brought a changing of the guard for the Tigers, who lost their top four scorers from the previous year, NBA Draft picks Kim English and Marcus Denmon, and hyper-efficient Michael Dixon and Ricardo Ratliffe. Replacing that group with less prolific shooters without extensive high-major experience in Jabari Brown and Keion Bell on the wings and the duo of Laurence Bowers and UConn transfer Alex Oriakhi in the post, it was clear coming in, for better or worse, that the team would rely more heavily on Pressey both as a scorer and facilitator in 2013.

Standing a shade under 6-feet tall with a 6'2.25 wingspan, Pressey doesn't have ideal size for a point guard prospect, but he does have very good quickness, which has been the basis for much of his success at the college level over the last three seasons and is certainly one of his best tools as a potential pro.

At his best using his speed to spark the break and handle to turn the corner on the pick and roll, Pressey was one of the most dynamic playmakers in the country last season. Doing a tremendous job getting his teammates involved and ranking as the third best assist man per-40 minutes pace adjusted among our top-100 prospects, Pressey was able to get to where he wanted on the floor and make plays with impressive court vision and creativity.

It is Pressey's creativity on the pick and roll that is perhaps his most intriguing offensive skill as a prospect. Delivering the ball between, around, and over defenders to his roll man, cutters, and spot-up shooters when operating in the two-man game, Pressey looks like the type of player who could make a positive impact as a backup floor general if surrounded by the right pieces. He proved as much his sophomore year.

The question for Pressey moving forward is whether he can he improve his efficiency both as a passer and scorer to complement his playmaking. For all the positive things Pressey does as a passer, he still struggles with his decision-making at times, ranking as the most turnover prone player among our top-100 prospects.

When he looks to score, Pressey is limited by his size and less than stellar pull-up jump shooting. Though he's a fairly capable shooter from beyond the arc with his feet set, he made just 34% of his pull-up jump shots, 37% of his runners, and 39% of his shots at the rim last season according to Synergy Sports Technology. Considering nearly 80% of his possessions came as a ball-handler in transition, isolation, or pick and roll situations, his inconsistency scoring off the bounce will be put under the microscope in individual workouts.

Fearless to a fault with the ball in his hands, Pressey's play down the stretch of close game was spotty at best, and his willingness to try and force the issue to help his team, whether as a facilitator or passer, was met with mixed results. The absence of versatile second point guard Michael Dixon in Frank Haith's lineup was certainly a factor in just how much ownership of the Tigers' offense Pressey sought to assume. Despite his shortcomings, Pressey has had his moments over the last two seasons, carrying his team for stretches with impressive confidence amid high-turnover and poor shooting games.

Pressey's assertiveness spills over to the defensive end where he tends to improvise to try and force turnovers. Coming up with 2 steals per-40 minutes pace adjusted, Pressey likes to gamble. He will need to shore up his focus on this end of the floor as he faces a major challenge in overcoming his lack of size. Possessing solid quickness, Pressey will need to emerge as a better ball hawk to help compensate for the difficulties he'll face contesting shots and defending taller guards in the post due to his diminutive size.

One of the most productive passers in college basketball last season, Pressey certainly looks the part of a backup floor general thanks to his ability to create for others on the pick and roll. Whether he can become more than that depends on what more he can bring to the table as a decision-maker, scorer, and defender down the road. He'll certainly be in play throughout the second round as a player who seemingly could fit in very well on a team flush with bench scoring that isn't already committed to a backup point guard.

[Read Full Article]

---
NBA Combine Interviews: Pressey, Curry, Siva
May 22, 2013
[Read Full Article]

---
Top NBA Draft Prospects in the SEC, Part Two (#2-5)
October 24, 2012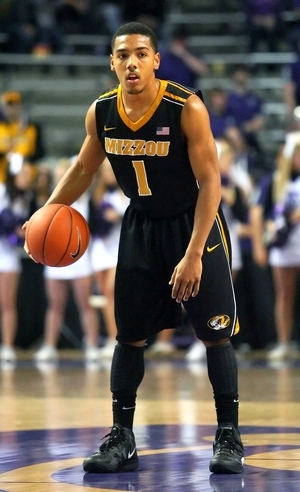 US Presswire



Derek Bodner

Controlling the reigns of the Missouri Tigers offense, Phil "Flip" Pressey guided the nation's most efficient offense to a 30-4 record before their disappointing loss to Norfolk State in the first round of the NCAA tournament.

With new coach Frank Haith, Missouri operated at a much slower pace, and this style of play suited a pure point guard in the mold of Phil Pressey better than the frenetic tempo played by Mike Anderson's squads in previous years.

Pressey responded by posting 7.9 assists per 40 minutes pace adjusted, which is the top figure among returning prospects in our top-100 rankings. He also ranks #1 in Pure Point Rating, by a fairly wide margin. Pressey was able to take advantage of the considerable offensive talent he had around him, as he displays excellent court vision, with the ability to make both the flashy no-look pass off the dribble and the routine kick-out to the open shooter in the corner. Pressey does an excellent job of having his head up and his eyes always surveying the floor, seeing lanes across the court and through traffic that you wouldn't expect someone of his short stature to be able to see,

Pressey was particularly dangerous as a passer when he got into the lane, showing very good vision and creativity in hitting the big man diving to the basket and constant awareness of where the three point shooters were stationed as outlet valves. He was able to get into the lane with regularity thanks to his excellent combination of quickness and ball-handling ability, as he has a very low and tight dribble, always having complete control over the ball. He has a very good crossover, and overall has a tremendous amount of misdirection moves when he can't get by his defender with pure quickness alone.

Missouri also put Pressey in plenty of pick and roll situations. His combination of quickness, ball-handling, and ability to shoot off the dribble presented a tough cover in these sets, and he once again was able to use this to get into the lane and create scoring opportunities for his teammates. He was also able to use these sets to create offense for himself, as he showed excellent ability to shoot off the dribble, needing very little space and time to get off a jump shot with his short, compact release. Pressey has a very good, repeatable form and good touch on his jump shots, and this is overall his biggest weapon when generating his own offense. He still isn't terribly consistent in this area, though, only converting 36.5% of his 3-pointers last season, and 34% of his overall jumpers. Part of this has to do with his shot-selection, which can be questionable on occasion, and part of this might have to do with his lack of size. NBA scouts will surely want to see him become more consistent in this area.

When Pressey gets into the lane and is forced to score on his own, some of his deficiencies show up. He has very good touch and body control, but his lack of size and strength prevent him from finishing at the rim at the rim at a high rate, and he struggles to finish through contact. He converted just 47% of his attempts around the basket last year according to Synergy Sports Technology, which is a below average rate, and doesn't draw a great deal of fouls. He also tends to get slightly out of control at times, frequently leaving his feet without having an outlet to pass to, which results in some turnovers or forced shots and passes that have little probability of success. Further developing his floater and short pull-up game could help him avoid these situations and present him new opportunities to score.

Measuring in at just 6-0, and 178 pounds, with a 6-3 wingspan, Pressey's size and strength presents some obvious problems on the defensive side of the ball when trying to project him to the NBA. He moves his feet fairly well laterally, but his lack of length makes it hard for him to adequately contest shots, and his lack of strength makes it hard for him to fight through screens. He also has a tendency to gamble a bit too much. This results in a very impressive 2.6 steals per 40 minutes pace adjusted, but it also has a tendency to put his teammates in a tough rotation to cover up for him when the gamble does not pay off.

With the graduation of Marcus Denmon, Ricardo Ratliffe, and Kim English, Phil Pressey and the Missouri Tigers are going to have a lot of offensive talent to replace, and Pressey will have lost some of his favorite targets. How Pressey continues to find the right balance between passing and scoring will be interesting to watch. If Pressey can prove he can score efficiently from inside and outside the arc, his combination of shooting, court vision and feel for the game should make him a coveted option considering the demand in today's NBA for pure point guards who can create for themselves and others.

[Read Full Article]

---