Przemek Karnowski
Recent Tweets
All Tweets
DraftExpress: Przemek Karnowski is a huge get for Gonzaga. Would be a McD's All-American type recruit in the US for sure. DX Profile: http://t.co/5MMCjDZN
2012-05-02 11:01:32
DraftExpress: RT @ChristopheEPcom: We were told by @rafjuc that Przemek Karnowski and Mateusz Ponitka will play at the @nikehoopsummit this year. Grea ...
2011-03-18 06:17:07
Team: Gonzaga, Senior
Physicals
Positions
Rankings
Misc
H: 7' 1"
W: 294 lbs
Bday: 11/08/1993
(22 Years Old)

Current: C
NBA: C
Possible: C

Rank 36 in NCAA Seniors

High School:
Hometown: Bydgoszcz, Poland

Predraft Measurements
| Year | Source | Height w/o Shoes | Height w/shoes | Weight | Wingspan | Standing Reach | Body Fat | No Step Vert | Max Vert |
| --- | --- | --- | --- | --- | --- | --- | --- | --- | --- |
| 2014 | Nike Skills Academy | NA | 7' 1.5" | 294 | 7' 0" | NA | NA | NA | NA |



Basic Per Game Statistics

- Comprehensive Stats - Statistical Top 25s
| Year | League | Name | GP | Min | Pts | FG | FGA | FG% | 2Pt | 2PtA | 2P% | 3Pt | 3PtA | 3P% | FTM | FTA | FT% | Off | Def | TOT | Asts | Stls | Blks | TOs | PFs |
| --- | --- | --- | --- | --- | --- | --- | --- | --- | --- | --- | --- | --- | --- | --- | --- | --- | --- | --- | --- | --- | --- | --- | --- | --- | --- |
| 2015/16 | NCAA | Przemek Karnowski | 5 | 24.8 | 8.8 | 3.8 | 6.4 | 59.4 | 3.8 | 6.4 | 59.4 | 0.0 | 0.0 | &nbsp | 1.2 | 2.6 | 46.2 | 1.0 | 4.4 | 5.4 | 1.2 | 0.8 | 0.6 | 2.4 | 2.0 |

Player Page&nbsp&nbsp| Player Stats | Mock Draft History | Related Articles&nbsp&nbsp| Add to My Draft Express&nbsp
&nbsp
Top NBA Prospects in the Non-BCS Conferences, Part 8: Prospects #16-20
November 12, 2015
Jacob Eisenberg

Before Przemek Karnowski came to Gonzaga, he was a headlining talent in a class of European teenagers moving stateside to play in the NCAA. In his first season in Spokane, the native of Poland lived up to the hype, leading scouts to gush about his combination of size, skill, smarts and potential. Now a senior, Karnowski has been steady in his three years at Gonzaga, but hasn't quite taken the leap to stardom that many expected. At 22 years old, he'll need a big senior season for his draft stock to recover.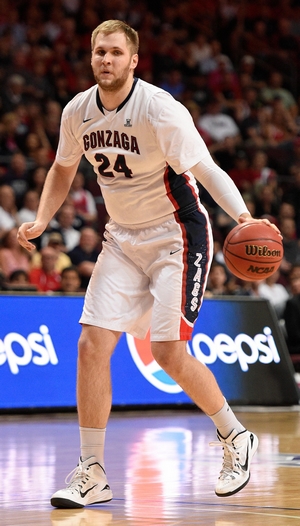 US Presswire



At 7'1 and 288 pounds (and with a 7'0 wingspan), Karnowski can match up in height and size with practically any opponent in the NCAA, even if his length leaves a lot to be desired from a player at his position. He's learned to coalesce his physical acumen with mental restraint – showing a significant drop-off in fouls per-40 minutes from his sophomore to junior season. On offense, he uses his strength well on the interior, shifting around in the paint with good agility for a player of his size.

Karnowski's bread and butter is his ability to score inside the post, with an overwhelming 75% of his touches coming with his back to the basket according to Synergy Sports Technology (including passes). Last season, he shot over 60% from the field in these situations, the third best rate in the NCAA among returning prospects. He's a lefty, which adds a dimension of intrigue and deception to his effectiveness on the interior. While adept with both hands, Karnowski's favorite move involves barreling into his opponent with his right shoulder and gathering for a lefty hook with his shoulder to the basket.

Outside of the paint, Karnowski has decent touch on his release but is a highly reluctant shooter, taking only ten jump shots last season – per Synergy. The fact that he is a career sub-50% free throw shooter indicates that he still has quite a bit of work to do before he can be considered even a decent threat from outside of the paint.

Beyond his scoring instincts, Karnowski is a talented offensive player with impressive passing acumen. He's a gifted passer with a hunger for flash; he'll dazzle with behind the back passes and no-look drop-offs through tight spaces. Last season, Karnowski embraced a minor facilitating role and witnessed a dramatic increase in assists (from 1.2 per-40 minutes as a sophomore to 2.2 as a junior while his assist rate also nearly doubled from 6% as a sophomore to 10.9% last season.)

Often times there's more flash than substance behind Karnowski's passing and Mark Few would undoubtedly prefer him to hold back on some of his highlight attempts. He averaged 3.0 turnovers per-40 minutes last season, and coughed the ball up on 17% of his overall possessions.

Karnowski has never been a great rebounder, which makes sense considering his average length and lack of explosiveness, which makes it difficult for him to pursue loose balls outside of his area. Last season, Karnowski grabbed 9.3 rebounds per-40 minutes, a fairly pedestrian rate, down from the more acceptable 10.8 rebounds per-40 he posted as a sophomore.

Defensively, Karnowski also saw a regression as a rim protector. He averaged just 1.6 blocks per-40 minutes as a junior (after 2.7 per-40 as a junior). This may have been a result of him playing more conservatively in an effort to lower his foul rate, an effort he largely succeeded with by lowering his fouls per-40 from 4.5 to 3.7. He has mastered the art of getting in position to draw charges, which is likely a better strategy for him considering his athletic limitations.

Still, at his size, Karnowski is largely restricted to the interior defensively. He's too slow on close outs to effectively change shots and he has trouble keeping up with quicker athletes out of the pick and roll.

Overall, Karnowski has the size and skill-level to be an effective NBA player, at least on the offensive end of the floor, but his potential as a defender and rebounder may hurt his chances with the stylistic changes that the league is going through. Changing his body and slimming down significantly would likely help his chances at the pro level, but after four years with little change from a physical standpoint, that may simply not be possible.

With Gonzaga expected to be an elite team again this season, and competing against another very strong schedule, Karnowski will certainly get the exposure to show that he has what it takes to make it at the next level.

[Read Full Article]

---
Top NBA Prospects in the Non-BCS Conferences, Part 7: Prospects #10-13
November 5, 2014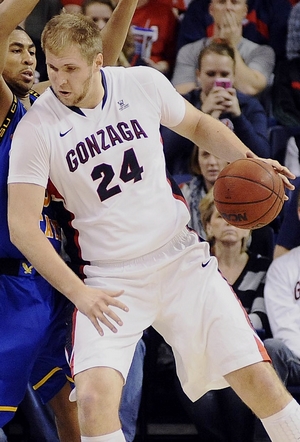 US Presswire



Kyle Nelson

One year ago, Przemek Karnowski sat atop our Top NBA Prospects in the Non-BCS Conferences preview after coming off an intriguing freshman season that hinted at sophomore dominance. He never quite met these expectations, however, struggling through an inconsistent sophomore campaign before logging his best two performances, a pair of double-doubles, against Oklahoma State and Arizona in the NCAA Tournament.

On the eve of the 2014-2015 season, Gonzaga now has arguably the best frontcourt outside of the BCS Conferences with Kentucky transfer Kyle Wiltjer and heralded freshman Domantas Sabonis joining Karnowski in the post, and is poised to make a deep run in March. Can Karnowski take another step forward in his development as a junior?

At 7'1 with a 7'0 wingspan and a massive 294-pound frame, Karnowski has outstanding size, but average length, for the center position. He runs the floor fairly well for a player his stature, shows solid mobility in the post, and is decently explosive around the basket. Additionally, continuing to slim down would go a long way in maximizing his athleticism. Though his movements can be a bit mechanical at times, his combination of size, strength, and athleticism puts him into a rare class of players at the collegiate level and situates him well looking towards a NBA future.

On the offensive end, Karnowski's per-minute production declined between his freshman and sophomore seasons, as his playing time increased by 150%. Becoming less of a focal point in the offense when he was on the court, Karnowski scored 16.5 points per 40 minutes pace adjusted on an efficient 59% 2P%. According to Synergy Sports Technology, nearly 60% of his overall touches came in post-up situations, and nearly all of his shot attempts came inside the paint.

Karnowski did a very good job of carving out space and receiving the ball with his back to the basket due to his width, strength and soft hands. Karnowski's post game is not particularly polished at this stage, but he already shows a solid repertoire of post moves, including a variety of hooks, drop steps, spin moves and turnaround jumpers. His turnaround jumper, in particular, is a welcome addition to his post game and is very difficult to defend. Continuing to improve his repertoire of countermoves, and becoming more explosive would help him finish even more of the many post-opportunity he's able to generate each game with his size and skill-level.

A majority of Karnowski's possessions come out of traditional post up situations, but he also does a good job of scoring off of cuts where his soft hands and touch allow him to finish efficiently. He converted a fantastic 71% of his shots around the basket in non-post up situations, despite the fact that he plays largely below the rim. Finally, Karnowski did an outstanding job of drawing contact and getting to the foul line, attempting 8.0 free throws per 40 minutes pace adjusted, even if he only made a dismal 50.3% of his attempts, which means he left a lot of points at the free throw stripe.

There are two areas in which scouts will be looking for improvement from Karnowski moving forward: as a scorer out of the pick-and-roll and as a jump shooter. Karnowski will likely see many possessions as the roll-man and will need to improve his ability to quickly set screens and then dive to the basket, as well as his finishing ability off two feet in traffic. On a similar note, Karnowski still shows very little in terms of jump shooting, still more or less confined to turnaround jumpers, while continuing to be a very poor free throw shooter, which makes him fairly predictable for defenses to scout and game-plan for. Improving in these two capacities, in particular, are essential to his draft prospects moving forward.

On the defensive end of the floor, Karnowski is more or less the same player that we wrote about last year. He looked a bit quicker and better conditioned as a sophomore, but he nevertheless had trouble closing out on shooters and, in a very small sample size, in defending the pick-and-roll. The latter, in particular, seems troubling, given that his difficulties seem related to both his physical tools and his overall awareness. He is still extremely foul prone, as well, averaging 4.5 fouls per 40 minutes pace adjusted, which hinders his ability to stay on the floor.

That being said, he is a load in the paint and does a good job of holding his ground, moving his feet and staying upright. His 2.7 blocks per 40 minutes pace adjusted show a significant improvement between his freshman and sophomore years and scouts will be watching to see if he can continue to develop a reputation as a rim protector as a junior. Finally, he averaged a solid 10.8 rebounds per 40 minutes pace adjusted while grabbing nearly 2 more rebounds per 40 minutes pace adjusted on the defensive end.

It will be interested to see whether Karnowski can leverage his intriguing, albeit inconsistent sophomore season into a breakout junior campaign. After all, there are few, if any, players in the West Coast Conference with Karnowski's combination of size and skill, and Gonzaga's balanced inside-outside attack should give him plenty of room to operate in the post. Likewise, matchups against Arizona, UCLA, Memphis, SMU, and possibly St. John's should give scouts a good idea of his progress against NBA caliber athletes. A productive year will do wonders for his draft stock and a big season in Spokane will help scouts and fans alike to forget about his inconsistent sophomore season very quickly.

[Read Full Article]

---
Top NBA Prospects in the Non-BCS Conferences, Part One: (#1-5)
October 29, 2013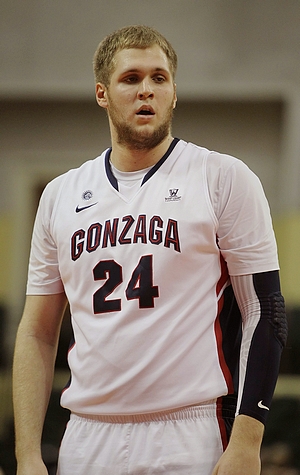 US Presswire



Matt Kamalsky

Upset in the NCAA Tournament round of 32 by an upstart Wichita State team that made it all the way to the Final Four, Mark Few's Gonzaga Bulldogs nonetheless had a season to remember, winning 32 games with a deep roster with a growing international presence. The team's newest foreign import a season ago was 7'1 Polish freshman Przemek Karnowski who averaged 5.4 points and 2.6 rebounds in 10.7 minutes per-game coming off the bench behind the team's NBA-bound frontcourt of Kelly Olynyk and Elias Harris.

What makes Karnowski intriguing isn't just what kind of player he could become in the next few years, but also how he made it to the NCAA in the first place. The first time we wrote about the massive center, he was fresh off helping the talented 1993-born generation that comprised Poland's U17 National Team to a surprising second place finish at the 2010 U17 World Championship in Hamburg, Germany. Watching Karnowski's All-Tournament Team performance alongside a litany of NBA front office personnel was Gonzaga assistant Tommy Lloyd who had made the trip to watch junior point guard Kevin Pangos compete for Canada.

Karnowski has been considered one of the top European prospects in his generation for some time now. He emerged as one of the top centers in the lower levels of Polish basketball, but continued to gain exposure internationally during the summer of 2011 competing in the Nike Hoop Summit and at the U19 World Championships. During the 2011-2012 season, he averaged 10.1 points and 4.1 rebounds per-game as a rookie in the Polish first division with Siarka Tarnobrzeg, setting himself up to be among the most valuable young commodities in all of Europe with his size and skill level.

Despite the trajectory of Karnowski's career in Europe, rumors of his desire to play college basketball persisted and overtures from the Gonzaga staff ultimately landed his commitment in May of 2012. While it is not unprecedented for a top European prospect to retain their amateur status to facilitate a jump from a professional league in their respective country to the NCAA, it is far from a common occurrence considering the short-term financial ramifications.

Already firmly on the NBA radar when he arrived in Spokane as a freshman, Karnowski started strong, scoring 22 points in his NCAA debut against Southern Utah, but struggled with his conditioning and the depth of Gonzaga's roster for much of the season. Putting together a handful of strong performances nonetheless, he spent the majority of the season on the bench as Kelly Olynyk became one of the most productive players in the country, playing sparingly most nights and not having much opportunity to show what he can do at the college level.

That'll change this season as Karnowski and senior Sam Dower look to replace Harris and Olynyk up front. As Sports Illustrated's Luke Winn outlined a few months ago, Karnowski used a significant percentage of Gonzaga's possessions (27%) when he was on the floor last season, and should see his production expand significantly with added playing time.

Standing 7'1 and weighing 305-pounds according to Gonzaga, Karnowski has excellent size for a center at any level. Spending the summer competing internationally for Poland in its dominant run to the U20 Division B Championship and with the country's Senior National Team at the Eurobasket in Slovenia, he enters his sophomore season in considerably better shape than he was in a year ago. Though he possesses below average foot speed and athleticism on the whole, Karnowski's size and back-to-the-basket ability will allow him to add a different dimension to the Gonzaga offense when he's on the floor.

Skill-wise, Karnowski is far from flashy, but has strong fundamentals and a good feel for the game. His size lets him establish deep position and move bodies in the post, and his soft hands make him a very reliable target in the paint. He isn't an explosive leaper, but his soft touch made him a dangerous threat in close in limited touches last season, helping him make 55% of his 2-point attempts. In one-on-one situations on the block, he can score with hook shots over either shoulder and shows good passing ability with his back to the basket. Away from the basket, Karnowski has considerable room for improvement. Though he has shown the ability to hit 15-footers on occasion throughout his career, he hasn't translated that aspect of his game to the college level and shot a dismal 47.1% from the line last season.

Defensively, Karnowski is a solid rebounder and has the strength to hold his own in the post, but his lack of footspeed and underwhelming leaping ability severely limit his ability to keep up with quicker players away from the basket and hamper his shot-blocking presence. NBA decision-makers will be closely monitoring how his body improves in the coming seasons and what if anything that means to his athletic ability and defensive potential.

Looking ahead, Karnowski will be one of the more intriguing prospects to follow at the mid-major level this season. He'll certainly have the opportunity to solidify himself as an early entry candidate and could factor into draft conversations as early as next summer should he have a breakout season.

[Read Full Article]

---
Nike Hoop Summit Scouting Reports: International Forwards/Big Men
April 15, 2011
Walker Beeken

Polish center Przemek Karnowski impressed many who saw him at the 2010 U-17 World Championships in Hamburg, where he helped lead Poland to silver medal. He ended up playing just over 7 minutes in the game at the 2011 Nike Hoop Summit, however, which was less than any other player from either squad. The World Team was pretty deep at the big positions, and with Karnowski being so overmatched from an athletic point, it's likely that Coach Roy Rana figured his other big men gave them a better chance to compete.

Karnowski was by far the biggest player on either roster, measuring at 7'1" and 279 pounds. His body needs some trimming up (16.3% body fat), and he lacks ideal athleticism, but he has some very nice tools for such a young player at his size.

He showed the ability to comfortably catch the ball and makes plays with his back to the basket and facing up, as well as a high basketball IQ for a big man, throwing some heady passes out of the post and to open cutters when facing up on the perimeter.

Karnowski also shoots the ball very well for a big center, with range close to the 3-point line at this stage, which will likely only continue to improve. He also showed some post moves and an overall high skill level. Learning to utilize his skills against higher level athletes will likely be an adjustment for him, and will probably take some time, as he's still only 17 years old.

Defensively, Karnowski is a liability against more mobile big men, and below average length, explosiveness and conditioning prevent him from being a big factor as a shot-blocker. He seems to be a pretty smart player, and he certainly takes up space in the paint and showed some toughness on the glass, but his agility would be an issue in defending pick-and-rolls and keeping up with more mobile big men running the floor.

Overall, Karnowski is clearly a player that is worth keeping an eye on, as players with his size, girth, skills and feel are incredibly tough to come by. How he fares on his next team—be it in the NCAA (rumored to be a strong option) or as a professional in Europe—will likely tell us quite a bit about his long-term potential as a NBA player. How far he comes with his conditioning level will likely play a big factor in his future success.

[Read Full Article]

---
2011 Nike Hoop Summit: International Measurements
April 4, 2011
Przemek Karnowski
Weight: 279 lbs.
Height (w/o shoes): 6'11.25"
Height (w/ shoes): 7'1"
Wingspan: 7'0.5"
Body Fat: 16.3%
Standing Reach: 9'0.25"

[Read Full Article]

---
FIBA U-17 World Championships: Top International Prospects
August 7, 2010
Left-handed Polish center Przemyslaw Karnowski had one of the better showings of any of the international players in Hamburg. He was the main facilitator and, at times, the go-to guy for the biggest surprise team of the tournament.

6-11, with a massive frame, Karnowski is a presence anytime he steps on the court. He establishes deep position in the post and has a solid back to the basket game, showing nice touch and a solid fade-away jumper that he likes to go to on the block. With that said, Hhis best asset clearly revolves around is his passing ability, though. He regularly whips terrific passes all over the floor with excellent timing, drawing comparisons to Brad Miller in the process. Like Miller, he can also step outside the paint and comfortably make jumpers with solid range.

Karnowski is a below average athlete at best. He's a below-the-rim type of player who lumbers up and down the floor. This affects him primarily on the defensive end. He lacks the lateral quickness to stay in front of more athletic opponents who attack him off the dribble. Though Karnowski shows nice timing blocking shots defending on the ball, he is not a presence at all rotating from the weak side. His conditioning is poor—he could stand to lose a good 105-120 pounds—and this really shows late in games, when he struggles to run the court. Karnowski does a good job cleaning the glass in and around his area, but he projects as a below average rebounder at the pro level due to his physical limitations.

On the plus side, Karnowski is a smart, competitive guy who has yet to turn 17 years old and already has intriguing characteristics that can't be taught. It will be interesting to follow his development over the next few seasons and see how he continues to improve athletically and skill-wise.

[Read Full Article]

---