Quincy Acy
Recent Tweets
All Tweets
DraftExpress: At #37 Toronto picks Quincy Acy. We nailed that one too, thanks to some strong intel from Baylor head coach Scott Drew. Thanks Coach!
2012-06-28 10:53:14
DraftExpress: RT @chrislittmann: Bradley Beal, Kidd-Gilchrist, Johnson-Odom, Bernard James, Kris Joseph, Quincy Acy working out for #bobcats tomorrow.
2012-06-17 07:17:31
DraftExpress: For those arguing, check where Quincy Acy ranks amongst PF prospects in defensive rebounding per-40 pace adjusted: http://t.co/qHdqdgFC
2012-03-25 04:43:49
DraftExpress: Quincy Acy and Perry Jones giving Baylor virtually nothing on defense today. Not rotating. Not hustling. No intensity. Almost invisible.
2012-03-25 03:11:56
DraftExpress: DX Trending Prospects 1/6: Updated Scouting Reports on Herb Pope, Eric Griffin, Otto Porter & Quincy Acy http://t.co/ZwvlgOYa
2012-01-06 05:51:49
Team: Raptors College Team: Kings
Physicals
Positions
Rankings
Salary
Misc
H: 6' 8"
W: 224 lbs
Bday: 10/06/1990
(25 Years Old)

Current: PF
NBA: PF
Possible: PF

RSCI: 129

Agent: Michael Silverman
Current Salary:$915,243

High School: John Horn
Hometown: Mesquite, TX
Drafted: Pick 37 in 2012 by Raptors
Best Case: Hakim Warrick
Worst Case: Alex Tyus

Predraft Measurements
| Year | Source | Height w/o Shoes | Height w/shoes | Weight | Wingspan | Standing Reach | Body Fat | No Step Vert | Max Vert |
| --- | --- | --- | --- | --- | --- | --- | --- | --- | --- |
| 2013 | Eurocamp | 6' 7" | 6' 8" | 224 | 6' 11" | 8' 9.5" | NA | 28.5 | 30.5 |
| 2012 | NBA Draft Combine | 6' 6.5" | 6' 7.75" | 224 | 7' 2.75" | 8' 10.5" | 7.1 | 32.0 | 37.0 |



Basic Per Game Statistics

- Comprehensive Stats - Statistical Top 25s
| Year | League | Name | GP | Min | Pts | FG | FGA | FG% | 2Pt | 2PtA | 2P% | 3Pt | 3PtA | 3P% | FTM | FTA | FT% | Off | Def | TOT | Asts | Stls | Blks | TOs | PFs |
| --- | --- | --- | --- | --- | --- | --- | --- | --- | --- | --- | --- | --- | --- | --- | --- | --- | --- | --- | --- | --- | --- | --- | --- | --- | --- |
| 2015/16 | NBA | Quincy Acy | 9 | 11.2 | 2.3 | 0.9 | 1.7 | 53.3 | 0.7 | 1.2 | 54.5 | 0.2 | 0.4 | 50.0 | 0.3 | 0.7 | 50.0 | 0.6 | 1.4 | 2.0 | 0.7 | 0.2 | 0.2 | 0.4 | 1.3 |

Player Page&nbsp&nbsp| Player Stats | Mock Draft History | Related Articles&nbsp&nbsp| Add to My Draft Express&nbsp
&nbsp
Trending Prospects (1/6/2012)
January 6, 2012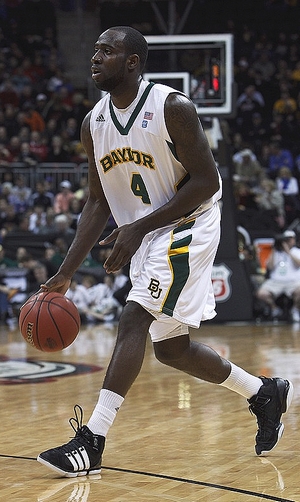 Icon SMI



Joe Treutlein

After a breakout junior season, Quincy Acy is continuing his strong play as a senior, making some subtle improvements to his game, being a key player on Baylor's #4 ranked squad, and continuing to be a regular fixture on Sportscenter highlight reels.

The first thing to notice about Acy is he's finally gotten around to filling out his frame some, adding some lean mass to get thicker in the upper body without sacrificing any athleticism for it. He's still undersized by power forward standards and probably isn't capable of adding much more bulk without negative side effects, but this should help him finishing through contact projecting to the next level, and certainly will be useful if he figures out how to apply it on the defensive end.

On the offensive end, Acy has shown some minor strides with a few of his skills, looking more comfortable in most areas and continuing to round out his game. He's seeing even more touches playing with his back to the basket this season after a big increase last year, and does a very good job finishing against college competition in these situations. He shows very good touch around the basket and settles for mostly high-percentage shots, while also having an explosive drop-step in his arsenal to take advantage of his physical tools.

Acy's finesse post game is not nearly as refined, as his right-handed hook shot is pretty weak when he isn't right near the basket, and the problems still remain about his post-game in general likely not translating well to the next level due to his lack of size. Still, his continued improvement here can't hurt him, and he could make use of this game at times in smaller lineups, at least to keep defenses honest.

The more intriguing developments in Acy's game are on the perimeter, where he's still a very raw player and a ways away from making consistent NBA-level contributions, but there are some interesting flashes to take note of. Acy's free-throw percentage is up slightly once again, from 68.5% to 74.7%, and he's also hit two of three three-point attempts on the season, the first makes of his career.

Acy's jump shooting form looks significantly improved from last season, mainly in that he's doing a much better job getting his feet under him and staying balanced, looking pretty comfortable on the two open threes he did knock down. He also looks decent on his few spot-up mid-range attempts, and has the makings of a solid pick-and-pop threat in time.

Acy is obviously still very early in his development in this aspect of his game, but given he just turned 21 three months ago and has shown a pronounced learning curve in his time in college, this is certainly something NBA teams will be aware of and will likely test in pre-draft workouts. How Acy continues to improve in this area in his pre-draft training could be very helpful to his stock, and at the least could help him get into the league in the future if he continues improving.

While Acy's improved post game is helping him at the college level and his developing jumper could help him in the NBA down the road, the key aspect of his game from an NBA perspective remains his ability to finish off the ball around the basket, where his athletic tools and awesome length make him a very dangerous threat.

This hasn't changed, as he's still a very potent finisher on cuts and offensive rebounds, which should translate well to the NBA in the right situation. There's also some potential for Acy to contribute more consistently in this regard, as he isn't frequently used on pick-and-rolls or in transition opportunities, two areas where he could see more touches, not unlikely given the stylistic tendencies of the NBA.

On the defensive end, Acy's development remains fairly unimpressive, as he just doesn't show the same consistent energy level and is still lagging from a fundamentals standpoint. Acy's improved strength is helping him some in the post, and his excellent length is useful in contesting shots, but he shows little concept of leverage and is often backed down and/or shot over by the opposition with relative ease.

His perimeter defense is even less impressive, as he doesn't have the discipline to stay down in his stance and often looks very uncomfortable against pick-and-rolls, not being very effective in this regard. His rebounding is up slightly on a 40-minute basis, but he's still just an average rebounder overall, and will likely need to improve there to find a long-term spot in the league.

Considering that any role he plays in the NBA will likely revolve heavily around rebounding and defending, his shortcomings in this area, and more importantly the lack of intensity he displays, will certainly not work in his favor.

Looking forward, Acy obviously has some intriguing tools from an NBA perspective, but is obviously at a disadvantage given his size and still developing skills on both ends of the floor. Acy's improvements in the past two seasons are definitely very helpful to his cause, but he could help himself most in the short term by really applying himself better on defense and the glass, two areas he can make strides rather quickly if he applies himself more diligently.

[Read Full Article]

---
Trending Prospects (12/30/2010)
December 30, 2010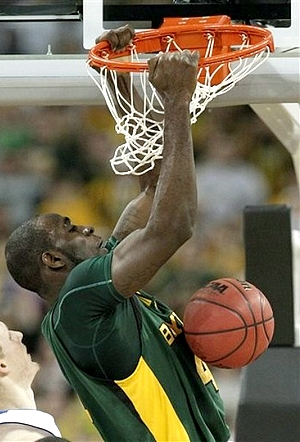 AP



Jonathan Givony

Quincy Acy caught the eye of many NBA scouts with his strong play at the adidas Nations experience in Chicago this summer, separating himself for his peers with his terrific blend of toughness, intensity and explosiveness. He's continued to make a name for himself through the first half of the season thus far, showing improvement in many key areas and solidifying himself as a legitimate NBA prospect.

With Ekpe Udoh off to the NBA, Acy's playing time has increased, but his production is up across the board even when accounting for minutes played. Acy's scoring, rebounding, assists, steals, blocks, free throw attempts and free throw percentage have all improved substantially, even if his larger role in Baylor's offense has caused his efficiency to drop quite a bit. While last year he shot almost 70% from the field (an insanely high rate), he's come down to earth in a major way and is converting a much more "normal" 52%.

That tells us a little bit about the role Acy has transitioned into this season. Whereas last year 75% of his shot opportunities came on plays created for him around the rim by teammates- off cuts to the baskets, offensive rebounds and in transition, this year that number has dropped to 58%, as he's seeing a lot more opportunities in post-up situations, isolation plays and shooting jumpers.

While NBA teams surely won't be running any plays for him on the perimeter or in the post, this improved ability to step out and make a mid-range jumper is a promising sign for Acy's future. Only 11 games into the season, Acy has already hit more jump-shots than he did in all of last season, while upping his free throw percentage to a respectable 73.3%. The fact that he needs to be guarded—if only somewhat—separates him a bit from other undersized energy guys in the NBA such as Lou Amundson, Reggie Evans and Chuck Hayes. Not what you would call a skilled player by any means, he still has a ways to go in this area, but the fact that he's making strides here is notable.

Acy continues to contribute in other areas you would expect—by running the floor in transition, crashing the offensive glass, and diving to the paint. His outstanding length and explosiveness allows him to finish with ease around the basket, and he relishes any opportunity he has to throw-down dunks in emphatic fashion, often trying to tear off the rim in the process. Despite his lack of size and average bulk, he takes the ball up about as strong as possible, not being afraid of drawing contact in traffic, and getting to the free throw line at a pretty nice rate in turn.

Defensively, Acy seems to have taken a step back this season, which is a bit concerning considering the role he'll be asked to play in the NBA. He doesn't show anywhere near the same intensity he does offensively, not doing a very good job of bodying up his man to keep him from catching the ball deep inside the paint, seemingly thinking he'll be able to recover quickly enough to block his shot instead. His fundamentals leave a lot to be desired, as he'll regularly get burned biting on pump fakes, looks extremely upright trying to guard the perimeter, and rarely bends his knees and gets down in a proper defensive stance.

Acy's foul-rate has dropped by over 60% this season, and that doesn't seem to be because he's playing better defense, but rather because he's playing as if he's trying to avoid committing fouls.

As a rebounder, Acy has been slightly more productive this season, but still ranks amongst the middle of the pack as a defensive rebounder compared with other power forward prospects.

With his terrific athleticism and impressive 7-2 wingspan, there's no reason why Acy can't develop into an outstanding defender and rebounder, especially when you consider the toughness and intensity we've seen him play with at times—particularly this summer. He already shows very nice timing jumping in passing lanes and as a weak-side shot-blocker, even if he tends to gamble a bit too much. Baylor plays quite a bit of 2-3 zone, which could help explain some of his struggles defensively and on the glass, but looking at his overall profile, it's reasonable to expect a lot more.

To carve out a niche in the NBA, Acy will need to learn to play with the same type of energy and intensity all the time, as that's the only chance he has to make it at his size.

[Read Full Article]

---
Top NBA Draft Prospects in the Big 12, Part Two (#6-10)
September 15, 2010
Kyle Nelson

Baylor junior Quincy Acy does not make much of an impression at first glance, especially considering the fact that he plays in the post. He stands somewhere between 6'6 and 6'7, and though he has a decent frame for his size, Acy is definitely undersized at the collegiate level. He is an elite athlete, however, fluid and quick in the open floor with outstanding explosiveness around the basket. Acy would be an elite athlete in the NBA and he is a highlight-reel waiting to happen whenever he gets the ball in the paint or in transition.

Athleticism defines Acy's offensive game, as the junior is one of college basketball's most prolific, if not most emphatic, finishers around the basket. He shoots an absurd 69.7% FG, ranking second among all prospects in our database last season. He tries to dunk every time he receives the ball inside of 10 feet, displaying his outstanding explosiveness, solid hands, and aggressiveness around the basket. Acy rarely creates offense for himself and was not the focal point of Baylor's offense, but his scrappy attitude and willingness to move without the ball in his hands created many of his offensive opportunities.

While Acy scores off of offensive rebounds and put backs, he played very well off of Baylor's guards, finding over 54% of his offensive possessions cutting to the basket, in pick-and-roll situations, and in transition. Acy's power game often obscures the fact that he is a very good team player, a skill that allows him to find shots despite often being the fourth or fifth most talented offensive player on the floor.

Acy did show some potential on the offensive end last season. Though his footwork is still raw, he has quick feet, which coupled with his athleticism, allow him to finish around stronger and taller defenders. He also must improve his ball handling ability as, at times last season; he showed some potential putting the ball on the floor and driving to the basket. Moving away from the basket, Acy took more jump shots this season and improved his free throw shooting percentage to a respectable 71.6%. Between the curious lack of elevation and inconsistent mechanics that he displays on spot-up opportunities, however, Acy still must improve considerably in order to develop the reputation as a solid shooter at this level.

While Acy likely has to develop into a versatile defensive stopper to make the NBA, he is just average at this point. Despite his athleticism, Acy's lateral quickness looks just above average, even if his quick hands allow him to do some damage face-guarding his man on the perimeter. His awareness on the defensive end is not spectacular, either, and he misses quite a few rotations, leaving his man the space and time to shoot. He does a better job of defending in the post where his explosiveness and strength help him guard bigger post players, especially around the basket. Improving his focus will go a long way in helping him on the defensive end, however, as now he is relying on his athleticism as opposed to working on his fundamentals. For Acy to make it in the NBA he must show that he can defend multiple positions, particularly on the perimeter switching on the pick and roll, at this point he has not yet done that.

Ultimately, it is important to remember that Acy has played only two years of college basketball on an incredibly talented team. Given his improvement, especially on the offensive end, from his freshman season, his future seems bright. While his increased comfort on the offensive end is nice to see, Acy has the potential to be a legitimate prospect because of his energy, athleticism, and relentless playing style. First, he must prove to scouts that he can be as effective and aggressive on the defensive end as he is on offense. Touches will once again be scarce, as Baylor's roster is as deep and talented as ever before, but Acy must continue to be productive and find ways to contribute without the ball in his hands if he wants to prove that he can play a role at the next level.

[Read Full Article]

---
adidas Nations Experience Dunking Drills
September 9, 2010
[Read Full Article]

---