Quincy Miller
Recent Tweets
All Tweets
DraftExpress: RT @nuggetsnews: Source tells me #Nuggets will pick Quincy Miller
2012-06-28 10:53:39
DraftExpress: Five best talents available entering the 20s (in my opinion): Jared Sullinger, Jeff Taylor, Quincy Miller, Doron Lamb, Tyshawn Taylor
2012-06-28 08:33:32
DraftExpress: DX Video Interviews: Royce White, Quincy Miller, Hollis Thompson: http://t.co/VczI29Eq
2012-06-18 12:11:53
DraftExpress: Quincy Miller Video Scouting Report http://t.co/CfeQHsxM Also see Andre Drummond http://t.co/ZDdWJkVi & Thomas Robinson http://t.co/Y8KDl9aj
2012-06-01 04:34:59
DraftExpress: Good question. Depends on Miller's physical results at combine. I like his pedigree. RT @encasrod: ¿Quincy Miller or Moe Harkless? #dxchat
2012-05-26 09:38:38
Team: Red Star
Physicals
Positions
Rankings
Salary
Misc
H: 6' 10"
W: 219 lbs
Bday: 11/18/1992
(23 Years Old)

Current: SF
NBA: SF
Possible: SF

RSCI: 5

Agent: Lance Young
Current Salary:$915,243

High School: Westchester Country Day
Hometown: Winston-Salem, NC
Drafted: Pick 38 in 2012 by Nuggets
Best Case: Poor Man's Kevin Durant
Worst Case: Austin Daye

Predraft Measurements
| Year | Source | Height w/o Shoes | Height w/shoes | Weight | Wingspan | Standing Reach | Body Fat | No Step Vert | Max Vert |
| --- | --- | --- | --- | --- | --- | --- | --- | --- | --- |
| 2012 | NBA Draft Combine | 6' 8.75" | 6' 10" | 219 | 7' 1.25" | 8' 9" | 7.8 | 30.5 | 36.0 |



Basic Per Game Statistics

- Comprehensive Stats - Statistical Top 25s
| Year | League | Name | GP | Min | Pts | FG | FGA | FG% | 2Pt | 2PtA | 2P% | 3Pt | 3PtA | 3P% | FTM | FTA | FT% | Off | Def | TOT | Asts | Stls | Blks | TOs | PFs |
| --- | --- | --- | --- | --- | --- | --- | --- | --- | --- | --- | --- | --- | --- | --- | --- | --- | --- | --- | --- | --- | --- | --- | --- | --- | --- |
| 2015/16 | Adriatic | Quincy Miller | 5 | 16.0 | 8.8 | 3.0 | 8.0 | 37.5 | 2.0 | 3.8 | 52.6 | 1.0 | 4.2 | 23.8 | 1.8 | 2.2 | 81.8 | 1.2 | 2.8 | 4.0 | 0.4 | 0.8 | 1.4 | 1.8 | 1.4 |
| 2015/16 | EURO | Quincy Miller | 5 | 28.2 | 16.0 | 5.4 | 11.2 | 48.2 | 2.8 | 4.6 | 60.9 | 2.6 | 6.6 | 39.4 | 2.6 | 3.6 | 72.2 | 1.2 | 5.2 | 6.4 | 0.8 | 0.6 | 2.2 | 2.8 | 3.0 |

Player Page&nbsp&nbsp| Player Stats | Mock Draft History | Related Articles&nbsp&nbsp| Add to My Draft Express&nbsp
&nbsp
NBA Combine Interviews: White, Miller, Thompson
June 18, 2012
[Read Full Article]

---
Quincy Miller Video Scouting Report
June 1, 2012
Mike Schmitz takes a look at the strengths and weaknesses of Quincy Miller, with the help of Baylor game-film and head coach Scott Drew.






---




More DraftExpress Video Breakdowns:


-Perry Jones Video Scouting Report
-Thomas Robinson Video Scouting Report
-Andre Drummond Video Scouting Report


---


Mike Schmitz is a writer for ValleyoftheSuns, a member of the TrueHoop Network. Follow him on twitter and subscribe to his YouTube page.

[Read Full Article]

---
NBA Draft Prospect of the Week: Quincy Miller
February 24, 2012
Walker Beeken

After establishing himself as one of the premier players in the nation in the high school class of 2011, Baylor's Quincy Miller tore his ACL in December of senior year and missed the remainder of the season and all of the all-star games in the spring.

Despite this setback, the Chicago native still entered college with the expectations of a top recruit, and so far he's done a solid job, emerging as a key member for a 23-5 Baylor squad, including some big games displaying his versatility as a scorer.

Miller has been fairly inconsistent, being held scoreless one game (such as this past Monday at Texas) and going off for 29 points against one of the top teams in college basketball (Missouri late January) in another.

Miller's intrigue from an NBA standpoint starts with the physical tools that he brings to the table, as he possesses great size for a small forward prospect at 6-9, with a wingspan reportedly measured (by Baylor) at 7-4.

His wiry, under-developed frame does not look NBA-ready at this stage, but considering the fact that he turned 19 only a few months ago (November), he should continue to fill out in time.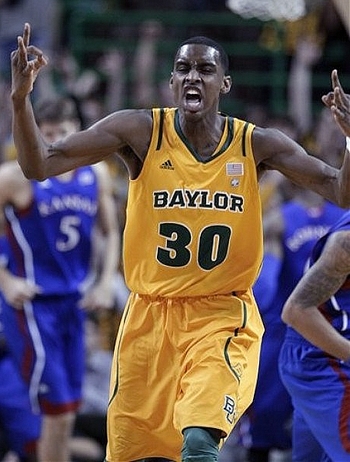 AP



While he isn't the most dynamic athlete and looks to still be getting some of his explosiveness back from his knee injury, he moves very fluidly for a player his size, looking comfortable playing on the perimeter on both ends of the floor.

On top of his physical tools, Miller has a very high skill level for a player at his age and size, most notably his versatility as a scorer.

Coach Scott Drew utilizes him in a variety of ways and has him catching the ball in different areas of the floor off of screens, cuts, spotting up, posting up, or creating for himself in isolation sets or on the fast break.

Miller has shown flashes of being effective in each of these areas and has great potential for growth offensively as he continues to get stronger and more experienced.

This versatility is something that can surely be harnessed in the NBA, which is heavily oriented around exploiting mismatches at different positions. With Miller's ability to create his own shot on the perimeter, make 3-pointers or utilize his superior size in the paint, he could be a very difficult player to game-plan against on a nightly basis, especially considering his solid passing skills.

As a shooter, Miller has been very good for the most part, knocking down a solid 43% of his jumpers so far this season, including an impressive 41% from 3-point range, despite a low, unorthodox release, dipping the ball below his waist and shooting it from above his chest. He's much more effective shooting the ball with his feet set at this stage, as his percentages take a dip when he forced to take a shot under duress, particularly off the dribble.

Quickening the speed of his release would allow him to fully utilize his excellent size and make him much more dangerous from the perimeter considering his terrific touch and instincts as a shot-maker.

Inside the paint, Miller has excellent potential, as he is able to get his shot off almost whenever he wants against collegiate-sized (or even most NBA-sized) small forwards. Despite not always having the strength to establish great position, he can simply rise up off either shoulder and throw the ball in the basket in a variety of ways, be it with jump-hooks, floaters and turnaround jumpers, using the glass, and even when off-balance. As he continues to get stronger and learns to become more physical with opponents, this is a part of his game that could really blossom.

Miller's most impressive attribute might be his ability to create shots off the dribble. He doesn't have the most explosive first step, but he has outstanding scoring instincts, doing a nice job utilizing shot fakes and showing terrific ball-handling skills for a player at 6-9. He's able to put the ball on the floor with either hand and utilize crossovers, hesitations, spin moves, jukes, and step-back dribbles to create separation to get his shot off, with superb body control and very polished footwork.

Watching him grab a rebound and take the ball coast to coast, weaving his way fluidly in and out of traffic, really hammers home how unique his skill-level is at his size.

His lack of strength is apparent as he's attacking the basket, however, as he's often bumped off his path and has trouble finishing in the paint due to his slight frame and average explosiveness. This is evidenced by the fact the he converts less than 50% on his shot attempts inside the arc, ranking him towards the bottom of the small forward prospects in our top 100 rankings.

It will be interesting to see how much more explosive he will get over time considering he's only about 15 months removed from tearing his ACL in December of 2010. This is an injury which at times can take up to 18 months to fully recover from, especially for players lacking in lower body strength, which Miller clearly is. Watching him play, he appears to be still moving gingerly at times, even with a slight limp, which is something teams will surely want to take a closer look at during the pre-draft process.

Defensively, it's tough to get a great gauge on Miller as a man-to-man defender, since Baylor uses a zone as their primary defense. It appears that he'll have quite a bit of work to do, however, as his defensive fundamentals seem to be lacking, as he struggles to get in a low stance on the perimeter and has below average lateral quickness for his position.

Additionally, his focus and energy level are inconsistent, as he doesn't seem to bring the same intensity level from possession to possession, which was clearly an issue for him already in high school. He'll need to improve his toughness, particularly in terms of fighting his way through screens, something that getting stronger will likely help with.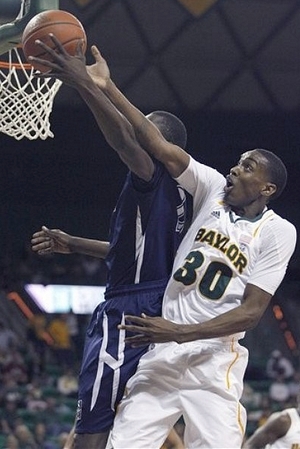 AP



What's intriguing about Miller is he clearly has the potential to be very dangerous on this end of the floor, with his excellent size and length at the small forward position. His 7-4 wingspan enables him to contest opponents' shots even from a half step away from his man, giving him a cushion to take away driving angles.

Even when he gets beat he's often agile enough to still put himself in position to make a play at the rim, helping him get plenty of blocks, steals and rebounds due to his sheer length and anticipation skills.

Regardless of how he progresses with his athleticism, Miller clearly has some attributes that will make him very attractive to NBA decision-makers with his high skill level and scoring ability to go along with his excellent size and length at the small forward position.

His under-developed frame may limit how quickly he'd be able to immediately contribute at the NBA level, but, barring any long-term injury concerns, he has a terrific upside to grow into as he continues to put on strength, improve on the defensive end, and adds polish offensively.

[Read Full Article]

---
Quincy Miller "This is the best thing that's happened to me"
January 5, 2011
It was never a case of Quincy Miller not taking the game of basketball seriously – he did. But like so many gifted youngsters with the world at their feet, standing on the cusp of greatness, he simply didn't know how good he had it. He didn't understand how quickly it could all be taken away. Few ever do.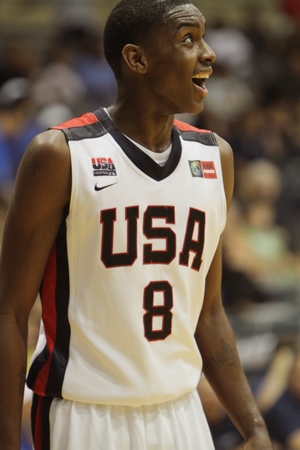 Ross Davis / San Antonio Sports



A native of Chicago, Miller may have been the poster child of his class for this character dynamic. Having burst onto the scene as a junior and continued his assault on the class rankings well into last summer, the 18-year-old made almost as many waves for his confident, bordering on brash nature, as he did for his exceptional play on the court. But then harsh reality reared its ugly head.

For Miller – a consensus top-5 player in the class of 2011 who has drawn comparisons to Kevin Durant for his combination of size and skill – his moment of clarity came less than a month ago. On December 10th, playing in just his fifth game with his new school Westchester Country Day (NC), the 6-foot-9 small forward felt a pop in his left knee. Though player and team remained hopeful for the best, the final diagnosis was in stark contrast to the otherwise optimistic expectations: torn ACL.

Not surprisingly, despite his oft described tough exterior, Miller became emotional upon learning the extent of his injury. No McDonald's All-American game. No Jordan Classic. No Nike Hoop Summit. No more high school basketball. Nothing but time and an arduous seven-month long rehabilitation process that has tested many athletes, far more experienced in the injustices of life than a teenager.

It was then that Neeton Moore, Miller's AAU coach with D-One Sports, sat down with the broken star and painted a very black and white picture. Moore didn't pull any punches, he didn't cut corners and sugar coat things for the youngster. He spoke to Miller man to man and the response has been striking.

"This is probably the best thing that's happened to me, even though it is kind of a negative," Miller says in an explicit tone, almost saturated with perspective. "It's going to give me time to watch what other high school guys do, what I was doing, how I can change and get ready for college. It's going to enhance my work ethic to be even greater than it was before."

"I think he's developed a sense of humility so to speak about the talent he has," adds Moore. "He knows not to take it for granted because it can be taken away so quickly."

Following a successful surgery, Miller began physical therapy within days of the procedure, regaining a full range of motion within the first week, he says. From there, and with his newfound dedication to his craft, the focus turned to improving as a basketball player by any means necessary, without stepping onto the court.

In preparation for the rugged, physical play of the Big 12 he is set to face next year as a freshman at Baylor, Miller is working to gain strength in his upper body. He is watching tape and attending his team's games, observing closely the happenings on the court and in practice. In short, he's becoming a student of the game.

"With him having to sit out and view things through a different lens, he sees the things he could have done on the court and he sees the mistakes that other guys make," says Moore. "He's become almost more of a coach in many ways."

While there's no substitute for consistently playing a high level of competition, certainly a player of Miller's talent stands to gain a considerable edge by observing under proper tutelage and developing into a more cerebral athlete.

Few freshmen enter the college game having spent considerable time studying the game in the manner that Miller now has the opportunity to do. Few have the time to work on their bodies, to get stronger and improve their physical limitations. It's an opportunity the blue chip recruit isn't taking lightly.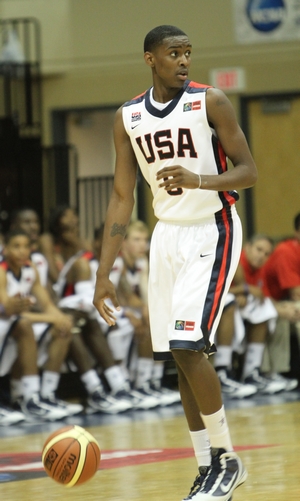 Ross Davis / San Antonio Sports




Brian Clifton – CEO of D-One Sports – has watched Miller blossom from obscure prospect to projected future pro and has seen the developmental process as close as anyone. The change in the young star's mindset, Clifton says, was almost instantaneous once he came to grips with the reality of his injury.

"It's his level of maturity and his desire to prepare that has changed. It's all starting to make sense to him," he says. "It's giving him a greater appreciation for [basketball] and making him take a more business minded approach to the game. He's not sitting around being down about things, he's looking at what he needs to do and he's doing it."

Just in case the counseling and advice he is receiving from the coaches around him isn't enough, Miller is assuredly heeding the words of a former teammate with a similar meteoric rise in the basketball world: John Wall.

Wall and Miller were teammates on D-One two years ago, the same year the current Washington Wizards rookie exploded onto the national scene, elevating himself from relative unknown to the #1 recruit in the country.

The two players formed a close friendship, one that continues today and one that has been fruitful for the younger Miller, manifesting itself into a mentor-student relationship in the last year. Wall has provided a constant stream of guidance since departing for the University of Kentucky last year, preaching to Miller the importance of viewing the game through the lens of a professional, years before he begins being paid as one. Not surprisingly, Miller's realization of his own potential coincided with the rise of Wall's stardom.

"I think when Quincy was able to go on a couple of trips and compete against guys playing at a high level and see them changing their lives through basketball, I think those guys had something in common that maybe he didn't have at that time," says Clifton. "Most kids grow up idolizing big time basketball players, but they don't get the luxury of those guys walking into the gym and saying 'hey, this is how it's done.' Quincy was able to see it living and breathing in front of him."

Miller's tunnel focus has extended beyond improving physically in the wake of his injury, but to his ultimate goal of the NBA. It can wait.

Faced with the possibility that he could be forced to spend two seasons at the college level before entering the draft as part of the new NBA collective bargaining agreement negotiations, Miller doesn't seem to be fazed. Rather than focusing on the potential of being locked out of pro basketball a year longer than he may intend to be – something he does say isn't fair to those select players who are ready to make the jump – Miller maintains his only concern right now is ensuring he is ready to contribute at Baylor.

"If the NBA comes, it comes, but right now I'm just worried about being a great college player and helping my team win games," he says. "I want to be one of the best defensive players in college. I want to be a go-to guy at Baylor. I want to be one of the best."

There will be more questions than anticipation when Miller arrives on Baylor's campus for the 2011-12 season. The limitless expectations will be replaced by the hopes of an entire community for a clean bill of health. There in the center of it all will be a college freshman, hardened by experience, refined by dedication, but not without his trademark swagger. Think Miller is concerned with people writing him off?

"I definitely think people are going to sleep on me, but they're going to wake up."

[Read Full Article]

---
2010 Boost Mobile Elite 24: Quincy Miller Interviews Deuce Bello
September 16, 2010
[Read Full Article]

---
adidas Nations Player Profile: Quincy Miller
August 24, 2010
Video film and production courtesy of Tad Hathaway of 312 Media
[Read Full Article]

---
FIBA Americas U-18 Championships: Top American Prospects
July 5, 2010
6-8 small forward Quincy Miller did a nice job showcasing his talent at the tournament. He looks far more like a true wing player than the face-up power forward he's often listed as. A good, but not incredible athlete, Miller is a highly skilled player with terrific fluidity and excellent body control.

Offensively, Miller likes to create his own shot from the perimeter, where he shows outstanding ball-handling skills considering his age. He's very aggressive taking his man off the dribble and is a significant threat in isolation situations. Miller can also make shots from the perimeter, showing nice touch to compensate for his strange mechanics. He shoots the ball in front of his chest and thus struggles to get good looks off when crowded. This is something he'll need to work on if he's to reach his full potential as a scorer.

Defensively, Miller has all the tools to be excellent, but he doesn't always apply himself, especially when it comes to crashing the glass. That wasn't that much of an issue at this tournament, but it is something we noticed in the past. When motivated, Miller's length, athleticism and instincts make him a significant presence.

There is some talk that Miller will be ranked as the No. 1 prospect in his high school class by the time his senior year is up. He clearly has the potential to warrant that kind of praise, but at the same time he also has plenty of work ahead of him.

[Read Full Article]

---