Rashad Vaughn
Recent Tweets
All Tweets
DraftExpress2: RT @Mike_Schmitz Rashad Vaughn is very talented. Great scoring instincts. 2nd youngest player in the draft. Shot maker. DX Profile http://u2026
2015-06-25 21:33:20
DraftExpress2: RT @SynergySST Rashad Vaughn has big time steal potential. Shot 41% on spot ups 49% on the pick and roll and 38% on Isos. Big time young\u2026
2015-06-25 21:33:16
DraftExpress2: Rashad Vaughn is very talented. Great scoring instincts. 2nd youngest player in the draft. Shot maker. DX Profile http://t.co/5XS7DP1K9L
2015-06-25 21:32:24
DraftExpress2: Rashad Vaughn has big time steal potential. Shot 41% on spot ups 49% on the pick and roll and 38% on Isos. Big time young scorer.
2015-06-25 21:32:20
DraftExpress: 2014 High School Class Scouting Reports the Wings http://t.co/yvnohyHbPP Stanley Johnson Rashad Vaughn Daniel Hamilton Kelly Oubre & more
2013-09-05 15:13:29
Team: Bucks
Physicals
Positions
Rankings
Salary
Misc
H: 6' 5"
W: 199 lbs
Bday: 08/16/1996
(19 Years Old)

Current: SG
NBA: SG
Possible: SG

RSCI: 11

Agent: Jeff Schwartz

High School: Findlay Prep
Hometown: Golden Valley, MN
Drafted: Pick 17 in 2015 by Bucks

Predraft Measurements
| Year | Source | Height w/o Shoes | Height w/shoes | Weight | Wingspan | Standing Reach | Body Fat | No Step Vert | Max Vert |
| --- | --- | --- | --- | --- | --- | --- | --- | --- | --- |
| 2015 | NBA Draft Combine | 6' 3.75" | 6' 5" | 199 | 6' 7" | 8' 5" | 6.2 | 28.0 | 34.0 |
| 2013 | USA Basketball | NA | 6' 5" | 203 | 6' 6" | 8' 4" | NA | NA | NA |
| 2013 | LeBron James Camp | NA | 6' 5" | 203 | 6' 6" | NA | NA | NA | NA |
| 2013 | Kevin Durant Camp | NA | 6' 5" | 203 | 6' 6" | NA | NA | NA | NA |
| 2012 | Reebok Breakout | 6' 3" | NA | 196 | 6' 6" | 8' 4" | NA | NA | NA |



Basic Per Game Statistics

- Comprehensive Stats - Statistical Top 25s
| Year | League | Name | GP | Min | Pts | FG | FGA | FG% | 2Pt | 2PtA | 2P% | 3Pt | 3PtA | 3P% | FTM | FTA | FT% | Off | Def | TOT | Asts | Stls | Blks | TOs | PFs |
| --- | --- | --- | --- | --- | --- | --- | --- | --- | --- | --- | --- | --- | --- | --- | --- | --- | --- | --- | --- | --- | --- | --- | --- | --- | --- |
| 2015/16 | NBA | Rashad Vaughn | 10 | 7.5 | 3.2 | 1.2 | 2.8 | 42.9 | 0.6 | 1.4 | 42.9 | 0.6 | 1.4 | 42.9 | 0.2 | 0.2 | 100.0 | 0.2 | 0.5 | 0.7 | 0.1 | 0.1 | 0.2 | 0.5 | 0.4 |

Player Page&nbsp&nbsp| Player Stats | Mock Draft History | Related Articles&nbsp&nbsp| Add to My Draft Express&nbsp
&nbsp
Rashad Vaughn NBA Draft Scouting Report and Video Breakdown
May 21, 2015
Scouting Report by Jonathan Givony. Video Analysis by Mike Schmitz

Rashad Vaughn was labeled as one of the best prospects in high school basketball from a very early age, boasting a polished skill-set and a chiseled 196 pound frame already at age 15. He elected to move across the country, along with his assistant coach, from Minnesota to Las Vegas for his final year of high school at Findlay Prep, and like many from that program often do, decided to stay in town for college as well, at UNLV.
---
Also on DX:
Rashad Vaughn Workout Video and Interview from Las Vegas
---
Things didn't go all that smoothly at UNLV, as the team went just 10-12 with him in uniform and wasn't invited to any postseason competition. Vaughn put up points in bunches, but did so inefficiently, and saw his season end in mid-February already after tearing the meniscus in his left knee—none of which helped his draft stock.

(Video may not load with Internet Explorer. Use Chrome or Firefox)

Standing 6-5, with a 6-7 wingspan, and a strong frame, Vaughn has solid, but not spectacular physical attributes for a NBA shooting guard. He's a smooth athlete, not overly explosive, but capable nonetheless of getting to different spots on the floor.

Vaughn's biggest appeal as a NBA prospect revolves around his tremendous scoring instincts from the perimeter, specifically his shot-making prowess. He averaged over 22 points per-40 minutes at the age of 18, which is something only 29 players in the last 15 years of college basketball can boast, all but eight of whom ended up being NBA players.

Vaughn can make shots in a variety of ways, be it with his feet set or off the dribble, coming off screens, pulling up out of isos, and on the pick and roll. He has excellent mechanics, and is very reliable in catch and shoot situations, sporting range out to the NBA line, and making 38% of his 3-pointers as a freshman, on a very high volume of attempts. At the bare minimum, he will be able to space the floor adequately at the NBA level, which has value in and of itself.

But Vaughn is more than just a stand-still shooter. The threat of his jumper causes defenses to close out very aggressively, giving him room to attack the basket in a straight line, which he is capable of doing. He has the strength to finish around the rim or draw fouls, and the touch to throw in runners and floaters with very soft touch. When he wants to, he can also find the open man off the dribble with solid court vision. If the paint is closed off, he does a great job of creating separation in the mid-range area for smooth pull-up jumpers, which he loves to do out in one on one situations or out of the pick and roll. These are things most 18 year olds simply can't do, and indicate a high degree of talent as a scorer.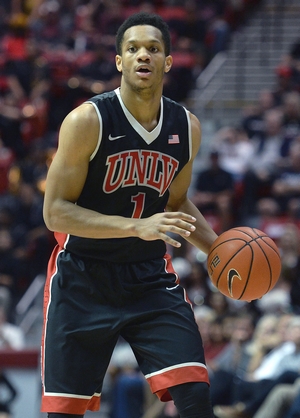 US Presswire



Defensively, Vaughn has clear potential, with quick feet, solid lateral quickness, and the ability to get over the top of screens. When he decides to get in a stance and stay in front of his man, he shows nice ability on this end of the floor. Unfortunately that's not always the case, as he rarely proved to be a high effort, high intensity player, often being seen with his hands by his side, biting on fakes, or out of place in the pick and roll. This was a team-wide problem, as UNLV sported one of the worst defenses in the Mountain West Conference, despite having two of the three best shot-blockers in the league. Vaughn's defensive metrics are not particularly impressive either, as he averaged just 1 steal and .4 blocks per-40 minutes, which is not a shock considering his 6-7 wingspan, which is fairly ordinary for a player his size.

(Video may not load with Internet Explorer. Use Chrome or Firefox)

As talented a scorer as Vaughn is, he still has quite a bit of room to improve on becoming a more efficient offensive player. His shot-selection in particular needs a lot of work, as he has a tendency to hoist up tough, off-balance and contested jumpers or floaters in traffic on a regular basis. He doesn't have a great grasp of what his limitations are at this stage, and is not a willing passer, often going into ball-stopping mode, looking to go one on one when the offense is swung his way.

While some of this undoubtedly was a product of the environment he was in at UNLV, this has always been his style of play since he was young at the same time. His shortcomings here are also partially due to his own limitations as well, as he's not the most explosive athlete around, or a particularly creative ball-handler, especially with his off hand. He doesn't have great length as a finisher, and tends to play at one speed, being fairly predictable with what he's looking to accomplish, which is not all that attractive a proposition with the direction the NBA game is headed.

Vaughn's skill-set dictates he would be best suited operating as a role-player at the NBA level, but his mentality and body language often looks like that of a star. While he's clearly very talented, and many laud his work ethic, there are quite a few question marks about his lack of discipline and whether he's unselfish enough to thrive in a competitive team setting, particularly when playing time needs to be earned. He's always been in places where the shots came easy, and hasn't ever really been part of a winning environment. Can a NBA team help rid him of many of the bad habits he's picked up along the way?

Nevertheless, Vaughn is a player many teams will think about taking a flyer on late in the first round or early in the second, as 18-year olds with his talent-level usually aren't available at that stage of the draft, especially at a position that is arguably the draft's (and NBA's?) most shallow. He's young enough that some NBA team will think they can get past his flaws and find a way to get the best of his impressive scoring instincts. Even if they can't, they won't have to make too big of an investment if things don't work out.

[Read Full Article]

---
Rashad Vaughn Workout Video and Interview
May 21, 2015
An interview with UNLV's Rashad Vaughn featuring footage from his pre-draft workouts at Impact Basketball with Joe Abunassar.
---
Also on DX:
Rashad Vaughn NBA Draft Scouting Report and Video Breakdown
---
(Video may not load with Internet Explorer. Use Chrome or Firefox)
---
More Pre-Draft Interviews/Workout Videos
-Andrew Harrison Workout Video
-J.P. Tokoto Workout Video
-Jarell Martin Workout Video
-D'Angelo Russell Interview
-Quinn Cook Interview
-Frank Kaminsky Workout Video
-Robert Upshaw Workout Video
-Rakeem Christmasn Workout Video
-Myles Turner Workout Video
-Stanley Johnson Interview
-Kelly Oubre Interview
-Frank Kaminsky Interview
-Satnam Singh Interview
-Satnam Singh Workout Video
-Alan Williams Interview
-Aaron White Interview
-T.J. McConnell Interview
-Chasson Randle Workout Video
-Chris Walker Interview
-Chris Walker Workout Video
-Cameron Payne Workout Video
-Cameron Payne Interview
[Read Full Article]

---
Rashad Vaughn vs Arizona Video Analysis
December 30, 2014
More Situational Videos from Mike Schmitz
-Jahlil Okafor vs Frank Kaminsky Head to Head Matchup Video Analysis
-Myles Turner vs Kentucky's NBA Frontcourt Video Analysis
-Kristaps Porzingis vs Barcelona Video Analysis
-Ben Simmons vs Ivan Rabb Video Analysis
-Jakob Poeltl vs Cliff Alexander Head to Head Matchup Video Analysis
-Montrezl Harrell vs Kentucky's NBA Frontcourt Video Analysis
---
Take a look at our video section for a compilation of all the videos we've produced this year.
[Read Full Article]

---
Top NBA Prospects in the Non-BCS Conferences, Part Two
October 29, 2014

Mike Schmitz is the video analyst for DraftExpress. Follow him on twitter and check out the DraftExpress video section. He will be breaking down the NBA draft in digital format all year long for us.

[Read Full Article]

---
2014 McDonald's Video Interviews: Rashad Vaughn and Grayson Allen
April 27, 2014
[Read Full Article]

---
High School Class of 2014 Scouting Reports, Part Three- the Wings
September 5, 2013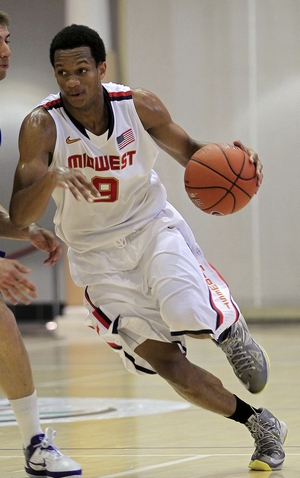 US Presswire



Jonathan Givony

Recruiting Rankings: 247: #9, ESPN: #11, Scout: #11, Rivals: #7

Strengths:
-Measured 6-5 in shoes at the Lebron James Academy
-Strong 203 pound frame
-Good athlete
-Excellent scoring instincts.
-Has a very pretty looking jump-shot
-Can make shots with feet set or off the dribble
-Has the ability to stop on a dime and pull-up from NBA range. Makes tough shots look easy
-Strong with the ball in transition. Finishes well around the basket
-Has the ability to create own shot. Can drive left or right
-Can play some pick and roll
-Solid passer
-Shows good potential as a defender

Weaknesses:
-Average wingspan
-More of a volume scorer than an efficient player at this point in time
-Shot-selection is very poor at times
-Relies very heavily on tough off the dribble jumpers for production, which is rarely a recipe for success
-Only shot 33% from beyond the arc at the Nike EYBL
-Not a consistent shooter, partially due to shot-selection
-Doesn't always get to the basket as frequently as you might expect. Could still stand to improve his ball-handling skills in the half-court

Outlook: Scorer with a unique blend of power, athleticism and skills. Shows great potential as a perimeter shooter, even if his percentages don't always indicate that. A versatile player when he wants to be. Needs to be careful not to fall in love with his mid-range game.

[Read Full Article]

---
Rashad Vaughn and Josh Perkins Video Interviews
July 29, 2013
[Read Full Article]

---
High School Class of 2014: Elite Prospect Scouting Reports, Part One
September 27, 2012
Jonathan Givony

Recruiting Rankings: ESPN: #12, Scout: #16, Rivals: #15, 24/7: #13

Strengths:
-Very intelligent player
-Extremely smooth athlete
-Can elevate a bit
-Has a framework of a nice skill-level
-Excellent shooting mechanics
-Can shoot with feet set or off the dribble
-Creates separation well in mid-range area
-Unselfish player. Passes well
-Shows a willingness to defend

Weaknesses:
-Needs to improve ball-handling skills

Outlook: Impressive young player with a very nice feel for the game. Everything comes easy. Doesn't force anything. Shoots the ball extremely well. Competes on defense.

[Read Full Article]

---