Rasheed Sulaimon
Recent Tweets
All Tweets
DraftExpress: Top NBA Prospects in the ACC Part 3 Rasheed Sulaimon Scouting Video http://t.co/Jv6Suive2F
2013-09-06 18:06:19
DraftExpress: 16 points in 15 minutes for Jahlil Okafor. Rasheed Sulaimon having a big 4th quarter here. USA pulling away. 63-52 5 minutes left. #fibaU19
2013-07-03 15:52:32
DraftExpress: Elfrid Payton James Robinson Marcus Smart Jarnell Stokes Rasheed Sulaimon Mike Tobey Nigel Williams-Goss Justise Winslow still here
2013-06-16 14:48:00
DraftExpress: RT @usabasketball Don't miss Duke guard Rasheed Sulaimon discussing what it means to represent the U.S. http://t.co/bO8P5I3X87
2013-06-15 15:48:12
DraftExpress: Some of the guys I'm hearing could be on the USA U19 WC roster Marcus Smart Jabari Parker Rasheed Sulaimon Jahlil Okafor Tyus Jones...
2013-04-22 17:29:45
Team: Maryland, Senior
Physicals
Positions
Rankings
Misc
H: 6' 4"
W: 186 lbs
Bday: 03/09/1994
(21 Years Old)

Current: SG
NBA: SG
Possible: SG

Rank 38 in NCAA Seniors
RSCI: 15

High School: Strake Jesuit
Hometown: Houston, TX

Predraft Measurements
| Year | Source | Height w/o Shoes | Height w/shoes | Weight | Wingspan | Standing Reach | Body Fat | No Step Vert | Max Vert |
| --- | --- | --- | --- | --- | --- | --- | --- | --- | --- |
| 2013 | USA Basketball | 6' 3" | 6' 4" | 194 | 6' 7" | 8' 5.5" | NA | NA | NA |
| 2012 | Hoop Summit | 6' 3" | 6' 4.25" | 186 | 6' 8" | 8' 5" | NA | NA | NA |
| 2011 | LeBron James Camp | NA | 6' 4.5" | 185 | 6' 7" | NA | NA | NA | NA |
| 2011 | Deron Williams Camp | NA | 6' 4.5" | 185 | 6' 7" | NA | NA | NA | NA |



Basic Per Game Statistics

- Comprehensive Stats - Statistical Top 25s
| Year | League | Name | GP | Min | Pts | FG | FGA | FG% | 2Pt | 2PtA | 2P% | 3Pt | 3PtA | 3P% | FTM | FTA | FT% | Off | Def | TOT | Asts | Stls | Blks | TOs | PFs |
| --- | --- | --- | --- | --- | --- | --- | --- | --- | --- | --- | --- | --- | --- | --- | --- | --- | --- | --- | --- | --- | --- | --- | --- | --- | --- |
| 2014/15 | NCAA | Rasheed Sulaimon | 20 | 19.3 | 7.5 | 2.6 | 6.3 | 41.3 | 1.5 | 3.5 | 42.0 | 1.2 | 2.9 | 40.4 | 1.1 | 1.7 | 66.7 | 0.2 | 1.8 | 2.0 | 1.8 | 1.0 | 0.1 | 1.3 | 2.0 |

Player Page&nbsp&nbsp| Player Stats | Mock Draft History | Related Articles&nbsp&nbsp| Add to My Draft Express&nbsp
&nbsp
Top NBA Prospects in the ACC, Part 8: Prospects #12-16
October 23, 2014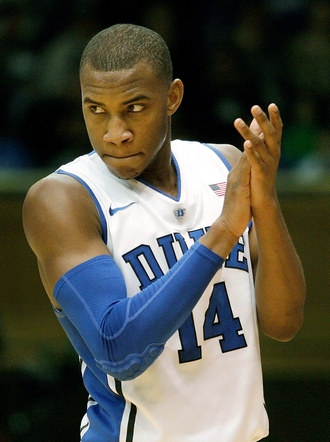 US Presswire



Kyle Nelson

Rasheed Sulaimon is no stranger to high expectations. Arriving at Duke as a McDonald's All-American and the 15th ranked player in his high school class, Sulaimon had a good freshman year for a Duke team that made a deep NCAA Tournament run. His sophomore year marked a bit of a step back, however, as Jabari Parker and Rodney Hood's arrival redefined Duke's offensive identity and relegated Sulaimon to a variety of roles as a starter and off the bench.

Even though Sulaimon had an inconsistent sophomore season, he saved his best basketball for last, logging 12.4 points per game during his last five games, ending in a 20 point effort that ultimately failed to help Duke avoid yet another NCAA upset. While Sulaimon's efficiency inside the arc may have waned and his overall productivity stagnated, he once again displayed the same combination of offensive versatility and defensive tenacity that made him an intriguing prospect in the first place. As Duke prepares to insert a trio of 5-star freshmen into the rotation, Coach Mike Krzyzewski will need Sulaimon to shake off his inconsistent sophomore season and hit his stride as a junior.

At 6'4 ½ in shoes with a 195-pound frame and a 6'7 wingspan, Sulaimon has just decent size for the shooting guard position. He is a good, not great athlete on top of that, quick and agile in the open floor and off the dribble, while showing the ability to change directions, stop on a dime, and elevate to the basket. Getting stronger would allow him to maximize his physical gifts, however, as he is not the most explosive player and already shows trouble finishing effectively around the basket at the college level.

Offensively, Sulaimon saw his usage drop slightly as a sophomore while playing more or less the same role, as a jack of all trades for Duke. He still displays an intriguing skill set, particularly as a shot creator and perimeter shooter, looking extremely versatile both on and off the ball.

Sulaimon is at his best as a jump shooter, where he made 37.3% of his overall attempts, and 45.2% of his catch-and-shoot jumpers, upping his 3-point percentage to an excellent 41% on the season. He shows outstanding elevation and a quick release with NBA range and the ability to create his own looks in isolation and out of the pick-and-roll. While he is far less consistent off the dribble, he distinguished himself as an elite shooter with his feet set last year. His instincts as a shooter from mid-range are also very good, even if the results are still inconsistent. He demonstrates the ability to pull up on a dime, needing very little room to elevate and shoot from mid-range, even if he fact that he makes just 29% of his off the dribble jumpers shows that he is still far from effective in this area.

He is not a particularly good finisher at the rim, either, making less than 40% of his shots from inside of the arc and just 44.7% of his overall attempts around the basket, a very poor rate. It would seem as though most of his struggles as a finisher come as a result of his tendency to force difficult or contested shots around the basket, oftentimes throwing the ball at the rim regardless of whether there is daylight. He lacks the size, strength or explosiveness to convert these types of attempts against better defenses, which limits his upside as a shot-creator and overall offensive player at the NBA level.

Time will tell whether Sulaimon can find a way to improve with his ability to score inside the arc. He has a solid first step, is a creative ball-handler, and does a good job of inviting and absorbing contact, which shows in his 5.8 free throws per 40 minutes pace adjusted. That being said, he obviously prefers to drive right and, even when he does not, he tends to favor his right hand and oftentimes forces difficult finishes to avoid using his left hand. At his size, he'll have to learn how to get his shot off more effectively in traffic to find success inside the paint against longer opponents.

Sulaimon also shows promise operating out of the pick-and-roll, where he sees over one quarter of his overall possessions, and does an outstanding job of using screens to create the space to either get to the basket or pull up for a jump shot. As a distributor, he can find his teammates on the perimeter, but looks far more comfortable taking the ball to the basket at this point in his career. One would not confuse Sulaimon with a point guard, but he did a decent job of facilitating Duke's offense for stretches, looked to be a willing distributor, and rarely turned the ball over, sporting a 2.19 assist/turnover ratio. The versatility and unselfishness he demonstrates playing both on and off of the ball at the college level is very intriguing, as there simply aren't that many guards at the college level who can shoot, pass and handle the ball effectively.

On the defensive end, Sulaimon continues to show the aggressiveness that has distinguished him from his peers since high school. He displays excellent lateral quickness and quick hands, which allow him to be a very effective man to man defender at this level. Also impressive is his ability to guard the pick-and-roll. While he will have to get stronger to replicate his efforts in the NBA, he runs over screens and, occasionally, through screeners, recovering quickly and doing an excellent job of staying involved. His tendency to gamble, however, makes him susceptible to biting on fakes and losing track of his man, though his aggressiveness most often works to his benefit.

Ultimately, scouts will be watching to see if Sulaimon can pick up where he left off in March to overcome his inconsistent play and take a step forward as a junior. His talent is obvious, but it will be interesting to see how he adjusts to yet another influx of talented newcomers, including elite point guard recruit Tyus Jones, who will likely push Quinn Cook to the shooting guard spot at times when Coach K decides to use them in tandem. While playing time won't be guaranteed considering the sheer amount of guards and wings Duke has in their coffers, Sulaimon needs to continue to show growth on what could be the best team in the country, even if standing out consistently could be a challenge on such a loaded squad.

[Read Full Article]

---
Top NBA Prospects in the ACC, Part 3: Rasheed Sulaimon Scouting Video
September 6, 2013


Mike Schmitz is the video analyst for DraftExpress. Follow him on twitter and subscribe to the DraftExpress YouTube page. He will be breaking down the NBA draft in digital format all year long for us.

[Read Full Article]

---
USA Basketball U19 World Championship Training Camp Report, Part Two
June 19, 2013
Projected to be one of the most important players on the roster going into this event, Sulaimon did little to disprove that notion here in Colorado Springs in front of his college coach Mike Kryzewski.



Interview




Despite being hampered somewhat by an injured wrist (suffered here diving for a loose ball), Sulaimon showed the same blend of versatility and smarts that made him such a highly touted high school recruit, spending considerable time running the point guard position during the scrimmages and not really looking out of place.

He was terrific in transition, unselfish creating for others in the half-court, extremely intense on the defensive end, and rarely made any mistakes. When the opposing defense was practicing their 2-3 zone, he quickly showed the perils of doing so against the US squad in a real game, knocking down a barrage of 3-pointers that had to put the US coaching staff at ease. After making 37% of his 3-point attempts as a freshman at Duke, Sulaimon will have to continue to shoot the ball consistently to keep international defenses honest and provide his big men and slashing guards with the spacing they need to take advantage of their superior physical attributes. While Sulaimon still has work to do with pull-up jumper, as a finisher around the basket, and as an all-around creator in the half-court, he brings plenty of other things to the table that would lead you to believe that he'll have a long career at the NBA level as long as he continues to improve.

[Read Full Article]

---
2012 Nike Hoop Summit: USA Team Measurements
April 7, 2012
Rasheed Sulaimon
Height without shoes: 6'3
Height with shoes: 6'4.25
Weight: 186
Wingspan: 6-8
Standing Reach: 8-5

[Read Full Article]

---
Boost Mobile Elite 24: Interviews (Part Two)
September 30, 2011
[Read Full Article]

---
Boost Mobile Elite 24: Scouting Reports (Part One)
September 6, 2011
Matt Kamalsky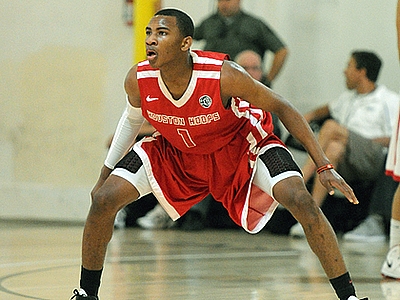 Icon SMI



One of the more impressive guards we saw at the Boost Mobile Elite 24 was Duke commit Rasheed Sulaimon (#10 Scout, #12 ESPN, #32 Rivals), a hard working late-bloomer who continues to get better.

Listed at 6'3 (but likely closer to 6-4 or 6-5) with long arms that allow him to play bigger than his height, Sulaimon is an extremely smooth athlete. He needs to continue adding weight to his frame, but can play above the rim in transition, has a terrific first step, and displays good lateral quickness on the defensive end.

Few guards at the high school level display his combination of scoring versatility and agressiveness. Able to make plays in the mid-range area or draw contact at the basket with a full head of steam, Sulaimon can score with a floater in the paint, a silky smooth pull-up jumper, and an increasingly consistent catch-and-shoot jump shot that he knocks down with range. He draws fouls at a high rate and is absolutely tenacious in transition, often finishing plays above the rim and through contact. He needs to continue improving the consistency of his jumper and polish up his advanced ball-handling skills, but Sulaimon has improved his scoring arsenal considerably in recent years, and doesn't take no for an answer in his quest for getting buckets.

On top of his ability to score the ball, Sulaimon is a heady passer. He's a competitive, but unselfish player who isn't afraid to give the ball up intelligently when his teammate has a better look. He does drive into trouble from time to time, but was one of the more mature players we watched over the course of the week in Los Angeles, something that bodes well for his transition to the college level.

On the defensive end, Sulaimon's length, toughness and competitiveness make him a capable stopper. He has the potential to defend both guard positions at the next level, and with increased strength, could be a real asset on that end of the floor.

Sulaimon has always been known for his demeanor on the floor and his intelligence off it. At the Boost Mobile Elite 24, it appeared to us that his skill set has really begun to catch up with his physical tools and intangibles. If his body continues to fill out, he's going to a prospect to keep tabs on already as a freshman at Duke.

[Read Full Article]

---
Boost Mobile Elite 24: Duke-UNC Smackdown, Part Five
August 29, 2011
Our renowned Duke-UNC Smackdown continues with another session at the Boost Mobile Elite 24 game in Los Angeles.

Participants this year include: Rasheed Sulaimon and Marcus Paige.





[Read Full Article]

---