Derek Bodner
Freshman power forward Raymond Spalding was able to find a role on a deep Louisville team last season, averaging 5.6 points and 4.3 rebounds in 17.5 minutes per game for Rick Pitino and the Louisville Cardinals.
With defensive stalwart Chinanu Onuaku off to the NBA and playing for the Houston Rockets, along with a year of experience under his belt, Spalding should be in line for a significant increase in both his minutes and role, presenting him with a good opportunity to showcase his skills.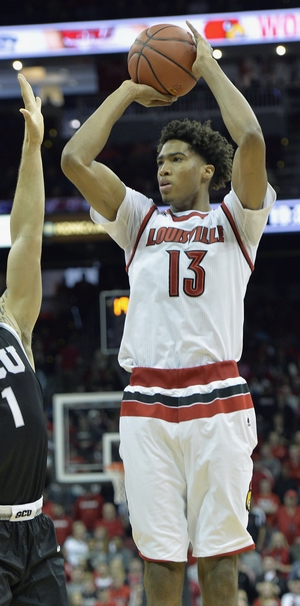 Spalding stands 6'10, with a rail-thin 215-pound frame, exceptional length, and great athleticism for the power forward position, which gives him some interesting potential on the defensive side of the court down the line if he's ever able to fully harness that into a fundamentally sound player.
On the offensive end, Spalding remains a raw player without any real calling card at this stage of his development. His primary contributions come off the ball, using his quickness and athleticism to sprint out in transition, cut off the ball, and crash the offensive glass from the perimeter. In fact, nearly 60% of his offensive possessions came out of these sets, according to Synergy Sports Technology.
Spalding is very quick off his feet, able to elevate around the rim before the defense is able to react and recover. That, combined with his quickness, makes him a real threat as a cutter off the ball, providing something for the defense to worry about despite not being a threat to create much offense for himself. Still, Spalding can seemingly float around aimlessly at times on offense, bailing the defense out and limiting his impact.
His athleticism also makes him a threat on the offensive glass, as he's simply quicker than most of the players trying to box him out and can be a real threat if his man doesn't seek him out when the shot goes up, averaging 4.0 offensive rebounds per 40 minutes, pace adjusted, despite his (seriously) under-developed physical frame. Spalding can struggle at times to finish at the rim, but this should improve in time as his frame fills out.
The rest of Spalding's offensive profile is still very much a work in progress. Synergy logged just 13 jump shots on the season, with wild results on the few attempts he took and a free-throw percentage of just 50% (on 56 attempts) which doesn't necessarily inspire much confidence. When he's left wide open and given a tremendous amount of time he has shown a little bit of touch, so there may be something there down the line, but it could take quite some time before it's really a weapon in games.
His ball handling ability is even more under-developed, as he rarely, if at all, even attempts to put the ball on the deck from the perimeter, despite a quickness advantage that could lend itself to a face-up game down the line if he is ever able to develop that skill. When he does put the ball on the floor it's usually little more than one or two dribbles in the post to gather himself (and make himself susceptible to being stripped by guards), and attempting to do more than that is an adventure at this time.
On the plus side, despite his skinny frame, Spalding does set good, hard screens, making a point to hold the screen the extra second it takes to free the ball handler. With Spalding's quickness he's still able to beat his man to the paint and become a real pick and dive threat, an area of his game that he could continue to expand, especially if he's able to add some weight to better absorb contact and add a semblance of a jump shot to make defenders think twice about sagging off of him.
Defensively is where Spalding makes the most impact, and where his long-term potential is. Spalding has very long arms, and covers ground exceptionally well, making him a threat as a weakside shot blocker at the rim (1.6 blocks per 40 minutes, pace adjusted), to force turnovers on the perimeter (2.2 steals per 40 minutes, pace adjusted), and also recovering out to the perimeter to contest shots. He has the quickness to switch onto the perimeter at times, presenting coaches with multiple different strategies to defend pick and rolls and pester ball handlers on the perimeter.
Still, Spalding is quite a ways away from making the most of this potential. Part of that is his lack of physical strength, and he can certainly get bullied both in the post and on the defensive glass, where he pulled down just 17.4% of the defensive rebounding opportunities while he was on the court, despite playing almost exclusively at power forward.
Beyond just the physical aspect of it, Spalding also struggles with his consistency, looking indecisive in his rotations and at times looking like his effort level comes and goes, and he can get lost off the ball as he seeks out opportunities to chase blocks. There's no questioning the sheer amount of physical talent Spalding has as a defender, and increasing his anticipation and engagement could unlock a real force for Pitino and the Cardinals.
Raymond Spalding has the combination of length, quickness, and disruptive defensive potential that has become en vogue in today's NBA, with the capability of blocking shots at the rim, forcing turnovers on the perimeter, and having positional versatility that coaches love.
Still, there's a significant gap to be bridged between potential and contribution, and this will be a big year for Spalding to prove he can make progress in his perimeter game, in his physicality, awareness, and consistency. If he can, the potential is there to see his stock rise quickly.