Top NBA Draft Prospects in the Pac-12, Part Two (#6-10)
October 8, 2011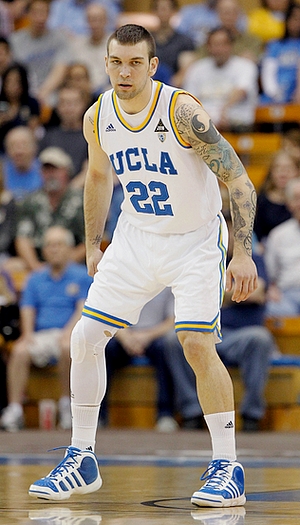 Icon SMI
Walker Beeken
After a solid freshman season, UCLA's
Reeves Nelson
continued to show development as a sophomore, leading a talented but inconsistent Bruin team in scoring and rebounding, thanks to a more polished offensive game and an improved body. Nelson will look to build on that success in his junior season to work his way more firmly onto the NBA draft radar.
The most obvious knock on Nelson as an NBA prospect will continue to be his lack of size and length at the power forward position, but he has made improvements in his body, looking much leaner as a sophomore, and in turn, looking quicker and more explosive on the court.
We noted that becoming more of a force on the boards was something for him to work on as well, and he rebounded at a higher rate last season, going from 9.9 to 11.5 rebounds per forty minutes pace adjusted, which places him towards the middle of the pack of the power forwards in our database.
Offensively, with big man
Joshua Smith
added to the picture last season for the Bruins, Nelson saw less post touches and diversified his offensive game, showing the ability to step out on the perimeter and attack off the dribble on occasion. With his trimmer physique, Nelson showed a more explosive first step to get by his man, as well as the same knack for scoring around the rim that we saw from him as a freshman. His aggressive mentality and scoring instincts continue to allow him to find ways to put the ball in the basket at the college level, but may be something that doesn't translate as well against the taller, longer defenders he'd face in the NBA.
After hardly attempting any jump shots as a freshman, Nelson slowly started incorporating a jumper into his game last season, shooting about one per game and connecting on about 33% of them. He still has more work to do in becoming a more consistent shooter and expanding his range, but it was encouraging to see the signs of improvement last season. His effectiveness scoring in the post and around the basket would likely be limited against NBA caliber big men, so becoming a more proficient jump shooter could be a big factor in his professional potential.
Defensively, Nelson's leaner body clearly helped his lateral quickness, and he did a much better job defending on the perimeter and getting up in the air to challenge shots. Around the basket, Nelson utilizes his strong body and toughness to fight for position, but his lack of size and length is difficult for him to overcome at times as players are sometimes able to score up and over him.
Overall, Nelson still has work to do to establish himself as a legitimate NBA draft prospect. The improvements he made with his body have been encouraging, but his lack of size and length at the four spot will make it an uphill battle. If he can continue to make strides with his skill level over his time at UCLA, he will be a player that will be tough to ignore, though, as teams are always looking for toughness, and Nelson is the type of player that won't back down from anybody.
[
Read Full Article
]
Top NBA Draft Prospects in the Pac-10, Part Two (#6-10)
September 23, 2010
Walker Beeken

Sophomore forward Reeves Nelson will look to help UCLA rebound from an abysmal 2009-2010 season in which the Bruins finished with a 13-17 record and missed the postseason for the first time since coach Ben Howland's first season at UCLA in 2003-2004. After a solid freshman season as one of the team's lone bright spots, Nelson will need to continue to develop his game to help the Bruins improve and to get himself on the radar of NBA scouts.

From a physical standpoint, Nelson is far from the ideal NBA power forward prospect. He's a bit undersized at 6'8", and his strong, bulky frame could use some tightening up. He does have quick feet and a decent first step for a guy his size, but he's primarily a below-the-rim player with limited elevation and explosiveness.

On the offensive end, Nelson combines a nice blend of power and a knack of how to finish around the rim, which contributed to him shooting an outstanding 64.7% from the field last season. His strong body and aggressive mentality help him to get position around the basket, and his scoring instincts enable him to finish, despite his lack of physical tools. He's comfortable playing with his back to the basket and can also face up and put the ball on the floor and finish with either hand going either direction. Nelson has to potential to be a force offensively around the basket at the college level, but this success may not translate well against longer, more athletic, defenders in the NBA.

Nelson's shooting is an area where he could use quite a bit of work. He shot a very poor 52% from the free throw line as a freshman, and he didn't show any flashes of being able to knock down a mid-range jump shot, with most all of his field goal attempts coming in the basket area. Developing a reliable jump shot from about fifteen feet would help him tremendously to become a more well-rounded offensive threat.

Defensively, Nelson displays good energy and intensity, as he's clearly an extremely tough player, and plays for an excellent defensive coach in Ben Howland, but he may lack the physical attributes needed to have great success defending at the NBA level. Tightening up his body may help some, but his lack of length and lateral quickness will certainly be an issue. Nelson's rebounding numbers were solid last season but not spectacular (9.9 rebounds per forty minutes pace adjusted). Really focusing on attacking the glass would give him another area to hang his hat on.

Overall, Nelson still has quite a bit of work to do before having his name come up in draft discussions. His toughness, aggressiveness and scoring instincts around the basket give him a base to build on, but he'll probably need to develop a mid-range jump shot and work on improving his body and athleticism to become a realistic NBA prospect. Fortunately, he still has three seasons remaining at UCLA to shore up his weaknesses and work on his game.
[
Read Full Article
]