Reggie Bullock
Recent Tweets
All Tweets
DraftExpress: Kelly Olynyk DeShaun Thomas Ray McCallum Tim Hardaway Reggie Bullock C.J. McCollum Victor Oladipo RT @Mr_TQ Top 2013 draft picks in PER?
2013-07-17 13:37:30
DraftExpress2: RT @stackmack Fun fact Reggie Bullock used to play for CP3's AAU team.
2013-06-27 22:17:59
DraftExpress2: Fun fact Reggie Bullock used to play for CP3's AAU team.
2013-06-27 22:17:07
DraftExpress: Still on the board Sergey Karasev Dennis Schroeder Shane Larkin Mason Plumlee Reggie Bullock Gorgui Dieng Rudy Gobert Tim Hardaway Jr
2013-06-27 21:20:57
DraftExpress: Reggie Bullock Workout Video http://t.co/q6XEHpEpSy Interview+Footage from his pre-draft workouts with Jay Hernandez in NY (via @farhaaaad)
2013-06-03 15:05:19
Team: Pistons
Physicals
Positions
Rankings
Salary
Misc
H: 6' 7"
W: 200 lbs
Bday: 03/16/1991
(24 Years Old)

Current: SF
NBA: SF
Possible: SF

RSCI: 14

Agent: Lance Young
Current Salary:$1,200,720

High School: Kinston
Hometown: Kinston, NC
Drafted: Pick 25 in 2013 by Clippers

Predraft Measurements
| Year | Source | Height w/o Shoes | Height w/shoes | Weight | Wingspan | Standing Reach | Body Fat | No Step Vert | Max Vert |
| --- | --- | --- | --- | --- | --- | --- | --- | --- | --- |
| 2013 | NBA Draft Combine | 6' 5.75" | 6' 7" | 200 | 6' 8.75" | 8' 6" | 7.0 | 31.0 | 36.5 |
| 2009 | LeBron James Camp | NA | 6' 5.5" | 190 | 6' 8.5" | NA | NA | NA | NA |



Basic Per Game Statistics

- Comprehensive Stats - Statistical Top 25s
| Year | League | Name | GP | Min | Pts | FG | FGA | FG% | 2Pt | 2PtA | 2P% | 3Pt | 3PtA | 3P% | FTM | FTA | FT% | Off | Def | TOT | Asts | Stls | Blks | TOs | PFs |
| --- | --- | --- | --- | --- | --- | --- | --- | --- | --- | --- | --- | --- | --- | --- | --- | --- | --- | --- | --- | --- | --- | --- | --- | --- | --- |
| 2015/16 | NBA | Reggie Bullock | 10 | 6.7 | 0.4 | 0.1 | 1.7 | 5.9 | 0.0 | 0.8 | 0.0 | 0.1 | 0.9 | 11.1 | 0.1 | 0.1 | 100.0 | 0.3 | 0.3 | 0.6 | 0.2 | 0.1 | 0.0 | 0.2 | 0.4 |

Player Page&nbsp&nbsp| Player Stats | Mock Draft History | Related Articles&nbsp&nbsp| Add to My Draft Express&nbsp
&nbsp
Situational Statistics: the 2013 Small Forward Crop
June 20, 2013
-Reggie Bullock's roleplayer potential is absolutely clear on paper. He gets to the rim for a bottom-3 1.9 shots per-game, but his 1.29 points per-shot on catch and shoot jumpers ranks first in this group and drives him to the head of the pack in overall scoring efficiency with his 1.11 PPP overall. On top of his jump shot, Bullock scores a top-5 ranked 1.37 points per-possession in transition and a sample leading 1.36 points per-shot as a finisher in the half court. He operates one-on-one less than any player in this group at just 0.4 times per-game and made just 21% of his pull-up jumpers, but his ability to spread the floor, make open shots, and be opportunistic finding easy baskets jumps off the page immediately.

[Read Full Article]

---
Reggie Bullock Workout Video
June 3, 2013
Video film and production courtesy of Farhod Family
[Read Full Article]

---
NBA Combine Interviews: Muhammad, Rice, Bullock, Hardaway
May 17, 2013
[Read Full Article]

---
NBA Draft Prospect of the Week: Reggie Bullock
May 9, 2013
Scouting report by Matt Kamalsky. Video Analysis by Mike Schmitz

Last time we checked in on Reggie Bullock, he was coming off a respectable sophomore season that saw him contribute in a small role alongside the stockpile of NBA talent North Carolina put on the floor in 2012. Returning to campus expected to help pick up the slack left behind by Harrison Barnes, Tyler Zeller, and Kendall Marshall, Bullock responded, finishing this season as the third leading scorer on a young Tar Heels squad and subsequently declaring himself eligible for the 2013 NBA Draft.



Video Analysis



More Video Scouting Reports

Bullocks' main virtue as a NBA prospect is his ability to stretch the floor with the threat of his spot-up jump shot. The second best 3-point shooting small forward in our top-100, Bullock found his range as a junior, making 44% of his catch and shoot jump shots according to Synergy Sports Technology and 43% of his 3's overall. Considering set jump shots accounted for more than half of his shot attempts in the half court as a junior, Bullock's 5% improvement from beyond the arc relative to his sophomore season was a significant development.

Apart from his perimeter shooting, Bullock also made significant offensive contributions in transition and on the offensive boards as a junior. Possessing good end-to-end speed and solid instincts on the glass, Bullock is not the type of prospect who will wow you with his explosiveness above the rim, but he does a good job being in the right place at the right time and shows nice body control finishing in close.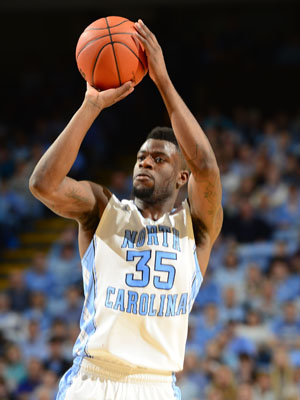 US Presswire



Standing roughly 6'7 with a near 6'10 wingspan, Bullock has solid size for the small forward position, but he doesn't possess great explosiveness, which is most clear when watching his operate one-on-one and on the pick and roll. Lacking the burst to get into the paint consistently and proving to be only an average ball-handler, Bullock does not create his own shot prolifically and struggles to score over defenders in the midrange area, especially under pressure. Considering his strong long-range shooting, low-mistake style of play, and lack of creativity on the offensive end, Bullock seems best suited to play a role similar to the one fellow North Carolina product Danny Green plays for the Spurs.

On the other side of the floor, it is Bullock's size and competitiveness that make him a solid defender. He could still stand to maximize his frame to help him defend the three-spot at the next level, but he's an active player who was charged with stopping the opposition's top perimeter scorer on an almost nightly basis at UNC and rebounded the ball well for a player his size. He doesn't have great lateral quickness, and gave up more dribble penetration this season than he did as a sophomore, but often did so knowing he had a teammate helping on the baseline. Bullock's defensive ability has been impressive in spurts over the course of his career and his potential on this end of the floor will be something NBA teams will want to study more in private workouts.

Though Reggie Bullock may not be a glamorous NBA prospect, his standout shooting ability, size on the wing, and the little things he does on both ends give him plenty of potential as roleplayer. He's overcome a difficult background and improved steadily over his three year college career. If he can maximize his physique and further refine his handle and pull-up jump shot, the All-ACC 2nd Team selection could be a nice piece on a competitive team. A potential late first round pick, Bullock is a player to watch throughout the draft process as he's one of a laundry list of players vying for a coveted guaranteed contract.

[Read Full Article]

---
Top NBA Draft Prospects in the ACC, Part Five
September 22, 2012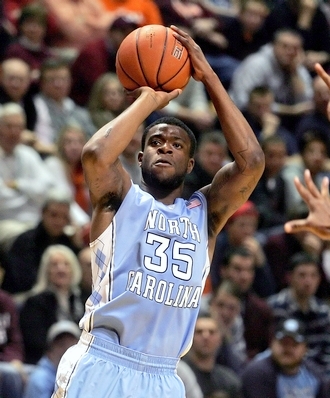 US Presswire



Kyle Nelson

Reggie Bullock has been talked about in recruiting circles from a very young age, and made his first appearance on DraftExpress as a sophomore in 2007 en route to a five-star ranking and the McDonald's All-American game. Since arriving at North Carolina, however, Bullock's progress has been slower than expected. After an injury-plagued freshman season, Bullock moved into the starting lineup, replacing an injured Dexter Strickland, and provided the Tar Heels with perimeter scoring and defense, while contributing in a major way during their run to the Elite Eight. With Harrison Barnes now in the NBA, North Carolina will look to Bullock to pick up the slack as a primary scoring option on the wing.

Standing 6'7 with a solid 207-pound frame, Bullock possesses ideal size for a NBA wing player. He is a smooth athlete, as well, quick in the open floor even if he just has average explosiveness around the basket. His role as a spot up shooter afforded him few opportunities to use his size and athleticism to his advantage, making it largely unknown just how good of a ball-handler he is in transition and attacking the basket in the half court.

On offense, Bullock was largely relegated to the role of a 3-point shooter, where he saw nearly two-thirds of his overall field goal attempts last season. He increased his shooting efficiency across the board, making 51% of his 2-pointers, 38% of his 3s, and 73% of his free throws. That being said, his 12.6 points per 40 minutes pace adjusted ranked him as one of the least prolific scorers in our top-100, showing just how limited his role was last year.

It's not surprising, then, that Bullock's best attribute on offense is his silky smooth shooting stroke. While he was a prolific shooter as a freshman, he took a giant step forward as a sophomore. He is primarily a spot-up shooter, thriving alongside point guard Kendall Marshall, running off screens, and knocking down open looks with his feet set. His size and excellent mechanics, particularly his quick release, position him well as a shooter in the NCAA and should benefit him at the next level as well. With North Carolina's entire starting lineup besides him off to the NBA now, it will be interesting to see how his shooting evolves this season, particularly without the assistance of the best passing point guard in college basketball.

While he is not the most versatile offensive player, Bullock showed the ability to put the ball on the floor and create opportunities from mid-range in very small doses. Possessing below average ball-handling skills, and not much of a left hand, Bullock occasionally used his size and strength to bully his way to the basket where he was a solid finisher. That being said, he attempted just 3.9 2-point attempts and 0.8 free throws attempts per 40 minutes pace adjusted, which are both the fewest of any prospect in our pre-season Top-100, showing just how reliant he was on his outside shot last year. As he prepares for his junior season, Bullock will surely be asked to be more aggressive looking to create his own shot more frequently, focusing on attacking his basket, drawing fouls and finding opportunities inside of the arc.

On the other end of the floor, Bullock was an excellent defensive presence as a sophomore, showing the ability to lock down some of the nation's most potent perimeter scorers. He is very quick laterally, capable of guarding all three perimeter positions, and does not give up on plays after he is beaten. While he does not possess a huge wingspan, he is nonetheless able to do an excellent job crashing the glass, particularly on the offensive end where he truly excelled.

Reggie Bullock was not an immediate impact player in Chapel Hill, which is understandable when considering the amount of talent that was around him his first two seasons. According to reports, he evidently worked on his conditioning and offensive game over the summer and scouts will be watching to see if his improvement translates into increased production in one of the nation's highest-octane offenses. North Carolina will be looking for someone to replace Harrison Barnes's production and Bullock will have every opportunity to step into the role. There is clearly a demand in today's NBA for strong, athletic wing players who can shoot and defend at an elite level. Everything is in place for a breakout season. Now it's time to see if he's capable of capitalizing.

[Read Full Article]

---
2011 McDonald's All American Game: Duke-UNC Smackdown, Part Four
March 29, 2011
Part Two: Harrison Barnes, Reggie Bullock, Kendall Marshall and Coach K
[Read Full Article]

---
2008 King James Classic: Top Perimeter Players
April 28, 2008
Bullock continued his outstanding play that transcended him from a player outside of the top 100 to being in contention for the top small forward slot in the class of 2010. Playing against peers a year older in the 17-U division had no effect on Bullock, who used his heady game to score in a number of ways. He showed his full repertoire of skills, taking bigger defenders off of the bounce to finish in the paint through a variety of sweet floaters and short jumpers, in addition to his usual slashing dribble drives to the rim. Playing the game with a sense of a player far beyond his age, the North Carolina native tends to make you forget that he is only 16 years old. He seemed to look forward to the challenge of playing against two of New York City's finest in Durant Scott and Doron Lamb, volunteering to guard whichever elite guard was in the game and doing an awfully good job of doing so.

The future Tar Heel's ball handling skills looked a little shaky at times, especially when pressured. He is definitely more of a small forward at the moment, and a growth spurt will be needed if he hopes to play that position at the next level. If the North Carolina prep star decides that the shooting guard position is where he will be in college, he will need to improve his consistency beyond the arc and creativity off of the dribble. All of the tools appear to be in place for Bullock to be a nice prospect down the road though, and he will certainly whose progress will be interesting to follow over the remainder of his high school career.

[Read Full Article]

---
Top High School Prospects at the 2007 City of Palms Classic
December 28, 2007
Another member of the "hey, you're way too young to be here, kid" club, sophomore Reggie Bullock (5 star 2010 recruit) did a great job showing off why he's considered such a highly regarded talent already at age 15. Showing good size for the wing position, a nice frame (that still needs to fill out), solid athleticism, and all kinds of glimpses of potential, Bullock seems to have a very nice future ahead of him. He's an active player with excellent instincts who constantly seems to find himself around the ball, coming up with plenty of steals and rebounds. He also has a nice looking jump-shot from 3-point range, and is capable of using shot fakes to put the ball on the floor and even pull-up off the dribble for a good looking mid-range jumper. His shot-creating skills are limited in tight half-court sets because of his poor ball-handling skills, but he is capable of finding and exploiting holes in an unbalanced defense to get to the basket and finish. Most importantly, he seems to have an excellent demeanor out on the floor, including solid leadership skills and nice intangibles, and looks to be fairly unselfish, being committed to playing solid defense too. He still has a lot of work to do before he puts it all together and really shows us what kind of player he can develop into in the future, but the early signs look very promising.

[Read Full Article]

---