Renardo Sidney
Recent Tweets
All Tweets
DraftExpress: Renardo Sidney will play in the D-League for the Lakers' team the LA D-Fenders via a local tryout http://t.co/Bgfht7O3
2012-11-05 17:34:07
DraftExpress: RT @marcisenberg: Just thought about Renardo Sidney. Remember when he was a can't-miss kid?
2012-06-28 10:58:26
DraftExpress: RT @DanWolken: RT @JeffEisenberg: You won't read a more depressing NBA draft story than @bmarcello's on Renardo Sidney: http://t.co/LQTlddA3
2012-06-27 04:20:25
DraftExpress: Renardo Sidney already looking for his third agent in three months: http://t.co/ODihEojS - Maybe the problem isn't the agent?
2012-06-14 06:11:53
DraftExpress: May have had an asthma attack? RT @DannyALovi: Renardo Sidney not participating in 5 on 5 scrimmage. #NetsCombine
2012-05-19 12:00:51
Team: Storm
Physicals
Positions
Rankings
Salary
Misc
H: 6' 9"
W: 304 lbs
Bday: 12/06/1989
(25 Years Old)

Current: PF
NBA: PF
Possible: PF

RSCI: 8

Agent: Zack Charles

High School: Fairfax
Hometown: Jackson, MS
Best Case: Eddy Curry
Worst Case: James Lang

Predraft Measurements
| Year | Source | Height w/o Shoes | Height w/shoes | Weight | Wingspan | Standing Reach | Body Fat | No Step Vert | Max Vert |
| --- | --- | --- | --- | --- | --- | --- | --- | --- | --- |
| 2012 | Nets Workout | 6' 8.5" | 6' 9.5" | 304 | 7' 4.5" | 9' 1.5" | 22.4 | 30.0 | 31.0 |



Basic Per Game Statistics

- Comprehensive Stats - Statistical Top 25s

Player Page&nbsp&nbsp| Player Stats | Mock Draft History | Related Articles&nbsp&nbsp| Add to My Draft Express&nbsp
&nbsp
Nets Combine Measurements/Athletic Testing and Recap
May 21, 2012
The heaviest player weighed in New Jersey was Mississippi State's Renardo Sidney, at a whopping 304 pounds, nearly 40 pounds more than the next heaviest prospect. His 22.4% body fat percentage was also highest by a large margin in New Jersey, and ranks as the second highest figure ever in our extensive database ahead of Oliver Miller. Sidney quit pretty early on in the workout after being seen grasping an inhaler on the sidelines.

[Read Full Article]

---
Top NBA Draft Prospects in the SEC, Part Two (#11-15)
October 28, 2011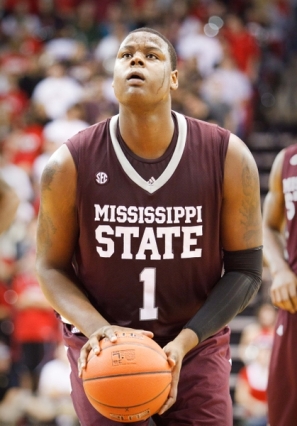 Icon SMI



Kyle Nelson

There are few players more controversial than Mississippi State junior big man Renardo Sidney. After a season with more than a few off-the-court incidents, Sidney has his work cut out for him to prove that he is capable of living up to his lofty top-10 RSCI ranking.

Though Sidney more than looks the part—standing around 6'10 with long arms and huge hands— he was very overweight as a freshman, and, even at his currently listed 280-pounds, could still stand to lose weight. His mobility and explosiveness would benefit, but so too would his poor conditioning. Though he is surprisingly mobile and explosive for his size, maximizing his physical potential would go a long way in convincing scouts that he is serious about playing in the NBA.

On offense, Sidney continues to show the potential that made him a prospect at such a young age, while simultaneously revealing some unfortunate tendencies. On paper, though, he had a productive sophomore campaign, averaging 14.2 points and 7.6 rebounds in just over 25 minutes per game.

Sidney is at his best in the post, where he sees 35.7% of his possessions. While his massive size and nimble footwork definitely gives him an advantage here, he also does a solid job of establishing post position and is capable of corralling errant passes with his soft hands. After backing his man down, he usually reverts to a jump hook, a turnaround jump shot, or simply spins towards to the basket. He gets to the foul line at a solid rate, where he makes over 70% of his attempts. Ultimately, while he must continue to improve, he already has an interesting low post repertoire at this stage.

He also looked comfortable operating out of the high post using his solid ball-handling skills and deceptive quickness to his advantage when facing his man up. He also looked very good in pick-and-roll opportunities, setting good picks while being equally comfortable rolling to the basket and finding spot-up looks on the perimeter.

His perimeter game is a mixed bag at this stage, largely due to his propensity to fall in love with his jump shot and his mediocre shot selection. Outside of his tendency to fade away, his mechanics are solid, however, and though his release can be inconsistent at times, he has good touch and 3-point range on his shot. Despite the potential he shows in this area, Sidney made just 34% of his jumpers last year.

Sidney's poor shot selection is one of many questions revolving around his decision-making ability on the offensive end of the floor. His 0.28 assist/turnover ratio, for instance, is one of the worst amongst prospects in our database Another concern seems to be his decidedly average court awareness. While it is possible that after sitting out a season and a half, he was simply rusty, that this lapse occurred at a key point in his development is concerning. Whether or not he can maintain focus and consistent effort on offense is an issue, as well, primarily moving better without the ball in his hands and working harder on the offensive boards.

Defensively, Sidney has a long way to go, but is better than advertised. For one, his massive frame, impressive length, and mobility help him guarding his man in the post. Though he struggles to keep his man from receiving the ball, he improved at holding his position as the season progressed. Similarly, he is a solid rebounder, as well, grabbing 12 rebounds per 40 minutes, numbers that should only increase if he improves his effort level, conditioning and fundamentals.

Of significant concern, however, is his lack of defensive focus. Sidney oftentimes loses track of his man, fails to close out shooters or fight through screens, or simply stops trying if he's beaten. Proving to scouts that these issues were related to conditioning and immaturity is essential, especially given his reputation as an uninterested defender.

Finally, it would be negligent to not mention the plethora of red flags that have haunted Sidney since his high school days. Even following his bizarre recruitment and a televised fight with a teammate, he continued to attract negative headlines this summer. He spent time with John Lucas to address his off-court issues, and received good reports for his conduct there.

Ultimately, there are few big men in the NCAA with Sidney's combination of size and skill. Whether or not he is able to turn that into a stellar junior campaign remains to be seen, especially given the eligibility of the similarly perimeter-infatuated power forward prospect and teammate Arnette Moultrie. Mississippi State's success this season likely depends on Sidney's success, however, and scouts and sportswriters alike will be scrutinizing his every move to see if he has truly overcome his unfortunate reputation. After all, there is no doubting his talent and potential; his overall effort and intangibles, on the other hand, must improve considerably if he wants to play at the next level.

[Read Full Article]

---
adidas Nations Experience Dunking Drills
September 9, 2010
[Read Full Article]

---
NBA Draft Roundup, May 5
May 5, 2009
Renardo Sidney: Taking a pass on a basketball star

Lance Pugmire of the L.A. Times pens a fascinating story about the bizarre recruitment situation of Renardo Sidney.

USC, as UCLA had before, rescinded its scholarship offer, leaving one of the nation's top talents temporarily without a team.

On Thursday, Sidney, 19, signed a letter of intent with Mississippi State days after visiting Starkville, Miss. The Bulldogs were, at best, his third choice -- but in the end, perhaps his only choice. When, after Sidney's visit, a family spokesman was asked whether Mississippi State was the front-runner for his services, the reply came that the Bulldogs were "the only runner."

A rare turn of events involving a 6-foot-10 prospect with a powerful build and uncommon shooting range for a big man.

"It's highly unusual for both of those schools to abandon their recruitment of a player of that caliber and potential," said George Raveling, a former college coach -- at USC and elsewhere -- who works the Southern California area for Nike. "They must know something the rest of us don't know."

UCLA and USC officials were prohibited by college rules from speaking publicly about Sidney while he was unsigned, and even now they have declined to do so. But sources on both campuses who have knowledge of his recruitment agreed to speak with The Times as long as their identities were kept anonymous.

Though they are from rival schools who often wage intense battles for the same athletes, the sources agreed on this about Sidney: The reward of suiting up such a prodigious talent was not worth the larger risk.

Bruins and Trojans sources both say they were wary of potentially intense NCAA scrutiny prompted by these issues: Despite what was perceived as a limited income, the family moved multiple times and resided in upscale homes during Sidney's high school years; and stepfather Renardo Sr. directed a club basketball team with financial backing that was unclear beyond a relatively modest shoe company sponsorship.

Plus there was this: A source intimately familiar with Sidney's recruitment said a university official thought the stepfather had strongly hinted that he expected to be compensated if his son signed with the school.

There is plenty more in the original article, so do take a look.

We've covered Renardo Sidney in extreme depth over the last few years—his DraftExpress profile has 10 scouting entries since 2006—and it's tough to say that it's really a big surprise that no one is all that interested in having Sidney play for them.

We've spoken with dozens of college coaches and NBA executives while sitting alongside them watching Sidney in action, and no one appears to believe that he can actually help a team win. Players who are as unmotivated and uncoachable as Sidney rarely pan out regardless of how naturally talented they are, and after watching him intently last month on the all-star circuit in games, scrimmages and practices—we're really starting to question just how good of a player Sidney is. His game reminds of Antoine Walker in the later stages of his career, and you really have to wonder if whatever production he can manage to scrounge together at the college level is worth it considering the baggage involved. Based off the way NBA people talk about him, he doesn't appear to be any kind of lock at this point either. Playing in Europe (and being successful) would be an even bigger stretch.

[Read Full Article]

---
Nike Hoop Summit, High School Prospects
April 16, 2009
Though he still possesses a few very nice skills, Sidney's shortcomings contributed substantially to Team USA losing. He was completely outworked and out-toughed by the front line of the international team, and didn't really show much in terms of effort playing defense or fighting for rebounds.

Sidney stands at around 6'10", and is listed around 270, carrying probably 15-20 extra pounds considering his build and size. He moved much better as a sophomore in high school, and back then he would mix it up in the post occasionally on offense as well. Fast forward to now, and he seems to just want to shoot jumpers most of the time, as he did during the practices and in the game. He did display a nice reverse finish near the basket as well, but it was about the only time he entered the paint during the game. The USC-bound senior can pass the ball quite effectively from the high post, and his 4 assists were quite impressive in this game.

Defensively, Sidney showed very little focus and effort, tending to pick up fouls rather than guarding the post. The big man also showed a poor understanding of how to guard the pick and roll. On the glass, he didn't box out or use his extra bulk at all, and showed very little fight at all, being outworked multiple times by the international bigs.

Now is the time that Sidney must make the necessary changes to become the impressive prospect who really stood out as a sophomore in high school. It all starts with a more professional demeanor, and a better focus. It would also help if he were able to slim down, and start to mix it up in the post on the offensive end.

[Read Full Article]

---
Player Evaluations, McDonald's All-American Game (West Team)
April 3, 2009
Based on his recruiting rankings, Renardo Sidney (#5 Scout, #10 Rivals, #5 ESPN) may have been the biggest disappointment of the week when matching up the hype to his all-around play. Sidney little more than hang out around the 3-point line and settle for 3-pointers (which he can certainly make), putting in almost no effort into any other part of his game. He played zero defense, was not anywhere near as much of a factor on the glass as you might think relative to his outstanding hands and instincts, and showed questionable shot-selection and conditioning.

To his credit, Sidney seems to understand what his shortcomings are, as you will hear in the interview conducted below, and is very much looking forward to Tim Floyd setting him straight at Southern Cal. Sidney really needs a strong-minded and discipline oriented head coach in his life if he's to have any chance at reversing the cumulative effect of the past few years, and Floyd might be just that.

[Read Full Article]

---
Initial Scouting Reports, High School Class of 2009 (Top 10 recruits)
July 28, 2008
There isn't much new to add about Renardo Sidney (#4 Scout, #5 Rivals, #6 ESPN) that hasn't already been said in his DraftExpress profile linked above. Sidney is terribly out of shape and doesn't seem to be doing anything about it, and it's pretty shocking at this point that he is still as highly ranked by the recruiting services considering how unlikely it is that he actually pans out if history is any indication. Sidney was being coached by his father at this AAU event, which helps begins to explain the type of circus we're dealing with. He shot a lot of turnaround jumpers in the lone game we saw him, played absolutely zero defense and generally did his best Antoine Walker/Derrick Caracter impression.

[Read Full Article]

---
Top Prospects at the 2007 Amare Stoudemire Invitational Classic
January 2, 2008
Mixed emotions are what we get when watching Renardo Sidney (#2 Scout.com, #1 Rivals) play. On one hand you cannot deny the incredible talent this young man possesses with the ball in his hands. But on the other, you just cannot ignore the way he looks and the disturbing manner in which he conducts himself out on the floor. His upside is incredibly high, but the early signs we're seeing are quite troubling, and it remains to be seen if he has what it takes to put it all together and come anywhere close to reaching his full potential.

Physically, Sidney has a nice package, even if he's overweight and noticeably out of shape. He's a pretty athletic player regardless, nothing extraordinary, but able to beat his man with a nice first step facing the basket, and also finish emphatically with a good first and second bounce around the rim when given the opportunity to do. His frame is excellent, but is currently carrying quite a bit of baby fat, and could clearly stand to lose 15-20 pounds. Even in his current chubby state, you can see that he could be extremely athletic if he ever committed himself to the task.

What makes Sidney really special, though, is the outstanding skill-set he possesses for a player his size. He's very comfortable facing the basket, where he can put the ball on the floor nicely and create his own shot with outstanding ball-handling skills, going either left or right. He can pull-up off the dribble or finish with an elegant floater once he gets inside the lane, or even execute a strong pivot move going right along the baseline, and then pulling back sharply with his left to finish with a pretty layup. These are typically moves that 6-9 players are not supposed to execute, particularly not juniors in high school.

If left alone on the perimeter, Sidney will not hesitate for even a second to spot up and nail a smooth looking 3-pointer. He elevates off the floor to create separation from his defender more like a wing player rather than a big man would.

Even though he's quite skilled on the perimeter, Sidney did most of his damage here inside the paint. He establishes deep position in the post with his wide body, and has outstanding hands to make tough catches, and then the wherewithal and touch to finish from difficult situations around the rim. If he sees a double team coming, he has the ability to find the open man as well. In this no-defense AAU-style setting, he scored at will with the greatest of ease, even if it was hard to judge sometimes just how much that means considering the lack of opposition he faced.

So you might be asking yourself by now…why the pessimism about his future in the beginning of this evaluation? That has a lot to do with the way things look out on the court while Sidney is showing this myriad of versatile skills.

For one, Sidney's body language is as poor as you can get, and his behavior on the court is nothing short of disrespectful. He regularly screams at his teammates, the referees, his coach, and anyone else that stands in his way. Looking at the way he executes plays, it doesn't really look like he wants to be out there for the most part, and you'll see that with the non-existent effort he puts in regarding everything else besides his scoring. Defensively would be the main one, not even attempting to put a body on his man half the time. His conditioning is pretty poor as well, leading him to call his own substitutions whenever he pleases from what we saw from the bench, entering and exiting the game virtually whenever he pleases.

His behavior was so bad in the finals that the refs finally had enough and kicked him out of the game. Sidney was ejected for pushing a player who had fouled him out of bounds, drawing a well-deserved technical, and then a quick second technical after throwing a temper tantrum (kicking his legs in the air, pulling his jersey, voicing his displeasure) immediately afterwards. His parents were not happy at all, nor were the organizers, and the head coach of San Diego High School then proceeded to heckle the referee loudly for the rest of the game. It was a complete circus as you can probably imagine. No one seemed to have any issue with what Sidney did, all we heard were complaints about the nerve the referee had to eject him from the finals of such an important game.

Will Sidney mature as a player and person and grow out of the many extremely concerning issues we're currently seeing? Maybe, maybe not. It's pretty much up in the air if history has anything to say. There is no denying his talent, but you have to wonder if he really has what it takes to help a strong college program win games. The NBA is another story altogether at this point.

[Read Full Article]

---
RBK U - Day Two- Top Prospects and Performers
July 11, 2007
Sidney really didn't have one of the best performances of the day, but I felt inclined to include him since he is considered by many to be the best big at the camp. In fact, the big fella seemed OK with taking a back seat to A.I. Teammate Jennings on day two, scoring just 17 points combined in the morning and afternoon. Unlike Sunday, when he seemed to be cementing himself in the post and working on his back to the basket game, Sidney was content hanging around the perimeter on Monday and seemed reluctant to post up down low. For a number one rated prospect, he does not show the tenacity and hunger you would expect. He seems very content with drifting in and out of games.

[Read Full Article]

---
RBK U - Sunday Night Session
July 9, 2007
Renardo Sidney (Team Iverson/Artesia/Lakewood, CA/2009) continued his stellar play, following up his 26 point effort in the afternoon with a 20 point effort in game two. Watching him, it looked as though he was working on his game as he played rather than playing to win. He was trying a variety of moves on the post, using the glass, and really concentrating on his low post game. Very interesting. Unlike game one, though, Sidney seemed disinterested in rebounding, collecting just two boards and shying away from contact at all costs. Sidney also threw a costly turnover with less than 20 seconds to go that gave Team Crawford a chance to tie at the other end. It was one of four turnovers on the day for Sidney. Very uncharacteristic, considering he has been touted as a great passer due to his guard background growing up.

[Read Full Article]

---
RBK U - Day One - Morning Session Games
July 9, 2007
Sidney (Artesia H.S./Lakewood, CA/2009) had a monster game, throwing up 26 points on 11-of-18 from the field including 2-of-4 from deep and collecting 10 boards.

From his performance, it is clear why Sidney is the number one ranked junior in the country. He showed the ability to score from anywhere on the floor, is a man amongst boys in the post, and might have the softest set of hands in the country. If I had to make a comparison right now, a fair one would be to Zach Randolph on the offensive end, simply because as soon as he gets the ball, he becomes a threat to score wherever he may be.

However, he doesn't care too much for defense or at least he didn't seem to in this game. In all fairness, lazy defending seemed to be a common trait today as many players were trying to establish themselves on the offensive end more than hustling to get back on defense.

[Read Full Article]

---
Sidney, Harden lead Artesia over Mater Dei
March 6, 2007
Ranked as the #1 sophomore in the country by scout.com, Renardo Sidney possesses an advanced skill set that allows him to stand out from many of the other elite big men prospects. Draftexpress saw Sidney play in Las Vegas over the summer where he played with the So-Cal All-stars. The buzz surrounding Sidney at that time was about his weight, which had increased by about 40 pounds since the previous summer. Sidney was once a small forward prospect, but wanted the weight to play power forward to go along with his growth spurt to around 6'10." In the months since August, Sidney has dropped about 20 pounds back into the 240 lbs range, allowing him to be even more agile and athletic.

Sidney has every tool you look for in a power forward prospect. Physically, he has grown nicely into his body, and has a long wingspan. He has a very explosive vertical leap, and runs the court like a wing at times. Sidney can play either facing up or with his back to the basket. At this point in time, he's most comfortable on the perimeter. He has the ability to slash with either hand, and he can also hit the step-back jumper from nearly anywhere on the court. With his back to the basket, Sidney has improved his footwork, though there is still room for growth in this area. Defensively, he uses his physical tools to the fullest as a weak side shot blocker.

In the sectional tournament leading up to the Mater Dei game, Sidney had been leading Artesia. In the two games leading up to the Saturday night showdown, he had 28 and 30 points. Though he produced in the Mater Dei game, Sidney also displayed some of his downfalls that have led to heavy criticism from some observers.

Right away, Sidney showed his tendency to spend too much time hanging around the perimeter. He started by attacking the hoop with a strong drive, but his next couple of possessions ended in forced jump shots. In terms of range, Sidney can knock down the 3 pointer, but seems to struggle with consistency in this area. He did bounce back strong, and took advantage of his physical advantages on the block against Arizona bound senior Alex Jacobson. From there, Sidney's perimeter game started working for him, and he hit a beautiful step back jumper off the dribble from 21 feet. In the second half, he knocked down a 3 pointer in transition, but mainly stuck to attacking the basket off the dribble. In the fourth quarter, Sidney displayed his fantastic leaping ability on many rebounds, 3 of them coming in the last 1:30 of the game.

One of the biggest concerns surrounding Sidney at this point is his reputation for fading in and out of games. He has the tendency to disappear at times, despite having stretches where he completely dominates. To reach his full potential, Renardo Sidney will have to learn to maintain his focus and spread his effort out over the full length of the game. If he can do this, and balance his game on the offensive end, he has a chance to develop into an elite prospect.

[Read Full Article]

---
Las Vegas AAU Summer Tournaments: Thoughts from Day Two
July 25, 2006
The top player in the class of 2009 was extremely intriguing Sunday, combing an awesome performance against the D1 Greyhounds with a pretty mediocre one against the Michigan Hurricanes. Sidney displayed incredible ball handling skills in the open floor for a 6'10, 240 pound player, as he led the break countless times and made quite a few excellent decisions. He dunked absolutely everything inside of the paint, showing that he still has the explosiveness despite all of the weight that he's added as of late. The Mississippi native was the recipient of many of Brandon Jennings assists, and even stepped out and knocked down a few 18 foot jumpers.

The major question when dealing with Sidney is trying to project what position he will be at the next level. He took the world by storm as a rising ninth grader in the spring of 2005 when he was a 6'9, 200 pound small forward who played strictly on the perimeter. Fast forward one year and we have a 6'10, 240 pound post player who still has the ability to handle the ball in the open floor and shoot the three pointer, but doesn't have the same quickness as before. There is still plenty of time for Renardo's camp to decide what position they'd like him to play, considering that he is only going into his sophomore year of high school. While it may seem like it is a bit early to mention a 2009 high school prospect, Sidney has such an interesting skill set that we felt that Draft fans should definitely keep his name etched in their heads, and is a guy we should definitely follow through his storied high school career.

[Read Full Article]

---
Las Vegas AAU Summer Tournaments: Thoughts from Day One
July 23, 2006
For a player only entering his sophomore year in high school, Sidney displays some very nice skills. He appears to be a legit 6'10 and has a very nice frame, though he could stand to add some definition to his body. He is very athletic as he proved late in the game with an explosive windmill dunk. Right now, Sidney is most comfortable when he is allowed to maneuver facing the basket. He can hit jumpers out to the three point line, and it is very evident that he has played the small forward position in the past. Sidney's teammates also felt comfortable leaving him with the ball on the perimeter. One possession they were running time off the clock, and they let Sidney dribble outside for 15 seconds, where he made some nice crossovers and other moves to keep the ball away from his man. It would make him a more deadly player if he were to develop a few more moves inside, and learned to mix in more inside play with his faceup game. He still has three years of high school left to improve his game, and as long as he keeps his weight down he has a bright future ahead of him.

[Read Full Article]

---