Richard Howell
Recent Tweets
All Tweets
DraftExpress: More Undrafted Matthew Dellavedova Phil Pressey B.J. Young Dewayne Dedmon Richard Howell Brandon Davies Michael Snaer Brandon Paul.
2013-06-28 00:17:54
DraftExpress: DX Trending Prospects Richard Howell http://t.co/aQfhfrK9GF
2013-05-01 16:33:34
DraftExpress: On our mock draft the answer is (and has been for a long time) yes. Monster rebounder. RT @JTomick Richard Howell Get a Second Round Pick?
2012-12-05 00:46:11
DraftExpress: Top NBA Draft Prospects in the ACC, #6-#10: Reggie Bullock, Lorenzo Brown, Richard Howell, P.J. Hairston, Travis Mckie http://t.co/gd1P4xss
2012-09-22 02:23:17
DraftExpress: Richard Howell and C.J. Leslie are physically dominating San Diego State's frontline. Should be up more than 33-29. Good game so far.
2012-03-16 01:39:11
Team: Ironi Nahariya
Physicals
Positions
Rankings
Salary
Misc
H: 6' 7"
W: 250 lbs
Bday: 09/26/1990
(25 Years Old)

Current: PF
NBA: PF
Possible: PF

RSCI: 60

Agent: Andy Miller

High School: Wheeler
Hometown: Marietta, GA

Predraft Measurements
| Year | Source | Height w/o Shoes | Height w/shoes | Weight | Wingspan | Standing Reach | Body Fat | No Step Vert | Max Vert |
| --- | --- | --- | --- | --- | --- | --- | --- | --- | --- |
| 2013 | NBA Draft Combine | 6' 6.25" | 6' 7.5" | 250 | 6' 10.25" | 8' 9.5" | 8.8 | NA | NA |



Basic Per Game Statistics

- Comprehensive Stats - Statistical Top 25s

Player Page&nbsp&nbsp| Player Stats | Mock Draft History | Related Articles&nbsp&nbsp| Add to My Draft Express&nbsp
&nbsp
Trending Prospects: Richard Howell
May 1, 2013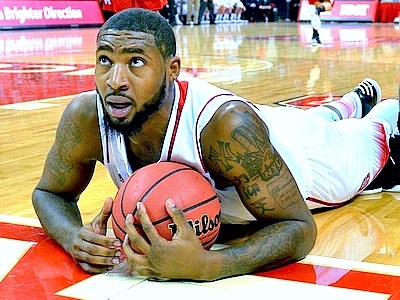 US Presswire



Matt Kamalsky

Leading the Wolfpack in rebounding and finishing as their second leading scorer, Richard Howell was a consistently bright spot for a North Carolina State squad that struggled to live up to the lofty expectations set for them in the pre-season. Averaging a double-double en route to earning All-ACC 1st Team Honors, Howell put the finishing touches on a solid four-year career. The 60th ranked recruit in the 2009 RSCI, Howell improved in each of his three seasons on a number of levels and molded himself into one of the best big men in the senior class and a potential draft pick this upcoming June.

A big part of Howell's development into a productive player can be traced to his improved conditioning. After gaining significant weight early in his college career, Howell shed some 20 pounds before his sophomore year and has continued to refine his physique since then. A bit undersized for the power forward position and lacking great explosiveness, Howell has a good wingspan and is built like a tank.

Those two attributes, coupled with his consistently high effort level and tenacity, made Howell the 5th best per-game rebounder and 13th best per-40 minute pace adjusted rebounder in the nation. A tremendous rebounder who has never dipped below 13 rebounds per-40 minutes paced adjusted in any of his four seasons in Raleigh, Howell is physical, sure-handed, and has a nose for the ball. Despite his lack of size and leaping ability, Howell manages to pull down plenty of rebounds in traffic by using his timing and strength to his advantage, often winning the scrum for the ball by snatching it away from the would-be rebounders around him with one-hand.

In addition to his ability on the glass, Howell has developed into an efficient complementary player on the offensive end at the collegiate level. Despite the fact that he doesn't often finish plays above the rim, Howell converted some 64% of his shots in finishing situations this season, thanks to his aggressiveness and touch. His physicality also translated to the post, where he shot a respectable 49%. Accounting for roughly the same proportion of his possessions as cuts and offensive rebounds according to Synergy Sports Technology (~20), Howell is not a dynamic offensive threat, but he's decisive, embraces contact, and attacks angles. As he makes the transition to the next level, Howell will need to continue developing his left hand as well as his ability to score over the top of the more athletic defenders he'll be matched up against, as he'll have to make the most of the opportunities he receives inside the paint to not be a liability offensively.

Away from the basket, Howell shows some jump shooting ability. Making just 13 of his 38 attempts from the perimeter this season, the Marietta, Georgia native never recaptured the promising efficiency from the midrange he showed early in his career, and will need to continue improving his consistency in this aspect of the game to help compensate for his lack of great explosiveness in close.

Defensively, Howell's strength and toughness are assets, but his lack of size and leaping ability at the center position limit his ability to challenge shots and be a factor rotating over from the weakside. His lateral quickness is better than it was early in his career, but still leaves something to be desired on the pick and roll. His motor has improved as well, but he still has some lapses and doesn't always fight for position on the block before or after the catch to the extent he's capable of. Howell would have a much easier time finding a spot in an NBA rotation if he followed the lead of players like Chuck Hayes and Udonis Haslem and become a stalwart post defender to compliment his excellent rebounding skills.

Even though he is somewhat stuck between the power forward and center positions, big men with great rebounding ability are always at a premium, and Howell is among the best the NCAA has to offer. If Howell can become a better-rounded offensive player away from the basket or improve what he brings to the table defensively, it would not be surprising to see him emerge in a NBA rotation and stick around for some time. Skipping the Portsmouth Invitational Tournament, Howell's workouts will play a role in where he is drafted, as he still has some things to prove that could solidify his stock.

[Read Full Article]

---
Top NBA Draft Prospects in the ACC, Part Five
September 22, 2012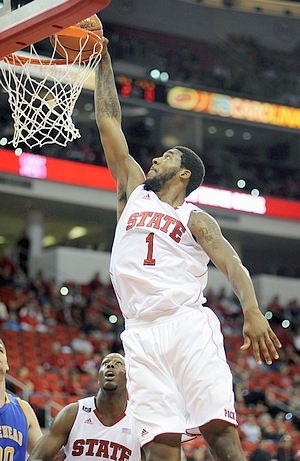 US Presswire



Derek Bodner

After Richard Howell's sophomore season, Howell and incoming N.C. State coach Mark Gottfried made conditioning a priority. Howell came into his junior season having reportedly lost over 20 pounds, and the change was easily recognizable, both in his appearance and his game.

After having averaged 13.6 and 18.2 minutes per game his first two years, the combination of Tracy Smith's graduation and Howell's improved physique allowed his minutes to increase to 27 minutes per game. His per-minute production remained largely the same, averaging 16.0 points and 13.7 rebounds per 40 minutes with the increased time, slightly under the mark of 16.2 points and 14.3 rebounds per 40 minutes during his sophomore season.

Howell's intrigue as a prospect still is largely based on his excellent rebounding ability. Amongst our top 100 prospects, Richard Howell's 5.3 offensive rebounds per 40 minutes ranks as the second best mark. His pursuit on this end of the court is constant, and he has very soft hands. He has an excellent knack for tracking the ball's trajectory, and does a very good job of maintaining control by tipping the ball until he can fully gather it.

N.C. State tried using Howell in more post-up situations this year, without much success. Howell is methodical and deliberate in the post, and his footwork and touch aren't all that advanced either. He has had some success with a hook over his left shoulder, and shows some touch on a turnaround jump shot, but he has yet to establish any comfort using his left hand down low.

As we mentioned when we last profiled him, one of the keys to projecting Howell to the next level would be an increased threat as a jump shooter. He took slightly more jump shots last year, but it's still a relatively minor part of his offensive arsenal. While increasing his attempts, his effectiveness plummeted, from 48.1% on jump shots during his sophomore year to 29.2% last year. Which year is more accurate of his overall potential as a jump shooter is still uncertain, as both years were on very small sample sizes. He overall shows solid form up to mid-range, but extending this and showing consistency are still big steps towards easing concerns going forward.

On the defensive side of the ball is where his improved conditioning might yield the best results. He moved better side to side last year and was lighter on his feet. He's still not incredibly explosive of a leaper, and isn't likely to be much of a shot blocker throughout his career, but if he can show increased lateral mobility it will ease a major concern of his going forward. He has solid strength to defend the post, but he sometimes waits too long in the possession to start denying position. Overall, his focus on this end of the court may be the biggest question mark of his going forward.

Richard Howell still has one undeniable elite skill set that is very much in demand at the NBA—rebounding--and role players have been able to carve out a niche and stay on rosters due to that skill. The improved conditioning he was in last year was a big step in his maturation as a prospect. If Howell can increase the range and consistency on his jump shot, he can take the next step as a potential NBA prospect.

[Read Full Article]

---
Top NBA Draft Prospects in the ACC, Part Four (#16-20)
September 23, 2011
Icon SMI



Jonathan Givony

A 6-8 power forward who took a backseat to departing senior Tracy Smith in the frontcourt of an underachieving N.C. State team, Richard Howell could be on the verge of a breakout junior season after losing a significant amount of weight over the summer.

Howell stands out first and foremost with the gaudy rebounding numbers he produced in his first two seasons in the ACC, leading the entire conference on a per-minute basis last year. He ranked as the 3rd best per-minute offensive rebounder amongst all players in our database and the 8th best total per-minute rebounder, which will bring plenty of attention his way this year if he can maintain a similar pace with increased playing time this season.

Like most great rebounders, Howell has phenomenal hands which allow him to catch virtually every ball even remotely in his area. While not overly explosive vertically, he has the strength and girth to just move opposing players around in the paint, and shows terrific timing with the way he pursues loose balls coming off the rim.

Offensively, Howell gets most of his touches off the ball, diving to the rim and crashing the offensive glass. Not what you'd call a high flyer, he rarely finishes above the rim, which makes it difficult for him to operate in traffic. It will be interesting to see how his weight loss affects his overall athleticism, because he's not an overly explosive guy as is. He does not possess a very diverse post game either, showing average footwork and struggling to finish with his off-hand.

Howell does show some intriguing flashes of skill-level from the perimeter, both as a jump-shooter and attacking his matchup off the dribble. He only took about one jumper per game last season, but made 48% of his attempts according to Synergy Sports Technology. He shows solid mechanics on his jumper, mostly on flat-footed catch and shoot attempts.

This is a part of his game he showed more ability in as a high school player, so it will be interesting to see if he can expand on this as a junior. It would certainly add to his versatility and overall intrigue.

Howell has a solid skill level in other areas as well. He's capable of putting the ball on floor a bit, typically to make his way to the rim in a straight line. He's is a pretty solid passer as well, seeing the floor a little better than you'd expect considering the position he plays. He seems to have a good understanding for how to get teammates involved.

The biggest question marks revolving around Howell's pro potential might be on the defensive end. He looks heavy and slow-footed stepping out on the perimeter, showing average fundamentals and an intensity level that often leaves something to be desired.

While he seems to possess good timing, and has the bulk to be hold his own in the post, his lack of size and athleticism could be a major hindrance moving forward unless he really works to maximize his ability on this end of the floor. As things stand, he looks most comfortable guarding centers, but at 6-8, he probably won't be able to do that in the NBA.

Despite his shortcomings, players in Howell's mold have often been able to carve out important niches in the NBA, as his rebounding production and budding skill-level are coveted traits in big men. The early returns this offseason sound very positive, as he's reportedly dropped over twenty pounds at the urging of incoming head coach Mark Gottfried. With Lorenzo Brown, C.J. Leslie and Howell returning, N.C. State has a good amount of talent still intact to help make the transition to the new staff a lot easier, so it will be interesting to see how things play out.

[Read Full Article]

---
Initial Scouting Reports, High School Class of 2009 (#11-150 Recruits)
July 30, 2008
Richard Howell (#74 Scout, #59 Rivals, #60 ESPN) definitely caught our eye as someone who may be a bit of a sleeper relative to where he's ranked. He's a slightly undersized big man with a great frame and excellent strength for a player his age, but he brings a very high skill level to the table on top of that. Howell likes to play facing the basket, where he can put the ball on the floor with a spin move into the paint, or knock down a flat-footed and slow-developing 3-pointer with very nice consistency. He also has good hands and a nice feel for playing inside, and showed off a solid drop-step move inside in addition to a pretty turnaround jump-shot. Howell is just an average athlete and doesn't seem to play all that much defense at this stage, but he looks like a really nice prospect for Sidney Lowe at N.C. State, especially in that system.

[Read Full Article]

---
RBK U - Sunday Night Session
July 9, 2007
For Team Yao, Richard Howell (Willard/Lawerenceville, GA/2009) had himself a game. He went 10-of-10 from the field, 1-of-1 from deep and 2-of-2 from the line to finish with a game-high 23. The 6'7" forward has a game more suited for the power forward position, although right now he fits the profile of a small forward. He is very athletic and if he can keep that athleticism intact as he grows, he should be a high division one prospect. Howell also has great touch around the basket. Most shots, it looks as though he just gets the ball around the cylinder, then lets the rim do the work.

[Read Full Article]

---