Trending Prospects: Robert Covington
March 13, 2013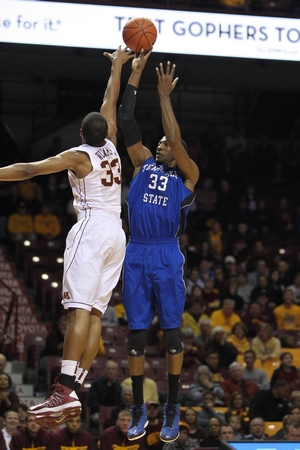 US Presswire
Kyle Nelson
Although his senior season was
cut short by a torn meniscus
, Robert Covington returned to carry Tennessee State to the semifinals of the Ohio Valley Conference Tournament before losing to Belmont.
Despite entering the season as
one of the top prospects outside of the BCS Conferences
, not to mention one of the nationís most versatile forwards, Covington never quite managed to build on his promising junior season, stagnating or even regressing in many key areas statistically . Now, as his college career has come to a close, he has quite a bit of work to do to guarantee a spot on a NBA roster next season.
From a physical perspective, the most pressing concern on scoutsí minds involves Covingtonís position at the next level. At 6í9 with a long and wiry 215 pounds, he lacks the ideal strength or toughness for the power forward position, but lacks athleticism for a small forward and appeared to have lost a step in the months following his return from knee surgery. A tweener in many aspects, he was unable to ease many of the concerns raised in our previous report with his play this season, which will make the next few months extremely important for his long-term future.
On the offensive end, Covington remains a skilled player, averaging 19.8 points per 40 minutes pace adjusted, though on a career low 41% FG%, which represents
one of the lowest rates
among collegiate power forwards.
Covingtonís biggest appeal as a prospect revolves around his jump shot, which comprises nearly 56% of his overall shot attempts. He converted 37.5% of his nearly five 3-point attempts per game, down from 45% last season and 46% as a sophomore. Though his mechanics are a bit unorthodox, his high arcing shot is difficult to block and he has proven to be one of the nationís top perimeter shooting big men throughout his entire career, hitting 183/430 of his overall attempts, or 43%. He shows the ability to make shots with his feet set, off the dribble, and with a hand in his face, which bodes well for his ability to operate as a floor spacer at the professional level, something that is increasingly coveted in modern basketball.
He also possesses an above-average first step, which allows him to take his man off of the dribble, either to slash to the basket or pull-up for a mid-range jump shot. Though he may struggle to get by quicker defenders in the NBA, his inability or unwillingness to draw contact in the post, and his tendency to drive with his right hand, he nonetheless shows solid instincts as a shot creator on the perimeter that have developed steadily since his junior season.
Outside of his abilities as a perimeter shooter and his development as a shot creator, however, Covington shows some very peculiar tendencies. For one, despite his physical and athletic advantages at this level, he is not a very effective finisher inside the paint, making just 49% of his attempts around the basket in the half- court, and 31.8% of his attempts in post-up situations. His paltry 43% 2P% ranks in the bottom 10 of both
power forward
and
small forward
prospects in our database.
His lack of ideal strength, average toughness, raw footwork, and questionable touch around the basket raise a lot of question marks considering the level of competition he played against in the Ohio Valley conference, though itís unknown how much of that was due to his knee problems this season.
Furthermore, and to build on our analysis from November, he struggled mightily on the offensive end against good competition, including nine points (2/12 FG) and five rebounds against BYU, 10 points (4/11 FG) and three rebounds against Minnesota, and 12 points (5/18 FG) and five rebounds against Missouri. On film, itís clear that he shows a tendency to float around the perimeter, play passively, and as Joe Treutlein
noted in November
, ďbecome decidedly one-dimensional, as he just doesn't have the skill, strength and athleticism to consistently contribute outside of his superb outside shot.Ē
On the defensive end, Covington possesses excellent size and versatility, and routinely guarded multiple positions for Tennessee State in any given game. Though he lacks the lateral quickness to stay in front of quicker guards, he manages to stay relevant even after he is beaten due to his outstanding length, as evidenced in his outstanding 2.6 steals and 2.3 blocks per 40 minutes pace adjusted. Should he be willing to put the effort in, there is little doubt he could provide value as a defender down the road. In the meantime, playing with more energy and focus would go a long way in showing scouts that he can contribute on both ends of the floor at the next level. For instance, he inexplicably struggles to close out on perimeter shooters, oftentimes finding himself out of position due to his own or a teammateís mistaken rotation.
Covington is significantly less effective in the post, where he struggles to stay with bigger, stronger, and quicker defenders. Looking towards the NBA, this problem will only get worse as he will face far more talented big men on a nightly basis. Furthermore, he remains a mediocre rebounder, pulling down a career low 9.0 rebounds per 40 minutes pace adjusted. On film, he spends a lot of his time on the perimeter on the defensive end, but nevertheless, rarely shows the discipline, focus, toughness and fundamentals displayed by elite rebounders.
With all this in mind, Robert Covington has a lot of work to do before establishing himself as a legitimate NBA player, even though his status as one of the better perimeter shooting forwards in this draft will certainly give him a chance to make a roster. His lack of fundamentals on the defensive end, his passive demeanor on the floor, and his general inconsistency against elite competition are legitimate red flags when projecting him at the next level.
With that said, a strong showing at the Portsmouth Invitational Tournament and in private workouts against NBA-level athletes could go a long ways in showing and that he has more to offer an NBA team besides his shooting. If he can show scouts that he has the mindset needed to play a very specific Anthony Tolliver-esqe role at the next level, and that he is a better player than he was able to display this season due to injuries, then he could still have a chance to hear name called in the second round of the draft. Otherwise, he will certainly have opportunities to prove himself in summer league, training camp, the D-League, or potentially overseas, to try and earn a NBA roster spot down the road.
[
Read Full Article
]
Top NBA Prospects in the Non-BCS Conferences, Part Five
November 16, 2012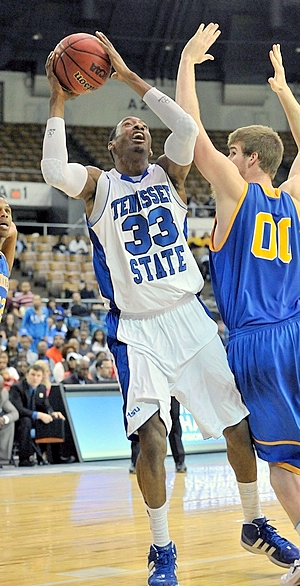 US Presswire
Joe Treutlein
Robert Covington has consistently improved his game in three straight seasons at Tennessee State in the Ohio Valley Conference, seeing his pace-adjusted production and efficiency numbers steadily and notably rise, while he's honed his skills on the court as well.
Standing 6-9 with very good length, albeit with a slight, still undeveloped frame, and average athleticism by NBA standards, Covington has solid physical tools for the power forward position. His strength and bulk are both weaknesses at the moment, but he still has room to improve in this area as he continues to mature physically.
On the offensive end, Covington shows great versatility, being capable of scoring from all areas of the floor. The most impressive and attractive asset in his arsenal however, both at the college level and projecting to the pros, is his outstanding three-point shot.
Possessing very good fundamentals with a high and quick release along with a consistent shooting form and clear-cut NBA range, Covington is a deadly three-point shooter, as evidenced by his 44.8% three-point percentage last year. There's little reason to believe it's a fluke either, as he shot 46.0% as a sophomore and his junior numbers were on a sizeable 4.4 attempts per game (which is more than a third of his 12.2 total FGA per game). His shooting ability also translates to the free-throw line, where he's shot nearly 80% in all three seasons.
The rest of Covington's offensive game is certainly effective against the competition he routinely plays, where his combination of size, length, and athleticism give him an edge against most opponents. He has just a small sample of games against big conference competition, however, and hasn't fared especially well in them to date. In two games against BYU and Minnesota early in this 2012-13 season, for example, Covington combined for 19 points on 6-for-23 shooting with just eight total rebounds, while he fouled out of both games in less than 22 minutes per game.
Against the tougher competition, Covington's game becomes decidedly more one-dimensional, as he just doesn't have the skill, strength and athleticism to consistently contribute outside of his superb outside shot. The area of his game where he fares the best other than his shooting would be finishing on simple plays around the basket, be it offensive rebounds, cuts, or getting out in transition, where he shows good touch and ability to use his tools effectively. Still, he shows problems initiating and finishing through contact even against weak competition, and this is only magnified against players closer to NBA caliber.
The area Covington has the most room to improve offensively, and this is something he does fairly well against his normal competition, is with his face-up game from the perimeter. Showing a very good shot fake and jab-step that take advantage of the respect opponents must pay his jumper, Covington does a good job putting the ball on the floor for straight-line and occasionally slightly more difficult drives to the basket. He's somewhat turnover prone in this area, especially against tougher competition, and is still clearly raw with a lot of room to improve.
His post-up game isn't heavily featured at this stage, and he probably wouldn't be able to do much damage in that regard at the next level given his strength limitations, so it's probably for the best he continues focusing on being the best face-up four he can be. Covington's mid-range game on the other hand, could stand to use some improvement, as when he shies from contact on drives to the rim and settles for floaters and mid-range jumpers, he is nowhere near as effective as when spotting up from outside.
On the defensive end, Covington is still a work in progress, and doesn't benefit at all from playing against the competition he does on a nightly basis in the OVC. His post defense looks good initially, as he opens up with a solid fundamental stance, but he too often just relies on his physical advantages to get by, which shows up when he's matched against tougher competition, where he's prone to being beat laterally and can lose focus on plays. His perimeter defense is actually somewhat further along, as Tennessee State's lineup and the composition of the rosters they have often leaves Covington matched up with small forward types. While he likely wouldn't be guarding that position in the pros, its good practice for defending face-up fours, and he does a solid job moving his feet and using his length to stay in front of his man and contest shots on the perimeter.
Covington does manage to block a decent 1.4 shots per game while showing solid weakside awareness, but it's mostly by virtue of his superior length and probably something he shouldn't rely on as much of a selling point going forward. His rebounding, on the other hand, while respectable, could certainly show some improvement, and this is probably the single area he could most improve to increase his NBA chances. Covington grabbed just 9.9 rebounds per 40 minutes pace adjusted last season, which doesn't rank him especially well among power forwards in our database, and is something he can certainly improve on with increased focus and effort.
Looking forward, Covington is an intriguing player due to his size, length, and terrific shooting stroke, though he's still a pretty raw and developing player overall, particularly physically. A December 8th matchup with Missouri looms as likely his last ever game against noteworthy big conference competition, which will be a key game for him given his struggles in these types of games in the past. Making the NCAA tournament may be difficult considering that Murray State is favored to emerge from the Ohio Valley Conference tournament, but that would provide a significant platform for him to continue to prove himself.
Regardless, he should get plenty of opportunities to find a way into the NBA in the offseason and down the road, particularly in settings such as the Portsmouth Invitational Tournament, as players with his size and skill profile aren't especially common. He'll likely need to add at least one complementary NBA level skill to his arsenal in order to find a long term niche, while maximizing his physical and athletic potential in the weight room will also be key.
[
Read Full Article
]