L.A. Clippers Mini-Combine Recap and Analysis
May 22, 2014
Ronald Roberts, 5 points, 6 rebounds, 2 turnovers, 2-for-7 FGs
Roberts proved to be the best athlete at the workout, and possibly one of the best athletes in the entire draft, finishing a monster dunk after ripping baseline from the short corner. Roberts missed what would have been two more monster dunks, which is why he finished the game at 2-for-7 from the field. He missed both of his mid-range jumpers as he shoots the ball very flat. Roberts also didn't show anything with his back to the basket, as he was called for an offensive foul after falling to do anything with the ball on the block. Roberts has potential, however, due to his freakish athleticism and nice frame. He's another player a few NBA teams would like to get on their D-League team to see if they can develop his skill-level a bit and improve his rebounding technique.
[
Read Full Article
]
Top NBA Prospects in the Non-BCS Conferences, Part Seven
November 26, 2012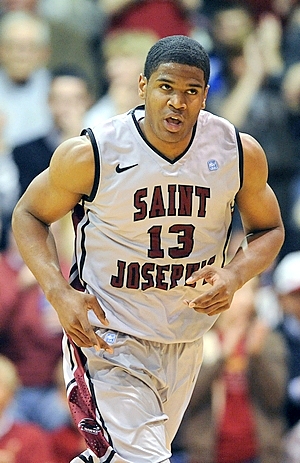 US Presswire
Kyle Nelson
Few outside of Philadelphia knew much about
Ronald Roberts
before the start of his junior season, even though he was named the 2011-2012 Atlantic 10 Conference Sixth Man of the Year. That quickly changed when he scored 21 points along with 16 rebounds in an overtime upset against Notre Dame and followed it up with 15 points and 11 rebounds against Florida State. In just six months, Roberts went from being a key reserve in a stacked Saint Joseph's frontcourt to being its anchor, emerging as a prospect to watch in the Atlantic 10.
Though Roberts is undersized for the post at the next level – he stands around 6'8 - he has a long and built 220-pound frame that looks as though it can carry more weight. Furthermore, he is an outstanding athlete, possessing excellent explosiveness and mobility, along with an aggressive style of play that allows him to maximize his physical gifts.
That being said, he is a work in progress on the offensive end. He was productive as a sophomore, to the tune of 17.1 points per 40 minutes pace adjusted, and is averaging 13.5 points in 35 minutes per game through four games. While he plays extremely hard, never giving up on a play and expending an immense amount of energy every time he steps on the floor, he is fairly raw in his skill-level, showing a rudimentary post-game and very little on the perimeter.
Roberts sees most of his offense right around the basket, but is much better suited as a finisher as opposed to as a creator. On film, he shows extremely raw footwork, preferring to either kick the ball out of the post or bully his way to the basket. He relishes contact inside the paint, drawing 6.1 free throws per 40 minutes pace adjusted as a sophomore and is currently attempting 9 as a junior, but struggles to create much offense on his own. Though he shows some basic post moves, particularly a running baby hook, he is extremely raw in the post and still largely lacks a go-to move even at this late stage.
Roberts is at his most effective cleaning up around the basket. He is an outstanding offensive rebounder, posting 4.6 offensive rebounds per 40 minutes pace adjusted as a freshman, 3.7 as a sophomore, and 6.9 in four games as a junior. His instincts and aggressiveness allow him to get his hands on missed shots and his explosiveness allows him to finish quickly and with authority. He also follows his shot and finds a lot of extra possessions by rebounding his misses. Roberts is also very good at scoring around the basket off of cuts, doing a great job of moving without the ball, running in transition, and communicating with his teammates.
Moving away from the basket, Roberts lacks serious polish. He attempted 14 jump shots as a sophomore and made 35.7% of his attempts, which included a variety of turnaround jump shots and a pair of makes form mid-range. His mechanics look solid, but on this small of a sample size, it's difficult to draw any definitive conclusions and his 60% free throw percentage this season is a career high, which is not an encouraging sign. Similarly, he put the ball on the floor a few times last season, facing his man up and taking him to the basket, but his extremely limited ball handling ability leaves much to be desired at this stage.
Roberts shows the same energy on the defensive end, where he compensates for his lack of ideal size by playing extremely tough, using his body, and moving his feet. He is a very good post defender at this level and, in addition to his length and athleticism, he demonstrates good fundamentals, as well. He has good lateral quickness for a player his size, which he puts to good use defending perimeter-oriented big men, closing out hard on shots, and while guarding the pick-and-roll. One area of concern, perhaps, is his defensive rebounding, where he has measured out below average in each of his three seasons, and where he posted just
5.9 defensive rebounds per 40 minutes pace adjusted
.
The fact that Roberts has started the season strong against legitimate competition validates our impression that he is a prospect to watch moving forward. His relentless style of play, defensive potential, and athleticism suggest that he has what it takes to overcome his lack of ideal size at the next level. That being said, scouts will be watching to see if he can develop on the offensive end before he becomes a legitimate prospect. Roberts will have plenty of opportunities in future matchups against Creighton, Villanova, and a ramped up Atlantic 10 Conference schedule to prove to scouts that he can continue to hold his own against NBA caliber athletes on a nightly basis.
[
Read Full Article
]