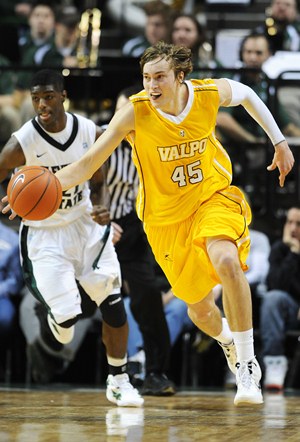 Walker Beeken
After being named Horizon League Player of the Year as a junior in 2011-2012, Valparaiso's
Ryan Broekhoff
has continued his strong play as a senior, leading the Crusaders in scoring and rebounding, as they currently sit atop the conference standings at 11-3.
Broekhoff was lightly recruited after playing at the prestigious Australian Institute of Sport, on a team that included fellow Aussie classmates
Matthew Dellavedova
(Saint Mary's) and
Brock Motum
(Washington State). He's become a very productive college player, however, ranking fifth amongst all small forward prospects in PER this season.
Standing 6'7 with a thin, wiry frame that he's continued to develop over the course of his college career, Broekhoff is used primarily as a face-up four man at Valparaiso, where he's able to spread the floor and cause matchup problems with his tremendous outside shooting and versatility. He'll likely need to slide over to the small forward slot professionally, but he appears to have the perimeter skill set to do so, and he'd likely be a better fit at that position from a physical standpoint.
Broekhoff's offensive game revolves largely around his outstanding perimeter shooting ability, as about two thirds of his shot attempts this season have been jumpers. He has deep range and a fairly quick release, and is comfortable spotting up or catching the ball on the move after being run off screens. He's knocking down 44% of his attempts from behind the arc this season, which is excellent considering he shoots over six 3-pointers per game as his team's number one scoring option.
Broekhoff becomes less efficient once he's forced to put the ball on the floor, however, as he's only knocking down 31% of his jumpers off the dribble, and he has trouble getting all the way to the rim off the bounce. He's a solid ball-handler for a small forward, but he struggles to create space to get off his pull-up jumper due to a lack of a quick first step and the minimal elevation and separation he creates from defenders rising up off the bounce. His weaknesses is this area would likely be magnified at NBA level, where he'd be playing against much longer, more athletic defenders than he sees in the Horizon League.
Broekhoff's value professionally will likely be as a perimeter shooter and ball-mover, as he has a very good feel for the game, playing within himself and doing a nice job of hitting the open man, as evidenced by his positive assist-to-turnover ratio. He also does a solid job on the boards, pursuing the ball with intensity and pulling down 9.7 rebounds per forty minutes.
The biggest obstacles facing Broekhoff are likely on the defensive end, as it would be a big transition going from defending power forwards at the mid-major level to small forwards at the pro level, due to his average physical tools. He's a solid defender for the Crusaders, with the versatility to guard different types of players all over the court, thanks to his size at 6-7, a very good effort level, and an understanding of positioning. His lateral quickness would really be tested as a full-time defender on the wing, however, which is something NBA teams would likely want to get a better gauge of in workouts or at the Portsmouth Invitational Tournament, which could be an ideal setting for scouts to evaluate him.
Playing for a former NBA player and first round pick (16th overall in 1998) in Head Coach
Bryce Drew
gives Broekhoff an excellent resource as he makes the transition to his professional career, as Drew also played his college ball at Valpo and has experience in making the transition from mid-major player to the NBA.
While getting drafted this summer may be long-shot for Broekhoff, he brings a number of appealing traits to the table with his outstanding outside shooting, effort level and basketball IQ. His development and production at the NCAA level should earn him looks from NBA teams as they do their due diligence on some of the better senior players in the country, and should earn him opportunities to prove he has the intangibles needed to overcome his deficiencies and carve out a niche at the NBA level. Should he be unable to do so, a long and productive career will certainly await him at the European (or Australian league) level.