Ryan Kelly
Recent Tweets
All Tweets
DraftExpress: Injuries Seth Curry (shin surgery) Gorgui Dieng (ankle) Jamaal Franklin (ankle) Ryan Kelly (foot surgery) C.J. Leslie (wrist tendonitis)
2013-05-16 09:36:37
DraftExpress: Ryan Kelly will have surgery on his right foot and is out for 3 months. Won't be able to do any NBA workouts http://t.co/hfkl9ujflo
2013-04-10 08:41:46
DraftExpress: Jabari Parker "I'll replace what Ryan Kelly has done I play the same position we're about the same size. I can pick up what he laid down"
2013-04-01 13:08:32
DraftExpress: Jabari Parker is a very good shooter. Ability to make shots with feet set or off the dribble will come in handy replacing Ryan Kelly at PF.
2013-01-21 16:06:55
DraftExpress: They'll definitely get long looks. Only so many seniors do though RT @ZachWLambert Do Ryan Kelly or Seth Curry have a chance to get drafted?
2012-12-03 23:48:48
Team: Lakers
Physicals
Positions
Rankings
Salary
Misc
H: 7' 0"
W: 228 lbs
Bday: 04/09/1991
(24 Years Old)

Current: PF
NBA: PF
Possible: PF

RSCI: 11

Agent: Jeff Austin
Current Salary:$1,650,000

High School: Ravenscroft
Hometown: Raleigh, NC
Drafted: Pick 48 in 2013 by Lakers

Predraft Measurements
| Year | Source | Height w/o Shoes | Height w/shoes | Weight | Wingspan | Standing Reach | Body Fat | No Step Vert | Max Vert |
| --- | --- | --- | --- | --- | --- | --- | --- | --- | --- |
| 2013 | NBA Draft Combine | 6' 9.75" | 6' 11.75" | 228 | 6' 11.5" | 9' 2" | 14.8 | NA | NA |
| 2012 | LeBron James Camp | NA | 6' 11" | 232 | 6' 11" | NA | NA | NA | NA |
| 2012 | Amare Stoudemire Camp | NA | 6' 11" | 232 | 6' 11" | NA | NA | NA | NA |



Basic Per Game Statistics

- Comprehensive Stats - Statistical Top 25s
| Year | League | Name | GP | Min | Pts | FG | FGA | FG% | 2Pt | 2PtA | 2P% | 3Pt | 3PtA | 3P% | FTM | FTA | FT% | Off | Def | TOT | Asts | Stls | Blks | TOs | PFs |
| --- | --- | --- | --- | --- | --- | --- | --- | --- | --- | --- | --- | --- | --- | --- | --- | --- | --- | --- | --- | --- | --- | --- | --- | --- | --- |
| 2015/16 | NBA | Ryan Kelly | 6 | 13.5 | 3.5 | 1.3 | 3.7 | 36.4 | 1.2 | 2.3 | 50.0 | 0.2 | 1.3 | 12.5 | 0.7 | 1.0 | 66.7 | 0.2 | 3.3 | 3.5 | 1.0 | 0.5 | 0.8 | 0.7 | 0.8 |

Player Page&nbsp&nbsp| Player Stats | Mock Draft History | Related Articles&nbsp&nbsp| Add to My Draft Express&nbsp
&nbsp
Top NBA Draft Prospects in the ACC, Part Six
September 24, 2012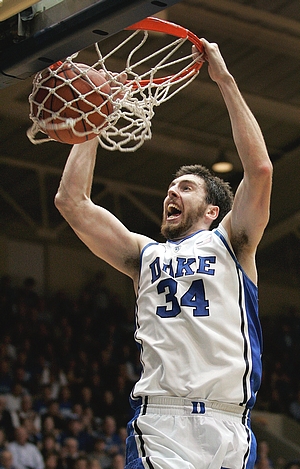 US Presswire



Kyle Nelson

Duke's impressive 2012 campaign fizzled down the stretch, culminating in a shocking NCAA Tournament upset at the hands of #15 seed Lehigh. Ryan Kelly was a key figure in both instances, providing a surprisingly versatile offensive spark before spraining his right foot against North Carolina and sitting out both the ACC and NCAA Tournaments. Before his injury, Kelly was finally starting to look like a McDonald's All-American-caliber player, as he was showing the potential to be a legitimate inside-outside threat with a penchant for hitting big shots in the clutch. Though he has emerged as a legitimate threat at the collegiate level, his NBA prospects remain uncertain.

At 6'11, Kelly has outstanding size for the power forward position with mobility and versatility to spare. He added nearly 30 pounds of muscle to his frame since entering Duke and, even at 234 pounds, looks like he can continue adding bulk to his frame. Maximizing his strength will be necessary as Kelly is a below average athlete with an average wingspan, as he lacks an ideal first step and the length or explosiveness to finish over his man around the basket.

On the offensive end, Kelly used nearly twice as many possessions as a junior and elevated his paltry sophomore production to an impressive 17.7 points per 40 minutes pace adjusted. He was an inconsistent scorer, however, logging 13 single-digit outings. He'll need to be more productive as a senior, but unlike in past seasons it was encouraging to see him employ his diverse skill set with increased comfort and settle into his role as a face-up power forward.

Kelly finds most of his offense, at this point, as a perimeter shooter. He lacks elevation on his jumper, but his consistent mechanics and a quick release, allow him to get his shot off without hesitation and with impressive accuracy. He was one of the top perimeter shooters in the NCAA last season, making an impressive 40% of his 4.7 attempts per 40 minutes pace adjusted. His shooting touch translates into an outstanding 81% shooting from the free throw line, as well.

Additionally, he has a diverse face-up game. Thanks to his above average ball-handling ability, he is able to operate very well out of the high post, taking his man off the dribble on his way to the basket. While he struggles to power the ball to the rim, he compensates with a finesse game including running hook shots, floaters, and layups. Furthermore, he has developed an intriguing mid-range arsenal based around his proficiency as a pull-up jump shooter.

While his lack of strength and explosiveness are glaring in the post, he actually displays very good instincts and developing footwork with his back to the basket. If he is able to carve out space on the blocks, then he shows a solid baseline spin move, at which point he can finish around the rim or launch a fade-away jumper. He is also a dual threat and proficient finisher out of the pick-and-roll, thanks to his mobility and shooting ability. He is a below-the-rim player, however, and so without getting stronger, it is difficult to see him contributing consistently in this capacity, let alone getting to the line 6.7 times per 40 minutes pace adjusted like he did last season, in the NBA.

Whether this offensive arsenal, in general, will work for him in the NBA remains to be seen, especially considering his mediocre 47% 2-point conversion rate and his tendency to get his shot blocked This, in particular, is an area of concern when projecting him to the next level: is he merely a shooting specialist or will he be able to find other ways to produce?

Concerns about his strength and athleticism are especially pronounced on the defensive end. Though Kelly is a very engaged defender with good instincts and awareness, his physical deficiencies stand out at this level and will most certainly be a problem at the next. In particular, his underwhelming lateral quickness and footspeed make him a liability away from the basket where he struggles to close out on perimeter shooters and is easily beaten off of the dribble by quicker players. At 6-11, he may be better off defending centers in the NBA, but does he have the strength to contain them in the post?

He is a below average rebounder for his size at 8.0 rebounds per 40 minutes pace adjusted, as well, which stacks up very poorly in comparison to power forwards in our database and certainly doesn't help his case when projecting him in an NBA rotation.

Kelly ultimately presents scouts with an interesting conundrum. Though he has an excellent feel for the game and NBA-caliber shooting ability out of spot-up, pick-and-pop, and isolation situations, his weaknesses likely relegate him to a very specific role at the next level. Therefore, any team that considers drafting him will have to be a perfect fit, able to mask his weaknesses and maximize his strengths. Despite his physical deficiencies, players with Ryan Kelly's skill-set are nevertheless very much in demand in today's NBA, which revolves heavily around spacing. It's not too difficult to see him landing on someone's roster when it's all said and done, but he will need to have a great senior year to ensure he gets drafted.

[Read Full Article]

---
Top NBA Draft Prospects in the ACC, Part Five (#21-25)
September 26, 2011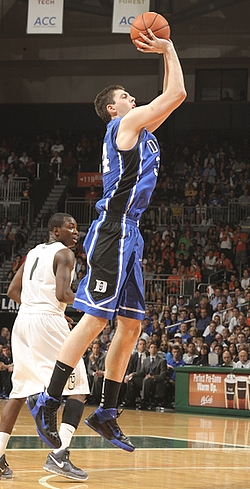 Icon SMI



Derek Bodner

Ryan Kelly developed into a solid role player for the Duke Blue Devils last year, and he'll be looking to make a similar step forward during his junior season.

Kelly's strengths are mostly the same as we've described in the past, as he's primarily a face-up, jump shooting big man. He has range out to the collegiate three point line, but his bread and butter is his midrange shot. He's very comfortable from the foul line extended and baseline areas, showing good form and a high release point.

Kelly has a high basketball IQ and good work ethic, and did a very good job of moving without the ball last year. He has soft hands and solid touch around the basket when the Duke guards penetrated, and the arrival of Austin Rivers and his ability to get in the paint could create some additional scoring opportunities for Kelly in this facet of the game.

Kelly shows very little in the ways of shot-creating ability. He does virtually nothing off the bounce, with the exception of using one or two dribbles to setup a pull-up jump shot, and doesn't have the quickness to get into the paint or the athleticism to finish consistently at the rim. He has better footwork and touch in the post than you might expect, but his lack of strength has held him back from using it with much frequency.

Lack of strength was one of his main problems on the defensive side of the ball as well, as he struggled to maintain position in the post and rebound in traffic, pulling down an anemic 4.9 defensive rebounds per 40 minutes pace adjusted, which was the worst figure of any big man in our database last season. He doesn't move his feet particularly well on the perimeter, and would struggle to stay in front of more mobile big men at the next level. He is a heady player, and rotates reasonably well, providing some value as a weak side shot blocker.

When Kelly went overseas in Duke's recent trip to China, he appeared to have put in considerable work in toning and strengthening his body. He played very well over there, starting all four games against the Chinese Junior National team -- alongside Miles, not Mason, Plumlee -- and leading Duke in scoring over that stretch, showing a more diversified offensive game than we've seen in the past.

Last year, Kelly struggled to contribute when his perimeter jump shot wasn't falling, and he was juggled in and out of the starting lineup accordingly. If Kelly can improve his body to the point where he can become a better rebounder in traffic and finisher around the basket, and improve the consistency in his three point shot, he could see his role increase.

Kelly entered Duke listed at 6-9 and 200 pounds, but is now listed at 6-11, 230. If he's indeed grown and filled out that much, his NBA prospects would appear to be much brighter. There's a place in the NBA for skilled, intelligent big men who can space the floor and understand their role, especially if Kelly can prove that he can rebound and defend his position adequately.

[Read Full Article]

---
Player Evaluations, McDonald's All-American Game (East Team)
April 4, 2009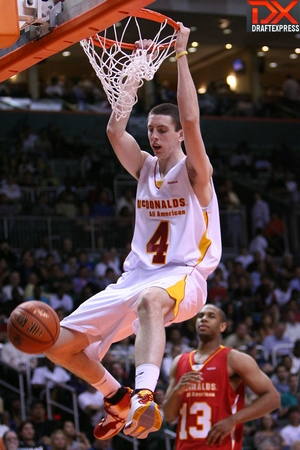 Jim Hlavac, DraftExpress



There isn't a great deal of new information to add to Ryan Kelly's (#11 Scout, #20 Rivals, #12 ESPN) profile from the last time we saw him. He's still the same highly skilled, yet physically underdeveloped big man who looks to be at his best when facing the basket, as he showed by winning the 3-point contest, while putting on a terrific shooting display. Kelly can shoot the ball spotting up or off the dribble, and clearly already has range out to the college 3-point line, which is quite an asset at his position. He's a decent athlete as well, but lacks the strength to be much of a presence with his back to the basket, and struggles at times getting pushed around in the paint defensively and on the glass. He is a very smart, unselfish and highly competitive player, though, which leaves plenty of room for optimism regarding his ability to develop into a terrific college player as his body continues to fill out. He was one of the few players who actually came here to work this week, something that Coach K obviously would have loved to see.

[Read Full Article]

---
Initial Scouting Reports, High School Class of 2009 (#11-150 Recruits)
July 30, 2008
Ryan Kelly (#13 Scout, #17 Rivals, #20 ESPN) was one of the more impressive players we saw at the USA Basketball U-18 tryouts, and was able to translate his game over fairly well to the AAU setting as well.

Kelly probably isn't going to wow you on first sight, as he's a skinny power forward with an underdeveloped frame and fairly average athleticism at best. He will win you over eventually, though, as he's an extremely intelligent player with a very high skill level, is a good teammate who really competes, and is highly versatile to boot. Kelly can play facing the basket, as he has range out to the 3-point line and the ability to pass the ball effectively or put it on the floor. He's never in a rush, though, and is capable of catching and finishing inside thanks to his nice hands and effective hook shot. He knows how to use fakes and does a good job getting to the free throw line, where he converts at an excellent clip. He's unselfish by nature, and knows how to move off the ball.

Kelly will compete for rebounds and also does his best on the defensive end of the floor, getting the occasional block or steal in the process, even if his lateral quickness is fairly questionable. He has problems getting pushed around inside on both ends of the floor, and thus will have to work on his body if he's going to be more of a factor on the interior. He's not the most naturally gifted player around, but it's not hard to see why the recruiting services like him. He looks like an excellent college player and has a chance to be a pro down the road if he continues to develop his all-around game.

[Read Full Article]

---