Samardo Samuels
Recent Tweets
All Tweets
RT @SeyArea Matt Bouldin and Samardo Samuels will be on Bulls summer league team
2010-06-25 15:25:01
Top undrafted free agents: Brian Zoubek, Samardo Samuels, Alexey Shved, Jeremy Wise, Mikhail Torrance, Sylven Landesberg, Manny Harris
2010-06-24 22:58:00
A top HS recruit in 2008, Samardo Samuels is now an after-thought. Was he overrated or are teams making a huge mistake? http://bit.ly/dduPFt
2010-06-03 02:50:02
Spoke to an NBA Asstnt GM about last two days of the Minnesota workouts. Mentioned Trevor Booker & Lazar Hayward a lot, Samardo Samuels too.
2010-05-27 16:22:03
Louisville's Samardo Samuels signed with NBA agent David Bauman. Oklahoma's Tiny Gallon signed with Marc Cornstein.
2010-05-12 12:44:01
Top 25s - Full List
Team: Barcelona
Physicals
Positions
Rankings
Salary
Misc
H: 6' 8"
W: 240 lbs
Bday: 01/09/1989
(26 Years Old)

Current: PF/C
NBA: PF
Possible: PF

RSCI: 4

Agent: Michael Silverman

High School: St. Benedict Prep
Hometown: Trelawny, NJ




Basic Per Game Statistics

- Comprehensive Stats - Statistical Top 25s
| Year | League | Name | GP | Min | Pts | FG | FGA | FG% | 2Pt | 2PtA | 2P% | 3Pt | 3PtA | 3P% | FTM | FTA | FT% | Off | Def | TOT | Asts | Stls | Blks | TOs | PFs |
| --- | --- | --- | --- | --- | --- | --- | --- | --- | --- | --- | --- | --- | --- | --- | --- | --- | --- | --- | --- | --- | --- | --- | --- | --- | --- |
| 2015/16 | ACB | Samardo Samuels | 7 | 12.9 | 5.9 | 2.0 | 3.6 | 56.0 | 2.0 | 3.4 | 58.3 | 0.0 | 0.1 | 0.0 | 1.9 | 3.6 | 52.0 | 0.4 | 2.1 | 2.6 | 0.6 | 0.4 | 0.1 | 1.3 | 1.9 |
| 2015/16 | EURO | Samardo Samuels | 7 | 15.1 | 7.7 | 2.9 | 4.6 | 62.5 | 2.9 | 4.1 | 69.0 | 0.0 | 0.4 | 0.0 | 2.0 | 3.3 | 60.9 | 0.9 | 3.0 | 3.9 | 0.3 | 0.1 | 1.3 | 0.7 | 1.0 |

Player Page&nbsp&nbsp| Player Stats | Mock Draft History | Related Articles&nbsp&nbsp| Add to My Draft Express&nbsp
&nbsp
Finding a Niche for Samardo Samuels
June 3, 2010
Samardo Samuels was a consensus top-five recruit when he stepped onto Louisville as a freshman, ahead of players like Tyreke Evans, Jrue Holiday, DeMar DeRozan, and Al-Farouq Aminu, according to some highly respect recruited services. After a solid, but unspectacular, freshman season and an improved sophomore campaign, Samuels shocked the Louisville coach staff and fan base when he elected to enter his name in the NBA Draft.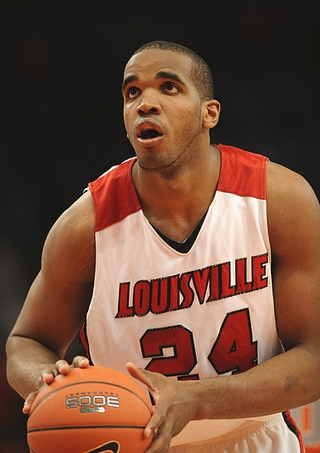 Icon SMI



At 6í8, Samuels is undersized for the NBA post, though his strong frame, long arms and huge hands will certainly help him transition to the next level. He is not an exceptionally quick or fluid athlete, however, which combined with the fact that heís very much a below-the-rim player, does not help his cause. While losing weight could help his mobility, he could have problems translating his current style of play to the taller, longer and equally strong big men heíll find in the NBA. That is, unless he adapts his game to being less strength-reliant and more finesse oriented.

On the offensive end, Samuels has improved since his first year, but still must continue to work on his all-around versatility. An overwhelming majority of his possessions occur in the post, where he does a good job of utilizing his strong frame to carve out position at the college level. He shows solid footwork, as well, and though his percentages dropped last season to 52% from the field, he has developed some reliable post-moves with his back-to-the-basket since he arrived at Louisville.

Samuels can establish position in the paint at will against most NCAA frontcourts, something Louisville head coach Rick Pitino went to early and often considering the severe lack of alternative options his team boasted this season. Samuels was quite successful in that endeavor for the most part, averaging nearly nine free throws per game per-40 pace adjusted, which ranks him 6th amongst all centers projected to be picked in this draft, and 3rd amongst power forwards.

Samuels played with below-average talent this season, without a real point guard alongside him, which likely put more pressure on him offensively than he was ready to shoulder. In the NBA heíll likely be asked to create far less for himself with his back to the basket, which should encourage him to develop the other parts of his game.

According to Synergy Sports Technology, over 92% of his possessions in the half court offense occur around the basket and looking at tape, it is rare to see him venture outside of the post. His face-up game remains inconsistent and he is still hampered by mediocre ball handling abilities and his lack of ideal athleticism and mobility. He does not seem to know his limitations off of the dribble at this point and must reign in this area of his game as he transitions to a role player at the next level.

He must also improve as a screen-setter, where he showed more promise this season, but must continue to use his size to his advantage in pick-and-roll situations, an area he should be able to get more production out of than he currently does. He ranks as one of the top finishers around the basket in non-post up situations according to Synergy Sports Technology, but just did not have the type of personnel around him needed to create shots around the rim on a consistent basis at Louisville this season.

With that said, whether heís able to finish consistently around the basket against NBA frontcourts is very much a question mark, considering his below average explosiveness. He very well could have the scoring instincts needed to overcome that issue, though.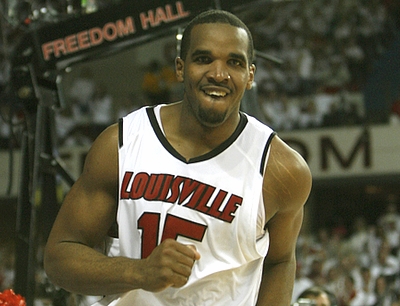 Icon SMI



Samuels has not shown any real ability to make shots from the perimeter in his career thus far, which is something heíll clearly need to do as an NBA power forward. He only made 4/22 jump-shots all season long, which is an inconclusive rate at best. He does shoot solid percentages from the foul line, though, at 71%. Interestingly enough, Samuels has impressed NBA teams weíve spoken with in private workout settings with his ability to knock down jump-shots with range out to the college 3-point line, something we saw from him in flashes in high school, but he wasnít asked to do in the least bit at Louisville.

A part of his game that Samuels wonít be able to hide from is his extremely poor rebounding figures.

At times criticized for his lack of energy and often laid back or even lethargic style of play, Samuels averaged a mediocre 5.1 defensive rebounds per 40 minutes pace adjusted, up from an even worse 3.7 as a freshman. Despite the improvement, his sophomore numbers rank him dead last amongst all power forwards and centers projected to be picked in this draft in that category. If Samuels will have any chance at sticking in the NBA, it will be as a role-player, which means he must improve significantly in this area.

Although quite average on the defensive end, Samuelsí work on the offensive glass is promising. His huge hands, long arms, terrific strength and wide frame allowed him to make a significant impact in this part of the game, and he put up much better figures in turn, playing for one of the best offensive rebounding teams in college basketball this season.

At this point, it is safe to conclude that Samuels will struggle defensively at the next level, at least initially until heís able to make the full conversion to playing the power forward position. Very small for a center at 6-8, he lacks the lateral quickness to defend the perimeter and doesnít have the type of size and athleticism to effectively guard most centers.

As we have written before, his length, strength and solid basketball IQ work in his favor, but he must continue to work on his focus, fundamentals, and energy on the defensive end. He should continue to improve in this area if heís willing to put the effort in and is given the opportunity to work through his mistakes as he gains more experience.

Samuels is difficult to project at the next level given his average physical profile and clear-cut tweener status. On one hand, undersized big men with far less talent have had some success in the NBA recently, but on the other hand, heís not exactly the type of super tough, hustling type that the likes of Paul Millsap and Carl Landry were.

Neither of those players were so incredibly highly regarded coming out of high school, though, ranked ahead of the likes of Greg Monroe, Al-Farouq Aminu, Ed Davis and many others who will be drafted far ahead of him in a couple of weeks.

History tells us that prospects ranked as top-five recruits very rarely end up completely falling on their face as NBA players. Did Samuels get a raw deal at Louisville, or was he just completely overrated coming out of high school? Being just 21 years old and without much of a body of work underneath his belt, thatís very difficult to say with any type of certainty.

What we do know is that NBA teams are slowly coming around to Samuelsí draft prospects, to the point that his stock has risen in the past few weeks following some strong performances in private settings, particularly at the group workout in Minnesota where he did extremely well in front of a huge number of NBA scouts.

Samuels could be taken anywhere from the late first round to deep in the second at this stage, and only time will tell whether he ends up being a productive NBA player or a terrific undersized center overseas.

[Read Full Article]

---
Top NBA Draft Prospects in the Big East Part Two (#6-10)
October 11, 2009
Joseph Treutlein

A prized top five recruit out of high school, Samardo Samuels had a pretty good freshman season in terms of how he contributed for Louisville, but his performance was more of a mixed bag from an NBA perspective. At 6í8, Samuels is undersized for a power forward, but the bigger problems are that his skill set is much more suited to play center and heís a below average athlete for either position. While very coordinated and mobile, and also possessing decent quickness, Samuels really lacks vertical explosiveness, especially when he doesnít have a running start or time to gather himself.

In terms of skills, Samuels is an extremely smart and highly efficient back-to-the-basket player, using his low center of gravity and great lower body strength to consistently establish deep post position, either pinning his man under the basket or getting inside of him and blocking him out. Once he gets the ball, Samuels shows good awareness and always goes for the highest percentage shot, usually a right-handed layup, dunk, or short-range right-handed hook shot. His footwork in the post is excellent, mixing in a rangy dropstep in addition to his mostly simple, compact repertoire. While Samuels shows a propensity for finishing through contact, problems arise when heís matched with taller players and/or ones who can match him in strength, where his limitations become very evident. With his lack of size and inability to explode up from awkward positions, Samuels has problems finishing against taller opponents, and making matters worse, his touch outside of five feet is not good at all, as heís prone to missing hook shots by feet rather than inches.

Moving further away from the basket, while Samuels shows flashes of ball-handling ability and mobility with the ball, his face-up game is troublesome, as he doesnít show near the same awareness or control as he does in his post-up game. Samuels is frequently out of control on his forays to the basket, leading to many turnovers, offensive fouls, and low percentage shot attempts. His jump shot, while showing the foundation of good shooting form, is also a sore spot, as he is very sloppy with his release, never holding his follow through and not showing much consistency with his motion. This translates somewhat to the free throw line, where he shot a solid yet still improvable 67%.

In addition to his post game, Samuels does bring another worthwhile asset to the table on the offensive end, as he has an absolutely relentless motor on this side of the court, something that shows most noticeably in his offensive rebounding. Samuels does a good job reading balls off the rim and takes advantage of his strength and mobility by frequently out-maneuvering and out-pursuing the opposition to pull down boards in a crowd.

Defensively, itís a different story in regards to Samuelsí athleticism, as his lack of vertical explosiveness doesnít hurt him much, while his mobility and solid lateral quickness help him greatly. In the post, Samuels holds good position using his strength and shows good reflexes in man-to-man defense, moving well laterally and playing aggressive while keeping his hands up to contest shots. As the center in Louisvilleís zone, he doesnít get much work on the perimeter, rarely being tested in isolations or pick-and-rolls, but his lateral quickness carries over to some of the short face-up drives he gets to contest.

Unfortunately, itís not all good news for Samuels on the defensive end, as contrary to his offensive rebounding prowess, Samuels is a very poor defensive rebounder, averaging just 3.6 per-40 minutes pace adjusted. In addition to that, Samuels is also very foul prone, averaging 4.6 fouls per-40 minutes pace adjusted, something which holds down his minutes at times. In projecting him to the next level, there are some concerns about his size and if players will be able to shoot over him, but he uses his strength in combination with outstretched hands to counter this, so he should be able to compensate for it somewhat.

Looking forward, Samuels clearly has a lot of work to do before he starts thinking about heading to the NBA, and while there are many red flags now, there is certainly hope in the future. If Samuels can develop his perimeter jumper and carry over the motor he shows on the offensive glass to the defensive glass, he will have a few things teams could find attractive, even if his post game doesnít translate. The biggest problem for Samuels is that the things his college team needs him to do are very different than what he needs to develop to improve his NBA prospects, so finding a balance will be key.

[Read Full Article]

---
Nike Hoop Summit Recap: International Team
April 21, 2008
Samuels struggled at times against the team from the United States, but also showed a handful of nice moves on the offensive end. Early on in the game, he seemed to prefer to stand out on the perimeter and shoot jumpers, seeing poor results. He tends to fade away from the basket on his jumper, which leads to a flat release point and below average accuracy. When playing in the post, the big man showed excellent footwork and patience, but he tends to force the ball into bad spots rather than passing it back out and re-posting.

Defensively, Samuels needs to work on boxing out, and seems a little slow footed on his help-side rotations. He uses his body well playing man to man defense in the post, but moves slow laterally in this situation, which allows opposing big men to beat him fairly easily at times. The big man could also work on better using his body on the glass.

Thereís no doubt that Samardo Samuels will have an immediate impact for the Louisville Cardinals next season, but he must prove that he is a power forward rather than a center before we can call him a one and done prospect. He lacks the size even for a power forward at the NBA level, but his plethora of skills on the low block will certainly gain him notoriety at the collegiate next season.

[Read Full Article]

---
Jordan Brand Classic Games (Day Three)
April 20, 2008
Samardo Samuels did much of the same here at the game (16 points, 5 rebounds, 7-11 FG, 4 turnovers), playing extremely aggressive, constantly calling for the ball on offense, and showing no hesitancy to try post-up and face-up moves whenever he got the ball. He established dominant position and was very active cutting and in transition, leading to many powerful, open dunks. That said, though, his limitations were on clear display, as he had his shot blocked frequently in the post, as despite his good bulk and length, he is not the most athletic player, not getting much elevation off the ground. Regardless, with his relentless style of play and fairly developed skill-set, it wouldn't be surprising to see him outworking Derrick Caracter for minutes as soon as he arrives at Louisville.

[Read Full Article]

---
Jordan Brand Classic Scrimmage (Day Two)
April 19, 2008
After missing the first day of practice, Samardo Samuels arrived today, and it was hard not to notice, given how assertive he was on the floor, calling for the ball on every possession and showing no hesitancy to dribble the ball excessively when he got it. His dribble doesnít look that great, and itíll be interesting to see how his face-up game translates to the college setting where real defense is played, but it worked here, as he had some nice drives finishing with right-handed lay-ups. In the post, he established dominant position frequently and often dropstepped for easy buckets or got to the free-throw line, though his not so great explosiveness and athleticism in general stood out on occasion, with him getting his shot blocked twice, once by a wing rotating over. With his dominant strength and assertiveness, he is someone who could also make an impact fairly quickly in the college game.

[Read Full Article]

---
2008 Spalding Hoophall Classic -- Elite Prospects
January 21, 2008
Samardo Samuels (#2 Scout, #7 Rivals) appears to be in better shape since we saw him in Florida last month, looking a chiseled 240 pounds and with great conditioning. It was a typical performance for him on the evening, using his powerful body to bully his way around the paint, while showing flashes of a developing face the basket game. In the opportunities that Samardo was facing the rim, he boasted a nice first step for a player his size, in addition to a very low dribble, especially when going right. He didnít shoot any jumpers at all, but the few times that he drove to the cup were enough to leave optimism for his development in those areas. He also made some nice passes to fellow big man Greg Echenique, showing off his unselfish nature and excellent feel for the game. As always, it was easy to come away impressed by the way he finished around the basket, trying to tear down the rim with his powerful two handed dunks.

Even in a blowout victory, the Louisville recruit continued to play hard and showed off his great motor. It wasnít his best performance on the defensive end, although the Jamaica native was drawn away from the basket many times against a smaller Dematha team. While he still needs some work to do refining his skill set in order to reach his max potential, all of the tools are there for him to be an immediate college contributor, and one who will certainly be on the radar of NBA scouts next season.

[Read Full Article]

---
Nike Super 6 High School Invitational at Madison Square Garden
January 15, 2008
We last saw Samuels a few weeks ago take home MVP honors at the City of Palms Classic. The future Cardinal took home game MVP honors this time out as well in leading his team to a win, but it was certainly an interesting performance for one of the nationís top seniors.

Samuels didnít start the game, nor did he appear at all during the first quarter. He looked perfectly healthy during warm-ups and was fine for the remainder of the game, so we presume is wasnít any kind of an injury that had Samuels on the bench for the first eight minutes of the game. Once Samuels did enter the game early in the second quarter, things didnít get off to a very good start for him. Riceís front court players did an excellent job keeping him off the block and denying him entry passes. The few times that he did manage to get touches on the inside, he was swarmed by defenders and stripped of the ball. All in all, Samuelsís first half stat line was an unimpressive 0 points and 3 rebounds.

The second half was a completely different story, and we got to see Samuels at his best. There is no question that he is most comfortable when playing with his back to the basket and this is when he is at his most dangerous. A couple of times Samuels was left in one-on-one situations on the block, and few if any players at the high school level are able to stop him in these situations. Samuels showed us a nice array of post moves, including a soft hook shot to the middle and a powerful drop step. Particularly on the drop step, he does an excellent job of using his strength and body to seal off his defender. Samuels was even able to sneak behind the defense on one play where he received a nice pass and finished the play with one of his thunderous two-handed dunks. While he is very hard to stop when he is right around the rim like this, Samuels struggles occasionally with these power moves when he is pushed further away from the hoop, due to his lack of unbelievable explosiveness.

A few times during the second half, Samuels stepped away from the basket, catching the ball around the foul line. Though he will take these shots when they are given to him, his jump shot needs to improve, and he didnít attempt any outside shots during the game. Samuels did however put the ball on the floor and attack the basket from this spot on the floor once. He can do this surprisingly well for a player his size, and his ball handling skills are solid, at least good enough to take other post players off the dribble. While he has shown some ability to change directions when driving to the basket, this part of his game isnít tremendously smooth yet.

Defensively, Samuels made his presence felt. He is a beast on the boards, possessing a frame that is very hard to move or get around, and a wingspan that allows him to pull down a lot of balls that arenít necessarily in his area. This also allows him to block and alter a lot more shots than a player his height normally would be able to. What he lacks in his height and overall athleticism on the defensive end, Samuels makes up for with tremendous strength, toughness and hustle.

There is little reason to doubt that Samuels will be able to step in right away and become a big time impact player at Louisville next season. He certainly is big enough and strong enough to wreak havoc at the collegiate level, but as has been mentioned several times on this site, his lack of height and tremendous athleticism will give at least some NBA scouts pause when he is ready to enter the league.

[Read Full Article]

---
2007 City of Palms Classic: Greg Monroe vs. Samardo Samuels
December 24, 2007
Samuels ended up being named the MVP of the City of Palms Classic, having led his team to the championship, in mostly impressive fashion. He produced consistently within the framework of his teamís offense, stepping up when needed, and making a strong case for himself to be considered the top player in his high school class, even if his upside isnít as high as Greg Monroeís.

Weíre talking about an old-school, no frills, meat and potatoes type big man. Already pretty physically developed for his age, Samuels possesses a great frame, complete with a strong upper body and a nice wingspan which allows him to play bigger than his somewhat average height. Heís almost a man amongst boys at this level, which is both a blessing and a curse when comparing his short-term and long-term evaluation as a prospect.

Samuelsí biggest strength right now seems to be his ability to score with his back to the basket. He establishes good position deep inside the paint on a regular basis, and does an exceptional job using his body to seal him man, move guys around in the post, and shield the ball from his defender. Heís quite a natural down low, showing great patience waiting for things to develop, and possessing excellent footwork, nice spin-moves, and great touch around the basket. He likes to finish emphatically around the hoop with a powerful two-handed slam, but at times lacks a bit of explosiveness to complete a play when heís a bit outside of his comfort zone and in traffic. Regardless, heís very physical and fundamentally sound and should be a 15 point plus scoring threat virtually right off the bat for Louisville.

As much as heís a blue collar back to the basket player, his team used him mostly as a high post power forward in the game against Greg Monroe, likely for spacing purposes. Monroe backed off him a good amount and dared him to shoot 18 footers, which Samuels indeed attempted to, but found very limited success. His jump-shot does not appear to be a great weapon of his at the moment, but with that said, it doesnít look broke either, and therefore could very well develop into something he can use down the road if he continues to work on it. Samuels can put the ball on the floor reasonably well, showing solid ball-handling skills for a player his size and even the ability to change directions and avoid defenders on his way to the hoop. Heís nowhere near as smooth or flashy as Greg Monroe is, but he does possess the ability to create his own shot from the outside.

Not one to force the issue, Samuels doesnít seem to have any problem being just another cog in his teamís offense. Heís a solid interior passer, as evidenced by the work he did on the high/low his team played with some decent success with Samuels in the high post and Greg Echenique down low. He has a very nice demeanor out on the court, and a calmness that can be confused with passivity at times. Heís unselfish, and is always cheering his teammates on.

Defensively, Samuels competes, and is a pretty fundamental player, but lacks some natural tools that might come back to hurt him when it will finally be time to assess his NBA draft stock. An inch or two under the prototype, Samuels does not really make up for his lack of size with freakish athleticism, particularly when it comes to his lateral quickness. He was exposed on a number of occasions trying to guard Greg Monroeís first step out on the perimeter, simply not being able to stay in front of him. As a rebounder, though, Samuels does an excellent job. He boxes out well, and has the length, strength, timing and hands to really be an impact player on the glass at the collegiate level. Heís also tough enough to step in and take a charge from time to time, and is a pretty good shot-blocking threat as well for the same reasons outlined above.

All in all, Samuels is an outstanding basketball player who should quickly establish himself as one of the top big men in college basketball once he lands at Louisville. There are a lot of things to like about him for the next level as well, even if playing in college will clearly benefit him considering how much of a physical advantage he possesses at the moment. He reminds of somewhat of a cross between Al Horford and Carlos Boozer, but his good but not great athleticism will give some scouts reason for pause until he really starts putting up numbers at the college level.

[Read Full Article]

---
LeBron James Skills Academy Final Day
July 14, 2007
Samuels was yet again easily the most dominant player on the offensive end that the camp had to offer, as he used his power moves on the low blocks to lead his Kentucky team to a championship title in the LeBron James Winners Challenge. He was so powerful in fact that the Nike staff had to place over 300 lbs. in weights on the basket support so that the goal would stop being shifted out of place by Samuelsí dunks. His motor, which had been questioned in the past, was outstanding as he played hard throughout the entire day and was excellent running the floor. Samardo used his body excellently to shield off taller and more athletic players, and was simply a nightmare for all opposing post players in camp to guard.





While Samuels didnít show much of a game facing the basket, he was awesome passing the ball, both out of the post and in the open floor. In our eyes, he was clearly the MVP of the camp, carrying his team to a championship and being downright unstoppable on the low blocks. If he is able to continue his inspired play throughout his freshman year at Louisville, expect to hear Samardoís name being called early in the 2009 NBA Draft.

[Read Full Article]

---
LeBron James Skills Academy Day Three
July 10, 2007
For the second day in a row, Samuels was simply a man amongst boys. He has the body of Al Horford with the game of Elton Brand, minus the face up jumpshot. The Jamaican big man scored via a series of drop steps, offensive rebounds, and running hook shots, which were freakishly similar to the one that the aforementioned L.A. Clippers All-Star goes to on a regular basis. Samardo still didnít give us a whole lot to work with in terms of shooting range, but he surely has time for to hone his face up game over the next year in high school and his freshman season at Louisville. Consistency has been an issue in the past with Samuels, but not here at the LeBron camp, as heís displayed a great motor and has been the most consistent player that the camp has had to offer thus far.

[Read Full Article]

---
LeBron James Skills Academy Day Two
July 7, 2007


Samuels showed off a much more toned frame from the last time we saw him in the spring, as he now owns a body eerily reminiscent of current Atlanta Hawk draftee Al Horford. He uses his body and length on both ends of the floor to completely change the game. The Louisville recruitís long arms and strong lower body proved to be too much for opposing big men Saturday, as he was able to obtain whatever position he wanted on either end of the floor. If Samardo is able to keep up his overpowering style of play and improve his face the basket game, he is surely a player who will be an immediate candidate for going one and done after his first season for the Cardinals.

[Read Full Article]

---
Spalding HoopHall Classic Player Report
January 18, 2007
The best thing that Samuels has going for him is the fact that heís got another year in high school to go before he takes his game to the college level. Samuels already has an NBA body as heís easily over or around 250 pounds. Samuels is probably a bit shorter than ideal for an NBA 4 at 6í8Ē, but heís got some time to grow the one inch or more that will surely make him a top prospect in time.

Samuels has a highly developed low post game for such a young player. He initiates and maintains body contact with his defender and is adept at utilizing that contact to feel out which direction he wants to attack. Samuels shows good ability to get to his spot on the floor quickly as well, something that most young bigs donít do instinctively.

He likes to turn toward the middle on his moves most often, but showed some decent form on his baseline shot. Samuels has the step through down pat as well. He even showed some face up drive ability, but his dribble is too high and his face-up shot is not consistent enough yet at this point to make that a primary weapon for him offensively.

Samuels has deceptive athleticism for a player his size. He got up very nicely for a two handed slam which he got in traffic cutting from the elbow, and was up close to his mid forearm on the leap. His defensive footwork was very sound, which he needed to rely on as he was going against a much quicker opponent in Greene. He uses his body well to impede his opponents post play and has good timing on his shot blocks, not going for fakes. Going to Georgetown with Chris Wright and Austin Freemen would be a huge boon for that program.

[Read Full Article]

---
Las Vegas AAU Summer Tournaments: Thoughts from Day One
July 23, 2006
Samuels would be turning heads with his thick, rock-hard frame if he was a college senior. Considering that he just finished his sophomore season of high school ball, it isnít surprising to see Samuels in the hunt for the top overall player in the class of 2008. While his loaded Metro Hawks couldnít withstand an impressive team effort from H-Squad, Samuels came out with a full head of steam, throwing down a power dunk and out-muscling his defender for an easy conversion near the basket in the opening moments. While Samuels didnít receive consistent touches the rest of the way, he still managed to make his presence felt from time to time. He plays with a mean streak that you love to see in such a young big, and runs the floor very well for all of his bulk. The Elton Brand comparisons are right on here. He might not have as high of a ceiling as some of the other players near the top of the 2008 class (his teammate, Rudy Gay lookalike Devin Ebanks, for example), but it would be an absolute shock if he didnít end up playing in the NBA someday.

[Read Full Article]

---