Serge Ibaka
STRENGTHS:
- Lateral quickness
- Shot-blocking skills
- Shot-blocking tools
- Energy/Intensity
- Potential
- Work ethic
- High-level productivity
- Ability to finish around basket
- Frail frame
- Freakish athleticism
- Wingspan
- 3-point range
- Perimeter shooting ability
WEAKNESSES:
- Decision making
- Ball-handling skills
- Back to basket scoring
- Defensive awareness
- Basketball IQ
- Experience
- Fundamentals
- Not ready to contribute immediately
- Passing skills
Recent Tweets
All Tweets
DraftExpress2: RT @DoubleGfor3 Joel Embiid is built like Serge Ibaka? Naw
2014-06-26 19:22:12
DraftExpress2: Joel Embiid is built like Serge Ibaka? Naw
2014-06-26 19:21:13
DraftExpress: First time I saw Serge Ibaka was at adidas Nations in New Orleans in 2007. He was 17. He broke the vertical leap test: http://t.co/vy6FNdrY
2012-06-02 11:27:05
DraftExpress: For example, Serge Ibaka falling to #24 in the draft. I feel he was largely judged by the failure of other Africans, not on his own merits.
2011-11-17 11:09:17
DraftExpress: RT @Erildas: Nikola Mirotic (Montenegro) & Serge Ibaka (Congo) are the future of Spanish bball. Am I the only one who thinks that's strange?
2011-07-24 06:03:45
Top 25s - Full List
Team: Thunder
Physicals
Positions
Salary
Misc
H: 6' 10"
W: 220 lbs
Bday: 09/18/1989
(26 Years Old)

Current: PF
NBA: PF
Possible: PF

Agent: Andy Miller
Current Salary:$12,350,000

High School:
Hometown: Brazzaville, Congo
Drafted: Pick 24 in 2008 by Supersonics
Best Case: Tyrus Thomas
Worst Case: Maceo Baston




Basic Per Game Statistics

- Comprehensive Stats - Statistical Top 25s
| Year | League | Name | GP | Min | Pts | FG | FGA | FG% | 2Pt | 2PtA | 2P% | 3Pt | 3PtA | 3P% | FTM | FTA | FT% | Off | Def | TOT | Asts | Stls | Blks | TOs | PFs |
| --- | --- | --- | --- | --- | --- | --- | --- | --- | --- | --- | --- | --- | --- | --- | --- | --- | --- | --- | --- | --- | --- | --- | --- | --- | --- |
| 2015/16 | NBA | Serge Ibaka | 16 | 32.6 | 12.9 | 5.7 | 12.4 | 46.0 | 5.2 | 10.9 | 47.7 | 0.5 | 1.5 | 33.3 | 1.0 | 1.5 | 66.7 | 2.2 | 5.3 | 7.5 | 1.1 | 0.4 | 2.4 | 1.5 | 2.8 |

Player Page&nbsp&nbsp| Player Stats | Mock Draft History | Related Articles&nbsp&nbsp| Add to My Draft Express&nbsp
&nbsp
NBA Vegas Summer League Player Reports (Part One)
July 23, 2009
A 2008 draftee, Serge Ibaka came into this year's Summer League circuit as one of the most intriguing players to watch. Blessed with awesome physical tools, including a lean frame, a big wingspan, and excellent end to end speed, Ibaka's audition for the Thunder can't be considered anything less than a major success considering the athleticism and potential he'll bring to their already impressive roster of young talent. Despite being very raw in terms of fundamental skills, the Congo native showed a lot of positive things for a player who won't turn 20 until September and didn't consistently see substantial playing time with Ricoh Manresa of the ACB last season. However, the disparity between his performance in Orlando and Las Vegas were a reminder of how much room he still has to improve.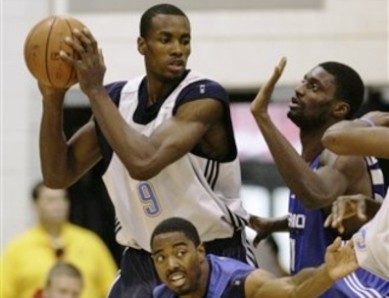 AP Photo



Ibaka's best assets at this point are his speed and effort level. A long-strider with good quickness, Ibaka was the first player up the floor for the Thunder on certain possessions, running hard to the block and attempting to get position down low. Though he didn't get many touches in transition in Las Vegas, his willingness to get up the floor is one that should serve him well playing next to Russell Westbrook down the road, just like it did at times in Orlando. His speed also helped his team's half court offense, mostly on the pick and roll, where he was able to open up space for his teammates by sprinting up from the opposite block to set screens, giving his ball handler more space to attack rotating defenders by quickly establishing position. His feel for how to operate out on the court appears to have improved greatly over the last year, which is a testament to the work that his coaching staff in the ACB put in with him all season.

Ibaka's effort level manifested itself on the defensive end regularly as well. While he lacks great fundamentals and works himself out of position at times, Ibaka did some admirable work down low. Though he got beat off the dribble a number of times by the stocky DeJuan Blair and had some issues against bigger players like Roy Hibbert and longer players like Hasheem Thabeet, Ibaka's length allowed him to block some shots, including a memorable swat of a transition lay-up in Orlando.

Despite committing quite a few fouls in both Summer Leagues, Ibaka wasn't as foul prone as one might expect a 19-year old to be last season in Spain –a promising sign for him moving forward. The keys to Ibaka's development as a defensive player are added experience and coaching, two things he'll get plenty of in Oklahoma City. He still needs to learn how to utilize his lateral quickness to his advantage and improve his rebounding ability, which will likely require him to add some weight.

Though Ibaka possesses an impressive build already, his ability to pack on pounds will be a point of interest moving forward. His frame seems like it could add quite a bit of weight, which will only augment the things he already does well and help him greatly down the road. The biggest issues Ibaka has had this summer became apparent in Las Vegas, where the likes of Hasheem Thabeet and Chinemelu Elonu made it tough for him to score around the rim. After having a very efficient series of games in Orlando, Ibaka looked out of control at times around the basket when forced to finish through defenders, often struggling to assert his physical presence at the basket.

Many of those issues stem from his lack of finishing ability with his left hand. Ibaka showed time and time again with Manresa that he is capable of doing some damage offensively with his right hand, displaying a developing running hook and a decent turnaround jumper. However, his lack of counter-moves hurt his ability to score in Las Vegas, as he didn't find much success going to work against defenders with superior defensive tools. These issues were compounded over the course of the week as he began to rush his shots, missing a lot of half-hooks and short-range looks that he converted in Orlando.

That urgency doesn't show in every part of Ibaka's game, as he does have some unique tools for a prospect with his size and experience. Though Ibaka no longer takes as many jumpers as he did during his days playing for CB L'Hospitalet, he still possesses nice form and solid range on his shot. A bit tentative at times to pull the trigger from the midrange, Ibaka is going to benefit immensely from the personal attention he's sure to receive from Oklahoma City's coaching staff. Improved confidence and footwork could turn him into a very capable shooter over time. Such development would be a welcome addition to his excellent timing on the offensive glass, where he was able to earn himself a few easy shot opportunities by following his teammates to the rim on the secondary break and generally showing a knack for moving to the right place at the right time when shots went up.

Considering that Ibaka is coming to a team that already has a ton of young players and ample cap space, he should be able to develop at his own pace. The Thunder organization will have no trouble finding him minutes, whether they come in Oklahoma City or with their Development League affiliate, the Tulsa 66ers. With a lot of margin for error, and some time to reach his physical potential and gain experience, Ibaka's performance in the Summer League was nothing more than a progress report on a player who is still only scratching the surface of his potential.

[Read Full Article]

---
2008 Reebok Eurocamp in Treviso, Days Three and Four
June 10, 2008
Ibaka hasn't been able to reproduce the superb impression he drew in the first day of the camp, but it makes a lot of sense when we consider how visibly tired he's getting after an exhausting season for him. The schedule of the camp isn't helping him either, as he played twice the second day, twice again in the third, while he had to go through a private workout with the Seattle SuperSonics during the lunch break ("private" gets all its significance here, as not even his agents were allowed to attend it—although the Spurs were). It's no surprise that he didn't play in the final day of the camp.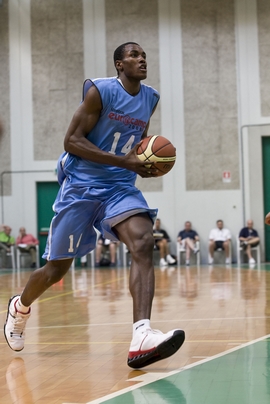 Reebok



Serge had 12 points (5/11 FG, 0/2 3P), 8 rebounds and 2 blocks, although 5 turnovers as well, during 29 minutes of the first game of the third day, while he settled for 10 points (5/8 FG) and 4 rebounds in 14 minutes against Ukraine.

One of the positive things we've seen in Treviso from Ibaka is his willingness to mix it up inside and play off contact. He had gained a certain reputation among some people concerning his aggressiveness on the offensive end. His lack of polished low post skills and his ability to shoot jumpers, even with some fade-away moves, lead some people to believe that he was avoiding contact. In Treviso we've seen him going towards the basket and, if he didn't have space to dunk, seek his rival's body to get the upper-hand when it comes to finishing around the rim. Also, the few times he decided to play in the low post, he looked pretty physical.

More positive things came from the short-to-mid range area, from where he looks pretty reliable connecting on his high-released jumpers, sometimes launched after reverse moves. In the end, with his leaping ability, it's pretty easy for him to gain enough balance in the air to stay accurate. On the negative side, he struggled putting the ball on the floor, being called for travelling several times as he moved his pivot foot before taking the first dribble. The good news is that, if he ends up staying in Spain the next season, he will have a private coach to work on individual skills, something his game is begging for. If he decides to stay in the draft, he looks like a realistic first round pick regardless of the rawness of his game.

[Read Full Article]

---
2008 Reebok Eurocamp in Treviso, Day Two
June 8, 2008
Definitely a less impressive outing by Ibaka in this second day in the camp (game 1: 18 points, 5 rebounds, 1 block, 6/9 FG, 1/1 3P, 27 minutes; game 2: 8 points, 6 rebounds, 1 block, 4/6 FG, 24 minutes). At this point, he's kind of a highlight reel to a certain extent, and there weren't that many highlights to write about. Still, he had the opportunity to showcase his ridiculous athleticism on both ends of the floor with some dunks and blocks. The guy is just a panther, graceful and flexible, but powerful at the same time, a pleasure for the eyes when he's flying towards the basket.

When it came to make plays, he came up with mixed results. He's often struggling when he puts the ball on the floor. You can see his doubts when it comes to deciding what to do whenever he receives the ball with a defender standing in front of him. He still doesn't dominate his first step, sometimes traveling or looking too tentative. In the low post, he lacks a polished game to just execute when he's fed, and many times would weigh his options, even turning around to face the basket.

Actually, he often ends up settling for a jumper, extremely hard to contest given how high he gets with his leaping impulse and his high point of release, but still not entirely reliable, partially because he relies way too much on that impulse and it's not always consistent, although he's showing nice accuracy here, even netting some excellent turnaround attempts. He's also not showing any passing game or whatsoever. He struggled getting offensively involved in the game against the U-20 French squad, likely because he was too tired (it's been an exhausting season for him, as he had never played that many games before, and was forced to play two more today). Defensively, as impressive as his blocks look, he relies too much on his athleticism, and sometimes forgets to get the job done on the ground.

Regardless of all the criticism we can write about his raw game, Ibaka is still head and shoulders the most intriguing prospect in the camp for this draft, his potential looks off the roof –still having a lot of room to keep improving-, and he's only helping his stock with his performance here. It's almost impossible at this point to see him falling out of the first round, even if his agents probably wouldn't mind him being free from the restrictions of the NBA rookie scale. Unfortunately for NBA teams wishing to join the party late and bring him in for a workout, the exhausted Ibaka is headed straight to Barcelona from here, so those who snoozed on coming to the Eurocamp will likely have to settle for film and second hand reports. It sounds very unlikely that he will pull out of the draft.

[Read Full Article]

---
2008 Reebok Eurocamp in Treviso, Day One
June 8, 2008
Ibaka had a terrific start, showcasing his incredible physical tools in nearly every moment he was on the floor, while also displaying a much better skill level than we may have given him credit for. His athleticism looked nothing short of breathtaking, as he showed running the floor in transition, cleaning up the offensive glass by jumping straight over opponents for a put-back dunk, an avoiding an oncoming defender in mid-flight by double-pumping and still finishing above the rim.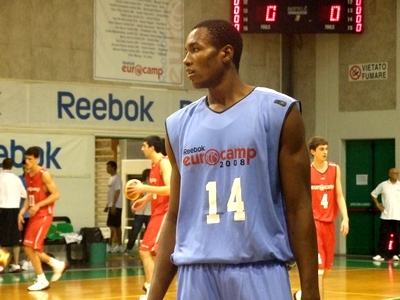 Jonathan Givony, DraftExpress



Ibaka was very aggressive running the floor in transition, facing up, drawing fouls, and making powerful huge strides every time he put the ball on the floor. He even knocked down a couple of jumpers, one from 15 feet and another a spot-up attempt from beyond the arc. His touch around the rim looked much improved, as he showed on a few occasions with some basic baby hook shots, which he probably would not have been able to convert back when we saw him in New Orleans in August. He was a massive presence in the paint defensively as expected, erasing a number of shots emphatically with his incredible combination of length and explosiveness.

Playing at a strong level of competition with L'Hospitalet all season in the Spanish second division seems to have helped him a great deal, even if there is clearly still a lot more room left for improvement. The release point on his jumper remains inconsistent, as he gets great elevation leaping off the ground but doesn't always shoot it from the apex of his shot, making him fairly streaky from varying ranges. His overall feel for the game, particularly in terms of his passing leaves a lot to be desired, as does his understanding of team defensive concepts and off the ball movement.

Players who are as freakishly athletic as Ibaka (there are extremely few) are always going to look great in a setting like this, so it's probably best not to go nuts praising him, but it's still hard not to be encouraged by the very noticeable strides he's making. There are still a few days left to go, but from what we could see in day one, it's very hard to see how we're not looking at a first round pick here, even if he's clearly 2-3 years away from being able to contribute at an NBA level. He was the talk of the camp here in day one, and seems to have helped himself a great deal just by showing up to play.

[Read Full Article]

---
Nike Hoop Summit Recap: International Team
April 21, 2008
One of the more interesting prospects on either squad, Ibaka displayed some freakish tools during the game, but at the same time looked extremely raw. Offensively, the power-forward shows nice range on his jumper and a very high release point. It still takes him time to set up for this shot, but the results are there when he doesn't have to rush it. Though most of Ibaka's shots came facing the basket, he also displayed good potential as a back to the basket scorer. He tends to try and oversell the defender with different fakes or spins, but shoots a very nice turnaround spinning to either shoulder.

Ibaka runs the court like a guard, and was the first player on his squad to get to either end of the floor on most occasions. Unfortunately, his guards rarely rewarded him for his efforts, and we really didn't get to see what he could do with the ball in transition. In defensive transition, Ibaka showed explosive vertical leaping ability and a quick second jump, which allows him to make a play on the first defender and still have a chance to block a shot.

Despite the nice skills he displayed at times in Portland, Ibaka has a long way to go before he can contribute in an NBA game. Right now he's a young big man who is trained to make certain plays, but really doesn't understand the intricacies of the game. He must become more polished and assertive with his back to the basket, and his comfort level shooting the mid-range jumper must also increase. Any team drafting Ibaka must realize that it will be three years or so before he can contribute anything of value in an NBA game, but considering his tools, there are few if any similar projects with the tools Serge Ibaka has to work with.

[Read Full Article]

---
Roundup: Small Big-Engine Pellin
December 11, 2007
We had the chance to take another look at Serge Ibaka this past weekend, as his team faced Plus Pujol Lleida. The African power forward had a so-so game, eventually enforcing our previous opinion on him. His statistical effort was in the line with what he's used to deliver, in the neighborhood of double digits both in points and rebounds. 9 points and 10 rebounds this time (he averages 10.1 points and 8.4 captures in 26 minutes per game), although he went bananas in the shot-blocking department, with 7 rejections.

The sick athleticism that Ibaka enjoys is well known at this point, but still his leaping efforts leave your jaw on the floor every time he tries at full intensity. Several of those 7 blocks came after amazing take-offs, often coming from behind a guy who was trying to finish near the rim (like in the photograph below). With his reactivity and length, he's a constant menace for his opponents. But it was not only a matter of flashy efforts, as he did a good job on his match-up. Ibaka's lateral quickness is not outstanding (certainly not enough for a hypothetical SF future that doesn't seem probable at all), and even if he gets surpassed by a rival, he annoys him with his length, so he ends up being pretty effective. On the other hand, he needs to work on his team defense, improving his decision making when it comes to playing in the half-court. But still, you can eventually see him going for a rotation and flying back to his match-up in time to contest a shot that looked open a second before. All in all, his defensive potential is excellent, and we're not necessarily talking about just the long-term future.




On the offensive end it's another story, and Ibaka's limitations become much more evident. For starters, he's living off his jumper, which is not even that consistent at this point. His mechanics are not very orthodox, lacking some fluidity and quickness on the release. He can keep roaming after setting a pick or just wait until his match-up goes for a defensive rotation and leaves him open, usually firing from the 13-19 feet range. Still, he does enjoy three-point range, and actually he scored in this game one of the lone two treys he has netted so far this season. Besides, his low-post game is usually resolved also with a jumper, in turnaround fashion. His footwork is visibly limited, and he doesn't seem to enjoy any kind of reliable jump-hook.

We're yet to see him attacking a match-up off the dribble. In this game, he did penetrate once, but only after his match-up gambled for a steal and left him open to go inside; he was about 26 feet away from the basket, and only needed one dribble to leave a layup right over the rim. Anyway, his ball-handling still don't look ready to be seriously contested.

Given Ibaka's style of play, his movement without the ball becomes very important in order for him to be productive on the offensive end. However, he's not the most active guy in this department, especially deep into the game, and neither is he the brightest. It's not common to see him gaining his opponent's back, cashing in off a defensive rotation near the basket or receiving the ball after a pick-and-roll play. He doesn't seem to display the best timing filling spaces on the court.

A good rebounder, he relies heavily on his athletic gifts and length, but still could make some strides with better work on the ground, while also better measuring the tempo of his efforts. Anyway, he also gets some scoring production just by attacking the offensive glass in search of put-backs.

It's easy to figure out that there's still a pretty long way for Ibaka to go. He's still a player in the making, while it's not that easy to predict how quickly or successfully he will be able to overcome his flaws. Draft-wise, his physical-athletic profile alone will draw very serious attention even in the short term. As long as he can defend and intimidate, knock down open shots and score some garbage points, he's almost a lock for the first round. But in order to become a big-time prospect, he will need to show something more, and probably to remain in Europe for a bit longer.

[Read Full Article]

---
Roundup: Unstoppable Pekovic
November 6, 2007
Serge Ibaka is back. FIBA sent the player's transfer this past week, and Ibaka could play again in the LEB this past Saturday. It wasn't a good showing for him. Looking a bit rusty and out of rhythm, he made some mistakes and overall wasn't very productive.

Serge barely played off the dribble, and actually looked extremely uncomfortable the lone time he took the ball up-court. He basically asked for the ball in the low post or in the mid-range area to settle for jumpers, even if he sometimes looking a bit passive playing off the ball. He was pretty erratic with his shot, but one of his misses brought the game's highlight, as Ibaka rebounded his own missed jumper to directly put it back with a powerful dunk. He had some problems to establish position in the low post, but in one situation where he could receive the ball, he looked pretty solid going for a turnaround jumper (although it was a simple move that didn't require great footwork). He gets pretty high off the ground to release the ball, so it's not easy to contest him.

Ibaka wasn't very focused on defense, easily getting into foul trouble after forcing some unnecessary fouls, and eventually suffering with a lateral move against another power forward, although his lateral quickness is not expected to be a problem at that position.

The big man from Congo finished the game with 6 points and 4 rebounds in 16 minutes. Anyway, it would be a mistake to draw any real conclusions from this rusty showing. Once he gets into rhythm, we will be able to provide a more fair evaluation.

[Read Full Article]

---
Roundup: Back on Track
October 17, 2007
It was a bittersweet weekend for Serge Ibaka. Finally cleared to play after some bureaucratic issues, he made his debut in the LEB league with a 10-point 12-rebound double-double, although it ended up being the first loss for his team L'Hospitalet. Anyway, as reported by El Periódico de Catalunya, exactly one day after that first game, FIBA revoked Ibaka's transfer, so he's again unable to play professional basketball. Apparently, both L'Hospitalet and Prissé-Mâcon, the French team that brought him to Europe from Africa, are fighting for Ibaka's rights. L'Hospitalet is reportedly offering 30,000 Euros to solve the situation, but the French squad seems to be asking for 150,000. This sad situation only adds more uncertainty and mystery over a guy who already had enjoyed very little professional exposure up to date.

[Read Full Article]

---
adidas Nations Basketball Experience Notebook (Day 3+4), Part Two
August 8, 2007
For Team Africa, the most intriguing player to follow was obviously Serge Ibaka. We've talked about him on a few occasions over the past few months so we'll touch briefly on what we liked about him as well as what he needs to continue to improve.

Standing 6-10 with a ridiculous wingspan and near-jaw dropping athleticism, Serge obviously looks the part of your typical NBA lottery prospect. But unlike most African players, he also plays like one too. We're not used to seeing big men come off curls and pull up fluidly for a catch and shoot 17 footer, but this is a semi-polished weapon that Ibaka already has in his arsenal. He fell in love with it too much at times during certain games (he wanted to prove himself so bad that he shot virtually everything that came his way), but also took time to go inside the paint at times to throw down some monster dunks in traffic. Ibaka even knocked down a 3-pointer during one occasion, showing off the type of versatility you don't expect on first glance.

Just as important is the potential he shows as an outstanding shot-blocking threat, being incredibly quick off his feet, but also showing great timing to rotate from the weakside and erase shots from above the top of the square. He plays hard for every minute he's out on the floor, often skying from out of nowhere to hammer home an offensive rebound, accompanied by a primal scream.

On the downside, Ibaka often plays like a guy who has still learning the nuances of the game. He is almost a black hole as noted with his passing skills, and doesn't always show the best feel for the game with his decision making skills. He has some basic pivot moves he can go to, but is not enough of a back to the basket presence to take advantage of his considerable physical advantages at this level. Ibaka will need plenty of patience and experience to round out his game and help translate his phenomenal potential into big-time production, but he's already a pretty impressive prospect who is capable of changing a game on both ends of the floor. He's signed to play in the very competitive Spanish second division (LEB) for the next as one of only two import players for L'Hospitalet, but does have an out in his contract for a big team like Tau Vitoria for example to swoop in if his agents feel that is the right move for him development-wise. His Spanish agent, Gerard Darnes of U1st Sports, told us that Ibaka is entering the 2008 draft "for sure".

[Read Full Article]

---
adidas Nations Basketball Experience Notebook (Day One+Two)
August 5, 2007
Serge Ibaka announced his presence in a big way to those who were not familiar with him, showing an incredibly intriguing combination of size, strength, athleticism, and skill. Ibaka has an NBA body already despite being listed at 17 years old. Some people here have already raised an eyebrow or two regarding whether that's accurate, but there is no denying that the kid is an excellent prospect. To give you an idea of how athletic Ibaka is, consider the mini-combine conducted here to measure vertical leap. Ibaka started off by hitting the maximum point, and then after the bar was raised even higher, shocked everyone in attendance by again hitting the maximum point on the apparatus a second time. Clearly this method of measuring was not intended for players like him.

Once the games actually started, Ibaka mixed things up with a couple of outstanding dunks as well as by knocking down some jump-shots. His skill level is really promising for a player with his physical tools, and once he really starts to figure out how to use his body and develop better decision making skills, the sky is really the limit for him. At times he seemed to rush things by taking off balance shots with a hand in his face or looking out of control with his dribble. These are the type of things that only lots of playing time and high-level experience can help him iron out, so it will be fascinating to see how he continues to progress over the upcoming season. Ibaka unfortunately didn't play much against the 08 American team because of cramps.

[Read Full Article]

---
Looking ahead: Spanish U-20 Circuit
August 3, 2007
Ibaka has needed little time to make a name for himself on the Spanish basketball scene. There's no wonder why it has happened: he can be truly a spectacular player on a basketball court, mostly thanks to a superb physical profile, but also due to some intriguing abilities that project him above your typical African physical freak. He played in the final round of the U-20 Circuit with DKV Joventut, but his rights belong to L'Hospitalet.

The forward from Congo stands up to 6-10, also enjoying a very nice wingspan. He's a very athletic guy, reactive, even explosive. He gets off his feet very easily and his dunks are very powerful. He showcases a nice ripped frame, nicely strong for his age and virtually with no fat. Obviously, he will still need to gain weight, but there's time for that given his youth.

Moving to the skill department, at first sight you find the pleasant surprise that Ibaka can actually shoot the ball. Indeed, he's fairly solid from mid-range distances and has range out to the three-point line. It's basically the jumper of a big man, static, only able to release it off the dribble from short distances, often using the glass. The fluidity of his mechanics are decent, but particularly interesting is the high point of release, both because of his leaping effort and his technique. Although he actively asks for the ball from the low post, he shows very little from there, often turning around to go up for a jump shot or just passing the ball. Serge is not a bad passer; he probably doesn't enjoy great court vision, but he stays cool with the ball in his hands, looks around, values his options and decides pretty fast. Still, his decision making is very questionable when he decides to take the ball himself. A pretty average ball-handler even for a big man, he likes to attack his opponent going right, looking a bit mechanical in the process. He can settle for short shots if he finds opposition in the lane, or go up for the dunk. If he doesn't enjoy a clear route to the basket, then he doesn't look too smart trying to get something done, overdoing himself with ineffective dribbles and fakes. Generally speaking, his understanding of the game seems average at this point.

Defensively, Ibaka is gifted with superb tools, but he's inconsistent using them. He's rather nimble on his feet for a power forward, showing nice lateral quickness to contain his match-ups and deliver good flashing moves defending pick-and-roll plays. He's potentially a notable shot blocker, with length, mobility and leaping ability to get the job done on defensive rotations, but also the reactivity to easily contest his own match-up's shot attempts. However, he doesn't always deliver the same effort and degree of activity. Sometimes his defensive rotations are poor or he doesn't look too focused. Besides, as often happens with players of his profile, he sometimes tends to go for the block instead of focusing on stopping the opponent. Although strong for his age, he's still a bit skinny and might eventually get outmuscled in the low post, where he doesn't show particularly physical defense. Also a potentially excellent rebounder, he enjoys very nice hands to come away with the ball, although he doesn't always properly box out his rival.

All in all, he's a very intriguing guy, and we've been told that he learns pretty fast. We'll see soon how he deals with good-level competition in the LEB league, the Spanish second division, playing for L'Hospitalet. He's been training in the States over the past month at Abunassar Impact Basketball in Las Vegas, and will be participating at the Adidas Nations event in New Orleans this upcoming week.

[Read Full Article]

---
Word on the Street: The Last Batch of Rumors
June 28, 2007
We forget about this draft for one moment and look ahead in time.

We've been hearing for some months now about a new African sensation that has arrived this year to Spain. His name is Serge Jonas Ibaka, from the Congo, the son of basketball players. He was born in 1989 and shows an impressive 6-10 long, ripped body-- a true physical/athletic monster, particularly by the standards we're used to in Europe.

Youtube offers us a wonderful chance to take a look at him, displaying a pretty spectacular compilation of plays that shows some of his best attributes. Keep an eye on his frame and athleticism, the way he gets off the floor, his ability to play above the rim, his coordination, activity on court, his timing going for the block or his nice stroke. Anyway, the images speak for themselves.





Ibaka is signed through 2011 with L'Hospitalet, LEB team. In the few months he's spent in Spain, he has already played some games with the junior squad and also joined the Joventut U-20 team for the Final round of the U-20 Spanish Circuit played in Inca a few weeks ago. He also had time to make a trip to Vitoria and work out privately for Tau, which probably means that there are chances he can get out of his contract in the mid-term future. This summer, Ibaka will likely go to the USA to work on his game, and for the next season he's expected to play in L'Hospitalet's first team in the LEB (the Spanish second division, although enjoying a better level than many first division leagues across Europe). This is pretty impressive since only two players out of the European Union are allowed per team, and the young Ibaka will fill one of those two key spots (usually spent on American imports).

DraftExpress will try to provide you more detailed information on Ibaka's game during the following weeks/months. Just consider this piece as a quick introduction to a name worthy to remember

[Read Full Article]

---