Josh Riddell
Leading Northern Iowa to a #5 seed in the NCAA Tournament, its best ever, as well as their first tournament win since knocking off #1 Kansas in 2010,
Seth Tuttle
ended his collegiate playing days on a high note and now turns the page to the next stage of his career. The lightly recruited player out of high school developed into one of the best mid-major players in the country, earning a spot on the MVC All-Conference First Team two years in a row as well as winning the
MVC Player of the Year Award in his senior season
.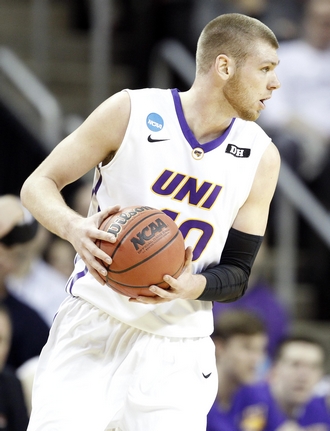 On 12.9 field goal attempts per 40 minutes pace adjusted, Tuttle averaged
22.7 points per 40 minutes pace adjusted
on 64.9% shooting on two point field goal attempts and 42.9% on three point field goal attempts. Tuttle is one of the most efficient players in college basketball, as he posted the highest true shooting percentage of the four players in our database who attempted at least twelve field goal attempts per 40 minutes pace adjusted while playing at least ten minutes per game.
At 6'8", Tuttle is undersized for a power forward at the next level, his usual position with the Panthers. He is not particularly athletic, but is a crafty player, using his intelligence while not wasting movements to get his shots. He would be at a significant disadvantage physically at the next level, as he doesn't possess great speed or explosiveness to offset his lack of height and length. He moves well without the ball, finding open spots on the floor to get open against bigger and more athletic players, but there are significant question marks about how his game will translate to better competition.
Tuttle did most of his work in the post, where he was one of the most prolific scorers in the country according to Synergy Sports Technology. He is comfortable on either block and demonstrated a variety of moves and excellent footwork, including a spin move, drop step and hook shot with either hand. He's an excellent finisher at the rim, converting 67.3% of his attempts according to Synergy Sports Technology. He is able to finish through contact and get to the line, attempting
8.2 free throw attempts per 40 minutes pace adjusted
. Tuttle was a definite mismatch at the college level, sliding in between the 4 and the 5 spots and using his excellent feel for the game and a very disciplined offense to find ways to score effectively.
He's a willing passer out of the post, demonstrating good vision, as his 4.9 assists per 40 minutes pace adjusted were the
most of any power forward in the nation last season
, although his pure point rating was -1.95. While he won't have the offense run through him as much at the next level, he showed he can make plays with the ball in his hands.
Tuttle will have to adjust to become a role player at the next level and one way to demonstrate he can be a complementary player is by becoming a better 3-point shooter. He attempted just 44 3s in 35 games, but has seen his attempts from beyond the arc go up each year while improving his accuracy to 43.2%. He has nice form, although his release point can be low and a little slow at times, which will hurt his ability to get uncontested shots off at times. NBA teams will want to look closer at his jumper to gauge what his chances are of becoming an "automatic" shooter from outside, which will be a major key to any chances he has of sticking in the League.
Tuttle isn't a great ball handler, which will limit his effectiveness as a perimeter player. He doesn't like to put the ball on the floor and struggles to create offense when he does look to drive. He isn't quick with his first step and he struggles to get separation on dribble penetration.
Defensively, Tuttle will need to show he is capable of guarding either the perimeter or interior players in the pre-draft process. He may struggle to do so, as he isn't quick enough to guard perimeter players but he isn't tall or long enough to bother interior players. When he guarded the post in college, he didn't face many taller players than him and was able to hold his own with his lower body strength. He didn't block many shots at just 0.9 per 40 minutes pace adjusted, and his 6-11 wingspan and 8'8 ½ standing reach is better suited for the small forward position than it is for a power forward. Unfortunately Tuttle has the lateral quickness most would associate with a center, without anywhere near the explosiveness needed to compensate for that. This will certainly be the biggest hurdle he needs to overcome to playing in the NBA, or even at the highest levels of Europe.
Tuttle is an active rebounder, as he pulled down 8.1 defensive rebounds per 40 minutes pace adjusted. He isn't able to consistently track down rebounds outside his area but he does a nice job of boxing out and preventing offensive rebounds. His physical tools prevent him from similar production on the offensive end, where he averages only 1.9 offensive rebounds per 40 minutes pace adjusted.
Tuttle was one of the most efficient players in college basketball, but will need to show he can continue to do so against more athletic players in pre-draft workouts. He struggled badly at the Portsmouth Invitational Tournament, not scoring a single point in 64 points and going 0/13 from the field. This will likely hurt his stock somewhat, but it would be foolish to completely ignore his four year career based solely on four bad days at the PIT.
Tuttle will need to show he can compete defensively in pre-draft settings to complement what he will be able to provide offensively as a role player. If he does so, he could play his way into an extended look via summer league, training camp or the D-League. Either way, he should have a long professional career and it would not be surprising with his offensive skills to see him get some more looks from teams in years to come even if he doesn't make it on his first go-around.