Shannon Scott
Recent Tweets
All Tweets
DraftExpress: RT @Joshua_Riddell For @DraftExpress I looked at OSU's Shannon Scott. Others AJ Hammons Andre Hollins Sam Thompson Keith Appling httpu2026
2013-09-23 17:14:46
DraftExpress: For @DraftExpress I looked at OSU's Shannon Scott. Others AJ Hammons Andre Hollins Sam Thompson Keith Appling http://t.co/IuqJy9BinL
2013-09-23 15:26:33
DraftExpress: Huge win for Milton over Oak Hill. Shannon Scott & Dai-Jon Parker were great. Excellent first day at the #HoopHall. Back tomorrow for more.
2011-01-15 09:46:27
DraftExpress: Me and Joe are loving him. Tearing poor Quinn Cook to shreds. Great get for Matta. RT @MattKamalsky What do you think of Shannon Scott?
2011-01-15 09:27:18
DraftExpress: Shannon Scott is carrying Milton on his back so far. Has 12 of his team's 25 points. Up 16 on Oak Hill early. Taking ball strong to rack.
2011-01-15 08:24:33
Team: Ohio State, Senior
Physicals
Positions
Rankings
Misc
H: 6' 2"
W: 175 lbs
Bday: 12/21/1992
(21 Years Old)

Current: PG
NBA: PG
Possible: PG

Rank 15 in NCAA Seniors
RSCI: 31

High School: Milton
Hometown: Alpharetta, GA

Predraft Measurements
| Year | Source | Height w/o Shoes | Height w/shoes | Weight | Wingspan | Standing Reach | Body Fat | No Step Vert | Max Vert |
| --- | --- | --- | --- | --- | --- | --- | --- | --- | --- |
| 2011 | Deron Williams Camp | NA | 6' 2" | 175 | 6' 3.5" | NA | NA | NA | NA |
| 2010 | LeBron James Camp | NA | 6' 2" | 175 | 6' 3.5" | NA | NA | NA | NA |
| 2010 | NBA Top 100 Camp | 6' 1" | NA | 179 | 6' 5" | 7' 11.5" | NA | NA | NA |



Basic Per Game Statistics

- Comprehensive Stats - Statistical Top 25s
| Year | League | Name | GP | Min | Pts | FG | FGA | FG% | 2Pt | 2PtA | 2P% | 3Pt | 3PtA | 3P% | FTM | FTA | FT% | Off | Def | TOT | Asts | Stls | Blks | TOs | PFs |
| --- | --- | --- | --- | --- | --- | --- | --- | --- | --- | --- | --- | --- | --- | --- | --- | --- | --- | --- | --- | --- | --- | --- | --- | --- | --- |
| 2013/14 | NCAA | Shannon Scott | 35 | 26.8 | 7.5 | 2.7 | 6.3 | 43.2 | 2.0 | 3.9 | 51.5 | 0.7 | 2.5 | 30.2 | 1.2 | 1.8 | 68.3 | 0.7 | 2.7 | 3.4 | 3.4 | 2.0 | 0.1 | 1.9 | 2.2 |

Player Page&nbsp&nbsp| Player Stats | Related Articles&nbsp&nbsp| Add to My Draft Express&nbsp
&nbsp
Top NBA Draft Prospects in the Big Ten, Part 7 (#11-15)
September 23, 2013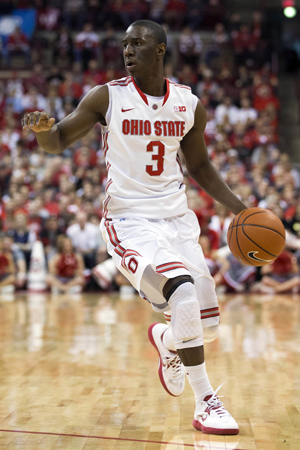 US Presswire



Josh Riddell

After being ranked as the #31 prospect in the 2011 class by RSCI , Shannon Scott has not yet played a prominent role in the Ohio State offense, as he averaged only 4.9 points per game in 20.9 minutes per game last season. With Deshaun Thomas leaving for the NBA, the Buckeyes are without a go-to scorer for the first time in Scott's collegiate career, making this a key season for Scott's draft stock.

Scott has superb athletic tools, highlighted by his speed, showcased both with and without the ball. He stands 6'2", 175 pounds, which is a good build for a point guard. He needs to do a better job of controlling his speed as he sometimes gets out of control, leading to wild shot attempts or turnovers. This athleticism also shows in his excellent rebounding ability for a point guard, as his 5.5 rebounds per 40 minutes pace adjusted ranked 11th for points guards last season.

Playing alongside high usage players such as Jared Sullinger and Deshaun Thomas in his first two seasons, Scott's main role has been handling the ball and running the offense. A majority of Scott's contributions came from setting up his teammates as his 7.5 assists per 40 minutes pace adjusted ranked 11th among point guards last season. His passing ability is superb and he is comfortable with all the passes a point guard needs to make, from post entry passes to hitting cutters in stride and distributing well to shooters. At the same time, his 2.4 turnovers per 40 minutes pace adjusted ranked among the lowest among point guards last season. He is great at initiating the offense and keeping the ball moving without forcing anything in the half court.

His speed allows him to get out in transition, as 30% of his possessions used were categorized as transition opportunities by Synergy Sports. He does not generate efficient offense for himself in these scenarios, as he created only .915 points per possession but when you add in his assists, he moves up to 1.49 points per possession. He struggles when he looks for his own shot, as he settles for pull up jumpers too often or is out of control on his layup attempts. He is much more confident in drawing the defense, finding the open teammate and allowing them to finish.

Outside of transition opportunities, Scott did not see many offensive opportunities. He took only 27 catch and shoot jump shots, off which he made 40%. He has nice mechanics but lacks confidence and could be much more consistent with his follow through which will make him a better shooter over a larger sample. He struggled at the rim, shooting only 43% on 37 possessions. He has a tendency to avoid contact which forces him to throw up wild, off balance shots. He also relies on a finger roll, which has a propensity to get blocked by big men helping on his drive.

Defensively, Scott is often charged with guarding the primary ball handler on the opposing team. He works hard on the defensive end to harass his man and make it hard to initiate the offense. He has good defensive instincts and a combination of his quick hands and ability to jump the passing lanes allowed him to average 3.3 steals per game, 3rd in the nation among point guards per 40 pace adjusted . The skills are there for him to be a solid defensive player, he just needs to shore up his fundamentals a bit so that he can match up against great offensive players.

Scott excels in guarding the pick and roll, as his speed allows him to recover to slow down his man after he fights through the screen. He needs to improve on getting around the screen as he relies too much on his speed instead of focusing on proper defensive positioning. Better offensive players will be able to take advantage of the space they have when Scott gets caught in the screen.

The physical tools are there for Scott and he has showed promise in his limited role in his first two seasons. He'll need to balance his role of running an offense while taking on an expanded role in terms of shots attempted. Scott will also need to refine his offensive skills over a larger sample size, improving his ability to finish at the rim while retaining his ability to create offense for his teammates. Scott will need to show he can handle a larger offensive role while still running an efficient offense to boost his draft stock this season.

[Read Full Article]

---
HoopHall Classic Scouting Reports: Elite Prospects (Part Two)
January 22, 2011
Joseph Treutlein

One of the most impressive players we saw this weekend, especially relative to his modest class rankings, Shannon Scott (#38 Scout, #65 Rivals, #43 ESPN) is an extremely mature floor general with a great feel for the game.

Standing 6-2 with very good length and a solid frame, Scott has all the athleticism and physical tools he needs, especially given his crafty, aggressive style of play. He has a very calm court demeanor, rarely changing his expression, never complaining to officials, and bringing a very business-like approach to running his team's offense.

As a point guard, Scott didn't show much in terms of shot creation for others here, being forced into more of a scoring role on this team where the passing is pretty evenly distributed across the roster. His point guard instincts are one of his biggest strengths according to recruiting analysts and based on the little we've previously seen of him in AAU, but here he showed the ability to adjust his game based on his team's needs, looking extremely comfortable in a different role.

Looking nearly unstoppable attacking the basket at this event, Scott can take his man equally well going left and right, has no problems switching hands with the ball in the lane, can finish with both power and finesse, and shows excellent creativity in the lane. He scored on a variety of lay-ups, finger rolls, reverses, and by getting to the free-throw line, hitting on 7-of-11 from the field and 8-of-9 from the line. His instincts scoring the ball are outstanding, and he rarely forced his attempts despite attacking so frequently.

Scott also mixed in some mid-range jumpers, looking comfortable pulling up from 15-18 feet while showing solid form both from the line and the field. He didn't attempt any three-point shots and improving his range and reliability from the perimeter are probably the biggest things he can work on as a player going forward.

Defensively, he shows good hands and ability in both isolation and team defense, though his effort level fell off as the game went on, with him coasting through plays and even giving up at times later in the game. His team won the game against one of the top-ranked teams in the country largely behind his offensive efforts, so it's tough to criticize him too much for conserving energy on defense, but this will be something to watch more closely at the next level.

Looking forward, Scott appears to be clearly underrated by the recruiting services based on what we've seen from him in both AAU and at the high school level, and should be an instant impact player for Ohio State next season. His ability to excel both as a floor general and scorer combined with his physical tools makes him a very intriguing prospect long term, especially if his perimeter shooting can catch up with the rest of his game.

[Read Full Article]

---