Slava Kravtsov
STRENGTHS:
- Ability to contest shots
- Defensive potential
- Post defense
- Shot-blocking tools
- Late bloomer
- Potential
- Ability to finish around basket
- Athleticism
- Solid frame
- Offensive rebounding
WEAKNESSES:
- Lacks significant offensive polish
- Advanced post moves
- Footwork/Post-moves
- Foul prone
- Experience
- Not always assertive
- Basketball instincts
- Cultural adjustment to NBA
- High-level productivity
- Relatively unknown
- Free throw shooting
Top 25s - Full List
Team: Pistons College Team: CSKA Moscow
Physicals
Positions
Salary
Misc
H: 7' 0"
W: 260 lbs
Bday: 08/25/1987
(28 Years Old)

Current: C
NBA: C
Possible: C

Agent: Misko Raznatovic

High School:
Hometown: Odesa, Ukraine

Predraft Measurements
| Year | Source | Height w/o Shoes | Height w/shoes | Weight | Wingspan | Standing Reach | Body Fat | No Step Vert | Max Vert |
| --- | --- | --- | --- | --- | --- | --- | --- | --- | --- |
| 2009 | Eurocamp | 6' 7" | 6' 8" | 235 | 7' 2.5" | 9' 3" | NA | 31.0 | 37.0 |



Basic Per Game Statistics

- Comprehensive Stats - Statistical Top 25s
| Year | League | Name | GP | Min | Pts | FG | FGA | FG% | 2Pt | 2PtA | 2P% | 3Pt | 3PtA | 3P% | FTM | FTA | FT% | Off | Def | TOT | Asts | Stls | Blks | TOs | PFs |
| --- | --- | --- | --- | --- | --- | --- | --- | --- | --- | --- | --- | --- | --- | --- | --- | --- | --- | --- | --- | --- | --- | --- | --- | --- | --- |
| 2015/16 | EURO | Slava Kravtsov | 6 | 7.7 | 3.7 | 1.3 | 1.7 | 80.0 | 1.3 | 1.7 | 80.0 | 0.0 | 0.0 | &nbsp | 1.0 | 2.2 | 46.2 | 0.2 | 1.7 | 1.8 | 0.3 | 0.0 | 0.5 | 0.2 | 1.0 |

Player Page&nbsp&nbsp| Player Stats | Mock Draft History | Related Articles&nbsp&nbsp| Add to My Draft Express&nbsp
&nbsp
Reebok Eurocamp Summary, Part Two
June 12, 2009
Likely the most interesting player at this camp as far as the big men are concerned, Slava Kravtsov did an excellent job putting his intriguing physical tools on display, showing very nice potential for the future. Kravtsov's main appeal lies in his good frame, above average athleticism and strong 7-2 ½ wingspan and 9-3 standing reach. In some of the games here he was able to make his presence felt in a major way, while in others it seemed like he was sleep-walking, which has been a major issue for him throughout his career. When on, Kravtsov was a force on the offensive glass, coming up with a number of emphatic put-back dunks. He was also an active presence rotating from the weakside, blocking shots and altering others, even trailing his man and coming up with a terrific rejection in transition at one point.

Offensively he looked very limited, not always looking ready or interested in catching passes, and showing very little in the ways of footwork or perimeter shooting ability. It's unlikely that any team would be all that interested in him for what he offers on this end of the floor. Regardless, Kravtsov is a good candidate for a team picking in the second round to draft and stash overseas for a few years to see how he continues to develop. Despite already being 22 years old, he still has plenty of upside left to grow into, and if he can find a way to improve his feel for the game and consistently be more aggressive in his approach on the floor, he could develop into an interesting player.

[Read Full Article]

---
Roundup: Scoring Machine Dragicevic
March 19, 2008
We had the chance to watch Slava Kravtsov last week in the ULEB Cup and he looked unable to significantly contribute for his team BC Kyiv. He's a relatively inexperienced kid, but had shown flashes of promise earlier this season. However, he seems to be going through difficult times lately. He's suffered some back problems recently that have significantly slowed him down, and did not play yesterday while Kyiv finally was booted out of the ULEB Cup at the hands of Turow. Even before that, though, he seemed unable to continue the excellent momentum he had accumulated earlier on in the year, as he's not the most active and energetic player you'll find and thus doesn't always emerge as a great contributor considering that his skill level or feel for the game are not particularly high. Big, very well built, athletic, he doesn't always take advantage enough of his gifts on the court. Positioning and timing in the offensive end emerge as matters of concern, as he could barely get anything done on the floor, but anyway he's still a very raw guy who is just beginning to have a taste at high-level basketball. From what we're told by his American agent, Herb Rudoy of Interperformances, Kravtsov will likely be entering his name in this year's draft to test the waters and get some better exposure in front of NBA scouts. He could be an ideal player to invite to a place like the RBK EuroCamp in Treviso, and could even make a nice splash there, as he has all the tools to make an impact in a setting like that. Expect the interest level to raise significantly next season, as very few NBA teams have made the trek to the Ukraine like we did this past winter to take a look at Kravtsov in person.

[Read Full Article]

---
Blogging Through Europe (Part 8: Ukraine)
December 16, 2007
Definitely a sleeper as far as the NBA draft is concerned, Kravtsov is a player who only a handful of NBA teams seem to have a good handle on at the moment. He's what you would call a late bloomer, having grown a few inches over the past two and half a years, and added over 25 pounds of muscle just during the last year. You don't have to look any further than here to notice the emphasis Tomo Mahoric, his assistant Bostian Jaske and B.C. Kyiv put on physical conditioning, weight lifting and such than this "kid." Kravtsov has a great frame and especially good upper body strength, fitting the bill and then some for a player his size.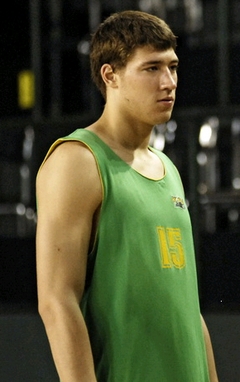 BC Kyiv



More than just a 7-footer with an NBA body, though, Kravtsov possesses outstanding athleticism on top of that to complete a very intriguing physical profile. He runs the floor extremely well, moves laterally quickly and fluidly, and is absolutely explosive around the basket, looking capable of tearing down the rim every time he goes up to finish. He's also quick off his feet to contest or block shots, giving him virtually everything you could ask for physically from a player his size.

Skill-wise, Kravtsov still has a ways to go to catch up with the tools he possesses. There are two things he does very well, though, which allows him to remain a pretty productive big man considering his age, Kyiv's deep rotation, and the level of competition they play at. Those would be his shot-blocking skills, and his ability to finish around the basket.

The defensive end of the floor is probably where Kravtsov will always be most interesting, surely as far as the NBA is concerned. Looking beyond his size, frame, and athleticism, he also has pretty good instincts as well, particularly regarding his shot-blocking ability. Kravtsov gets low in a fundamental defensive stance guarding his man in the post, doing a great job following the ball, bodying up his matchup, and giving him very little space to operate. He has excellent lateral quickness sliding around to keep up with slashing guards or pivoting big men in the paint, and is quick off his feet and challenge a shot, coming up regularly with blocks both on-ball and from the weakside, with impressive timing. He did a terrific job on Mario Austin in both games Kyiv played Benetton, giving him fits around the basket. As a rebounder he also does an excellent job, pulling down nearly 6 boards a game in just over 17 minutes.

Like many young big men, Kravtsov used to have major problems biting on pump-fakes and trying to block absolutely everything in the paint, which usually got him in foul trouble. He's improved considerably in this area, but still has quite a bit of room for improvement here still. He seems to have a tendency at times to let his man back him down in the post, waiting for him to go up with his shot, all the time thinking that he'll simply be able to rely on his outstanding physical tools to block him at the rim, instead of just playing good defense.

Offensively, Kravtsov is a very limited player at the moment, mostly sticking to dunks around the basket, transition plays, and offensive rebounds. He has the potential to make a big impact in the paint with his physical tools, but doesn't really know how to establish great position for himself in the post at the moment. When he does, he shows very average post moves, besides a basic jump-hook he can hit with either hand from very close range, although he clearly prefers his right hand. We were told by Coach Mahoric that he actually has pretty nice touch from the perimeter, even out to the 3-point line, but right now he never tries anything of that nature. We should note that he only shoots 44% from the free throw line on the season. When he gets the ball in the paint, though, you can bet money he's going to try to dunk it thunderously, going right through his defender or anything else that stands in his way.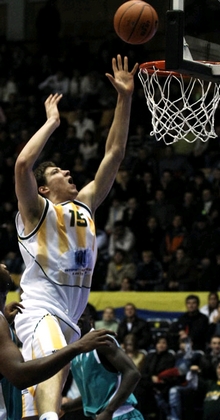 BC Kyiv



Beyond his lack of experience, Kravtsov has a couple of things holding him back at the moment. For one, his hands are good, but not great. He also lacks some balance and coordination, making him look fairly awkward or mechanical at times. His feel for the game does not appear to be exceptional, having a bit of a sleepy look on his face and not being the quickest guy to react to things happening around him on the floor. His knowledge of the game is clearly limited, as this is really his first season seeing major minutes at a high level. He'll look a little lost from time to time, on a pick and roll play for example defensively where he switches the screen, when the gameplan called for him to hedge.

All in all, Kravtsov is a player that NBA teams need to take notice of, since 7-footers with his combination of physical tools and defensive skills are not that easy to find these days. He still has a long ways to go to reach his full potential, but that's probably part of the reason why he's so interesting at the moment. As a 1987 born prospect, he only becomes automatically eligible for the draft in 2009. It appears that he would be best served using that extra year to continue to improve and in the process help his draft stock. Some scouts we spoke with (even international ones) didn't know who he was, even if it must be said that Pete Philo did bring him to the Reebok Eurocamp in 2006, where our very own Luis Fernandez already had the good eye to take notice of him. He'd surely be a player teams will look at in the second round to draft and stash in Kyiv for a few more seasons, hoping he indeed continues to progress as anticipated. If Kravtsov has a big season next year, though, it wouldn't be a stretch to imagine him getting looks in the first round as well.

[Read Full Article]

---
RBK Treviso Eurocamp 2006: The Final Cut
June 15, 2006
However, there's one guy who, even if he's as raw as the rest, who we feel has better chances of developing into something down the road. He is Vyacheslav Kravtsov or Slava Kravtsov, a Ukranian born in 1987. At 6-10 (probably 6-11 in shoes), he's not freakishly tall, but he shows an excellent physical build and frame, enjoying extremely solid athleticism. He did a pretty good job under the rim in terms of rebounding and shot-blocking, displaying remarkable timing in his efforts and good intensity. He's noticeably unpolished in the low post, and very raw in his general offensive game, but he's a name to remember.

[Read Full Article]

---