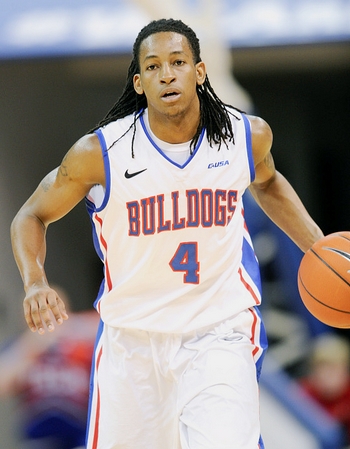 Jonathan Givony
A first team All-Conference player as both a sophomore and junior, Louisiana Tech's Kenneth "Speedy" Smith enters his senior season looking to solidify himself as a legit NBA prospect, while trying to help his team make their first NCAA Tournament appearance in 24 years.
Standing 6-3, Smith has good size for a point guard, to go along with long arms and a solid frame.
Smith is one of the few players in college basketball with a near 1/1 assist to point ratio, a unique distinction that some would say is because he's such a great passer, while others would claim is due to the fact that he's almost a total non-scorer.
Only two players (Kendall Marshall and Randy Livingston) in the past thirty years have been drafted after scoring under 10 points per-40 minutes pace adjusted, which is exactly what Smith will try to do if he follows the same path he did his first three seasons of college basketball.
Smith led the NCAA in Pure Point Ratio at 8.37, the fourth highest mark historically in our database. He's the definition of an old-school floor general, an incredibly instinctive passer who does a phenomenal job of creating offense for teammates. Smith doesn't hesitate for a second to deliver crisp, accurate passes, as often the ball is in his hands for less than a second before he's already moving it on to the next destination for an easy assist. He makes everyone else on the floor better with his vision and creativity, and knows his personnel extremely well, especially where they like to receive the ball in order to be effective.
Despite his nickname, Smith actually isn't the speediest player you'll find around, at least not in the half-court. His first step is just average, as he struggles to get into the lane and finish at a high rate. In end of clock situations, his team will usually ask one of their other guards to create a high percentage look.
Smith took just 52 shots inside the paint all of last season, hitting only 22, or 42% of them. He relies very heavily on his floater as he rarely gets all the way to the basket, but is extremely ineffective with them. He doesn't compensate for that by drawing fouls at a huge rate, only attempting 2.8 free throws per-40 minutes pace adjusted last season, while converting just 66% of them once there.
While he doesn't shoot all that many of them, Smith has actually developed into a respectable 3-point shooter, making a solid 38 of his 104 (36.5%) attempts last season. He has solid shooting mechanics and pretty good range on his jumper, being fairly effective with both his feet set and off the dribble, but will need to continue to hit outside shots at a good rate as a senior to prove that he can be trusted to keep defenses honest at the pro level.
One area where Smith can certainly offer value as a NBA prospect is on the defensive end. His team loves to press, trap and generally harass opposing ball-handlers as much as possible, which suits his style of play extremely well. He moves his feet wonderfully, and puts excellent pressure on the ball, often hounding his man the length of the court. Smith's long arms, quick hands and tremendous instincts allow him to get in the passing lanes at a phenomenal clip, as he simply has a terrific knack for putting his hands in the right place at the right time. His 3 steals per-40 pace adjusted was one of the top marks in all of college basketball last season, helping him earn Defensive Player of the Year honors in Conference USA last season.
On a very undersized Louisiana Tech team, Smith is often asked to guard a variety of different positions on the floor, something he's capable of doing due to his pesky and relentless nature. He regularly fights in the paint against players much taller than him as they try to post him up, and crashes the glass effectively for rebounds as well. He's not without faults, though, as he tends to get lost at times off the ball and will get caught with his hand in the cookie jar gambling for steals a fair amount—but all in all its hard not to like what he brings on this end of the floor.
Speedy Smith is one of the more unique players you'll find at the college basketball level, a non-scorer who is a passing maestro and defensive stalwart who shoots 3-pointers a good clip. His often passive approach to scoring puts a lot of pressure on his teammates at the college level, as his defender can act like a free safety and cheat off him to help out on others—something that would certainly not fly in the style of basketball we find in today's NBA.
But it's difficult to rule him out as a prospect, as he's very effective in a couple of extremely important areas, which might lead teams to take a look and see if they can help him become at least passable in the places he struggles in. He's definitely not someone every NBA coach will want, but some might be able to find a niche for him, especially if he can prove he can make 3-pointers at an acceptable clip.