Spencer Dinwiddie
Recent Tweets
All Tweets
DraftExpress: RT @Mike_Schmitz New DX Preseason Scouting Video breaking down Colorado guard Spencer Dinwiddie http://t.co/ijVy2RWuqI #NBADraft #GoBuffs
2013-09-30 20:20:09
DraftExpress: Spencer Dinwiddie (@SDinwiddie_25) Jahii Carson (@Jahii_carson1) Why was Bernard from FLORIDA GULF COST killing you? http://t.co/jKrCF9Mq7E
2013-08-28 11:35:03
DraftExpress: Jahii Carson (@Jahii_carson1) and Spencer Dinwiddie (@SDinwiddie_25) adidas Nations Smack Talk http://t.co/jKrCF9Mq7E http://t.co/0raYFRvjHN
2013-08-28 11:32:06
DraftExpress: Spencer Dinwiddie (@SDinwiddie_25) DX Video Interview http://t.co/8fy74heNEC
2013-08-26 12:19:54
DraftExpress: DX Trending Prospects (1\/16\/2012) - Updated scouting reports on Spencer Dinwiddie Seth Curry and Rodney Williams.\nhttp\/\/t.co\/9MlhQjfi
2013-01-17 12:29:38
Team: Colorado, Junior
Physicals
Positions
Rankings
Misc
H: 6' 6"
W: 200 lbs
Bday: 04/06/1993
(21 Years Old)

Current: SG
NBA: SG
Possible: SG

Pick: 46 in 2014 Mock Draft
Rank 5 in NCAA Juniors
Rank 49 in Top 100 Prospects
RSCI: 133

High School: William Howard Taft
Hometown: Woodland Hills, CA




Basic Per Game Statistics

- Comprehensive Stats - Statistical Top 25s
| Year | League | Name | GP | Min | Pts | FG | FGA | FG% | 2Pt | 2PtA | 2P% | 3Pt | 3PtA | 3P% | FTM | FTA | FT% | Off | Def | TOT | Asts | Stls | Blks | TOs | PFs |
| --- | --- | --- | --- | --- | --- | --- | --- | --- | --- | --- | --- | --- | --- | --- | --- | --- | --- | --- | --- | --- | --- | --- | --- | --- | --- |
| 2013/14 | NCAA | Spencer Dinwiddie | 17 | 31.1 | 14.7 | 3.6 | 7.7 | 46.6 | 2.1 | 4.0 | 51.5 | 1.5 | 3.7 | 41.3 | 6.0 | 7.0 | 85.7 | 0.5 | 2.6 | 3.1 | 3.8 | 1.5 | 0.2 | 1.8 | 1.9 |

Player Page&nbsp&nbsp| Player Stats | Mock Draft History | Related Articles&nbsp&nbsp| Add to My Draft Express&nbsp
&nbsp
Top NBA Prospects in the Pac-12, Part 2: Spencer Dinwiddie Video
September 30, 2013


Mike Schmitz is the video analyst for DraftExpress. Follow him on twitter and subscribe to the DraftExpress YouTube page. He will be breaking down the NBA draft in digital format all year long for us.

[Read Full Article]

---
Spencer Dinwiddie Video Interview
August 26, 2013
[Read Full Article]

---
Trending Prospects (1/16/2012)
January 16, 2013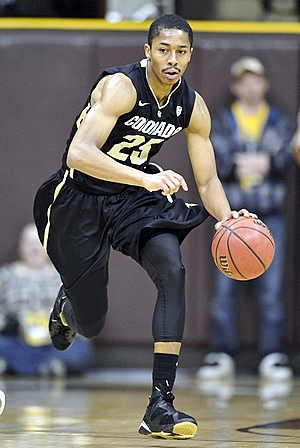 US Presswire



Joe Treutlein

After a promising freshman season where he made solid contributions for Pac 12 tournament champions Colorado, Spencer Dinwiddie has taken his game to the next level as a sophomore, increasing his scoring and assists considerably without a great increase in minutes, while also seeing his field-goal percentage rise.

Standing 6-6 with decent length and a below average frame and build, Dinwiddie is a good athlete overall, possessing a fast first step and very good quickness. He isn't the most explosive vertical athlete, however, being a decidedly below-the-rim player in the half court.

On the offensive end, Dinwiddie is capable of scoring the ball from all over the floor, and he creates most of his attempts on his own out of pick-and-roll or isolation situations. Possessing very good ball-handling skills with both hands, good control, and a solid arsenal of crafty moves along with the wherewithal to use them, Dinwiddie often has no problem breaking his man down off the dribble to get where he wants to go.

Dinwiddie's weapon of choice is most often a pull-up jumper, as he relies heavily on his shot-making ability from the perimeter to contribute offensively. He possesses very strong mechanics with a high and quick release, and is especially impressive with his ability to hit shots on the move, doing a good job stepping into his shots and maintaining balance. Dinwiddie is equally dangerous spotting up for threes, showing range to the NBA three-point line, though he tends to settle for excessively long three-pointers too often and his mechanics are prone to breaking down when he's closely contested on spot-ups.

The mid-range is where Dinwiddie appears most comfortable, as he uses a variety of pull-up jumpers, floaters, and runners to get the job done, all of which he shows little struggles getting separation for. He actually may rely on these skills a bit too much, as he doesn't frequently take the ball all the way to the basket, and isn't a great finisher when he does, especially when dealing with weak side help or having to score through contact.

Dinwiddie only converted 38% of his 2-point attempts as a freshman in large part due to his struggles around the basket, and while he started off the season looking much improved in that area, he's fallen off a bit in conference action.

To his credit, he does do an excellent job or drawing contact and getting to the free-throw line when he does take the ball to the basket, and also draws a good number of fouls on the perimeter by getting defenders to bite on his shot attempts, but still could stand to become a better finisher at the rim to round out his scoring game, as its unlikely that he'll be able to draw fouls at quite the same rate in the pros.

Dinwiddie serves as one of the primary ball-handlers in Colorado's attack, often splitting the duties with teammate Askia Booker. Dinwiddie is usually the one to bring the ball up the floor and does a good share of initiating the team's offense, but doesn't serve the role of traditional point guard, not often creating for others. He shows good vision and passing ability in transition, operating pick-and-rolls, and making post-entry passes, but doesn't appear to be a true point guard by any stretch, mostly using his ball-handling responsibilities to create his own offense.

On the negative side, Dinwiddie shows some problems with turning the ball over, which is somewhat expected given how often he creates his own shot, though he also can struggle with inconsistency, having already three games this year with five or less points.

On the defensive end, Dinwiddie shows solid fundamentals and effort level, along with enough lateral quickness to stay in front of pretty much everyone he's matched up against, but can be prone to just go through the motions at times, not always closing out and contesting as hard as he could.

Looking forward, Dinwiddie is still only 19 years old and coming into his own on a well-balanced team, though he shows a nice foundation of skills already, along with good physical tools for a shooting guard or combo guard. Filling out his frame and maximizing his strength could help him on both ends of the floor, while becoming a better finisher at the basket and a higher level defender should be his priorities from a skills perspective. It's still early to make any concrete projections down the road, especially given how much he's improved in the past year, but Dinwiddie is certainly someone to keep an eye on.

[Read Full Article]

---